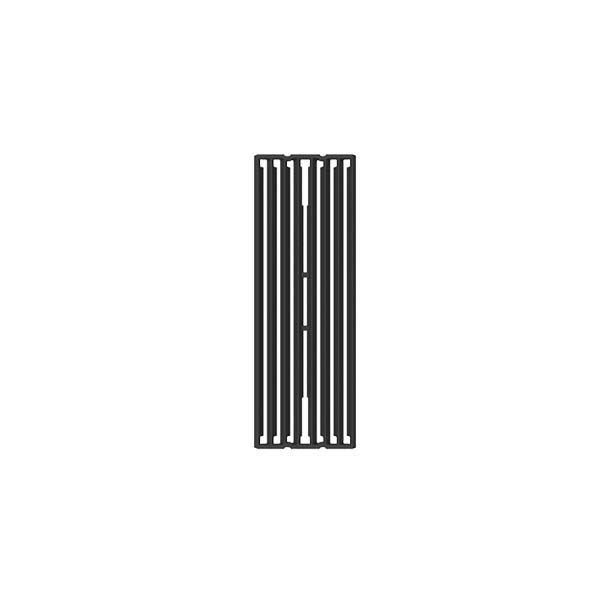 BARON™ CAST IRON COOKING GRIDS
11241
17.48″ x 6.17″ 1 cooking grid. Fits models: Baron™ 300/400/500 Series 2013 & Newer, Crown™ 300/400/500 Series 2012 & Newer. Grilled Asparagus and Prosciutto Spears
Rated

1

out of

5
by
Deb M
from
Same issues and previous reviews.
I am currently looking to solve these aforementioned rust issues. Not only is it $150 for replacements they are special order and impossible to locate. Terribly disappointing, this was not an inexpensive grill. I keep it covered and cleaned. It is a shame I am so disappointed. I do not recommend.
Date published: 2020-05-24
Rated

1

out of

5
by
Papster
from
Same Problem
No need for pictures as this seems to be a common theme here. I am very disappointed in these grills. All previous comments here are 100% accurate, I'm not sure <if I want to reinvest in these grills are they are very expensive and very poor quality. Also took very good care of them seasoning with oil.
Date published: 2021-04-25
Rated

1

out of

5
by
Anonymous
from
Rusted Grids
Have the Baron 440 for about two years now and like everyone else, I am experiencing the grates being rusting and blistering causing them to not be useable. They were also seasoned properly and brought inside during winter months. Not too happy having to spend money on new grids...
Date published: 2017-05-03
Rated

1

out of

5
by
Rust bucket
from
The grates are horrible
The salesman at Lowe's assured me that this grill was far superior than a Weber. They said these grills are just "built better" . I can assure that looking at my grill grates that is not the case. These grates are simply HORRIBLE! I spend countless hours seasoning these grates ( yes I used the proper oil) only to have rust and chunks of metal flaking off. To make matters worse, when I wrote an email (with pictures) and I received no reply. I never had the same issues with my Weber, maybe I made a mistake.
Date published: 2021-03-08
Rated

1

out of

5
by
Melcarib
from
Rusted out grill plates
The porcelain plated grill plates rusted after 2 summers! I went to Lowes to check the coast of replacing them. $120 to replace 4 plates!!!! I am incredibly disappointed. I did so much research before I decided on this grill. I hope someone from Broil King contacts me abou this.
Date published: 2020-03-31
Rated

1

out of

5
by
JDon
from
Rusted and nearly unusable
I've oiled and seasoned the grids regularly, but the rust is so bad after 3 seasons that there are large chunks breaking of the surface of the grids. Doesn't seem like a safe grilling surface anymore. I hope there is a better option for a replacement grid.
Date published: 2021-04-18
Rated

1

out of

5
by
unhappygriller
from
Terrible Grids - Do Not Buy
Well, same as everyone else here...not too happy with the grill only because of these grates. Trying to find a generic alternative so I don't have to pay these exorbitant prices for cheap replacements. Obviously 1.3 stars tells the story. Do Not Buy.
Date published: 2020-04-23
Rated

1

out of

5
by
Stacey
from
Grates don't last despite proper care
I am on my 3rd set of grates. It's getting expensive to replace grates every 12-15 months. I take care of them and season like I would a cast iron skillet. I even stored grates inside this past winter. Still rust! Is a common problem with Broil King?
Date published: 2017-04-17
Rated

2

out of

5
by
margie
from
great grill; terrible grids
I like so many others love this grill but totally hate the grates (grids). I have tried everything but cannot get the rust out. How can i get the rust out or how do i buy new ones? could you have someone follow through with me please. thank you
Date published: 2021-07-02
Rated

3

out of

5
by
Shirlgirl
from
Grates have rusted
I love this grill, but the grates are horrible! They have rusted in spite of constant oiling. The underside of the grates are chipping off in slivers. I am having a difficult time finding genuine broil king replacement grates. Any suggestions?
Date published: 2017-01-23
Rated

1

out of

5
by
Ashley
from
RUSTED. Terrible quality
I am meticulous about keeping my grill clean but within the first year they were rusted and in the 2nd year they aren't even usable. Replacement cost is more than $175. Don't buy this. I'd rather buy a new grill, and not a broil king
Date published: 2016-12-21
Rated

1

out of

5
by
mikep0512
from
Excellent grill, horrible cooking tops!
I have had this grill for 2 seasons and it is a great grill, although the cast iron tops are rusted beyond use and they want one quarter the price of a new grill, just for the grids! I am having a hard time justifying this.
Date published: 2017-03-21
Rated

1

out of

5
by
Shawn
from
Very poor grates
Same issue as everyone else. Great grill and horrible cooking grates. Started rusting 6 month in and can't be used now. What is Broil King doing about this. Clearly a product issue.
Date published: 2017-02-12
Rated

1

out of

5
by
Jeffrey
from
Grates rusted after 1 year
I bought this as an upgrade and otherwise very happy with the grill except the grates rusted and flake off and are totally unusable. I am now spending another 90 dollars to replace.
Date published: 2016-12-13
Rated

1

out of

5
by
TonyB
from
Love the grill, hate the grates
I've had my grill for just a couple years. I follow all the seasoning guidelines and take good care of the grates, yet they continue to rust and flake apart. Very disappointed.
Date published: 2021-05-26
Rated

1

out of

5
by
Tony B
from
Good BBQ except for the RUSTY grills
Solid body and heating elements however grills rust far too quickly. Rating very largely based on the quality of the grills and the fact they need to be replaced so quickly.
Date published: 2017-04-02
Rated

1

out of

5
by
Gavin
from
Cast iron grids.
Unfortunately I am having the same issue as all the other customers. Year 3 of this grill and I am also looking to replace these bars! Replacements so expensive too..
Date published: 2021-05-31
Rated

1

out of

5
by
Ric001
from
Rusted grids as well
I have had this grill for 2yrs, great cooking but the grids are all getting rusted. It seems this is a common issues, what is Broil King doing about it?
Date published: 2017-02-24
Rated

1

out of

5
by
Patrice
from
Great BBQ, junk grills
Bought our Baron BBQ a year ago and the grills are scrap. Worse grills I never seen on a BBQ. Previous BBQ's (Sterling) grills were quite a lot better.
Date published: 2021-05-29
Rated

1

out of

5
by
Richhard
from
Rusted Grids
I have a 3 year old Broil King Baron 320 grill and 2 of my grids are rusted beyound use even though they are always oiled before barbequeing.
Date published: 2017-04-29
Rated

1

out of

5
by
GeorgeR
from
Terrible
Mine are all flaking and rusting and one of them have actually cracked in half from the rust. The grill is a little over a year old.
Date published: 2016-12-21
Rated

1

out of

5
by
cindyshy
from
These grids did not hold up
Thought I had purchased a grill that would not have this problem. My grill is 1 1/2 yrs old and grids are unusable
Date published: 2016-12-31
Rated

1

out of

5
by
KimHD
from
rusty grill
We have had the grill for 2 years and the grids are rusted beyond cleaning
Date published: 2021-04-26
Rated

1

out of

5
by
NorthernGriller
from
Rusted grills
I am reading the reviews on these grills and have a similar experience. I would not recommend this product due to the grills. The 4 grill plates did not last as they RUSTED very quickly even with recommended seasoning. The replacement grills are very expensive compared to the competitor bbq and the odd size makes it impossible to find generic grill plate. Therefore forced to make decision to scrap bbq and buy new instead of replacing just the grills. It is seems that the manufacturer designed the product failure around the grill plate which is normally a maintenance item. I also already replace the burner tubes once and the igniter twice. My original opinion was that Broil King was a premium product but after the experience with the grill plates, burner and igniter I would not recommend Broil King as a top end bbq
Date published: 2020-06-22
Rated

1

out of

5
by
Jettaspeedster
from
Great for the fisrt season but........
I thoroughly enjoyed having the cast Iron grill in my first seasons but as others have written they have started to rust. I now need to replace. The rest of my BBQ is in good condition and I expect it to outlast another set of cast iron plates. Thus I can't buy another set of these grills and or recommend to anyone else.Does anyone know what SS grill plate I can get as a replacement. Preferably I want it 2 pieces or more. I have a Baron 440.
Date published: 2017-05-15
Rated

5

out of

5
by
Joekool
from
Great if you know how to take care of cast iron
Don't go by the reviews of the people who don't know how to take care of cast iron. You have to season them before first use. I also spray them with a kitchen pump oil sprayer. You have to keep them oiled and then they won't rust. Especially if you have a long cook time the heat burns out the oil. Also if you don't plan on using it for a few months make sure to oil it.Food tastes better than any propane grill I've ever used because of the cast iron.
Date published: 2021-01-26
Rated

2

out of

5
by
Lou67
from
Rusted grills
The Baron 320 is a wonderful BBQ but the biggest disappointment are the grills. I purchased the unit in Sept. of 2013 and after one year I started to notice the rust. I clean it regularly and use a cover after each use. My grills look like all the other pictures in the reviews. Would be nice if the company would provide the grills at a reasonable price and not the outrageous prices I see in stores and on the web. I just need grills not a new BBQ!
Date published: 2017-02-28
Rated

1

out of

5
by
Barb20
from
Terrible Quality!
We have had our Broil King S520 for only 2 years and the cast iron cooking grids are rusted very badly. The company needs to make a better quality grid and do a recall/replacement for these terrible quality grids. The cost of replacement grids is very high considering they last less than 2 years. The grill itself would be great if this grid problem was fixed. Obviously, from the many other reviews, this is a very common issue.
Date published: 2020-09-29
Rated

5

out of

5
by
CanadaMan7364
from
Best Grids Out There!
There's not much love for these cast iron grids but I LOVE them. They hold heat for perfect searing and a more consistent temperature. Yes, they deteriorate, but they are iron. Mine have been going strong 7 years now and I'm going to replace two because they are getting thin, but that's the nature of anything that has wear and tear and lives outside. When the day comes to replace my grill, I'll be looking for these grids!
Date published: 2022-03-01
Rated

1

out of

5
by
Marshallda
from
Poorly made grill
I received my broil king baron bbq as a wedding gift 2 years ago. It is has been a fantastic bbq up until this summer. The grills have completely rusted out to the point of unsafe cooking. We keep the bbq clean and covered, I've never seen a cast iron grill rust out like this. I came here to find a replacement grill for this and it appears to be such a common issue. What should I do, i dont want to buy this same grill.
Date published: 2019-08-18