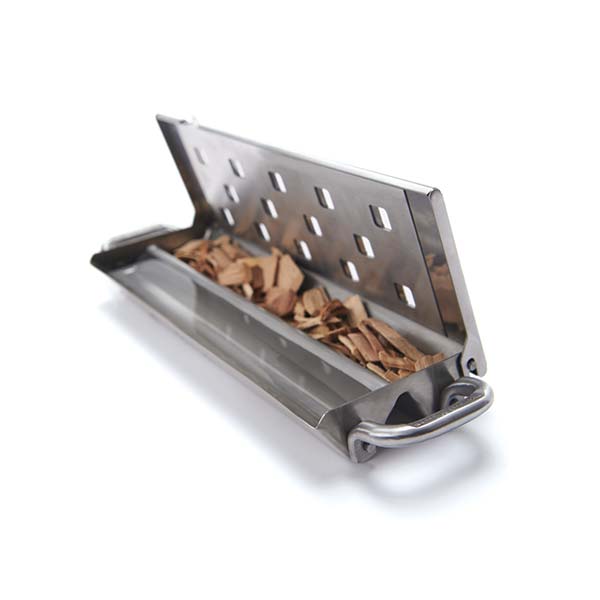 IMPERIAL™ SMOKER BOX
60190
The all stainless steel Broil King® Imperial™ smoker box is designed to sit on top of the Flav-R-Wave™ or directly on the grill. With two chambers for twice the smoking power and an integrated air damper hinged lid, this professional smoker box isn't just blowing smoke. Also holds liquids for added moisture and flavor; combine chips and liquids for endless flavor combinations. Grilled Asparagus and Prosciutto Spears
Rated

5

out of

5
by
Tosha888
from
Best Food Ever
I wasn't very familiar with the smoking process and how it would taste! This saves so much time and money! This is so easy to use and the way your food taste is AMAZING!! I absolutely recommend this and I am such a fan because I don't know anything about smoking food but know i do! Definitely try!
Date published: 2019-10-05
Rated

5

out of

5
by
Car_Sick_Nick
from
Works great!
Love this smoker box so much I bought another one. If you use it correctly, it works perfectly. Soak your wood chips for at least 30mins, blot them off, put them in the box then set the box directly on the vaporizers (under the grate), set to medium heat, and boom, you're smokin!
Date published: 2020-06-28
Rated

4

out of

5
by
Heather113
from
Wish it was just a little bit larger!
The premium smoker box from broil King is definitely well made! I just wish it was a little bit larger to create a little more smoke. I don't feel like the smoke really penetrated my chicken enough. I was using chicken tenderloins and they fit well, and it was still great food!
Date published: 2019-10-08
Rated

5

out of

5
by
mchick80
from
Great smoke box for the grill
I used this smoker box on my propane grill and it worked great. It was placed right on the diffuser under the grate. I used small wood chips in the smoker box and takes about 10 minutes to smoke and lasted about 30 minutes. I made burgers and they tasted really good.
Date published: 2019-10-12
Rated

5

out of

5
by
Joeygaby
from
Smoke and flavor
The broil king adds smoke and flavor to your food. Can be used on your Flav-R-waves or on your grill. There are 2 chambers that can hold any combination of chips or liquids to add an endless flavor combination. So easy to use and clean up is a breeze.
Date published: 2019-10-05
Rated

5

out of

5
by
Cfgjkb
from
Great
This box is a great size for all different grill types. It holds a good number of chios but isn't too big for smaller grills. The flavor it produces is awesome and can be used with so many different types of meats. It's also great for even veggies!
Date published: 2019-10-07
Rated

2

out of

5
by
Dmtj95
from
Hopefully it works
I just bought this the other day and started looking into it a lot more and now I'm reading these reviews and concerned about the product I just purchased. Not happy paid good money for it and the product doesn't perform as expected
Date published: 2019-07-19
Rated

5

out of

5
by
KimoInLA
from
Great adjustable smoker box!
This fits perfectly on the grill, just above the flavor waves. I like that it's heavy duty and feels like it'll last a long time, and I love how easy it is to adjust the openings for oxygen flow/smoke generation.
Date published: 2019-10-24
Rated

3

out of

5
by
Quasijr
from
Good but not Great
Very nice heavy duty smoker box but lid will not open when hot to add wood chips. Would recommend if lid would open .
Date published: 2016-10-16
Rated

5

out of

5
by
hmoon
from
Imperial Smoker Box - Outstanding product
Amazing smoker box that fits on top of the Weber BBQ flavorizer bars, beats Weber's own smoker box
Date published: 2020-09-13