CROWN PELLET 500 SMOKER AND GRILL
494051
The body of the Crown™ Pellet 500 is constructed from 1.5 mm (16 gauge) steel, has 560 sq.in. (3,613 sq.cm.) of primary cooking space and cast iron cooking grids. The WiFi- and Bluetooth®-enabled digital controller enables precise temperature control. This innovative product comes fully equipped with two electronic meat probes and base storage. Adding power to performance is a sturdy auger with a heavy-duty motor, an 18-lb capacity pellet hopper, a removable and hidden grease tray, and an easy-to-clean burn pot.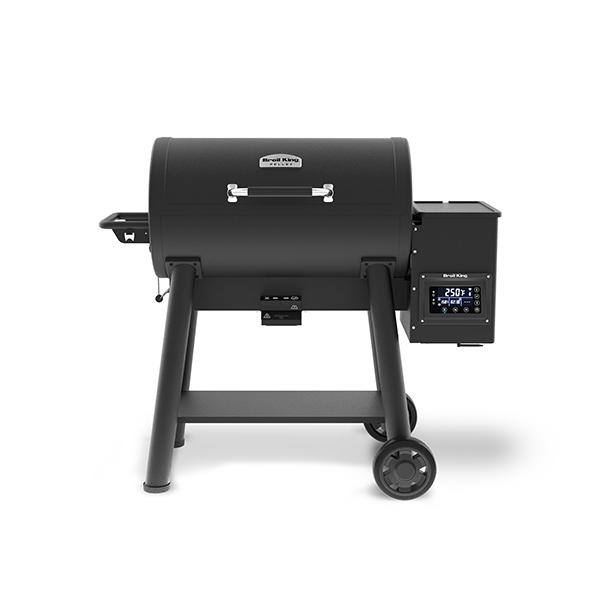 800 SQ. IN.
TOTAL COOKING SPACE
600F / 200F
MAX/ MIN OPERATING TEMP
3 PIECE
CAST IRON COOKING GRIDS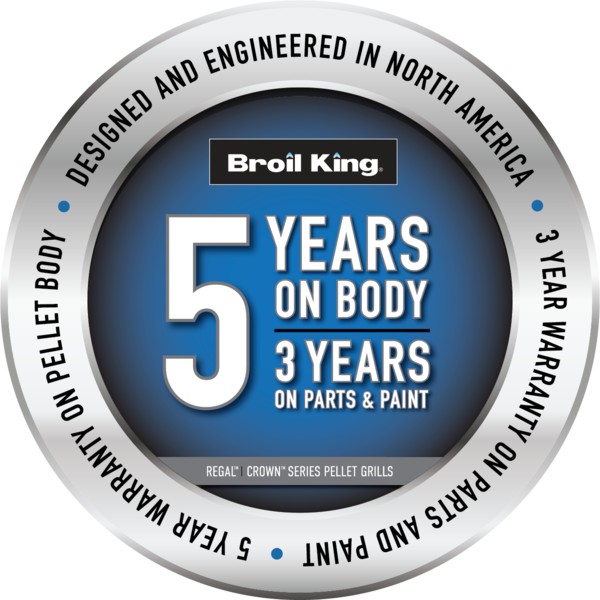 PERFORMANCE GRILL FEATURES.
Every Broil King is built with performance features that deliver unparalleled cooking versatility.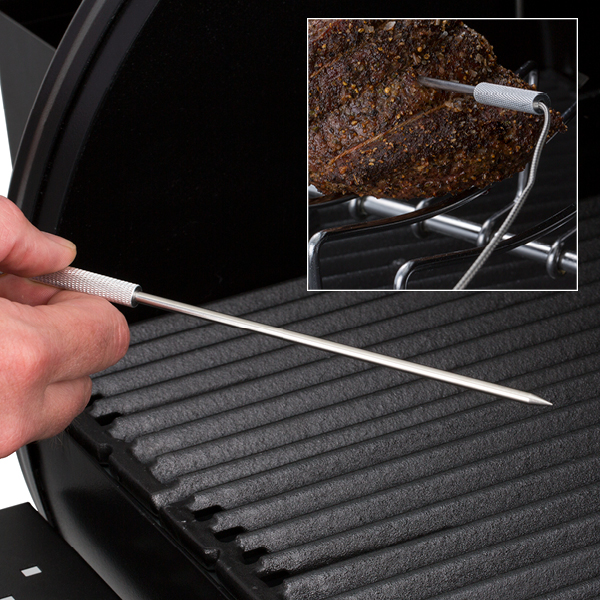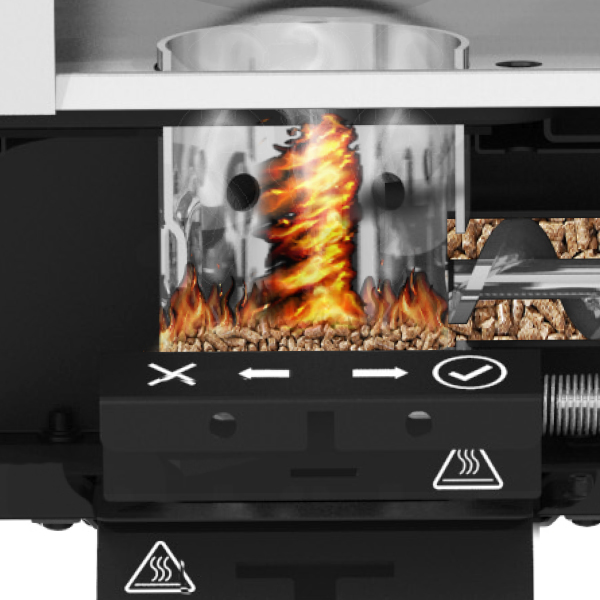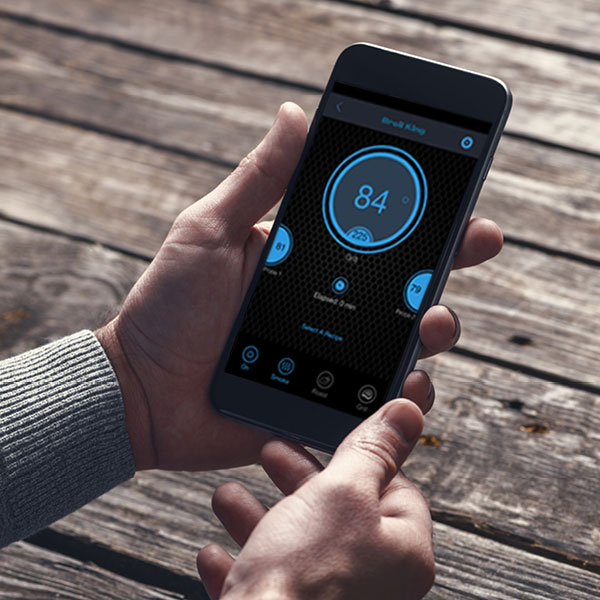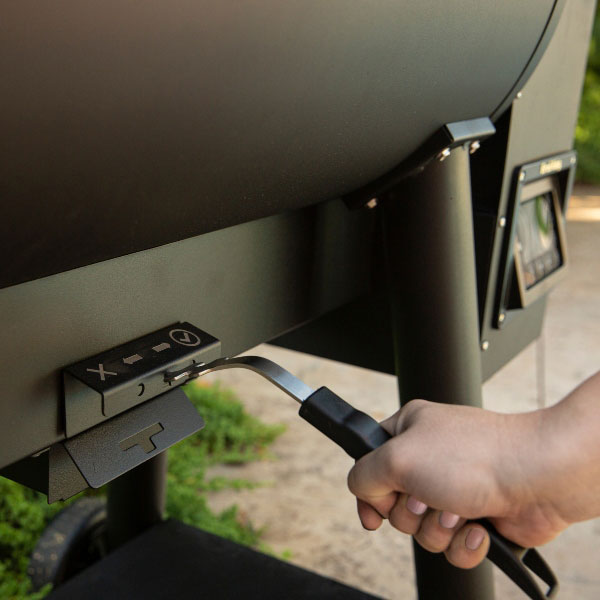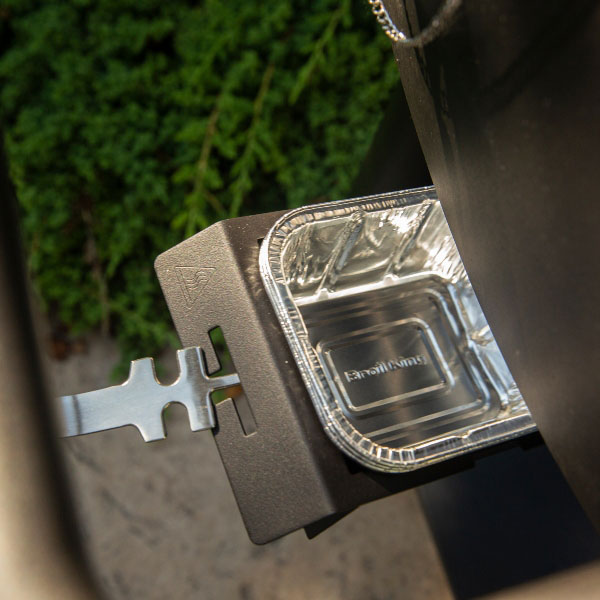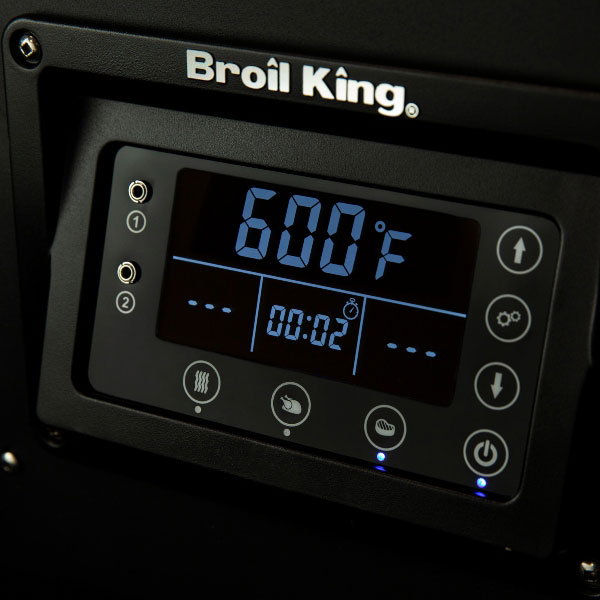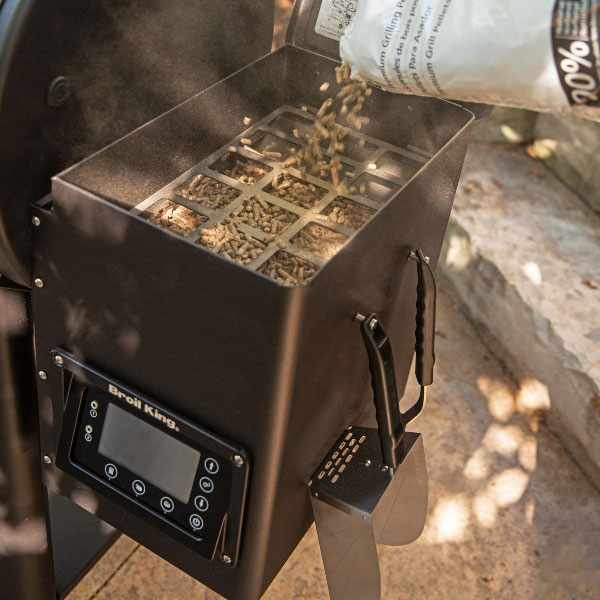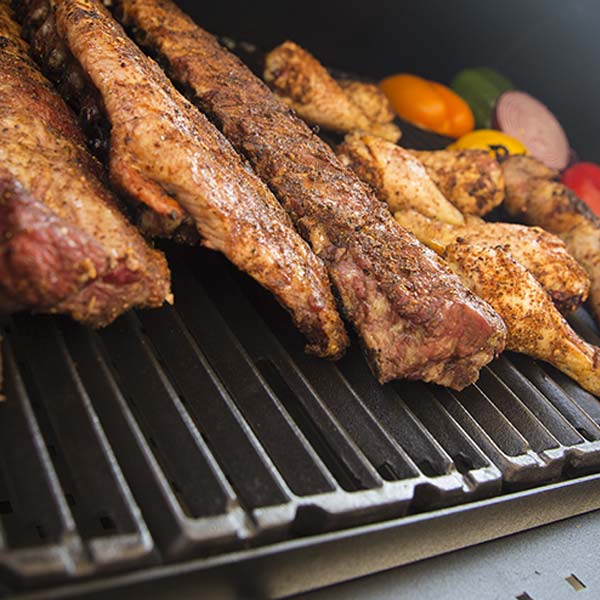 PERFORMANCE GRILL FEATURES
Every Broil King is built with performance features that deliver unparalleled cooking versatility.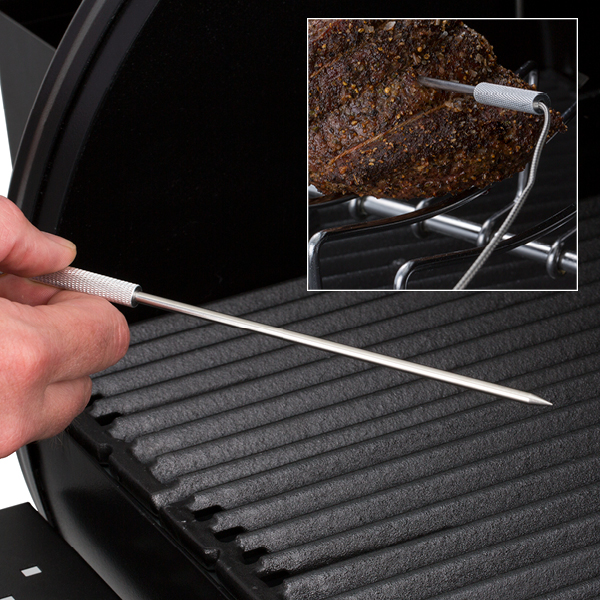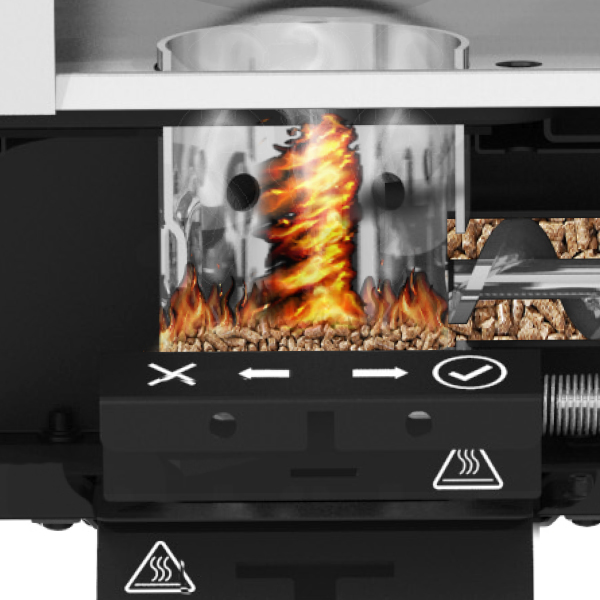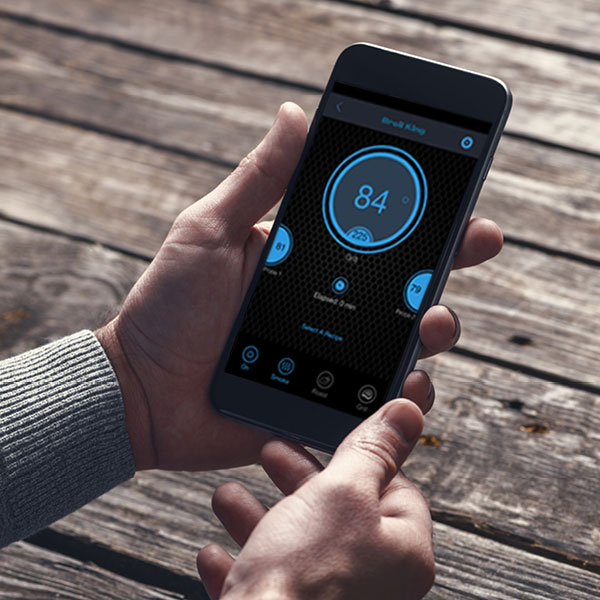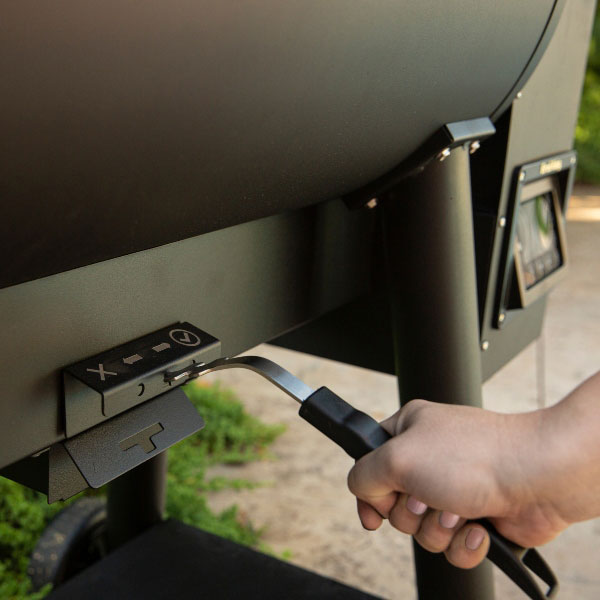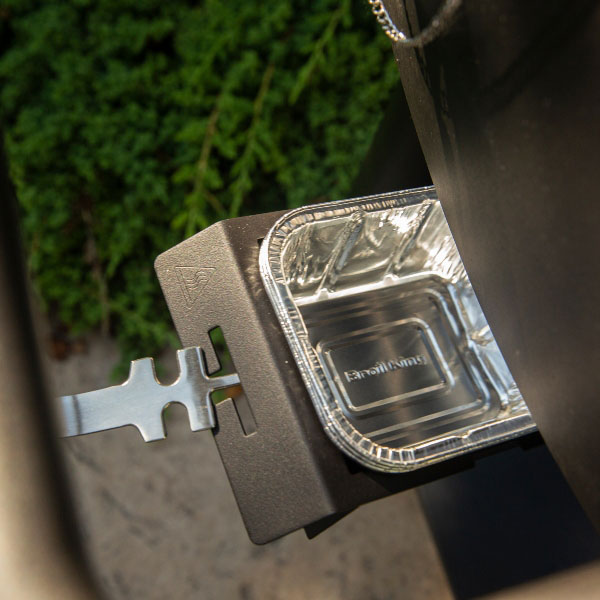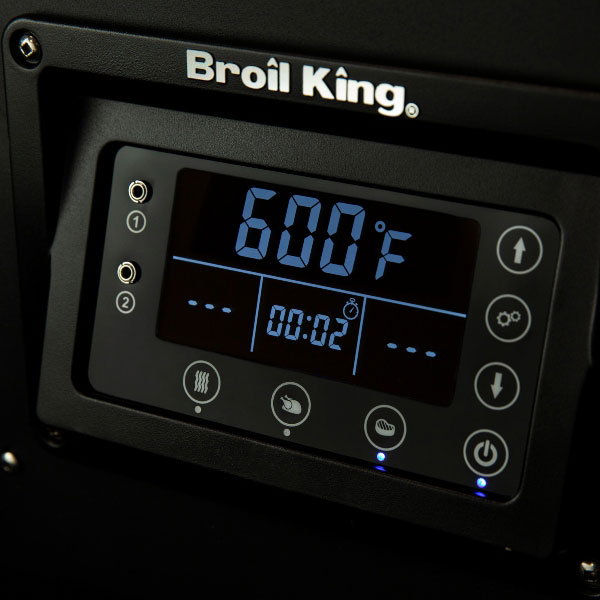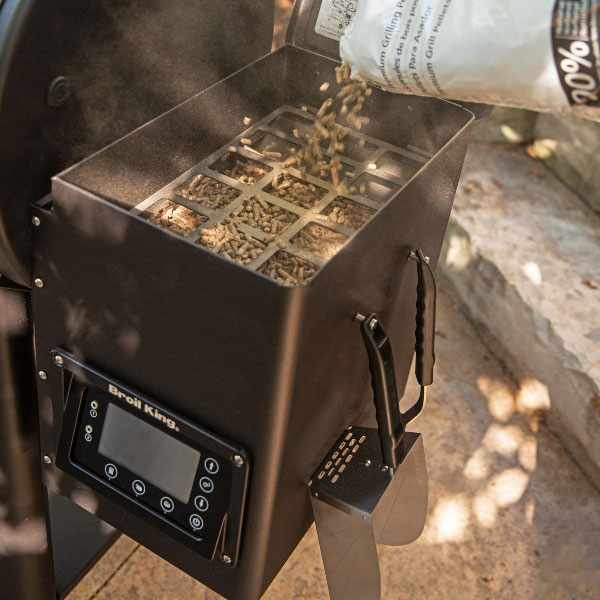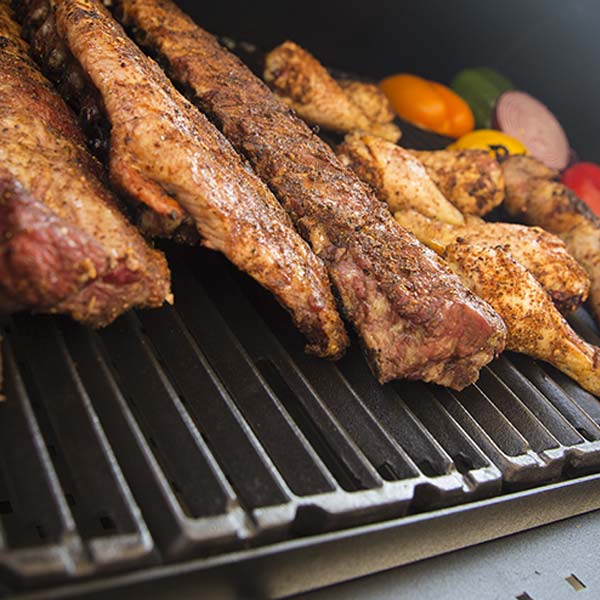 IDEAS TO GET YOU STARTED.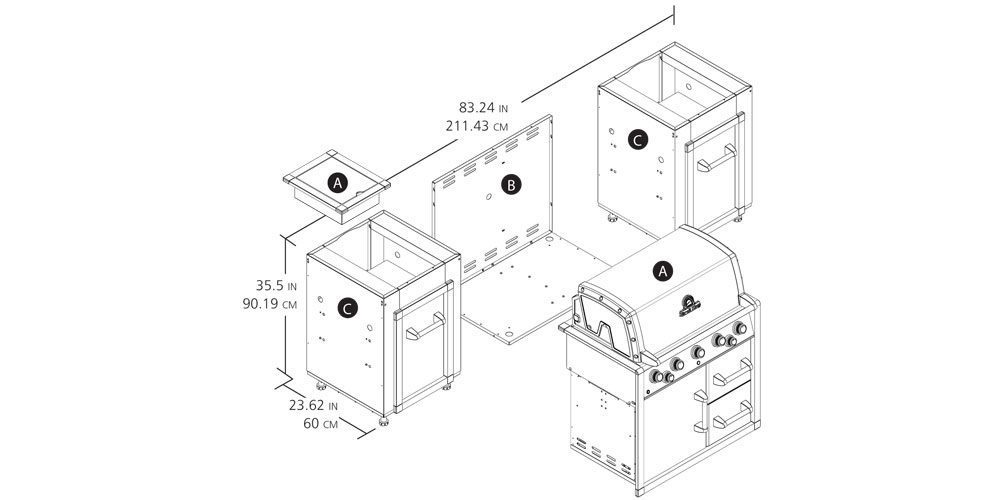 Rated

4

out of

5
by
JonZ
from
Loving it so far
We've had the regal for three weeks and used it a five times so far. Solid construction, easy operation. Mixed results with off brand pellets, but flawless with Broil King brand. I loved the high heat searing option for Picanha steaks. My only complaint is the included meat probes have horrible accuracy. Compared to my calibrated thermapen was at least 9F off. This is a big disappointment as the WiFi's/Bluetooth feature integrated with the temp probes is a huge plus. I will try the offset calibration with my sous vide circulator as a bath, but it should work out of the box! App is a bit buggy when controlling from the front panel and then changing via the app.
Date published: 2020-08-23
Rated

5

out of

5
by
Newt4hawks
from
First Pellet Grill
Got this about a month ago and am new to the pellet grill game so I started slowly and easily. I've done all three cooks... smoked some salmon, grilled steaks and roasted chicken. All three were amazingly good and it's very easy to operate. I just have to get used to the extra steps. My second cook I set temp at start up for grilling but forgot to push the knob to initiate, so it went way past the temp I needed before I realized what I had done. The good news is I probably won't make that mistake again. So far very happy with the product!
Date published: 2020-02-18
Rated

4

out of

5
by
Smokey the grill
from
Garbage app! great grill!
Had my regal 400 pellet grill for 3 weeks now, I have done steaks, meatloaf, wings, brisket, ribs and a pork shoulder. My grill works awesome, all the meat was done exactly as it should be. I have not used the rotisserie yet but plan to shortly. The complaint I do have is with the app. It is garbage. Broil king, you have a great product but look like a bunch of clowns with the poorly designed and mostly dysfunctional app.
Date published: 2020-05-10
Rated

5

out of

5
by
Boots76
from
Easy to use; great results
We have had this grill for six month and have used it to cook steaks, pulled pork, ribs and chicken wings. It is built well, easy to put together and really simple to use. I especially like the smoke, roast and grill buttons on the controller. Wifi/Bluetooth connection was easy. Very happy so far.
Date published: 2020-04-17
Rated

3

out of

5
by
noelb
from
Good Smoker, terrible App
I purchased this smoker about 6 weeks ago, and have made some good meals with it. However, i'm very disappointed with the App support. The main thing I wanted with a new smoker was the ability to control temp and modes with my phone while away. Unfortunately, the app says it will allow these things, but the control does not work as advertised or at all. I can see the temp, but no control. I choose this smoker over a Traeger since it could reach higher temperatures, however i'm regretting my decision since the Traeger system is much more refined.
Date published: 2020-09-11
Rated

3

out of

5
by
Mike T
from
I really want to love this smoker but...
Bought this smoker end of May. Overall the quality is excellent. Love the cast iron grates and the thickness of the actual housing. However, having issues with the welds on the legs. some of seams are missing solder. I was also experiencing huge temperature swings but it seems to be a working better now. Sent in warranty claim on June 8th still waiting to hear back . I would give this smoker 5 stars if only the issues were resolved. ill update my review after more testing...
Date published: 2020-07-02
Rated

5

out of

5
by
Boomtown BBQ
from
Quality! Quality! Quality!
I've been cooking on my Baron Pellet 500 for about a month now and I love it!!I would highly recommend this grill to anyone that is looking to enhance their grilling skills while still maintaining the ease and convenience of their gas/propane grill. Starting this grill is as easy as starting your oven.The pellet efficiency has been fantastic and the variety of pellet flavours is endless. I recently cooked a pork butt at 250 F for well over 8 hours and still had pellets left in the hopper. The set it and forget it cooking style allows me to carry out day to day activities and come back to a meal my friends/family rave about.Overall, the grill is well built and maintains great temperature due to the thick steal. I prefer the cast iron grates that BK offers over the conventional stainless steel grate other brands offer because once they are seasoned, clean up is easy and your food never sticks! The cast iron grills are also removable in 3 sections allowing you to add on the cast iron flat top in any configuration you want.
Date published: 2020-06-29
Rated

3

out of

5
by
Kjclose
from
Easy to use
Worked great for two weeks or so then started, smoking excessively and beeping and wouldn't lite anymore, cleaned it all out down to the bottom and started over, still won't lite . Called service and they are supposed to be sending replacement parts but service personnel says my model and serial numbers don't match the grill I thought I bought so who knows. I paid 1400$ for this thing and already waiting for parts, loved it at first but not sure now!!! Was happy to be purchasing this thing from local store and the factory is also in town. Hope I didn't make a big mistake.
Date published: 2020-05-27
Rated

5

out of

5
by
DBB6350
from
What a Tank
This is my third Smoker, and my first BK, but probably my last I will ever need...The first thing you will notice is the quality and attention to detail. This smoker is Heavy and Built like a Tank! It works flawlessly and has not let me down. I have had it for almost a year, so I have put it through it paces, including the rotisserie feature with two Large chickens a few times. I have no complaints, the Wi-Fi is a nice touch that permits me to keep an eye on the temp, or modify the temp and settings without having to go and see the smoker. Well done Broil King.
Date published: 2021-06-08
Rated

5

out of

5
by
Debbers
from
Amazing. I want to cook everything on this bbq
This is the best bbq I have ever had. Everything I cook on it tastes amazing. Makes the best steak I have ever eaten. Better than 5 star steak houses. I have had this bbq for about a month now and I haven't used my Weber or oven since I got it. I LOVE this bbq. Super easy to use and working it from your phone is a really nice feature too. Highly recommend buying this. I have friends who have a much more expensive brand of pellet bbq and they can't cook steaks properly as they don't have the 600 degree sear feature that this one has. So glad I bought this brand.
Date published: 2020-09-30
Rated

3

out of

5
by
Johnins
from
Already broke
Have brand new Regal 400. All of a sudden want light. Called Broil King and sent new hot rod which took over two weeks to get. Finally got and replaced and still not lighting. Had a Traeger for 7 years and never had trouble. Now what Broil King???
Date published: 2020-04-21
Rated

2

out of

5
by
Adden01
from
Not a great start
I bought this grill to replace a Weber smokefire which I had had for a few months. My initial impression was like many others, this is built like a tank! The materials and intuitive design elements are way ahead of Weber. Unfortunately, after 3 uses, including the burn in, it stopped working. I called customer service and explained that the grill stopped working 48 hours into my ownership. I asked if the parts to replace the hot rod could be expedited, they were not and it took 3 weeks to get the parts, part of the delay was caused by my address being input as "insert customer address" guess I'm lucky I got it at all! I ended up getting an entire control until, hot rod and temp sensor. I replaced the first two and it is working. Hoping for the best because I really like the concept of a smoker that can get hot enough to grill. Time will tell.
Date published: 2020-06-12
Rated

1

out of

5
by
Wayne16
from
Bought a month ago. Motor failed after 2 hrs
Followed directions to the T , motor failed first time use , after 2.5 hrs. Of smoking Really not impressed with this unit. 7 week wait on motor ,
Date published: 2021-02-01
Rated

3

out of

5
by
Vaughn
from
Not that impressed
I spent a lot of money on this grill and not impressed so far. Not the flavour I thought it would produce. In Fact the flavour is not there at all. Maybe I'm not using it correctly but I have used charcoal for years and find it much better to cook on. The heat inside the grill does not seem to be there either. I'm thinking I should have saved my money. I was really excited about getting a pellet grill. This one is well built. But not
Date published: 2020-04-13
Rated

2

out of

5
by
NoSmoke
from
Unable to use!
I purchased it July 27 and still unable to use it due to Temperatures fluctuations . Waiting for replacement parts
Date published: 2020-08-13
Rated

1

out of

5
by
Dawsftw
from
Utter Disappointment
There is literally nothing good to say. I was a Traeger owner for 7 years and never had a problem. Within 5 months this grill is now sitting broken and waiting for back ordered parts that I was made to pay for, as I purchased the grill at an end of season sale at Home Depot, rendering the warranty invalid as per the staff at their Canadian office. The grills wifi feature is intermittent and pointless, the probes are inaccurate and will cause your food to end up being overcooked or undercooked depending on the day. I was accused of leaving pellets in the hopper and using another companies pellets when I called to report that my grill had stopped moving pellets, both of which were not the case. The support was terrible, the grill has been a major disappointment and I'm out my grill money. Look to a more established pellet grill, this one is not worth anywhere near what they're asking for it.
Date published: 2022-04-15
Rated

5

out of

5
by
Johnny Jackson
from
Great Flavor
We purchased this product in July. During the time of purchase there was the opportunity to receive some free products to enhance our grilling enjoyment and experience. We were kicked out of the program before we had a chance to choose. We are enjoying our pellet grill. We are still learning. It would be an added benefit it there was a BBQ book to go along with it.
Date published: 2020-09-14
Rated

1

out of

5
by
Charlie2
from
It can't decide what temp it wants to cook at!
Great build , poor execution. Had high hopes and expectations. What a huge disappointment. Temperatures are way off from what you set them at, making cooking far more challenging than it needs to be. It's beginning to look like I'll be stuck with this smoker until I'm ready to spend another 1500$+ on another brand.
Date published: 2021-06-09
Rated

5

out of

5
by
PMole
from
Great Product!
I've always been interested in getting a smoker but was leery about temperature control with a smoker that uses wood as a heat source. The Baron pellet grill that I purchased solved that problem! I grill within a plus or minus of 5 degrees fahrenheit. The two built in thermometers that I hooked up to WIFI and connected to my phone ensures a perfect internal temperature of everything that I BBQ. I highly recommend this product for someone who is interested in testing their skills on the grill!
Date published: 2020-09-13
Rated

4

out of

5
by
Oilersgeek
from
So far so good
I bought the regal 400 about 2 months ago and so far I've been happy. Love that it's built like a tank and it's easy to clean. The one problem I've been having is with the temperature read out. After the first couple cooks I was suspecting that it was reading higher then the temp was at the cook area. I just installed two temp gauges and have noticed that these two gauges are reading about 100f less then the broil king temp. I'm wondering if maybe something is wrong with the thermo coupler.
Date published: 2020-05-15
Rated

2

out of

5
by
Christophe 2112
from
PAS PRET POUR ETRE VENDU EN FRANCE
Trop peu d'explication en français.Impossible de trouver des pellets de la marque en France. Le produit semble être performant mais l'absence d'aide en français (recettes, calibrage...) est trop pénalisant. Je suis déçu car l'absence d'aide en français est pénalisante pour organiser un repas. Ex comment faire pour griller si nous ne voulons pas faire de la cuisson lente ? Quel temps de cuisson ? Pouvons nous enlever les déflecteurs pour cuissons directe ???
Date published: 2020-06-29
Rated

5

out of

5
by
Mister GGH
from
Awesome Pellet Grill
I was leaning towards a pellet grill from Georgia, before I checked this Broil King Baron Regal. Glad I did. I'm not a novice on the BBQ, I know how to use a gas grill. But after only 4 uses, I'm Really liking the Broil King. Easy to use, easy wifi set up, assembly, all Afer reading the assembly manual and product manual. While using the wifi feature, my router is 40' away in the house, I'm 20' from the Pellet Grill while it's cooking, I change the temperature on my iPhone app and as I type it it appears on the LED Screen on the grill, so yes wifi works well.the first cook was ribs. They turned out ok, though not quiet as good as the gas grill, but I chalked that up to inexperience. Second was pork tenderloin, smoked for about 3-1/2 hours, with Apple pellets, a rub recipe I pulled from the Net, nothing brand named, and my wife's secret sauce, that she won't even tell me what's in it besides oil and horseradish, but oooooh so good, it turned out Awesome. I also did a Tomahawk steak, with only Montreal steak spice. It was done to perfection using the probe. After pulled pork then more pork tenderloin All delicious. It's made here in Canada, bought at HomeDepot online, delivered to my garage. Thanks to HD. I'm glad I purchased the Pellet Grill from Broil King, and recommend it 100%. Oh yeah, it Is built like a Tank!
Date published: 2020-07-25
Rated

3

out of

5
by
InWaterloo
from
First smoker
This is the first smoker we have owned but not the first one we've used. The look and the quality of the actually product is what gives it a 3 out of 5 review. I had a brisket smoking for 10 hours at a consistent 225 degrees. The probe reads 180 internal and has stayed that way for the last 3 hours. I don't know that the thermometer works well? The app reads it's connected to a Baron not a regal like it reads on the box.
Date published: 2020-05-23
Rated

5

out of

5
by
SK42
from
Finally pulled the trigger!
I did a bunch of research and found that the BK Regal was the pellet grill with the most features. I have had only a few cooks since purchasing, all but one (bad recipe) have been excellent. The grill is simple to use and the results are fantastic, I would recommend to anybody looking for a pellet grill. This grill is a little bit more expensive than other grills but the quality of the build is worth every penny.
Date published: 2020-08-31
Rated

4

out of

5
by
Metcalfe
from
Potentially the best smoker/grill ever...
I've had my Regal 400 pellet smoker grill for a month. The GOOD: I have produce some really good smoked goods, as well as grill food - I favorite was the rotisserie sausage stuffed, pesto basted chicken. The Tech Support have been very helpful (actually the regional sales manager). The unit is very solid and should last for years. Cleaning is the easiest I have ever experienced. The BAD (but resolved) - controller had to be replaced. The newer controller behaves as expected and is a newer version than the original. Some manufacturing over sights (one end of the handle was not threaded, one axle was not tack welded), unit leaks smoke. The app leaves a lot to be desired but works for the most part. UPGRADES: Improve quality control. Add an outlet for the rotisserie to save tying up two outlets. A front shelf or larger side shelf would be great. Add-ons like a warming box or cold smoker box would also be awesome.
Date published: 2020-05-09
Rated

4

out of

5
by
Jase036
from
Amazing pellet smoker let down by tech
Don't get me wrong, I would definitely buy this again over competing offerings from Traeger and Weber. But it's really sad that some of the features can't be taken advantage of because of poor software execution. Especially since the hardware is really top notch. For one, the app doesn't connect to the smoker on 3 different Android devices I tried. Works fine on Apple. Which then brings me to my second point, temp sensor and probes were off by a significan amount, fortunately you can calibrate them, unfortunately you need the app to do so. So if you don't have an Apple device, no calibration for you. Setting the temp with the circular controls on the app is also finicky. I can't figure out why a timer running out on the app doesn't sound an alarm or sends a notification, or when the probes hit a target temp. A graph of probe temp over time would also be helpful. If the app wasn't so bad this would get 5 stars easy.
Date published: 2022-04-04
Rated

4

out of

5
by
LeeH
from
Great machine once the kinks were worked out
Wasn't able to use it for the first four months due to a faulty auger and control panel. Once my parts came in, the smoker has ran perfect. Would have been nice if Broil King sent me a bag of pellets at the very least to compensate for the hassle and missing my first summer of smoking.
Date published: 2021-06-08
Rated

5

out of

5
by
London theo
from
Great smoker
This smoker has been nothing short of amazing!!!Everything that I wanted in a smoker Broil King has surpassed it with flying colours!!From the design,to the wifi,to high quality of the build to the control functions to maintaining heat this smoker does it all.Well done broil King!!!
Date published: 2020-05-30
Rated

5

out of

5
by
Dudley
from
Easy start up
I have only used my pellet grill twice. Each time it heated up quickly and maintained the correct temperature setting. Good smoke and food tastes very moist not dried out like propane grills. So far I really like my grill. Well built easy to assemble.
Date published: 2020-09-09
Rated

4

out of

5
by
MbOttawa
from
Great build quality
Been smoking since August 2020 and performa great. Great thick steel build quality (needed to smoke in winter) and cast iron grills (flavour saver!) so far other than a couple of jams with pellets stuck in auger that stopped the cook it has worked well.
Date published: 2021-06-09