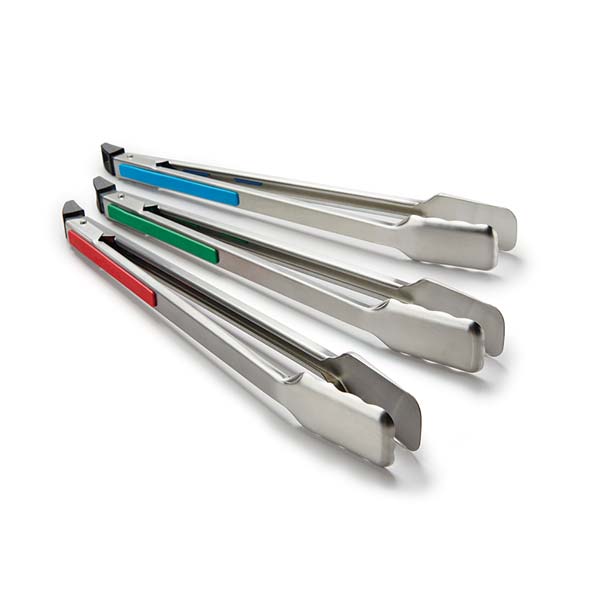 3 PACK GRILLING TONGS
64312
Color-coded grilling tongs help you manage allergies, dislikes or cross-contamination. For example, use the green tongs for vegetables, red for meats and blue for fish. Grilled Asparagus and Prosciutto Spears
Rated

5

out of

5
by
SPorsnuk
from
Good grip and no slip!
I bought these tongs half way through summer as I was frustrated with the tongs I had, one set had a silicone end on and the other set had ends that didn't line up with each other. These tongs are awesome, the food doesn't slide out of the tongs when you pick it up and the handles are very easy to operate, not stiff or awkward. If you're looking for tongs that look smart but are also functional then these are the ones you want, I highly recommend them!
Date published: 2019-10-23
Rated

5

out of

5
by
Luckydreamer109
from
Color Coded
I love my Broil King tongs - best ones around because of the colors - when I'm grilling I know what tongi is for turning the chicken legs, which is for turning my potatoes - otherwise I'll end up using the tongs on the raw chicken & then the potatoes which becomes a health hazard, These color coded tongs keep it nice & simple for grilling or cooking anything for that matter!
Date published: 2019-10-25
Rated

5

out of

5
by
amanda233333
from
great tongs
These Tongs are long and sturdy. They are made with a strong heavy steal that I'm hoping will stand the test of time. They have a nice flat surface on one side for flipping steaks or burgers. My husband loves them. They are long enough so your are not so close to the heat and sturdy enough that hopefully you don't drop precious meat. Very happy with my purchase.
Date published: 2019-11-04
Rated

5

out of

5
by
Jim412
from
Tongs!!!!!!
best Tongs I have used in all of my grilling life. Plus having 3 Different colors to designate each tong to what meat you are cooking or raw to cooked it's amazing. Highly recommend. Plus the easy removable rubber to wash and great gripping power you can't ask for much more!!!!
Date published: 2019-10-24
Rated

5

out of

5
by
jeffjjc63
from
GREAT Grilling Tongs!
My wife bought these for me as a birthday present, and I tell you from the minute I unwrapped them, I have loved them! They are very sturdy, have great shape (easy to hold when my hands are full juggling other things), and clean up very easy! And the price was very good!
Date published: 2019-10-25
Rated

5

out of

5
by
Jojo59
from
Real Grip perfect
I got tired of tongd that truly had no grip. Dropping food is not what you want when you are having a grill party. These have actual grip. No more food sliding out when flipping or removing your grilled masterpiece.
Date published: 2019-10-26
Rated

5

out of

5
by
Meal prepper
from
Tools to use
No matter the activity, Tools do add enjoyment by making activity ( chore) more enjoyable. Tongs to roll weiners, brushing on sauce, flippers for burgers steaks, all more enjoyable with tools to use.
Date published: 2019-11-30
Rated

5

out of

5
by
flycastin
from
Light and Durable
Bought these and wanted to say they are very durable and light. We use them for all applications on our BBQ and grill. Perfect length too and they don't get hot so can use them without gloves.
Date published: 2019-10-23