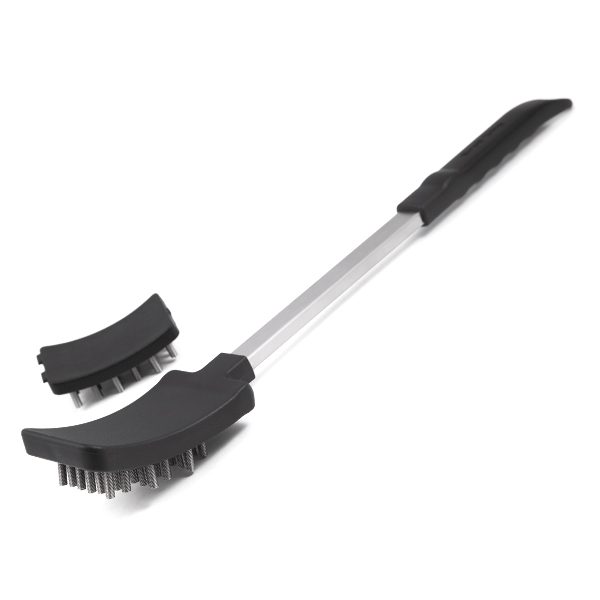 BARON™ COIL SPRING GRILL BRUSH
65600
The durable stainless steel coil springs move independently to efficiently remove food residue for optimal grate cleaning. This stainless steel, coil spring grill brush comes with a replacement head.
*Patent Pending Grilled Asparagus and Prosciutto Spears
Rated

5

out of

5
by
BBQ poppa
from
Spring grill scraper
I think this is a bit much better idea than the traditional wire scrapers because as you go along the wires break off you end up getting a little pieces of wire in your meat and your food and it's quite dangerous. This scraper there are no loose pieces of wire it is a little tougher to use with the grill is cold but essentially at the end of the day everything stuffer to use on the grill is called because nothing wants to come off. I think it's a great idea and I have thrown my other wire brushes out & I will never use them again far too dangerous!
Date published: 2022-08-11
Rated

5

out of

5
by
tony_important
from
Scrape-GOAT
I swapped out my wire brush for this coil spring grill brush in my grill cleaning process (wooden grill cleaner scrape, brush scrape, oil) and it does the job of getting most of the stuck on grime off without any issues. I like that it comes with 2 additional spring coil heads so that I can eventually swap them out once the springs get super grimy, which adds a nice touch of value to the brush!
Date published: 2022-06-20
Rated

5

out of

5
by
jclement
from
Great Brush
This brush works amazing on the bbq - it takes off everything that is stuck to the bbq and doesnt break easy. we have had ours for quite a few years and it still has a lot of life in it.
Date published: 2021-06-09
Rated

5

out of

5
by
Arkansas Glenn
from
Best Grill Scraper Ever
Where has this been all my life?! That thing is phenomenal. Not only is it the best grill scraper I have ever used (and I have gone through a lot of grill scrapers in my day) but it is seemingly indestructible. It came with three heads and I am still on the first one. It shows no sign of wear at all and believe me, I have put it through the ringer.
Date published: 2022-11-15
Rated

3

out of

5
by
Skinney
from
Good safe brush
I have been using this brush for a month now and it has performed quite well. Only one spring deformed and obviously no tiny bristles on the grate. My grate is stainless steel (so round bars) and the springs tend to spread and go between the bars so I have to brush sideways to clean the tops. I think this brush would be great on a cast iron grate
Date published: 2022-08-25
Rated

5

out of

5
by
Annie123
from
Best BBQ ever
I have this BBQ a year now and it's awesome so worth it make the beat burgers along with anything else you want to cook you won't be disappointed
Date published: 2022-08-10
Rated

1

out of

5
by
happy
from
coil brush
we used this and it started to loose the brissels . didnt like it because little pieces were going everywhere wouldnt get one again
Date published: 2022-08-09
Rated

5

out of

5
by
Dougie Meatsweats
from
Revolutionary Grill Brush
This thing is amazing! Such a great design idea. No concerns regarding bristles coming out of the brush and it lasts forever.
Date published: 2023-05-01