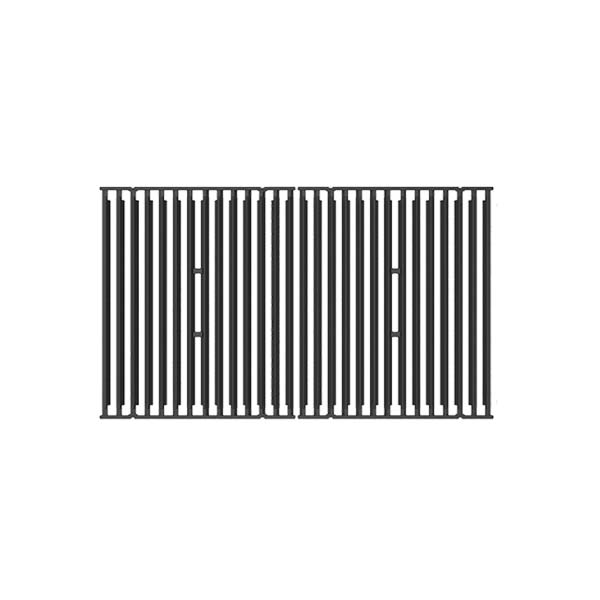 SIGNET™ CAST IRON COOKING GRIDS
11228
15″ x 12.75″ – For Broil King® gas grills. Set includes two grids. Fits models: Crown™ 10, 20, 40, 90 (2008 and newer), Signet™ 20, 70, 90 (2007 and newer). Grilled Asparagus and Prosciutto Spears
Rated

1

out of

5
by
Anonymous
from
Rust and breakdown quickly
I bought the Broil King Signet in May 2018 for Father's Day. Overall the grill has been great. I bought the Broil King because I did a lot of research on which grills were quality and held up and Broil King was at the top. However the cast iron grids have been really hard to maintain. They constantly rust and recently a couple of the bars broke. I will replace these grids because I like the grill but there must be a problem with the cast iron they are using. This seems to be a recurring problem with the grill.
Date published: 2020-11-09
Rated

1

out of

5
by
Mark D
from
Rusts easily
I have owned my grill for 2 years and the grates are rusting. I find it strange that a grill, to be used outdoors, which is subject to natural humidity of the outdoors as well as rainy conditions, utilizes cast iron which can NOT be subject to wet weather. I keep my grill covered 100% of the time when not in use and remove the grates during the winter months. Even doing this and seasoning it did not prevent the grates from rusting. Your maintenance video for the seasoning of the grates even mentions "never air dry the grates". Well, what do you think they do after inclement weather outside? No grill owner is going out to towel dry their grates after inclement weather. Poorly thought out design.
Date published: 2020-06-08
Rated

1

out of

5
by
Karsten
from
Grill rusted through in less than a year
Bought my Baron end of last May to replace my 10 year old broil king. I checked the barbecue after dry storing it all winter (last week), and the grill is cracked in 3 places! I have never seen this on a barbecue before. I never had to re-season my old broil king that was made in Waterloo, and the grill was fine when I tossed it. Where is the cast iron sourced from now? Very disappointed
Date published: 2017-05-02
Rated

1

out of

5
by
MerlinYYC
from
Rusting and cracking
No matter what I do, these grids rust and crack. I have my Signet for 2 years, so it will be my 3d summer with it. I use it year round and season the grids. Been through 2 sets of grids so far...bought my third today and getting tired of it. Despite that, I'm really satisfied with my Signet and hope to keep it for a good number of years. I maintain it very well too.
Date published: 2020-02-20
Rated

1

out of

5
by
KPW11
from
Rusting and falling apart
Similar issue as other reviewers. My 5 year old Crown grills are rusting, cracking and falling to bits. I absolutely love the rest of the BBQ, just this one issue drives me nuts and to see that the design or material hasn't been changed to resolve is frustrating.
Date published: 2020-06-06
Rated

1

out of

5
by
Dtchief7
from
Very very Poor Grids
I bought my Signet from Lowes a few years back and the grids began to deteriorate the next year. I take them off a couple of times each year to clean thoroughly but the metal has chipped away so bad as to not be able to use these grids any longer. I need to replace them but wish there was an alternative to these same grids since its obvious they are not going to last any longer and will chip away as many others have complained. A wonderful product other than the grids and I just bought my son one for his new home in hopes that he has better luck with the grids than I have.
Date published: 2020-07-08
Rated

1

out of

5
by
Wintle
from
Terrible grids
I operate and maintain my Signets as per the owners manual yet within the first year they both started to deteriorate. Constant losing battle against rust and cracking. Until Broil King can address the problem they should cease selling these. My parents have had the same Broil King for almost 30 years. They leave it out in the winter and it is in great shape. I'd like to replace the grids with the stainless however an asking price of $145 isn't reasonable considering the short lives of the originals.
Date published: 2022-04-08
Rated

1

out of

5
by
Darryl C
from
Broil King Signet Grill Grids
We purchased this bbq less than 2 years ago and the cooking grids are now not safe to use.
Date published: 2020-04-23