DELUXE CUTTING & SERVING BOARD SET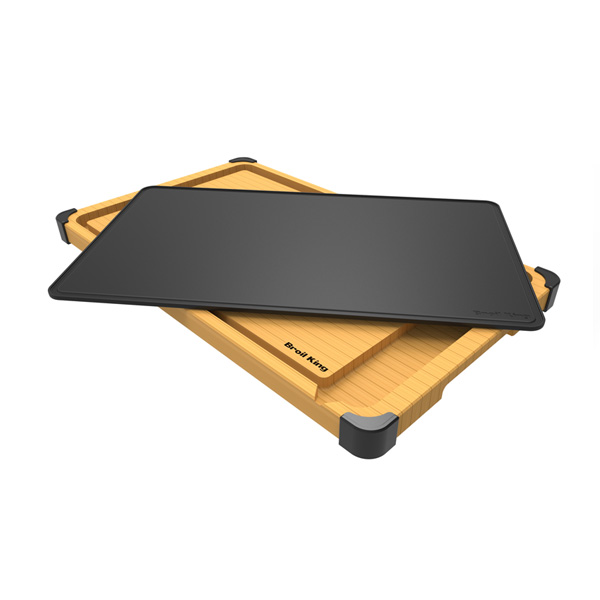 DELUXE CUTTING & SERVING BOARD SET
68426
The essential griller's cutting board includes a double-sided resin cutting board for raw meats and a bamboo carving board for cooked meats or vegetable prep. The carving board has a large moat to trap drippings and an easy pour spout to dispose of them after a cookout. Silicone feet keep the board from sliding. 12-IN x 20-IN. Grilled Asparagus and Prosciutto Spears
Rated

5

out of

5
by
Mermaid55
from
Quality cutting board! Very happy with it!
I was quite impressed by this cutting board when I received it. You can tell right away that it's a quality cutting board. It has silicone feet and some weight to it which I love because that will help keep it from sliding around while using. One of the best things about this cutting board is that it's designed to catch drippings and there's even a little notch where you easily pour out and dispose of the drippings when you're done. The resin cutting board can be used on both sides and easily cleaned as well. If you're on the fence about purchasing this, I'd recommend going for it. You won't be disappointed.
Date published: 2019-10-17
Rated

5

out of

5
by
Bbyjo
from
Heavy duty!
This is by far my favorite so far when it comes to cutting boards! It is a heavy duty type of bamboo material and is of a very nice size, perfect for when you have guests and you're grilling a lot of meat or even if you're cutting a lot of vegetables/fruits. It has silicone grips on the bottom, providing nice grip, so it's not moving all over the place! It has a decent sized 'moat' type that helps catch any droppings and even has a little spout to make pouring easy when dumping! All in all, I am so pleased with this cutting board!
Date published: 2019-10-07
Rated

5

out of

5
by
Lizorto
from
Great board!
This cutting board is great quality! It is sturdy and cleans easily. I am confident when cutting meat on it because the corners have little silicone grips that prevent any moving around. This isn't your regular small cutting board for small items like an apple or such, it is huge! Enough room for a hearty steak! It comes with a serving board where I place all my cut up items on for an easy transfer to the grill or just to serve. This is a great cutting board!
Date published: 2019-10-10
Rated

5

out of

5
by
Jrein
from
Great cutting board
I love this cutting board. It is nice and big and I especially love the liquid trough on it it makes it so much less messy. I also love the serving plate that comes on top of it so you can cut the meat and put it right on the tray. The corners have silicone so the cutting board doesn't move while you are cutting. It's easy to clean. Great for big roasts turkeys or any other big meat or vegetables.
Date published: 2019-10-04
Rated

5

out of

5
by
Justina687
from
Just what I was looking for!
I LOVE to cook (self confessed foodie here!) and my old wooden cutting board was not doing the trick anymore. A friend of mine had this exact set and loved it, so I got one as well. Y'all, this has been wonderful. I have something to cut my veggies on and something to cut my meat on. No more hand washing between what I'm cutting and the quality is outstanding! If you're on the fence: go for it!!
Date published: 2019-10-06
Rated

5

out of

5
by
Momabritt0120
from
Very nice
This is a super nice cutting board. Its really good in size, no problem citing up chickens or onions or whatever you may like, it's easy to clean and doesn't look bad sitting out on counters either. I definitely will have this around for a long time.
Date published: 2019-10-06
Rated

5

out of

5
by
snm1883
from
Great size!
I love this cutting board. It is large and beautiful. The groove to catch blood is deep and runs all the way around the board. It also has a nice cut out to drain the blood. The serving tray is perfect for bring food to and from the grill.
Date published: 2019-10-08
Rated

5

out of

5
by
njgnet
from
Great for hosting
These boards are awesome. Not only are they massive but I have used the serving insert more times than I ever thought I would. It's a great way to separate veggies from the meat when doing burgers etc.
Date published: 2019-10-11