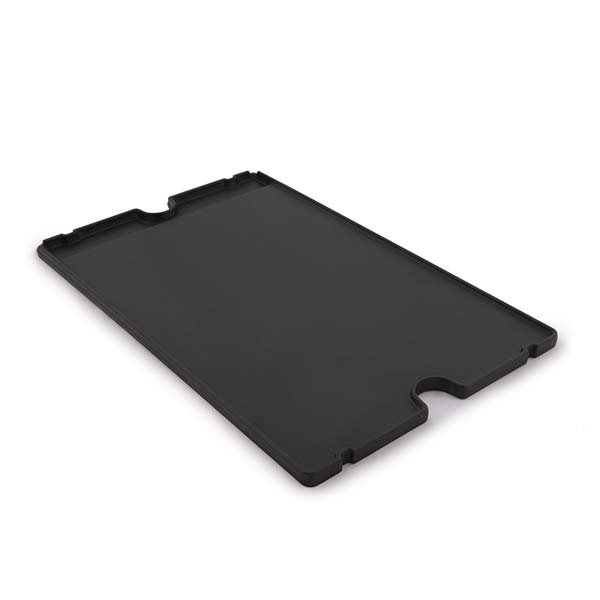 EXACT FIT GRIDDLE REGAL™ | IMPERIAL™
11239
Expand your barbecue's capabilities with a Broil King® Griddle. A reversible, heavy duty cast iron griddle with matte porcelain coating has one smooth side for frying while the other side is ribbed for searing. Exact fit allows for use in place of a section of the cooking grids on your Broil King® barbecue. Size: 19.25″ x 11.18″. Fits: Regal™ Series, Imperial™ Series. Grilled Asparagus and Prosciutto Spears
Rated

1

out of

5
by
BBQ Sweden
from
Poor fitting on cast iron griddle
I have a Regal Pro 590s and just bought the cast iron griddle for the Regal/Imperial stating that it would fit perfect. Well it doesn't! It fits very poorly as it is about 1-1,5mm to long which forces the griddle rest upon the side of the frame on one side and thereby tilting it. Very disappointing as my expectations on BroilKing is high and should be as it is a premium brand. But I also want to state that I am extremely satisfied with the gas grill in it self, it is the best I've ever had and I have quite a few.
Date published: 2017-04-29
Rated

3

out of

5
by
AK47
from
Overall good results but procelain coating trouble
I bought this recently for my Regal S 490 to safe me the time to wash a pan after using the sideburner. Results are excellent (tried bacon and eggs) but the coating showed some bubbles after the first use. Actually I had to remove some of the coating not to have it stick to my food in the future. There is rarely any guidance about heat or whatsoever. I will continue to use it but beware of burning of any grease from the plate.
Date published: 2017-04-21
Rated

5

out of

5
by
BdginYYC
from
A Must Have!
There is no substitute for having a well-made cast iron griddle. For smashed burgers, or sautéing veg, a griddle is an essential item. I didn't buy one when I purchased my Regal Pellet, and I regretted it for a few weeks until I finally bit the bullet and went back. Thick enough to hold some great heat--but not so thick that it's unwieldy. I sometimes drop it in place--as the Exact Fit suggests--and sometimes just lay it on top of my cast iron grates. It comes pre-seasoned, and I found the pre-seasoning acceptable. The key to long, reliable performance is the same for all cast iron. I clean mine while it is still warm, and I dry it on my gas range before taking it out to store inside my Regal. In terms of size--I can get roughly 4 x 4oz Smash Burgers on it at once without crowding.
Date published: 2021-06-08