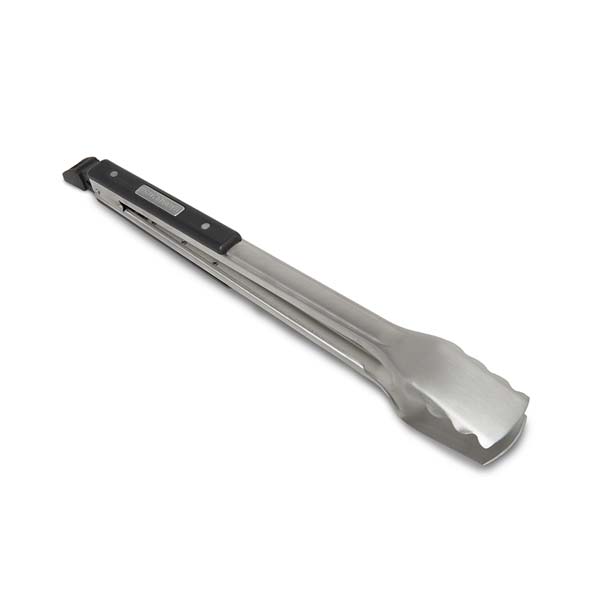 IMPERIAL™ GRILL TONG
64012
The Broil King® Imperial™ professional stainless steel locking tong is designed to combine the lifting function of a grill turner with the gripping power of grilling tongs. The locking mechanism also doubles as the hanging hook. The grill tong features high density resin handles inset with the stainless steel Broil King® logo. Grilled Asparagus and Prosciutto Spears
Rated

5

out of

5
by
deniseleahart
from
Great Tongs!
I live in Louisiana so we cook outdoors several times a week throughout the entire year and you need the perfect tools to serve up perfection and my Broil King Imperial Locking Tongs does just that. The locking feature is perfect for hanging the tongs when not in use and I love the nice long length of the tongs so that I can pick my food up and move around the grill with no worries of getting too close to the flame, it also has a nice little flat side that flips your food as well so its very multi-functioning which as the cook, I totally appreciate. This one is a keeper! It has a great feel and wonderful design. I'm very happy with my tong.
Date published: 2019-10-08
Rated

5

out of

5
by
rachmarie20
from
Well made grilling tongs
I received the Broil King Grilling Tongs and was really impressed by the quality. The are about 18.5 inches long and are very sturdy. I like how long they are so I don't have to worry about getting burnt when trying to flip items on the back of my grill. I have used them to cook a variety of items ranging from ribs to chicken wings to vegetables and they work great on all of those. When I flipped over the ribs, I felt confident that the tongs weren't going to break due to the weight of the meat. I have also used these to make sliders and they worked well flipping the meat. The base of the tongs is wide enough to flip over smaller burgers. I am very impressed with these tongs and hope they last.
Date published: 2019-10-07
Rated

5

out of

5
by
Zaidap18
from
Great for grilling.
I love the length of it, its great so you won't get burnt. The quality of them is awesome they do not feel cheap. I have used them almost every weekend and they still seem very sturdy after all those uses.
Date published: 2019-11-22
Rated

5

out of

5
by
vickysin
from
Very sturdy!
I love these grill tongs. They are so sturdy and the meat doesn't slip out of them when I'm removing it from the grill. They are long enough that your hands are not too near the heat, but not too long that it makes handling them difficult. They are easy to lock and also store and the one side is like a spatula so turning things is super easy. And since they are the right length the tongs didn't get hot while I was handling them. I will be getting more Broil King products for sure!
Date published: 2019-10-07
Rated

5

out of

5
by
Caseyc
from
Strong and Sturdy
I love these tongues. I am one of those people that likes to grill outdoors all year round. It was always hard for me to find tools that would hold up to nearly every day use. This set of tongs fits the bill. They are strong and sturdy. Also they are very easy to clean. I love how you can collapse them so they stay shut for storage. They fit perfectly in my dishwasher as well.
Date published: 2019-10-07
Rated

5

out of

5
by
Shellyzup
from
Heavy Duty Tongs and so much more!
These Tongs are long and sturdy. They are made with a strong heavy steal that I'm hoping will stand the test of time. They have a nice flat surface on one side for flipping steaks or burgers. My husband loves them. They are long enough so your are not so close to the heat and sturdy enough that hopefully you don't drop precious meat. Very happy with my purchase.
Date published: 2019-10-06
Rated

4

out of

5
by
Keam
from
So big!
The material is quite good and reinforced, the size for me was not very good, since it becomes quite large and I can not accommodate, but that does not alter the function, however I loved the material, a perfect follow for the use, it is not rusty and that speaks well of quality.
Date published: 2019-10-05
Rated

5

out of

5
by
Bobbers789
from
Great for grilling!
This tong is great for grilling. I really like the length of it. You do not have to worry about getting your hands or arms burned. It is good for cooking on the stove too. It is very easy to clean also.
Date published: 2019-10-13