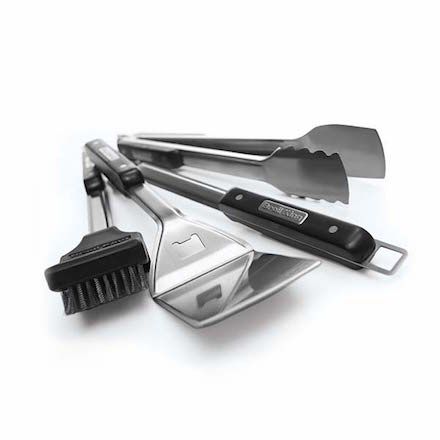 IMPERIAL™ GRILL TOOLS
64004
The Broil King® Imperial™ 4 piece barbecue tool set features a durable design tough enough for even the most demanding griller. Large, high density resin handles with sleek stainless inlays, extra thick 1.8 mm stainless steel one piece tools; the ideal fusion of functionality and durability. The set includes a turner, locking tong, silicone basting brush, and grill brush. Grilled Asparagus and Prosciutto Spears
Rated

4

out of

5
by
Mac1970
from
Broilking BBD Brush
I bought the brush at the beginning of the season so I've been using it for a couple of months now. I use my BBQ about 4/5 times a week and I'm pleasantly surprised with how the brush has stayed effective and in good condition. Other brushes I've had in the past would disintegrate with the kind of use I put them through. One thing that could be a little better though is the thickness of the "shaft" that has a tendency to bend a little when I give my BBQ a thorough brushing.
Date published: 2014-08-15
Rated

5

out of

5
by
Juney
from
Hefty BBQ tools - perfect for grilling!
This set of four bbq tools is excellent and hefty! You can't tell from the pictures, but each of these tools is very hefty and sturdy, with long enough handles so that your hands stay away from the heat while grilling. The bbq cleaning tools has very stiff metal bristles that work very well to clean your grill in between uses. The spatula has rounded edges for better control when flipping your burgers. The tongs are very long and sturdy with a locking mechanism to keep them closed when not in use (very thoughtful!). Finally, the silicone basting tool is the perfect thing to add a little more marinade or bbq sauce after you've already put the meat on the grill. All in all, an excellent quality set of grilling tools!
Date published: 2019-10-07
Rated

5

out of

5
by
joebbq
from
quality tools
Very good quality tools perfect match and bit for my imperial 490 , are they dishwasher safe?
Date published: 2015-03-28
Rated

5

out of

5
by
Mayathebee
from
Love these tools
I am so glad I bought these tools for myself spouse who is a true grilling artist. All of his old tools were getting old so I purchased these hoping they would last. Upon receiving them I KNOW they will last. They are nice and thick metal vs cheap metal. They have not rusted even with being forgot outside for a few nights in storms. These are an investment piece to last at a decent price! Would buy again 100%
Date published: 2019-10-06
Rated

5

out of

5
by
Rescue1
from
Super Set
This grilling set is so heavy duty and very useful. The tongs are perfect because of the one side that is wider and flat so it makes turning burgers and other meats perfect. I like that all of the utensils are long handled so there is no worry about getting burnt. The grill wire brush does a great job getting the grill clean in little time. This is a great set for anyone who enjoys grilling, like I do.
Date published: 2019-10-05
Rated

5

out of

5
by
kurdapya
from
heavy duty
I love this set and it is made of high quality materials. It is heavy duty and has high-end feel and look to it. My husband commented that he likes the weight to it, makes it feel expensive. It works great and hasn't rusted like most we have tried in the past which is great because it touches food and that's the last thing I would want in anything. I definitely recommend this.
Date published: 2019-10-15
Rated

5

out of

5
by
Jessica M
from
Best grill tools I have used!
These grilling tools are excellent. We grill all the time and these tools really are worth it. They aren't flimsy like some tools you get and they are easy to clean! We will be using this set for years to come. I definitely recommend it!
Date published: 2019-10-06
Rated

5

out of

5
by
JenB
from
Perfect for the job of grilling!
This set of grill tools is perfect for all our grilling needs. The set is sturdy, not flimsy like some others we have purchased in the past. I'm certain these will last and serve us well through the years!
Date published: 2019-10-14