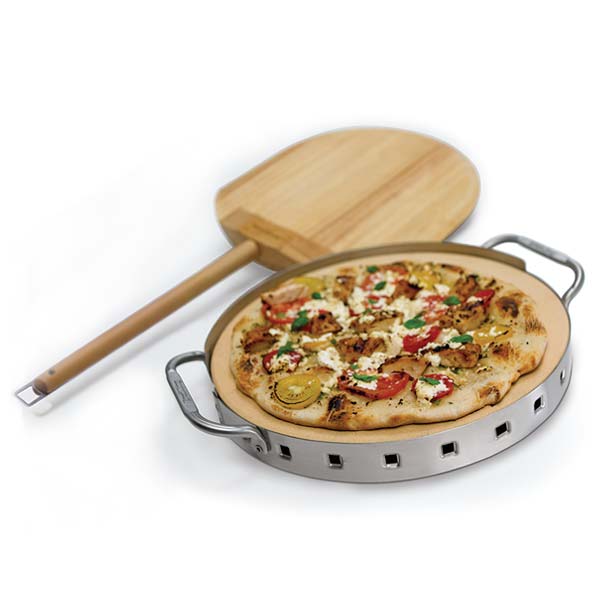 PIZZA STONE GRILL SET
69816
The Broil King® Imperial™ pizza stone features a high grade 1.2 mm stainless steel cradle with oversized 10 mm stainless steel handles. The set includes a resilient 13-in pizza stone, able to withstand rapid temperature changes, a high grade stainless cradle and wooden pizza peel. The cradle is designed to keep the pizza from sliding off of the stone while removing it with the peel.
DO NOT SEASON WITH OIL! Rinse with water and a little mild detergent only, dry immediately. Grilled Asparagus and Prosciutto Spears
Rated

5

out of

5
by
Mandy
from
Best Pizza Ever!!
I received this as a Christmas gift, so of course we had pizza for dinner the next night. It was so fast and easy (we bought ore-made pizza dough from Fresh N Easy). Easily the best pizza I've ever had!!
Date published: 2015-01-18
Rated

3

out of

5
by
Michelle44
from
Lovely Pizzas
Love the pizzas, brought two of these one for a gift for my daughter, only gave 3 stars as the temperature gauge turned black after cooking a couple of pizzas, took back to four seasons np and they sent away for a replacement, second gauge did exactly the same, think broil king needs to look into this fault and replace customers with a better quality temperature gauge. In saying that they cook pizza amazingly.
Date published: 2017-01-27
Rated

4

out of

5
by
George kap
from
Fantastic product
It's a fantastic product! You will take a great result every time and you will make sad your pizza delivery boy !! The only problem is that after using it 2 times the thermometer turned black and gone out of order (overheated) According to local dealer thermometer is not obtainable as a spare part. I didn't put 5 stars only for the thermometer.
Date published: 2017-01-03
Rated

1

out of

5
by
viperxp
from
Bad product for the price
the product seems to be wery well made, but there is a big but. it is almost impossible to place a pizza on the stove without destroying it, as well as to take redy pizza from the stone - it sticks to the stone and gets ruined. for the price the set could include more accessories to ensure that pizza gets to and from the stone safely.
Date published: 2019-11-11
Rated

4

out of

5
by
Phil76
from
Awesome pizza
I bought this product as I had heard great things about it. I have used both pre made crusts and my own dough and both times delicious pizza. Only reason I gave 4 stars is after a couple of uses the thermometer can no longer be read, have tried to clean it but to no avail. Peel makes on and off a breeze!!
Date published: 2016-09-01
Rated

4

out of

5
by
banuchie
from
Pizza Cooker
We received this Pizza stone, rack and paddle as a gift. Everything works as advertised and we are very satisfied with it. Would have given 5 stars if it was not for the temperature gage face turning black from the heat.
Date published: 2019-10-24
Rated

2

out of

5
by
SAM_G
from
impossible to fully close the cover
unfortunately this item for my SIGNET is too large in diameter. I can't close the cover completely when the stone was placed on the grill. Reason is the backburner who blocks the space at the rear. Therefore: wasted money
Date published: 2020-03-28
Rated

5

out of

5
by
Gramaneen
from
Delish '1st time making pizza on the grill
I won this pizza stone at a work event a few years ago..we made our first pizza tonight on the grill...and what an amazing taste..I can't imagine making pizza on the oven ever again. So easy too..
Date published: 2015-07-07