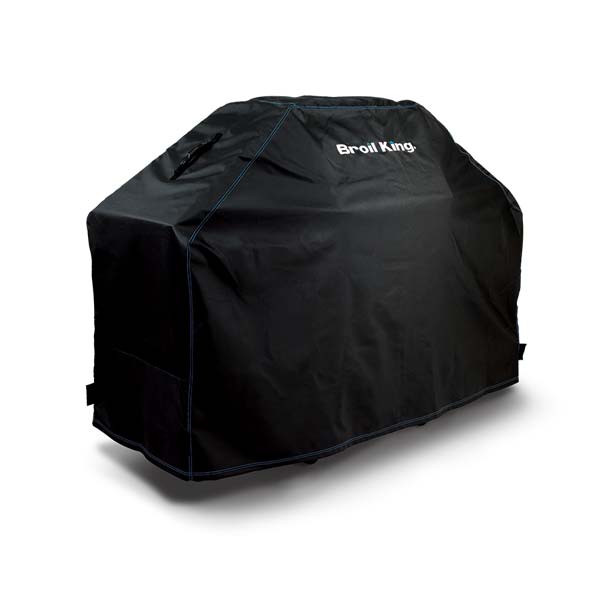 64″ PREMIUM PVC POLYESTER COVER
68488
64″ x 23″ x 45.5″. Premium PVC / polyester fabric. Fits the following Broil King® gas grills: Baron™ 500 Series, Signet™ Series ( Prior to 2013 ), Signet™ 20 ( 2013 to 2015 ), Sovereign™ 20,70,90 ( Prior to 2013 ), Crown™ 20, 40 ( After 2012 ) Grilled Asparagus and Prosciutto Spears
Rated

5

out of

5
by
Eccl 9 7
from
PREMIUM Cover
"Premium" is right. I 've owned this cover to protect my Sovereign 90 for 2+ years and the cover (and grill) is still in like new condition. Where lesser covers would have faded and become prone to tear with sun-bleaching, this cover is ready and willing to go the distance. A worthy investment.
Date published: 2015-05-05
Rated

1

out of

5
by
GMAN
from
Pure Junk
Just purchased a brand new broil king bbq and this cover and the first rain my new bbq was completely soaked. The seams in the cover leak because each needle hole is not sealed or covered up. I had to buy two tubes of seam sealer at a cost of 30 bucks to make this cover waterproof. One would think the amount this cover costs it would be waterproof.
Date published: 2016-04-13
Rated

2

out of

5
by
allwet
from
Disappointed
I've had this cover for about 10 months. Looks good and fits well but lets the rain in.
Date published: 2016-06-06
Rated

5

out of

5
by
kennyo
from
love it
Unsolicited----I bought this believing that the bad reviews were old and was sure the company had addressed any issues. I was right this cover is of excellent quality materials and construction. Very satisfied.
Date published: 2021-04-05
Rated

5

out of

5
by
Ladd
from
Well made.
Just bought and installed it. Couldn't be more pleased. Great handles on each side for easy removal. Heavy duty. Way better than the others I tried and then returned. Looks just like the online picture.
Date published: 2015-09-26
Rated

5

out of

5
by
JackMack
from
Great Heavy Duty Cover
Waterproof, easy to put on and take off with the handles and i especially like the meshed bottom that allows moisture off the patio to dry any moisture that might gather under the barbecue after a rain. the cover is holding its color very well - no fading to speak of at this time
Date published: 2019-10-24
Rated

1

out of

5
by
Lisa
from
Unhappy
Purchased a new Broil King grill and cover for my husband. We have been using the grill and cover since the first of the summer 2016. The cover looks like it should be good quality but our grill continues to get wet under the cover every time it rains.
Date published: 2016-12-29
Rated

5

out of

5
by
James41
from
Great value cover
We purchased this cover almost a year ago. We use the BBQ 12 months of the year so it gets lots of use in all types of weather. It has held up very well and should do so for some time yet. Great price great cover. Thank you Broil King.
Date published: 2021-06-08