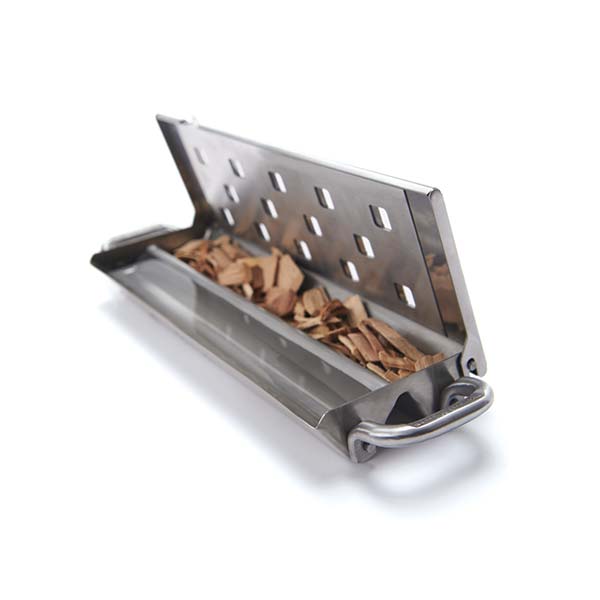 IMPERIAL™ SMOKER BOX
60190
The all stainless steel Broil King® Imperial™ smoker box is designed to sit on top of the Flav-R-Wave™ or directly on the grill. With two chambers for twice the smoking power and an integrated air damper hinged lid, this professional smoker box isn't just blowing smoke. Also holds liquids for added moisture and flavor; combine chips and liquids for endless flavor combinations. Grilled Asparagus and Prosciutto Spears
Rated

5

out of

5
by
Hannes
from
Spitzen Räucherbox für Monarch Serie 390
Ich glaube nicht, dass mein Vorredner "Smokerboxpasstnicht für Monarch Serie" wusste, dass man diese DIREKT auf die FLAV-R-Waves des Grillers stellt. Genauso wie auf dem dritten Produktfoto erkenntlich ist, denn nur so macht sie auch Sinn. Quer oben drauf, passt sie natürlich aufgrund des Backburners nicht! Aufgrund der Verwirrung meines Vorredners, telefonierte ich vor Bestellung mit dem nächsten Grillhändler, der die Monarch Serie sowie die Smokerbox lagernd hatte. Kurzerhand probierte er es selbst und bestätigte mir die Passgenauigkeit. Somit wurde sofort bestellt. Und siehe da, die Box passt ganz genau auf die FLAR-R-WAVES meines Monarch 390 und lässt sich auch einfach wieder entfernen. Da eben keine Angaben bezüglich Kompatibilität vorliegen, kann man bei Broilking getrost davon ausgehen, dass diese passen. Die Box bietet zwei getrennte Räucherkammer, dies ist vor allem von Vorteil, wenn man eine Flüssigkeit wie z.B. Whiskey und Räucherchips gleichzeitig einfüllen möchte. Der nächste riesen Pluspunkt ist die verstellbare Luftregulierung, hier muss kein Luftloch nervig mit Alufolie verkleinert oder abgedeckt werden. Und zu guter Letzt, das Teil ist massiv! Diese 3 Argumente rechtfertigen für mich den sehr hohen Preis, da diese Box bestimmt eine Ewigkeit hält und man einfach spitzen Ergebnisse damit erzielen kann.
Date published: 2018-02-08
Rated

5

out of

5
by
ace1968
from
Top Räucherbox!!!
Diese Räucherbox ist einfach Weltklasse. Durch die Einstellmöglichkeit des Rauchaustritts, unschlagbar. Ich räuchere gerne Fisch,Gemüse und Braten mit dieser genialen Box. Die Box besticht durch ihr massives Material.
Date published: 2017-04-05
Rated

1

out of

5
by
Smokerboxpasstnicht
from
Passt nicht für Monarch Serie
Die Box passt nicht in Grills der Monarch Serie. Da auf der Verpackung keine passenden Grill Typen aufgeführt sind, sollte man meinen, dass die Box auf alle Grills des Herstellers mit Flavor-Bars passt. In die Monarch Serie geht sie allerdings nicht rein da ca. 10mm zu lang. Sehr ärgerlich das dieser Hinweis auf der Verpackung fehlt!
Date published: 2016-05-08
Rated

3

out of

5
by
Charley
from
Almost A Great Smokerbox
Nice design and well made. However, after it heats up the lid will not open easily when you want to refill the smoker. At ambient temperature the lids opens smoothly with no issues.
Date published: 2016-08-02
Rated

3

out of

5
by
ColinG
from
Would be great if lid would open
This smoker works very well and sits on the Flav - R - Wave perfectly. But, when it is hot the lid will not open due to the expansion. I'm going to have to modify it to make it work.
Date published: 2016-12-11
Rated

2

out of

5
by
Jaybird
from
Please open!
It appears that this unit is just poorly designed when in practical use. Like others, the box becomes absolutely impossible to open while hot. I have to take it out and bring down the temperature for the metal to return enough to it's original state to open. Taking the smoke box out for that long kind of defeats the purpose. I suppose I could just keep a second one at the ready and swap them out - but why pay for two when the original should work!jaybird
Date published: 2019-07-30
Rated

2

out of

5
by
Dmtj95
from
Hopefully it works
I just bought this the other day and started looking into it a lot more and now I'm reading these reviews and concerned about the product I just purchased. Not happy paid good money for it and the product doesn't perform as expected
Date published: 2019-07-19
Rated

3

out of

5
by
Quasijr
from
Good but not Great
Very nice heavy duty smoker box but lid will not open when hot to add wood chips. Would recommend if lid would open .
Date published: 2016-10-16