Buying Guide | The Best Gear For Your Pellet
A Broil King pellet grill isn't just for low and slow smoking – you can crank it up to sear steaks like a gasser. It's a wonderful way to add delicious woodsy flavour and aroma to your meal and can take a bland dish and make it extraordinary. You may use your pellet grill more often than your stove and oven! And with the right accessories, it can become a total cooking solution. Here is the best gear for your pellet to get you grilling all year long!
A new grill is a big purchase, and there's a wealth of accessories to explore and experiment with on your grill. However, one accessory cannot be overlooked, and that's a grill cover. It should be one of the first accessories you buy. It helps to keep out moisture, dust and debris that could lead to damage and rust. Size matters, and choosing a cover that is tailored to fit your grill will contribute to better protection overall. An uncovered grill is more susceptible to the elements, which shortens the life of your grill. A high-quality cover will provide optimal protection and keep your grill looking stylish even when it's wrapped up.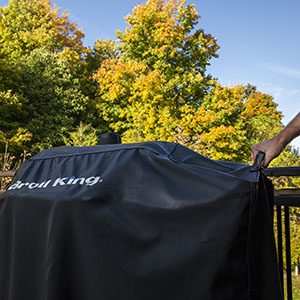 A clean pellet grill is always ready for a cookout. And the best way to keep your grill clean is with the Pellet Cleaning Kit – it has all the tools to remove ash and baked-on residue from every surface inside the cook box. The kit includes two sizes of scrapers to reach every nook and cranny and remove grime. And the brush and pan make it a breeze to remove burnt-up ash from the bottom of the grill. These tools will keep your grill operating at its peak performance.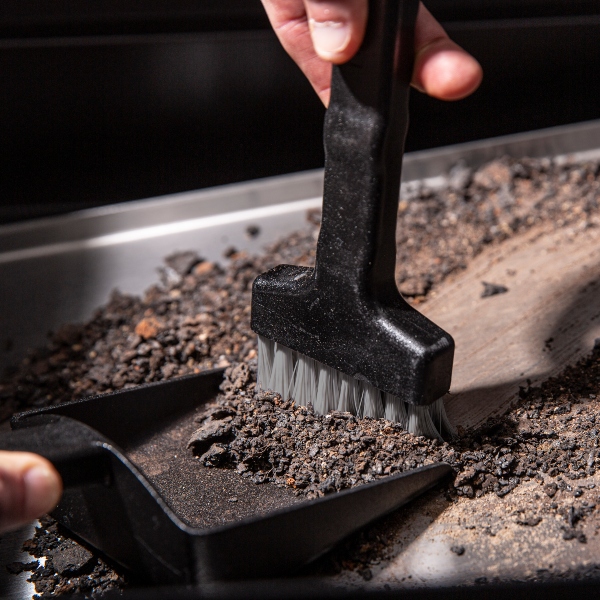 Speaking of grill maintenance, these interlocking Pellet Grill Drip Pan Liners are another handy accessory to cut down on cleaning time. The stainless ramp helps direct drippings in the grease management system and can get grimy in the process. Burnt-on fats and food can take some serious elbow grease to scrape off, so why not save your strength and use these liner sheets? They fit together and create a foil barrier along the ramp, and when soiled, lift out and remove all the grease with it.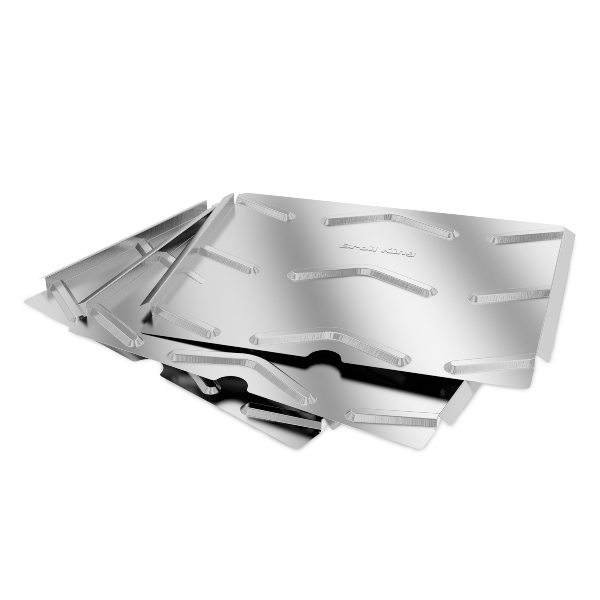 Before you can get cooking on your pellet grill, you need the right fuel. We manufacture better fuel to generate better flavour. Our pellets are mixed as sawdust to ensure the most consistent blend possible in every pellet. We then mould them into a smaller diameter than the competition, with no fillers or binders. Smaller diameter pellets not only produce more smoke, thanks to more overall surface area by volume, but they also move along the auger of your pellet grill more efficiently. Our pellets are 100% natural and contain only premium wood with no fillers, oil additives, or binding agents. These premium pellets are available in various blends and offer optimal cooking performance and great flavour. Broil King pellets produce very little ash too.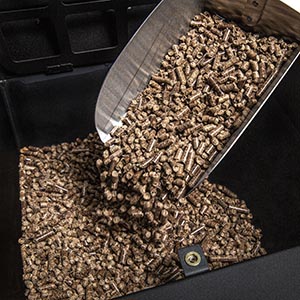 Now that you've selected your fuel source, you need a better storage solution. Having half-empty bags lying around isn't practical, and they're susceptible to tears or leaks. Instead, grab a Pellet Storage Bin to secure your pellets and keep out moisture and curious pets. The easy pour handle and spout make top-ups a snap when grilling, and the bin can slide directly under the hopper for storage, so more fuel is always close at hand.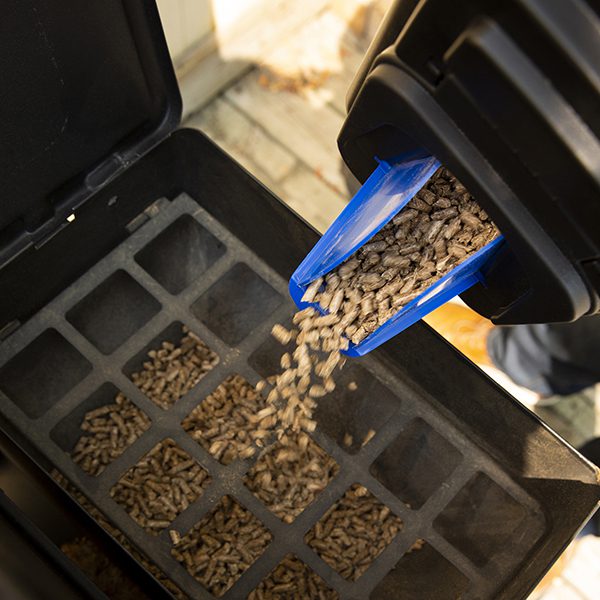 There's nothing better than some smoky ribs off the pellet grill but laying them flat takes up so much space. That's why the Rib Rack and Roast Support is so convenient. Instead of laying out each rack horizontally so you can only cook a couple at a time, the rack stacks your ribs vertically to cook up to 6 racks in the space of 2. It's perfect if you're cooking for a crowd and leaves room to smoke other items like pork shoulder or brisket.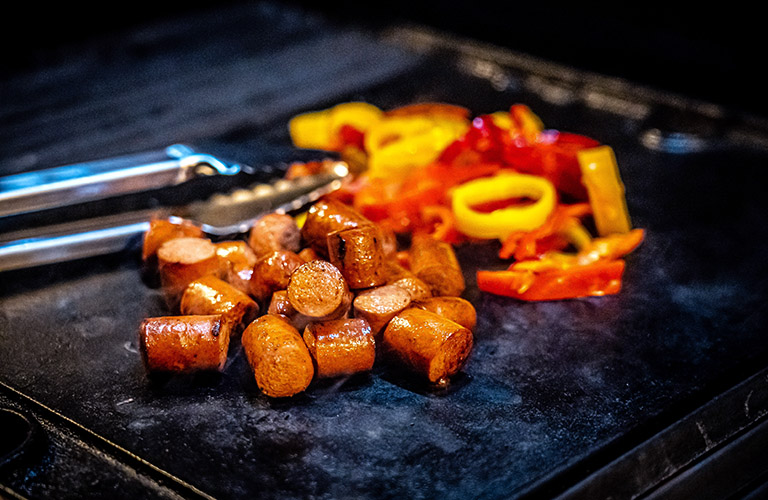 One go-to add-on is a flat top that is great for making smash burgers and breakfast. The Exact Fit Griddle is a highly versatile accessory that comes in numerous sizes to fit perfectly inside your grill. The griddle is made from heavy cast iron, which captures heat to deliver exceptional searing capabilities. It is the same width as two single cooking grates and sits inside the grill to capture the most heat. The griddle is dual-sided, with a smooth flat top for cooking things like bacon or pancakes and a ribbed side for delivering sear marks on veggies.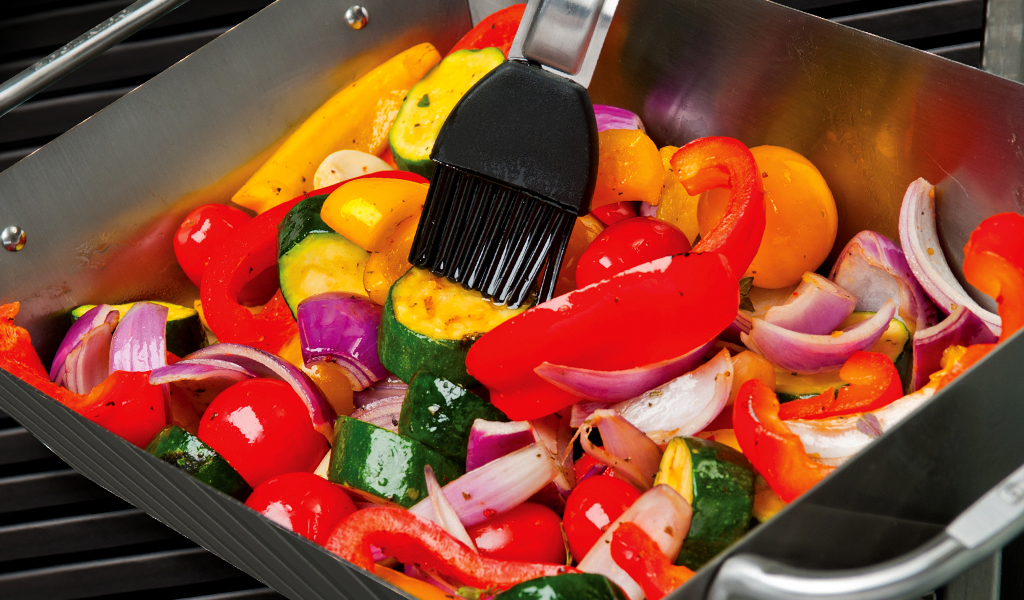 Smoking ribs and brisket is great, but don't forget about the veggies. Diced vegetables deserve a little smoke, and the Deep Dish Wok is perfect for the job. It's great for potatoes, stir fry, or even making things like smoked butternut squash soup. The tall sides keep everything contained, especially when you mix them. The perforations along the bottom ensure the delicious smoke can still hit your food to deliver that unbeatable taste.