Infrarot Seitenbrenner
18674
Die Infrarot-Seitenbrenner-Technologie von Broil King® bietet Ihnen die Möglichkeit köstliche Speisen schnell und effizient zu grillen. Der Keramikbrenner ist so hergestellt, dass er über hunderte gleichmäßig angeordnete Flammenauslässe verfügt. Die Hitze der Flammen wird von der Keramik absorbiert und bringt diese flächendeckend zum Glühen. Mit Temperaturen von bis zu 926 °C ermöglicht Ihnen der Infrarot-Seitenbrenner von Broil King® scharfes Anbraten verschiedenster Grillgüter in nur wenigen Augenblicken. Broil King® hat ein erstklassiges Infarot-Grill-System mit einem Edelstahlrundrost für Sie entwickelt. Infrarot-Technologie ist effizienter im Gasverbrauch und erreicht eine deutlich hö- here Grilloberflächentemperatur. Die Infrarot-Technologie ist eine tolle Ergänzung zu Broil Kings® legendären, leistungsstarken Grillsystemen.
Passt zu den Broil King® Modellen: Imperial™  Series 2013 und neuer, Regal™ Series 2013 und neuer, Baron™ Series 2013 und neuer.
Für Grillgeräte, welche standardmäβig mit Seitenkochplatte ausgestattet sind.
742 cm²
Gesamte Grillfläche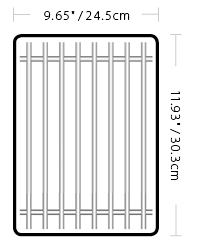 PERFORMANCE GRILL FEATURES.
Every Broil King is built with performance features that deliver unparalleled cooking versatility.
Jeder Broil King ist mit Schlüsselkomponenten ausgetattet, welche unvergleichbare vielseitigkeit bieten.
IDEAS TO GET YOU STARTED.