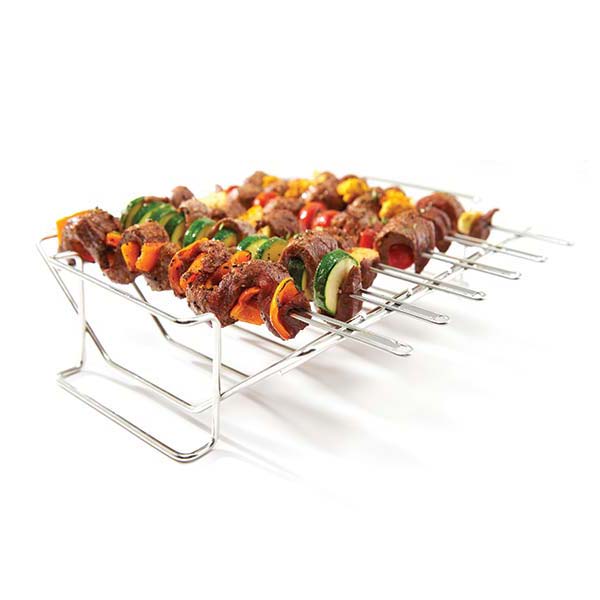 Ensemble de grilles et de brochettes multiples
64233
Idéal pour rôtir les rôtis, la volaille et les kebabs sur un côté…même les kebabs; de l'autre côté, faites rôtir jusqu'à 6 carrés de côtes. L'ensemble de grilles multiples comprend un support pour côtes et pour le rôtissage, et 6 brochettes à deux broches en acier. Comme accessoire, cet ensemble est tout ce qu'il y a de plus polyvalent. Asperges grillées et lances de prosciutto
Rated

4

de

5
de
Kscott
par
My Favorite out there but not Broil King Quality
Got this late last summer for my Broil King 590. I skewer alot and this is my favorite. Keeps the skewers off the grill and the double prongs stops items on skewers from rotating. The quality just isn't there (for a Broil King product,) i haven't had any issues with it yet but i can see why the other review mentioned that.Not Broil king quality, but better than any others I've used by far!
Date de publication: 2016-02-26
Rated

3

de

5
de
Sxr_nathan
par
Works well but!
I got this as a birthday present and the first time I used it/ took it out of the box, a few of the skewers had broken weld where the name plate was welded to the skewer it self. This just allowed the skewer to open up move vee like then to be parallel to each other. Worked great otherwise. Easy to clean up.
Date de publication: 2014-06-03
Rated

5

de

5
de
Laura
par
Love this !!
I bought this a while back and absolutely love it.
Date de publication: 2019-10-23