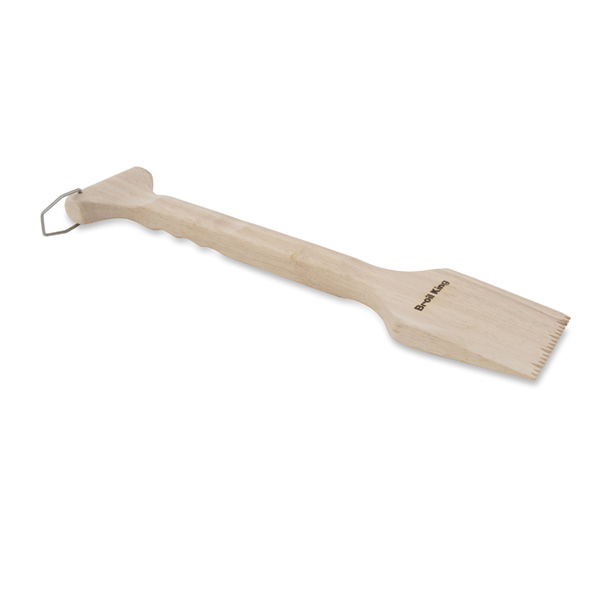 Grattoir de gril en bois
65335
Une brosse à gril est le moyen de nettoyage idéal pour votre gril, mais un grattoir à gril est souvent mieux. Les grattoirs n'ont aucune broche à perdre, ils offrent aussi une performance améliorée avec le temps. Un grattoir peut facilement éliminer les encrassements les plus cuits, sans dommage. Grattez sur le dessus ou entre les grilles de cuisson de toute forme, sans vous soucier que cela n'endommage le revêtement d'émail de porcelaine. Le grattoir de gril Broil King permet d'éliminer les encrassements collants et les gros résidus. Utilisez-le sur le chrome, sur les tiges enduites de porcelaine, sur la fonte, la fonte d'acier inoxydable ou les tiges d'acier inoxydable. Asperges grillées et lances de prosciutto
Rated

4

de

5
de
Jim_Mac
par
Great product that leaves no metal bristles behind
I have always used a brush with metal bristles and a metal scraper to clean my grill so I was skeptical that the wooden scraper would get the job done; however, after all the hype about metal bristles I switched and I am happy with this product.
Date de publication: 2019-10-24
Rated

4

de

5
de
Cabana
par
Grill scraper takes a bit to wear in
After using this on my grille the wood teeth finally match the grate grooves. Once it fits good it scrapes them great.
Date de publication: 2019-10-24
Rated

5

de

5
de
Tr1pleR
par
Wood grill Scrapper
Got 1 in the spring works great and don't worry about wire splinters
Date de publication: 2019-10-23
Rated

4

de

5
de
Scrapey scrape
par
Scrapes without damaging grates
The handle on this scraper makes it better than others I've had very comfortable doesn't cramp my fingers. Being wood it doesn't hurt the cast grates while scraping. Works even better with use because it will ware into the shape of your grates.
Date de publication: 2022-08-09
Rated

4

de

5
de
Jim1
par
Cool product!
Great product. No need to worry about bristles getting into your food. Also product lasts a lot longer than the competing bristle ones.
Date de publication: 2019-10-30
Rated

5

de

5
de
Anonyme
par
Works Great
I am really happy with this Wood Scraper. It holds up and has been a wise investment!
Date de publication: 2019-11-29
Rated

5

de

5
de
Camerons
par
Excellent Scapper
Excellent tool to scrap your BBQ without worrying about wires as its completely wood
Date de publication: 2019-10-23
Rated

4

de

5
de
Willie1
par
Brilliant
Gifted with one. Doesn't damage grill and conforms to shape for good cleaning.
Date de publication: 2019-10-23