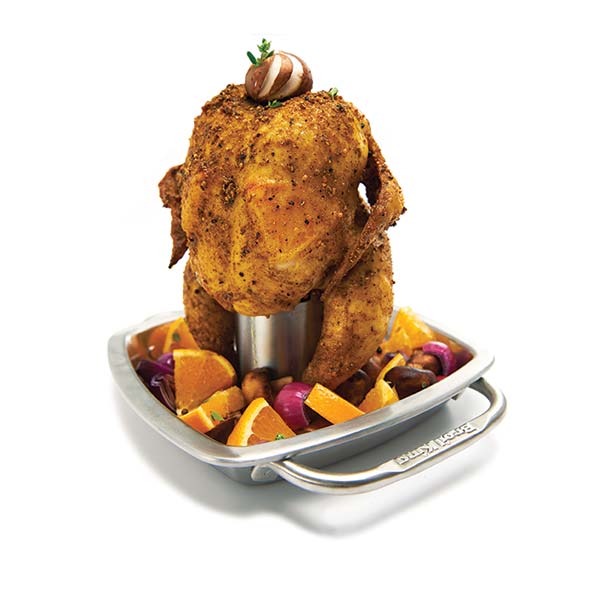 Rôtissoire pour poulet avec plateau
69133
100% en acier inoxydable avec une lourde 9 po (22,86cm) x 9 po (22,86cm) la base, et des poignées surdimensionnées de 10 mm. Le support à torsion pour la canette de bière possède une capacité suffisante pour remplacer l'utilisation de la canette de bière et comporte des ouvertures d'aération sur le dessus pour émettre beaucoup de vapeur. Asperges grillées et lances de prosciutto
Rated

1

de

5
de
Lorenzo
par
Broil King FAIL
The screw attached at the bottom of the tray snaps off way too easy as you try to tighten the can down. It just popped off the tray like it was glued on. Everything else about the pan seems to be high quality, but the screw attachment to hold the can container is a joke. I acquired mine through Aeroplan Miles so I can't even return it and get my miles back. All they will do is send me a replacement. GREAT!! another one that's just going to fall apart. Looks good in pictures but don't waste your money. There are cheaper options for better quality products out there.
Date de publication: 2015-06-05
Rated

1

de

5
de
Enzo
par
Not Very Good!!
The bold at the bottom of the tray snaps off all to easy if you happen to tighten it just a tad to tight. I returned my 3 day old one to the store and they gave me a new one and the new one broke also. Just returned it and bought the Weber one instead.
Date de publication: 2014-08-16
Rated

1

de

5
de
Igor Majersky
par
Attachment point broken 🙁
Just use it 2-3 times, then while attaching "beer car" broke up and it is end of game. Since beginning bold and thread didn't like each other, producing extra resistance when dis/mounting together. In order to get part together, (so heat can be transferred to fluid in "can"), you may need to apply more force, resulting in breaking bolt. Purchased @ OBI in Austria, 2-3 months ago, but unfortunately lost receipt. Keep it in mind to store your bill in safe place.
Date de publication: 2015-09-23
Rated

1

de

5
de
Chefmeister61
par
garbage
I purchased this last year, went to use it this year for the first time, as I was assembling it the screw for the beer can holder snapped off. As I purchased this last year I no longer have the receipt so it can not be returned to the store.
Date de publication: 2015-05-25
Rated

1

de

5
de
knoet
par
Missed the ball
Sadly the can is way too wide for a chicken, quite a bit wider than a regular can. You can buy a similar product (where you have to put a can in , like a holder, at a dollar store. Though the metal seems to be good quality, the size makes it very difficult if not impossible to put a chicken on. Maybe it is meant for a turkey???
Date de publication: 2015-08-08
Rated

1

de

5
de
Sam K
par
Very poorly made - Stay Away!
Used this chicken roaster twice. The second time the screw in the middle of the pan snapped off. It appears to have been glued on. I was extremely gentle with the cup as I read other users had issues. Reached out to customer service 2 weeks ago, radio silence.
Date de publication: 2020-05-11
Rated

5

de

5
de
RG83
par
Works great
Delicious way to cook chicken with no risk of a mess on the grill. Unlike another review here, no issues with durability. Not sure why you would try to screw the can holder in very tight anyways. Finger tight is fine, you're not putting lug nuts on a car. Another tip is to put a small dab of shortening on the threads before each use and this thing will last forever.
Date de publication: 2015-05-20
Rated

5

de

5
de
Jnunn2973
par
heavy duty!
I absolutely love that is has a drip/sides pan under where the chicken sits where we can add things like potatoes, carrots, and onions. We roast whole chickens at our house weekly, this roaster allows for even cooking and crispy skin covering the whole chicken. We have used this both on our grill and oven without issue. I also just toss it in the dishwasher after use for easy clean-up. Our chicken is ALWAYS mouth-watering and juicy! We have used beer, cola, and different juices in the stand to add extra flavor to our chicken.
Date de publication: 2019-10-21