MONARCH™ 340
834264 LP / 834267 NG
Le modèle MonarchMC 340 offre une surface principale de cuisson de 213 cm2 (330 po2) et comprend 3 brûleurs en acier inoxydable Dual-TubeMC, des grilles de cuisson réversibles en acier coulé de service rigoureux, un système de cuisson en acier inoxydable Flav-R-WaveMC, et un allumage électronique. Le MonarchMC 340 offre des tablettes latérales rabattables en acier peint, et une base avec armoire intégrée.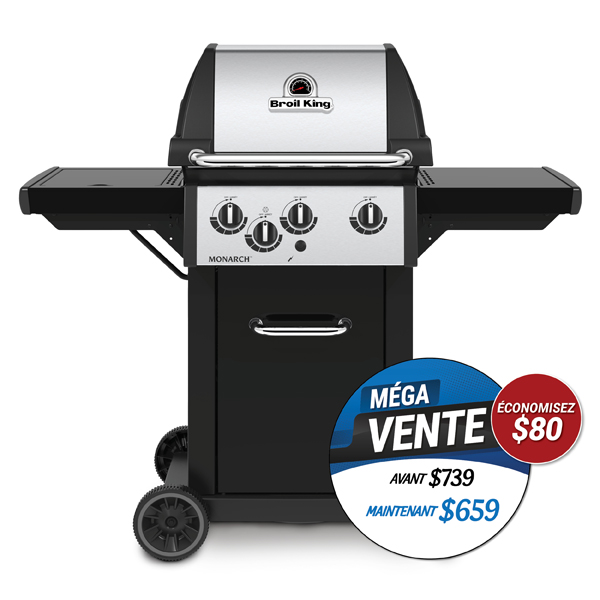 30,000 BTU
Puissance brûleurs principaux
10,000 BTU
Puissance réchaud latéral
335 SQ. IN.
SURFACE DE CUISSON PRINCIPALE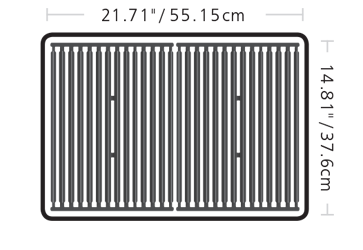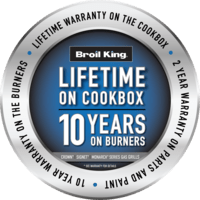 CARACTÉRISTIQUES DU GRIL PERFORMANCE.
Chaque Broil King est construit avec des fonctionnalités performantes qui offrent une polyvalence de cuisson inégalée.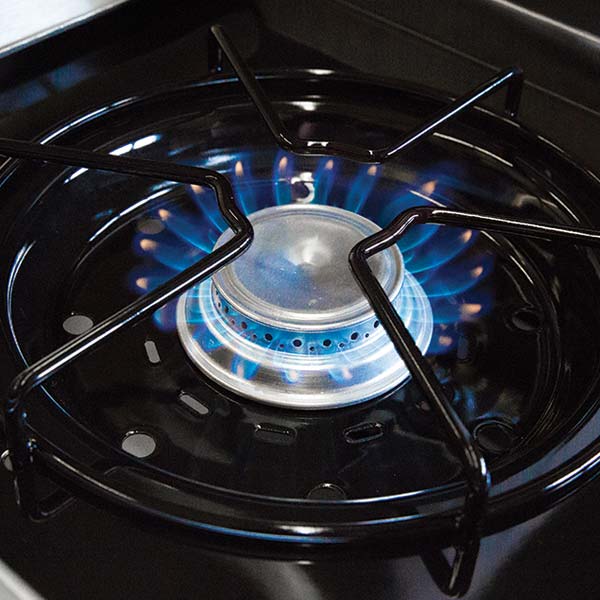 CARACTÉRISTIQUES DU GRIL PERFORMANCE.
Chaque Broil King est construit avec des fonctionnalités performantes qui offrent une polyvalence de cuisson inégalée.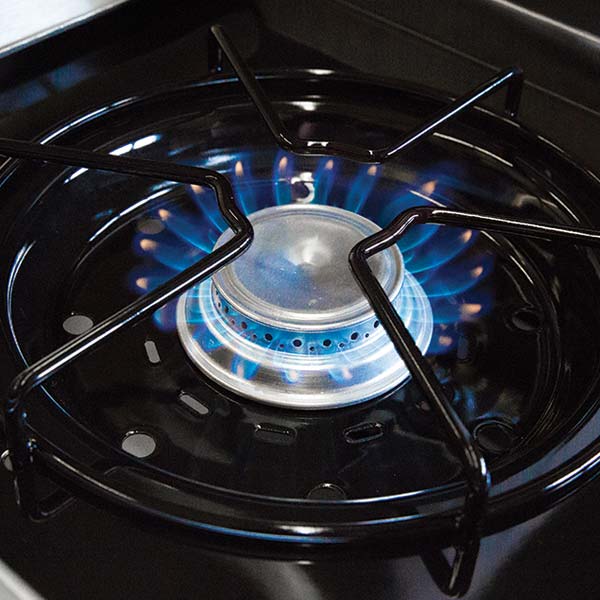 IDEAS TO GET YOU STARTED.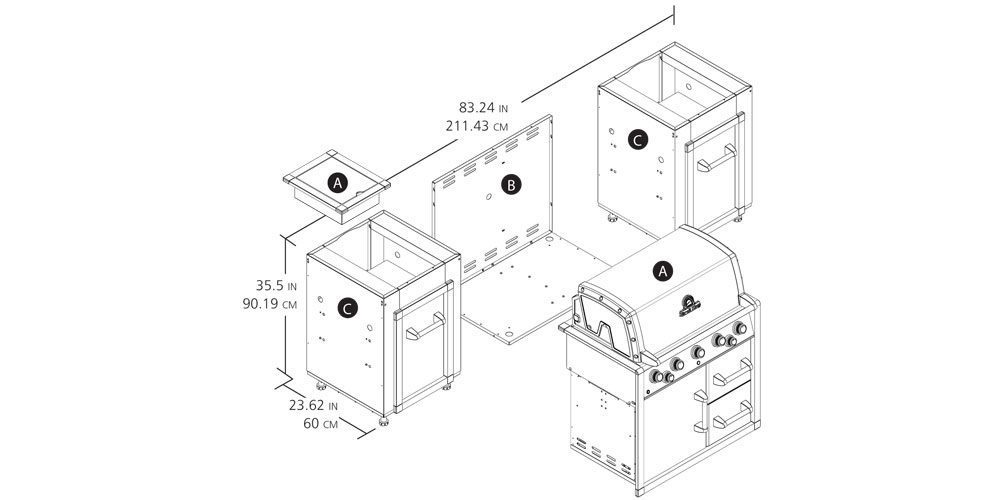 Rated

4

de

5
de
AngusGlen
par
Great features...Great Value!
We purchased the BBQ just over a month ago, for the balcony on our new townhome. This replaced a BK Regal which I had for 11 years. Great features in a BBQ with such a small footprint! Sure we shopped other brands, however for specs, features and value, none could come close to the Monarch! We also bought the SS rotisserie...motor is very powerful...and the family raved about the chicken!! My only issue was the difficult to understand assembly instructions...and don't rely on the video as it is for an older model and some of parts have changed. It would also be a benefit to add an insert on the nat gas model to fill the tank hole in the cabinet.
Date de publication: 2016-04-27
Rated

1

de

5
de
Peggy
par
Cast iron grills rust
I do not recommend the broil king monarch to anyone, I used mine for only one summer and always cleaned and oiled my grills grates, they r so full of rust and falling apart I cannot use it until I buy new grilling grates, which I shouldn't have to do because this grill cost a lot of money already, I used the automatic starter only three times and then it quit so I had to remove the grate before I could light and that alone made me not want to barbecue. I also covered my barbecue when cooled off. It's supposed to have a lifetime warranty but when I emailed the company I got no reply, do not recommend and will never buy again
Date de publication: 2020-05-24
Rated

5

de

5
de
Farmer Craig
par
Quality from unboxing to cooking steaks!
Knowing I needed a replacement grill, I began shopping 6 months in advance. When I saw the Monarch 320 I was impressed that it had the features I had been looking for but could not find in any other grill. I always hesitate when starting an assembly of a product because the instructions are so poor. That was not the case! The instructions were detailed, clear and easy to follow. In fact, the design of the grill aided the assembly and I was done in less than half the time I expected. The meat, and a few vegetables, that I have cooked have turned out excellent. The grill is a joy to use and cooks evenly every time. When I wear this grill out, I will buy another one for sure.
Date de publication: 2018-01-07
Rated

2

de

5
de
Matt K
par
Not worth the price
I was impressed by the reviews on this grill so I special ordered on through Lowes. The box look fine, no damage. Breaking down the contents of the box, a side piece was damaged. I was able to straighten it out a little bit but it was so flimsy, I almost damaged it more. Upon completion of assembly, the grill is crooked. Not happy. I use it regularly and it seems to take a while to warm up. It cooks fine. I emailed BroilKing about the damage and crookedness and my response 3 weeks later was to file a warranty claim. I should have just returned it right then and there. It doesn't feel, cook, and look like a $600 grill.Matt K
Date de publication: 2020-08-25
Rated

4

de

5
de
JRJP
par
Quality Product
I've used my Broil King several times since I purchased it locally some three weeks ago. In that time I've cooked meat, chicken, fish, and other usual fare such as hamburgers and franks. I'm pleased with the construction and particularly the 'constant temp' feature that allows me to rely on the grill maintaining an desired temp throughout the cooking cycle. It is reassuring that the grill was manufactured in Canada, the warranty is particularly good relative to others, and replacement parts are readily available.
Date de publication: 2014-08-12
Rated

4

de

5
de
BackPorchGriller
par
Love!
Best grill we've ever owned. Had no need for a huge grill and this one suits our needs just right. With three burners direct and indirect grilling is easy - sears all the way to the edges of the surface area.Need to be careful, gets too hot too easy - much better than a grill that won't get hot enough, though...just takes some practice.So far it cleans up nicely - but we know how these things get after a season of grilling, and getting lazy, so I'll know more about that later.We purchased the grill already assembled. Everything seems of very good quality and nothing about it is flimsy. I am a bit concerned about the casters, but it is too early to determine that either.Access to the propane tank is great. Replacing the tank is easy.Why only 4 stars? I'm just funny that way.
Date de publication: 2014-06-22
Rated

5

de

5
de
Very Impressed
par
Excellent Service
I purchased my Monarch 390 in May, 2017. The bbq is everything and more than i expected! This is not so much a review of the product, I have done one already for it, this is an endorsement of Broil King. A couple weeks ago i was doing a brisket, when I noticed that, according to temperature gauge, my temperature had dropped. Upon closer inspection i found that it was not the case. What had happened was the temperature gauge had broken. I sent an email to Broil King, and received an automated reply thanking me for my email but that because it was during the weekend my concern would not be dealt with until business hours on Monday. Thursday morning a courier showed up at my door, with a parcel from Broil King containing a new temperature gauge! No endless emails, just prompt and exemplary attention to my problem! Broil King went above and beyond with their committment in backing their product! I most certainly recommend purchasing from they company!
Date de publication: 2017-11-11
Rated

5

de

5
de
Dijo
par
Like our new Monarch 320
We recently bought a new Monarch 320 Broil King Bar BQ We assembled it ourselves, sometimes found the diagrams hard to figure out, but we got it done. We appreciate the fact it was " Made in Canada". We have enjoyed using it, and particularly like that the top rack goes all the way back when the lid is open, so the whole grill area is easily accessible. The only negative is we found the price of the Broil King Bar BQ cover too high and declined to purchase it. Overall, we are very pleased.
Date de publication: 2014-08-12