Buying Guide | Grilling at the Game
It's officially football season! Whether you're a diehard alum of your college team or root for the NFL's big dogs, nothing says football quite like a good tailgate party. And what makes a great party? The FOOD! But how to cook once you're set up at the stadium? If you're a regular tailgater, you've likely seen a lot of what is available in portable grilling gear: charcoal, gas and electric grills, griddles, stoves, and smokers around every corner. They can all get the job done depending on what you're cooking. But if you want to up your grilling at the game and deliver the same quality you get at home, you need the right gear. Get game day ready with these top-of-the-line portable gas and charcoal grills from Broil King.
There is a slew of portable and tabletop gas grills on the market. They are super convenient because you can bring along a small propane tank, the grill heats up quickly, and you don't have to worry about disposing of charcoal ash after the game. The downside is that most portable gas grills are small, usually only featuring one small burner. Sure, you can crank out some decent burgers and dogs on there, but that's about it.
Broil King changed the tailgating game when we introduced the Broil King Porta-Chef series. From the powerful Porta-Chef 120 with 348 sq. in. cooking space to the larger Porta-Chef 320 with three burners and 426 sq. in. cooking space, we offer big grill performance in portable units. Both grills include an upper rack for warming or indirect cooking. The sky's the limit when you show up to the game with these portable gas grills.
The Porta-Chef series goes from home to the game in a snap with detachable legs that store on the bottom of the grill and the ability to latch the lid for easy carrying.
While you can grill a 5-star meal on the Porta-Chef, if you're craving more traditional BBQ, we recommend smoking some Perfect Pulled Pork or Perfect Beef Brisket at home the day before the game. Then, use the warming rack to reheat and keep the meat warm while you whip up some delicious sides on the burners below.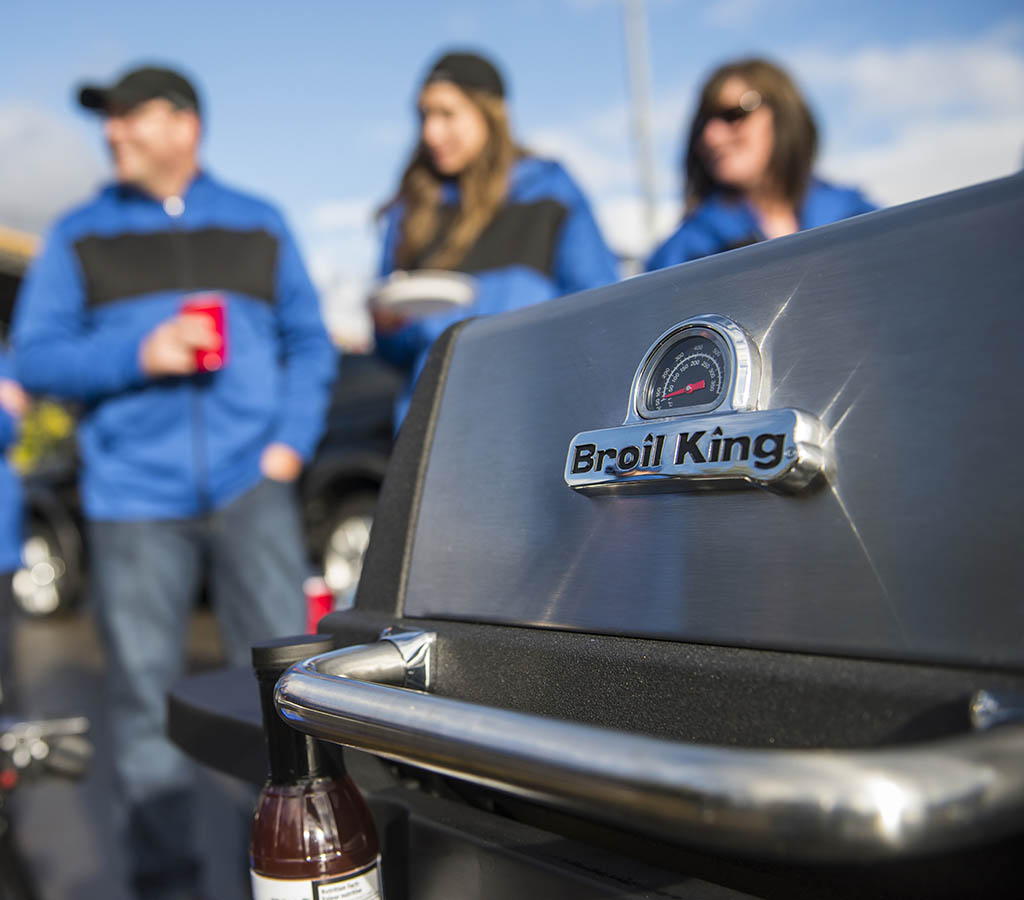 Portable charcoal grills are even more commonplace at tailgates and come in an even more extensive selection. There are $5 disposable grills, $50 tabletop grills, homemade Franken-grills, and top-of-the-line smokers for the serious tailgater waiting for the gates to open at 7 am. While charcoal does require a longer heat-up time, and you have to dispose of the ashes when you're done cooking (Hint: most stadiums have metal ash buckets in the parking lot just for tailgaters!), there's no denying the distinct flavour and aroma that charcoal delivers.
If you're a serious tailgater that grills hard all day, you definitely want to check out Broil King's Keg 5000. This updated take on a classic kamado grill allows you to both grill and smoke. It features 480 sq. in. of cooking space and an insulated double-walled steel body that keeps heat in, making the Keg 5000 more efficient while using less charcoal.
Best of all, the Keg 5000 is game day ready when you add a hitch adapter kit, making it the EASIEST grill to transport to the game. Not to mention it looks pretty sharp on the back of your truck!
Get Game Day Ready With Broil King
Shop our complete line of portable gas and charcoal grills at broilkingbbq.com. You can also shop our extensive range of grilling accessories through our online store.