VERTICAL CHARCOAL SMOKER
923610
Smoke™ Charcoal features 770 sq. in. total cooking space, four adjustable stainless steel cooking grids, Sure-Lite™ electronic ignition system, Adjustable Roto-Draft™ cast aluminium damper system, and two rugged steel doors with gasket premium latch system.
770 SQ. IN
TOTAL COOKING SPACE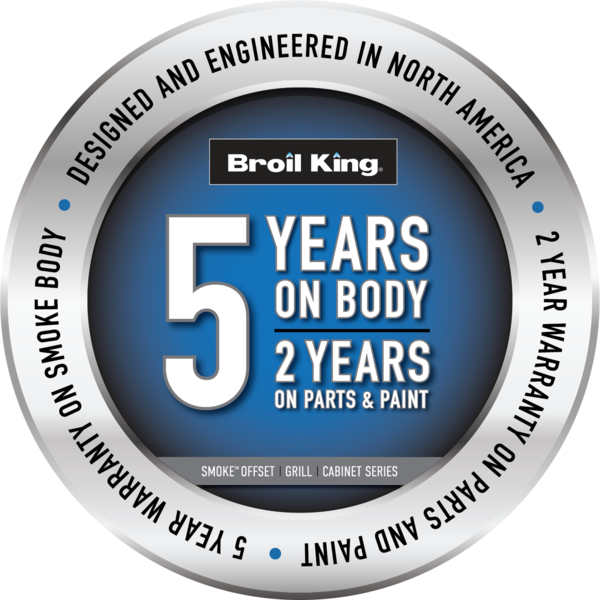 PERFORMANCE GRILL FEATURES.
Every Broil King is built with performance features that deliver unparalleled cooking versatility.
PERFORMANCE GRILL FEATURES
Every Broil King is built with performance features that deliver unparalleled cooking versatility.
IDEAS TO GET YOU STARTED.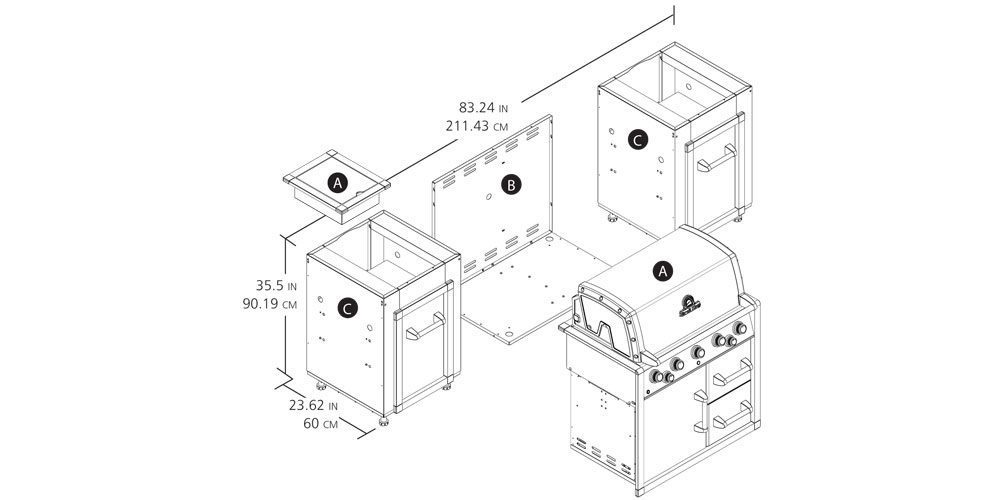 Rated

5

out of

5
by
The Gman
from
One great smoker!
Just got this unit a week ago. Assembled it in an hour and a half .I am impressed with double wall construction, and doors the seal shut. I just cooked some of the best ribs I have had in quite some time. I have been smoking meats on an offset vertical smoker that I got about 10 years ago and just plain wore it out. I always had good results but it took a lot of wood and charcoal. The Broil King used about 1/5 the fuel and what was more surprising was I probably got as good a batch of ribs as any I have smoked in the last 10 years,on my very first try. This is well worth the money.
Date published: 2016-07-25
Rated

5

out of

5
by
entombedtrader
from
Fabulous Smoker - Awesome food
Bought this about a month back and so far it's been turning out some fabulous low and slow food. Would recommend to anyone looking for vertical style smoker.I've had the best performance removing the smoke chip box and lowering the water pan to the middle rack level so I can easily slide it in and out to add water. The initial setup height made it difficult to slide out to add water once it was hot. Using chunk wood now which I just add to the charcoal for the beautiful smokey taste.Performance of my Broil King gasser convinced me to take a chance on this new smoker. Definitely worth it.
Date published: 2016-09-28
Rated

5

out of

5
by
jbordonaro
from
Works Great!
This is the first smoker I have owned. It was easy to put together; instruction were well written and easily understood. The quality of the product is exceptional, especially considering how inexpensive it is compared to similar products. Parts are easy to clean. The wheels allow for easy movement. As a beginner smoker, I have enjoyed learning with my Broil King! So far I have smoked pork ribs, chickens, chicken pieces, sausage, and pork butts. All turned out fantastic, with my wife commenting that the ribs where "the best I ever had!"
Date published: 2017-04-08
Rated

4

out of

5
by
Dogsmack
from
1st smoker I'm hooked
Took a chance on redeeming points from work's safety program and picked this smoker. Only thing I'd encourage after choosing this is a thermometer, one that uses a probe so you can keep the box closed. I'm smoking in -20C temps or colder less you need to look the better.
Date published: 2020-12-03
Rated

3

out of

5
by
Grant 1968
from
Good idea but not fully thought out part w
Almost a full year using this smoker and still have to refill the water tray every 1.5 to 2hours. Definitely needs a bigger combustion chamber to accommodate a larger water pan. Other than this everything else is fine....but you have to baby site this thing through the whole cook....should have went with the vertical cabinet smoker with the offset combustion chamber.I have done Brisket, ribs, baked beans, sausage all at the same time.....Thinking of trying sand in the water pan as a heat sink instead of water...Maybe review part 3 to come.
Date published: 2018-07-17
Rated

5

out of

5
by
Bruce B Harquail
from
Excellent Smoker
For my first smoker, this was the best gift I received in May 2017. I've used it many times in all season and was never disappointed. Today here in Edmundston NB it is -24c with wind chill of -35c and I have a pork shoulder smoking with apple wood whisky mixture marinade and infusion. This smoker is real Canadian Icon.
Date published: 2018-01-07
Rated

5

out of

5
by
SoCal Chris
from
Smoker works great!!!
I bought this smoker a little over a month ago and have now completed my third smoke with it. Have done ribs, pulled chicken, smoked salmon, and canadian bacon. The smoker worked great each time. Very easy to maintain a constant temp and virtually no leakage of smoke. Easy to access the fire box. It would be nice if there was a port to allow temperature probes to be inserted into the smoker but I just ran them through the door seal with no problem. Unit is well made and I look forward to many years of great use.
Date published: 2017-04-26
Rated

2

out of

5
by
srtm
from
Not worth the money
I've only used this smoker a few times. The racks are very hard to pull out due to the side that hold them in fall out all the time. And every time I've used it water leaks everywhere even though it is on a perfectly flat concrete patio. Not sure it was worth the price. Bought it for my husband for our 15th wedding anniversary and we are not happy.
Date published: 2017-06-03
CHECK OUT OTHER GRILLS IN THIS SERIES.