The Broil King® Keg™ 5000 features 480 sq. in. total cooking space, including a chrome coated secondary rack, a heavy-duty cast iron cooking grid, removable ash tray, resin side shelves, a durable steel base and metallic charcoal paint finish.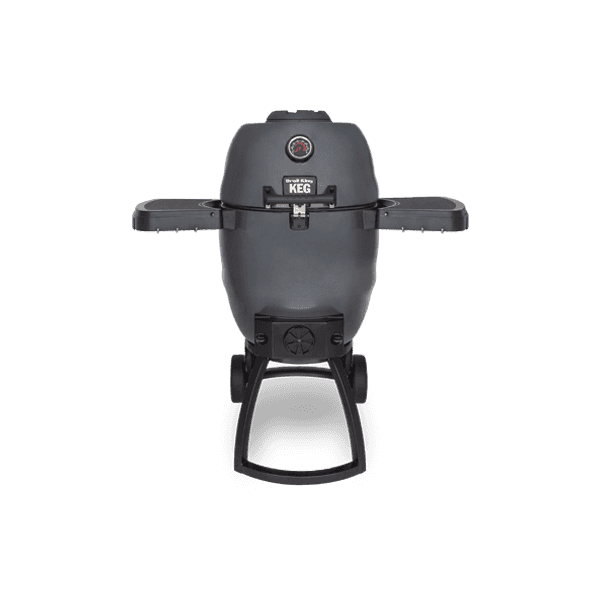 CHARCOAL
280 sq. in.
Primary Cooking Space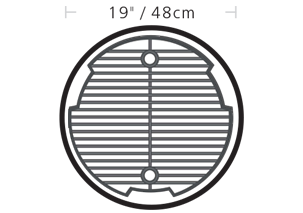 PERFORMANCE GRILL FEATURES.
Every Broil King is built with performance features that deliver unparalleled cooking versatility.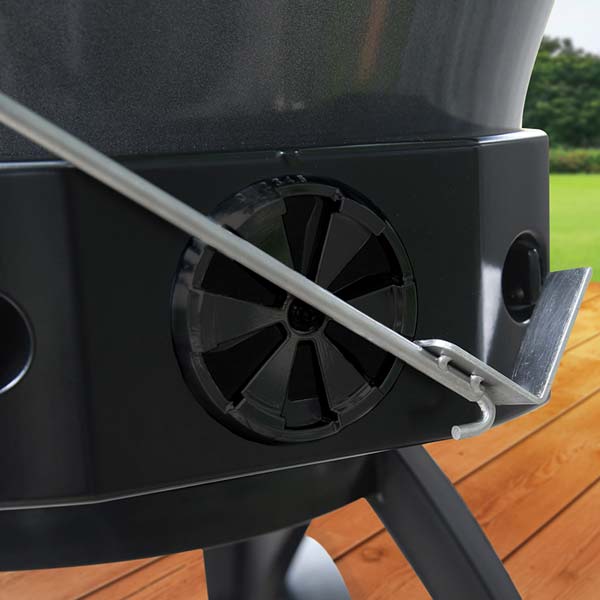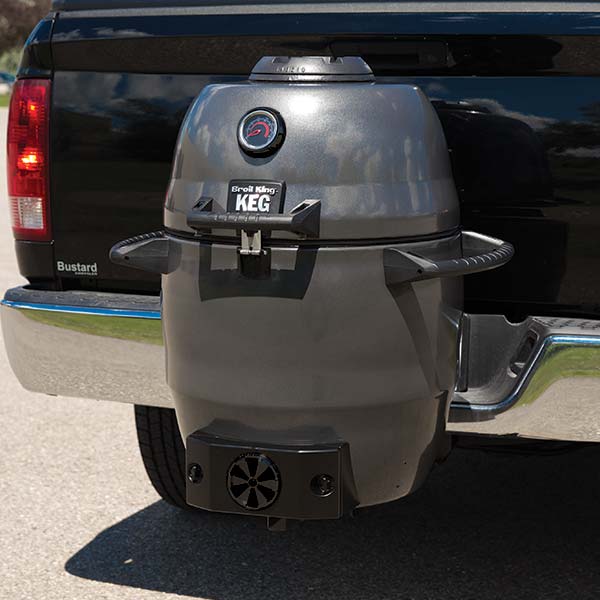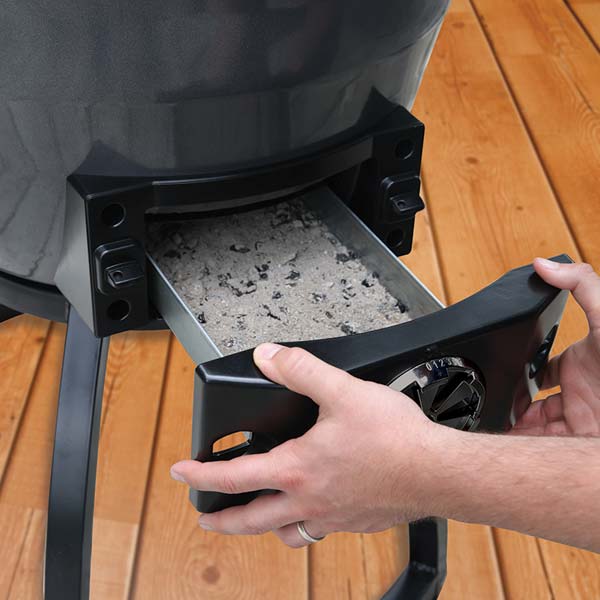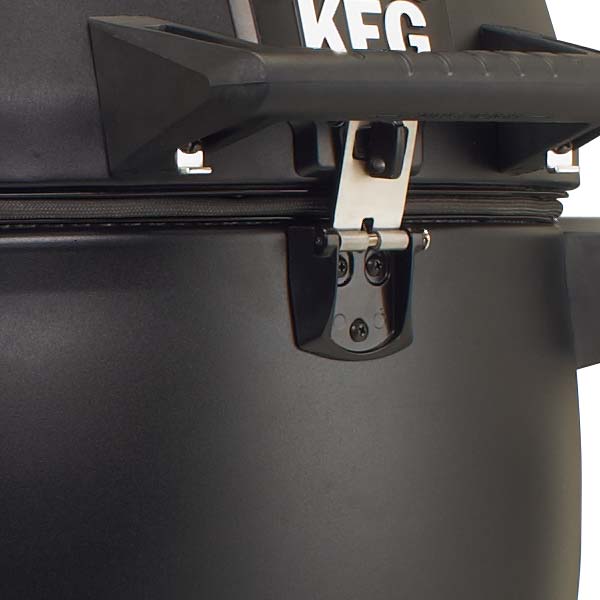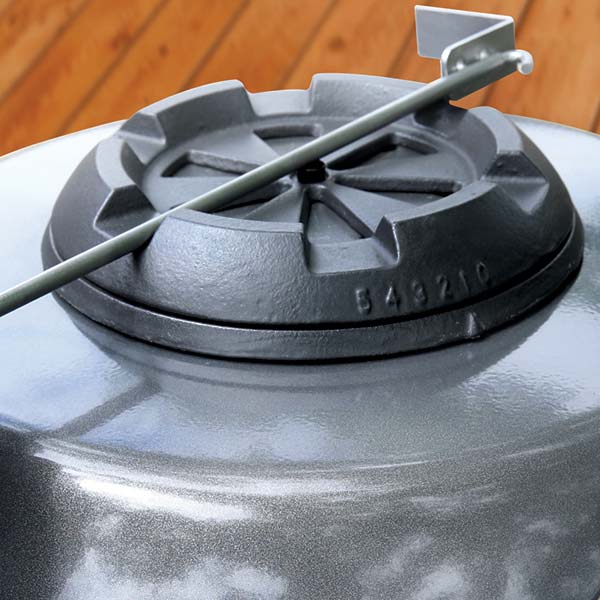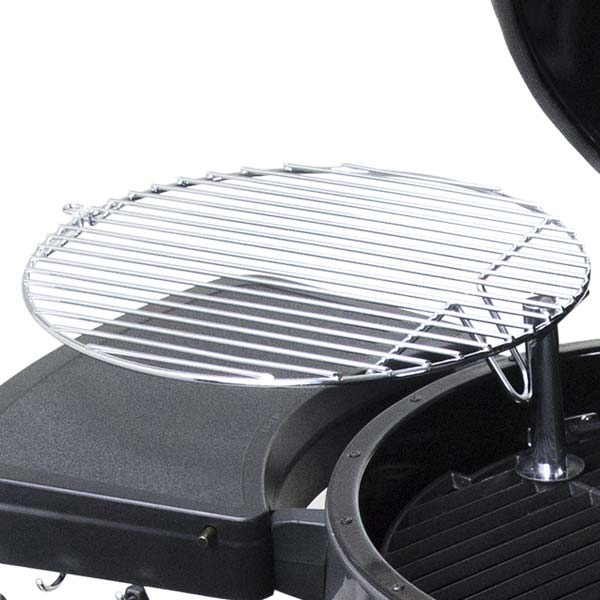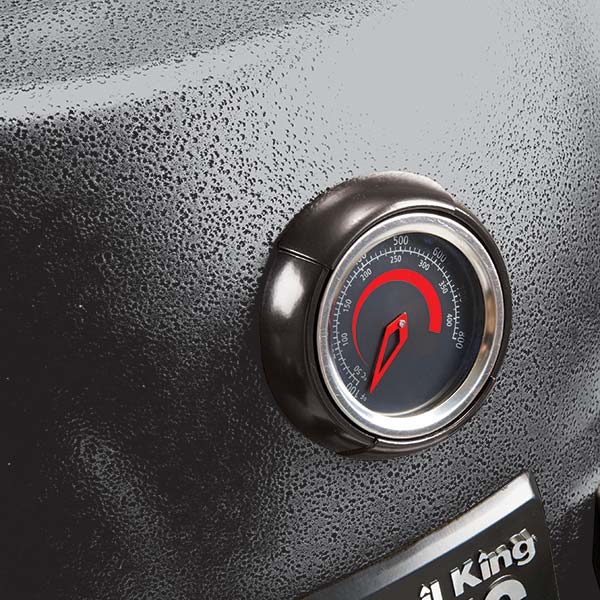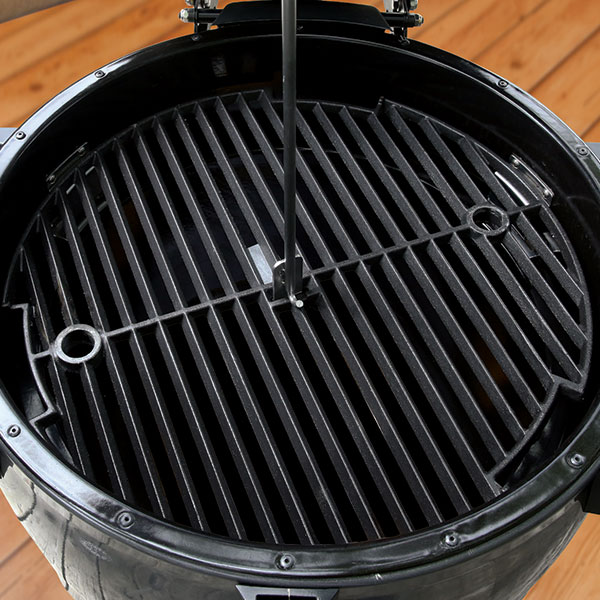 PERFORMANCE GRILL FEATURES.
Every Broil King is built with performance features that deliver unparalleled cooking versatility.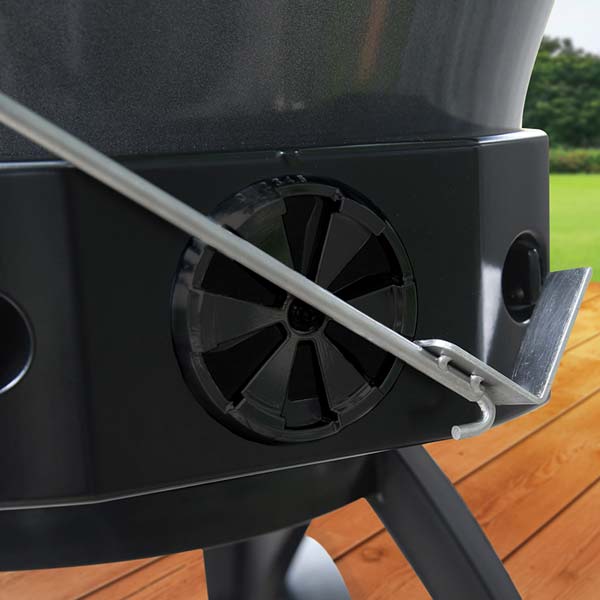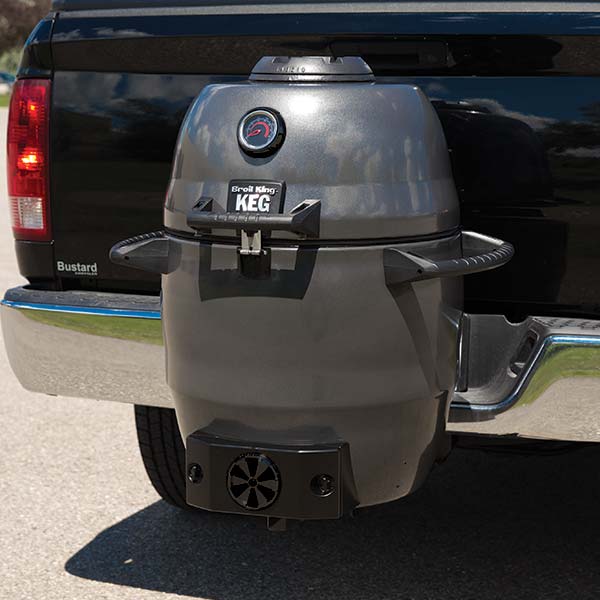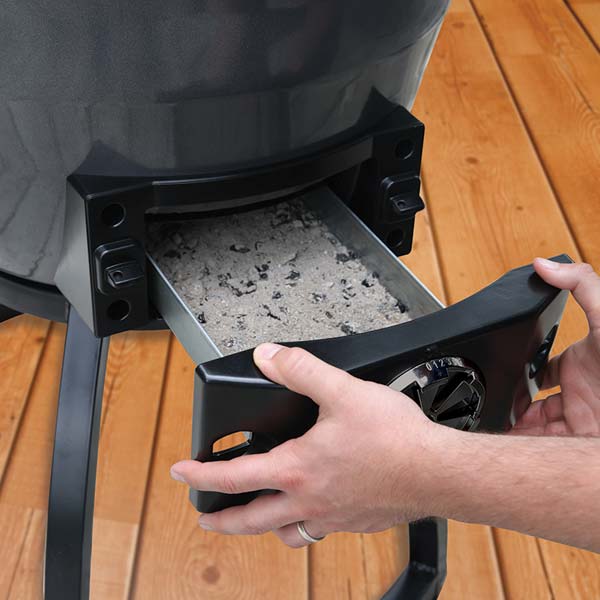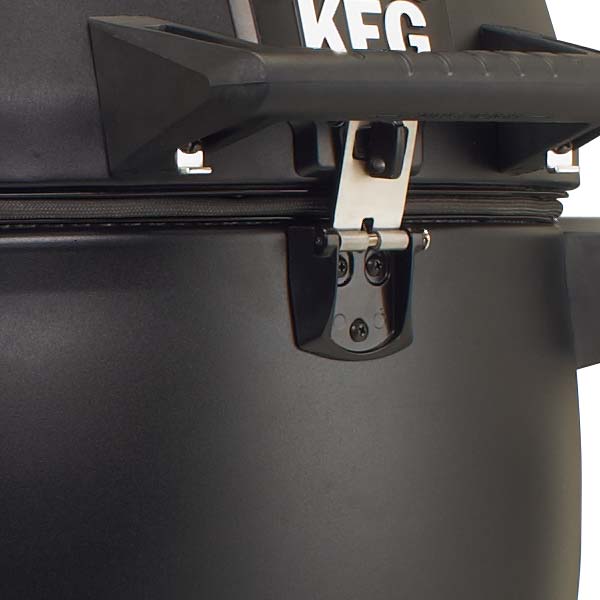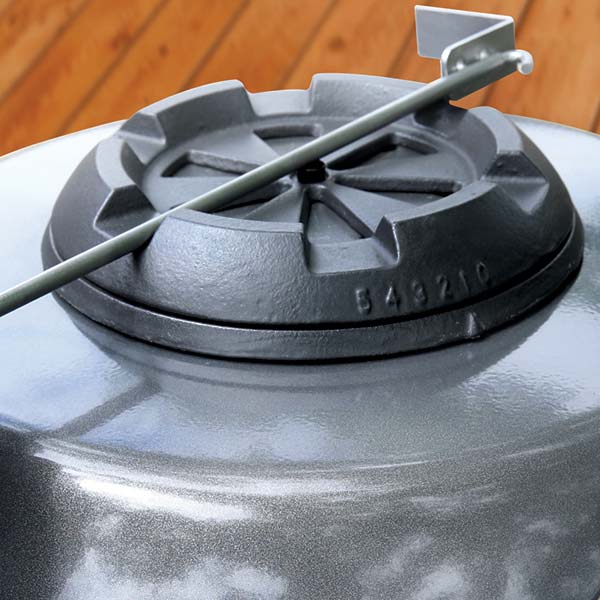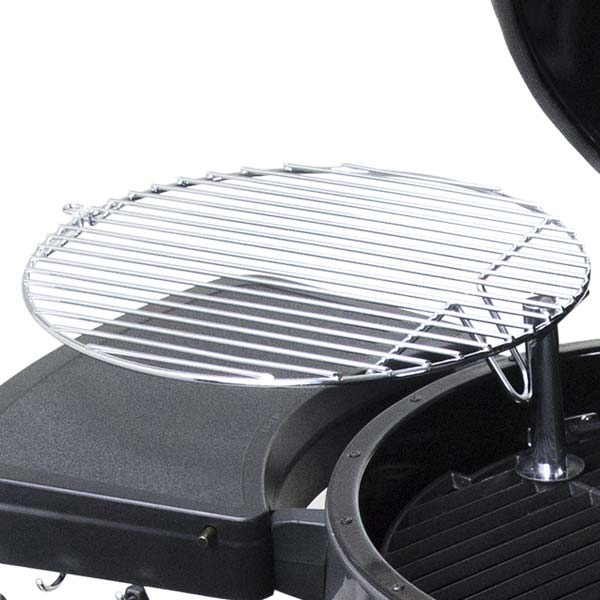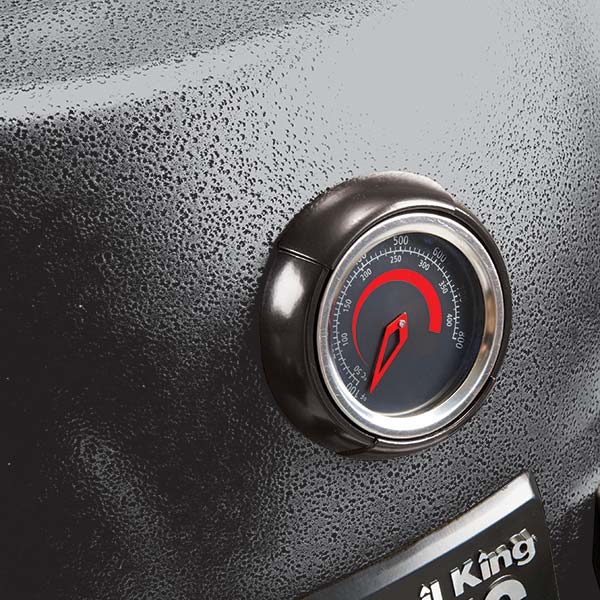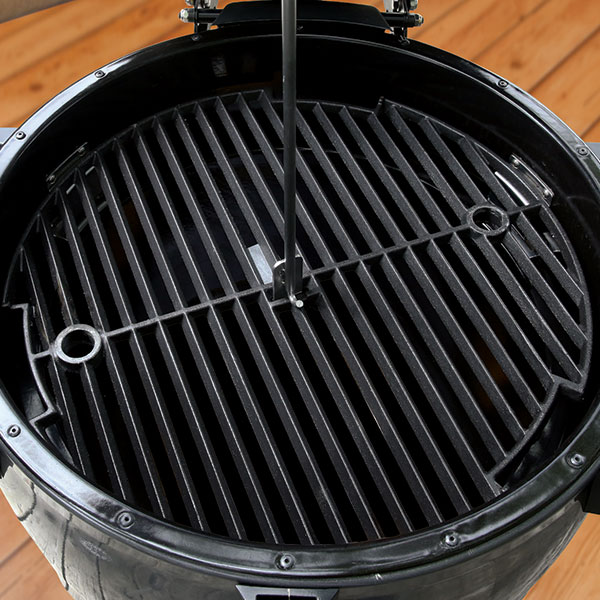 IDEAS TO GET YOU STARTED.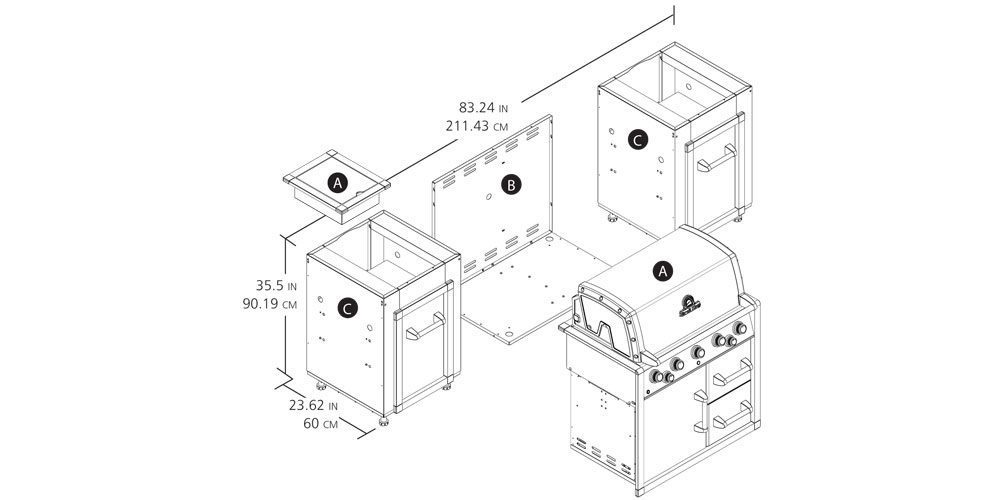 Rated

5

out of

5
by
IrlJ
from
Incredibly Awesome!
I bought my grill before it became the Broil King Keg and it has been great for many years of varied use. I've slow smoked full pork legs for 28-29 hours, seared steaks at over 900F and everything in between. This 'Q' can do it all. Temperature control is straight forward after a couple of runs to get the hang of it and it will go a long time without the need to add charcoal (I didn't add any after a large load to start before cooking over 24 hours, didn't need to open the Keg to add more). The insulation in the body is incredible, it is extremely efficient and doesn't lose much heat through the body at all. I've taken it to the cottage & grilled with it on the bow of a patio boat at a water access only beach. Dropped it on the hitch mount to cook up incredible camping meals. Even walked it down the road to join another Broil King grill in cooking up a storm. The portability and versatility is unmatched! If you're on the fence, jump on over, this thing is amazing!
Date published: 2017-12-24
Rated

5

out of

5
by
cherrypointmarine
from
Great Grill
I live in Fl, so I tend to cook out year round. I have owned many grills, from high end on down. After my last one rusted out, I saw one of these in a store. Needless to say, I bought one. I have cooked everything from prime rib to pizza, and I am really impressed. My family loves the things I cook, but then so do I. Just wish I would have seen these sooner.
Date published: 2014-07-21
Rated

5

out of

5
by
MOAggie
from
Lighter and just as effcient as the Green Egg
I have had this smoker for going on three years now and it has been worth every cent. My smoker has been under cover since day one however the paint on the top has started to bubble showing that some how moisture has gotten under the paint some how. This seems to be a design flaw but other than that this thing does anything you want it to do and more!!
Date published: 2014-06-23
Rated

5

out of

5
by
IglooDude
from
Best I've ever had
3 weeks into this "KEG" and couldn't be happier with the quality of my cooking lol.. I don't know how you could make a bad dinner using this great product. I must admit, it is actually enjoyable cooking on a grill again. Never will I go back to a gas BBQ. Thank You Broil King, you made one happy griller here!! Cheers:)
Date published: 2014-08-23
Rated

5

out of

5
by
GCole
from
The Broil King Keg Rocks....
I bought my BKK 4000 Christmas 2013 and I love it. It is a great set up to cook low and slow as well as 700 degrees for pizzas. I was sold on the unit being portable and not as heavy as some of the competition. I can roll it anywhere I want and I am going to take it to the beach this month for vacation. The rest of my family cannot wait to see it in action. Great product and I look forward to many years with my new family member.
Date published: 2014-06-18
Rated

5

out of

5
by
Stukats
from
It should be called the BOMB !!
Like I wrote in the review title this keg is the BOMB !! It grilles like crazy. I'm very new at grilling with charcoal with this Keg I'll never go back to gas. Pizzas come out just like a pizza place even better. And the slow cook lamb and porc to die for. Keep it up Broil King.
Date published: 2014-07-15
Rated

4

out of

5
by
MiketheBlue
from
Need more time
Still getting used to my Keg after using a natural gas Broil King which lasted over 20 years. Finding it more of a challenge than I expected getting the temperature right especially when using the Diffuser kit. I managed to burn the first rack of pork ribs (where the recipe called for an unbelievable 4 hours) and did a lamb joint for almost 3 hours on the V rack with the drip tray AND diffuser in place which came out undercooked. Have had more success with simple grilling of fish and steaks An ongoing project I think. Ask me again in a years time.
Date published: 2014-09-16
Rated

5

out of

5
by
Billyjobob
from
Great grill
I bought this grill a month a few weeks ago. I have seared at high heat, grilled wings, pork loin, chicken, steak. Very impressed with the heat control and also how long the charcoal last, did a low slow cook for a brisket - held 275 for 12 hours with plenty of fuel left. Takes very little charcoal compared to my weber dome grill and it takes just 10 minutes before the grill is at 600F
Date published: 2014-07-11
Rated

5

out of

5
by
Martin B
from
Superbe BBQ au charbon
Ca fait un an que je cuisine sur ce BBQ, et je peux vous dire que celui au gaz ne fonctionne plus depuis ce temps. Oui la cuisson est plus longue que celui au gaz, mais de combien meilleur!!! Facile d'utilisation et pas plus dispendieux a faire fonctionner qu'un au gaz (charbon de bois/ gas). Le gout des aliments, peux importe lequel vous faite cuire, est supérieure en bouche!
Date published: 2017-03-21
Rated

5

out of

5
by
Erik
from
Great BBQ
Worth every penny, makes the most delicious foods. Retains perfect amount of heat while the outside is cool to the touch. I have the hitch attachment, so I can take it anywhere and BBQ up anything I like. Such a great BBQ, I also have the Signet, I'm not the best cook, but I haven't managed to screw up anything on it, despite my best efforts everything comes out perfect.
Date published: 2017-08-16
Rated

5

out of

5
by
R guy
from
Top notch great way to cook
I have had mine now for 2 years and nothing is better, if you do not have a green Keg well get one you don't know what you are missing
Date published: 2016-05-06
Rated

5

out of

5
by
Michael888
from
Great Purchase!!! ... and Loaded with Features
I just purchased the Broil King Keg 5000 a few days ago and so far... I cannot say enough good about this BBQ. Initially, I was tentative about purchasing a Ceramic Kamado "knock-off"...as is a steel version of the long standing ceramic Green Egg. Right out of the box I was and am impressed with the Broil King 5000. Assembly was approx. 30 minutes after unpacking all of the parts and reading the very good instructions. The assembly was all about attaching 3- handles, lifting BBQ into stand, locking in place with locating pin and clip... 4 screws to attach utensil hooks to side shelves... attaching side shelves using quick connection pins... Assembly does not get easier and i have had the experience of expending two plus evenings on assembly of other grills in my past. Quality is very good! All parts fit together easily and everything (body, cast iron dampers, main grill, stainless steel warming grill, side shelves, nest/stand) "feels like quality" on this grill. Benefits/Features: Keg 5000 comes with cast iron main grill that includes a cast iron insert that is easily removed for addition of charcoal/wood chips if required. A "Warming" rack that inserts into the main grill via a "post" for easy removal or rotating to the side for fuel replenishment. (At this point in my experience, this warming grill is excellent for smoking.) The shell/main body is painted steel with very high quality. It is constructed of double walled steel construction with insulation inside and remains cool/warm to the touch even after several hours of grilling at moderate temps. A very huge bonus for me is that after grilling, I can place the cover on the BBQ without fear of melting the material. So, no need to remember to cover before continuing on with your night of entertainment. closing down the grill consists of closing top and bottom air dampers and placing cover on the grill. The Ash Drawer is an added bonus for emptying the grill after several uses... simply pull out the drawer and deposit ashes in compost bin or wherever desired. My first cooking experience started in the dark with the charcoal started in a Chimney and added to the Keg along with some water soaked wood chips. I placed pork ribs on the main grill and attempted to learn how to control the heat with my new unit. Heat control was easy I thought as I kept a close eye on the thermometer and made slight adjustments to the upper and lower dampers to obtain optimal temperatures. First time out, I had no problem maintaining 275-300 cooking temperatures. In approx. 3 hours, I removed the ribs and we enjoyed the BEST TASTING ribs I have cooked in 15 years of smoking ribs on far less superior grills. (BTW... in the past, I have had compliments on my ribs... I can't wait to treat these same people to even better tasting...mmmm). My second cooking experience involved smoking trout fillets and some beef rib strips... MMM... MMM...mmmmmmmm! No disappointment here. My third cooking (tonight)... upon starting grill I found I still had enough charcoal and wood chips left from my first cook to smoke more ribs. = very economical in fuel compared to my last BBQ grill that was "high end" but of a lot less quality than the Keg 5000 I have owned this grill less than a week ... so far this has been an excellent purchase that I wished I had made a few years ago. I will update my review to either confirm my satisfaction or inform on any issues. Although, I really am not expecting any serious issues worth writing about... smiles. Warranty Registration On-line did not go well as the website apparently thought I had purchased a gas grill... notta! I called customer support and had to wait approx. 10 minutes for a customer service agent to register my grill via telephone. small inconvenience as I am used to on-line service vs. waiting on the telephone for help. however, once my call was answered, service was excellent. For those that are wondering what Kamado grill to purchase... I highly recommend the Broil King Keg 5000!
Date published: 2016-05-04
Rated

5

out of

5
by
lawsonk2
from
Best Grill I have ever owned!
I have had mine since 2010 and use it weekly. It does a great job on steaks, ribs, burgers and dogs, and pork tenderloin. And for the last 6 years I have cooked our Thanksgiving Turkey on it and everyone loves the smokey flavor. I have also taken it to hunt camp on the back of my truck. Just a great all around grill that makes it fun to grill.
Date published: 2018-07-22
Rated

2

out of

5
by
Todd Anderson
from
Great concept...poor hardware.
I've used the keg to both smoke and grill for three years. It works great. Easy to control temps. Unfortunately the essential hardware...both the top baffle and bottom baffle are cheap. The bottom baffle screws have rusted out making this just a really annoying grill. I would recommend purchasing a green egg...hardware doesn't break.
Date published: 2017-09-03
Rated

5

out of

5
by
Eccl 9 7
from
The Keg is King
I cannot say enough great things about the Keg. The best Kamado style grill on the market. Most durable, most fuel effecient (I did a 40 hour run without a temp controller on 1 load of charcoal), precise temperature control, easily transportable. The moist and flavourful food the Keg can produce is second to none.
Date published: 2015-05-05
Rated

5

out of

5
by
The Butcher
from
The King of grills!
Originally bought the bubba keg from retail store many years ago. Was extremely happy but sold it to my brother to buy a ceramic kamado. Big mistake! Found a used bubba keg at a online garage sale, bought it and am happy again. I will definitely buy a new broil king keg if this one ever wears out. Exceptional heat retention, fire control, reuse the lump charcoal, the most efficient smoker/grill there is.
Date published: 2016-01-16
Rated

5

out of

5
by
Braydon89
from
Great Grill
I purchased the broil king keg 2 weeks ago and have used it about 6 times now and smoked on it twice. I love it. Great design and build, love the cast grills. The only thing I was not 100 percent satisfied with was the diffuser kit. While it is good and works fine I think I was expecting a little heavier duty of a product. But it does the job just fine.
Date published: 2014-06-18
Rated

5

out of

5
by
Miche
from
Fun
I purchased my new grill just over a month ago and it has been a weekend treat to fire it up and smell that great smoke as chicken, ribs, pork tenderloins, etc. cook nice and slow. It can take a little getting used to since it is different from the gas grill and I have never before used coal but that is exactly why I got it - a different way of grilling and a different taste. This grill is well made, sturdy, easy to move around and has a large cooking surface. Getting it started and up to, and maintaining the desired temperature is a breeze. The learning has been figuring out how much coal I need for different cooking times as well as how much liquid I need in the diffuser pan (a must have for slow cooks) to keep foods from drying out during longer 'low and slow' cooks.
Date published: 2015-07-04
Rated

5

out of

5
by
jwforde
from
I love my Keg
It was a fathers day 2015 gift... I use it year round for grilling, slow cooking and even some smoking... does just as amazing a job at -20 as it does in summer. I could not recommend this grill more! I love it!
Date published: 2017-07-12
Rated

5

out of

5
by
Frenchie1958
from
Je ne peux plus m'en passer!
J'ai réussi à faire des repas succulents, spécialement des roastbeefs digne des meilleurs steak house! Ça n'a pas été long pour maitriser le contrôle de la chaleur. L'hiver sera long!
Date published: 2015-11-15
Rated

1

out of

5
by
Dougie144
from
Brittle Cast Iron - Grill and Charcoal Basket
After owning several Broil King BBQs and being satisfied with the product I ventured to buying a Broil King Keg - and skipped the Green Egg. It cooks well, and holds the temperature well, but the tool to remove the cask iron grill ended up slipping and the grill dropped less than 24 inches shattering into 3 pieces. Disappointed, I felt that this should have been able to handle this light impact. I went to the dealer, bought another grill (and the dealer was surprised and noticed the tool didn't have a hook on the end)- and gave me a new tool only after I purchased a new cast iron grill, a Charcoal Basket, and the handle accessory. I just filled the Charcoal Basket with charcoal(not even lit) and picked it up with the tool and the basket slipped off the tool within 6 inches of the ground and hit the ground. The cask iron basket is now unusable as one of it's legs is now cracked off. Hardly what one would expect from a Broil King! I am disappointed in the poor quality of the cast iron parts - especially after over a decade of happiness with Broil King.
Date published: 2016-05-01
Rated

5

out of

5
by
IMI B
from
Love my Keg
I have had my Keg for a year and a half now. I researched several of the Kamado style cookers before deciding on the Keg. I liked the fact that it is steel, lighter, easier to move around the yard and the gasket on the lid seemed far supeior to it's competitors. Locally available to me there was also had a better variety of accessories. Since I'm new to this type of BBQ, it took me awhile to get use it and learn why is best. Quality charcoal doesn't cost much more and it is well worth it. A blow torch is the best way I have found to start it up (a garden weed torch from Lee Valley Tools). And with the Keg watch you heat. It is very well insulated and heats up quickly. So watch the gauge and dial down the vents when you near your goal. From searing steak, slow roasting prime rib, turkey, to pizza and more, I love the flavor.
Date published: 2015-10-10
Rated

1

out of

5
by
Romeo
from
Cracked Cooking Grid
Bought this Bbq mainly for hot smoking, i own several other barbecues, but decided to give it a try after reading a lot about it. Total disappointment. The main cooking grid cracked after the first year of use, the small vent on top doesn't close watertight and the bbq it's always filled with a mixture of water, rust and wet ashes. I would not buy this again for sure.
Date published: 2015-05-14
Rated

5

out of

5
by
BK in MN
from
Love it!
Bought this in early spring, started playing around with it and haven't touched my other two charcoal grills since. Kabobs, burgers, home made bacon, smoked beans, brisket, not a dud in the bunch yet. Beef ribs twice which has now convinced everyone they they're better than the pork ribs which were also great! I'm totally sold on this keg. The other two grills are out of the rotation! Next up, seared steaks and maybe a pizza or two.
Date published: 2019-06-20
Rated

1

out of

5
by
Lateralis9
from
Très déçu...
Depuis avril que j'ai le Keg 5000 et je suis très déçu. Impossible de fumé à basse température .... Trop de fuite qui empêche de contrôler l'entrée d'air pour effectuer un bon fumage à basse température. Impossible de recommander ce bbq. Très mauvais choix de ma part.....
Date published: 2017-10-05
Rated

5

out of

5
by
Shaymasdaddy06
from
So far so good!!!!!
I just broke in my KEG this weekend with some Ribeyes, hamburger sliders, squash, and corn. It's definitely the best grill I've even owned!!! The fire lasted much longer than expected. The only issue I had was the cast iron grate was broken when delivered. I was able to get a warranty replacement for the grate so customer service has been good so far. I can't wait to smoke a brisket on it!!!!
Date published: 2019-02-18
Rated

4

out of

5
by
La loche
from
Pour fumée et saisir: merveille
Acheté au printemps, très satisfaite. Je fume à froid et à chaud, je grille et je saisi. Température facile à contrôler. Pour avoir déja cuisiné sur un kamado bigjoe, ç très comparable, sauf pour la surface de cuisson. Économe en charbon. Je me suis achete une grille en stainless avec une trappe pour avoir acces au charbon. Ç encore plus merveilleux! Je le recommande à 100000 à l'heure!
Date published: 2018-08-26
Rated

1

out of

5
by
Nosh
from
Keg base came skewed
Received the KEG 5000 today and the keg base seems skewed and there is no way to slide the keg body onto the base. Apparently this was missed by QC, currently the body halfway stuck onto the base and it seems impossible to take of or complete the assembly. Will contact KEG to ask for a full refund or swift replacement.
Date published: 2018-04-19
Rated

5

out of

5
by
Barron
from
Super efficace
J'adore ce BBQ a cuisson lente c'est super bon tout ce que l on fait sur un KEG
Date published: 2016-05-29
Rated

1

out of

5
by
Janet
from
Horrible experience
BBQ shipped defective. Part was not replaced until almost a year later. Virtually impossible for me to disassemble and reassemble properly to install part. (Way more assembly required than for original BBQ.) Very disappointed.
Date published: 2016-06-24
CHECK OUT OTHER GRILLS IN THIS SERIES.