MONARCH™ 340
834264 LP / 834267 NG
The Monarch™ 340 features 330 sq. in. primary cooking surface and includes 3 stainless steel Dual-Tube™ burners, reversible heavy-duty cast iron cooking grids, stainless steel Flav-R-Wave™ cooking system, and electronic ignition. The Monarch™ 340 features painted steel drop-down side shelves and enclosed cabinet base.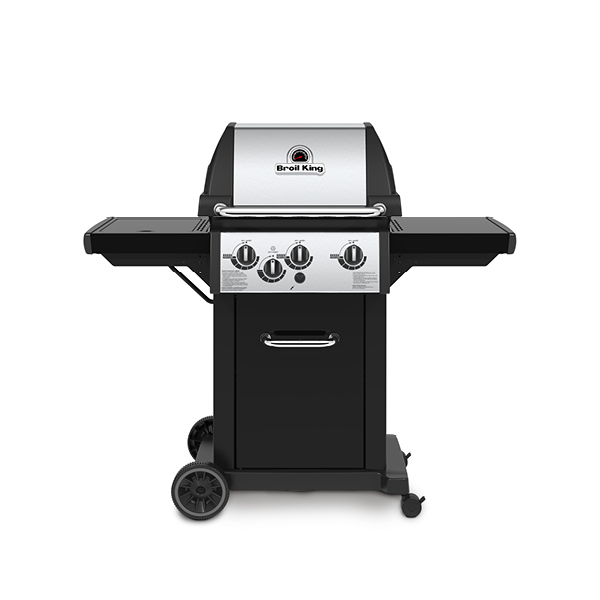 30,000 BTU
Main Burner Output
330 sq. in.
Primary Cooking Space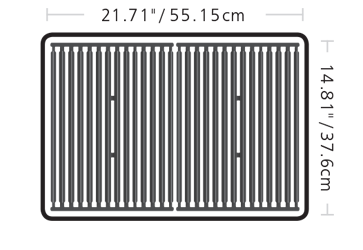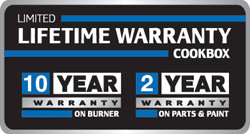 PERFORMANCE GRILL FEATURES.
Every Broil King is built with performance features that deliver unparalleled cooking versatility.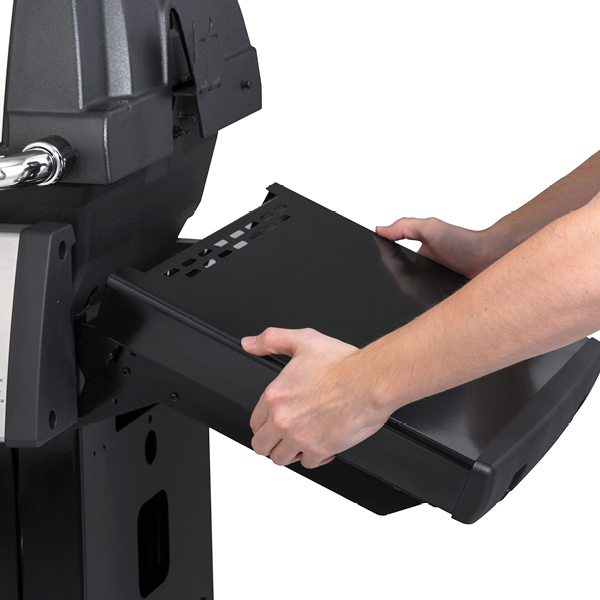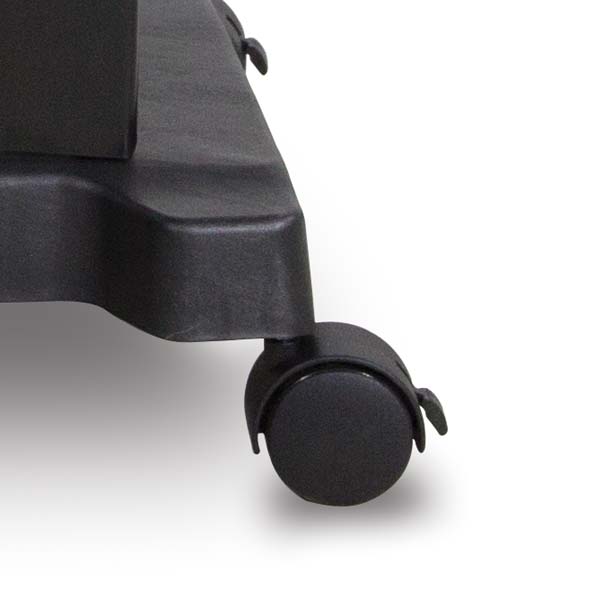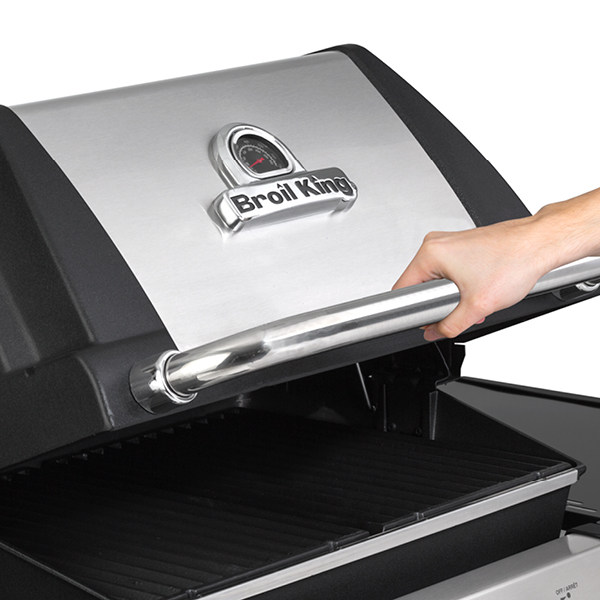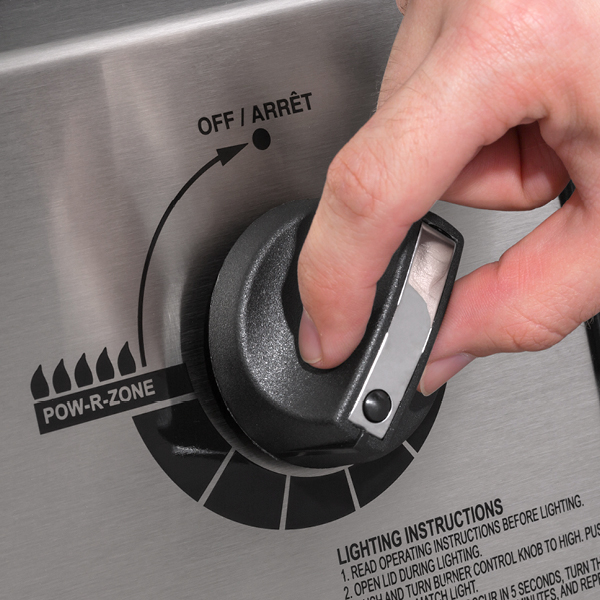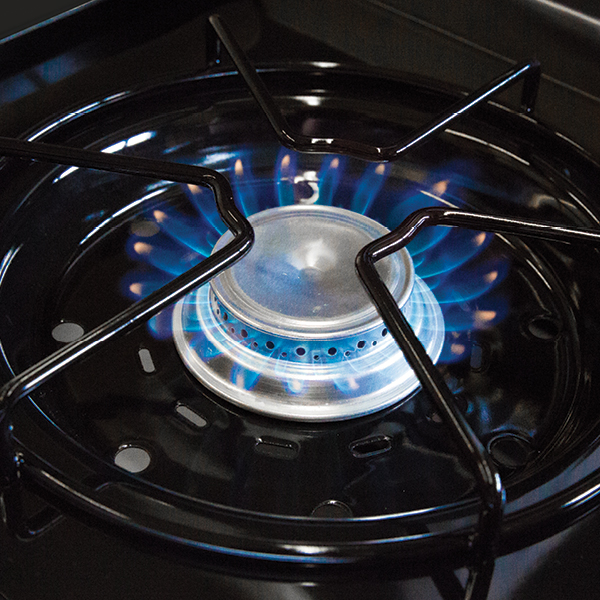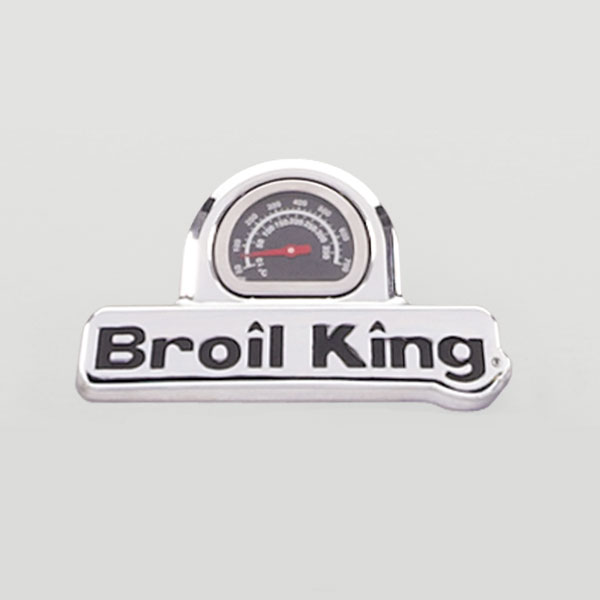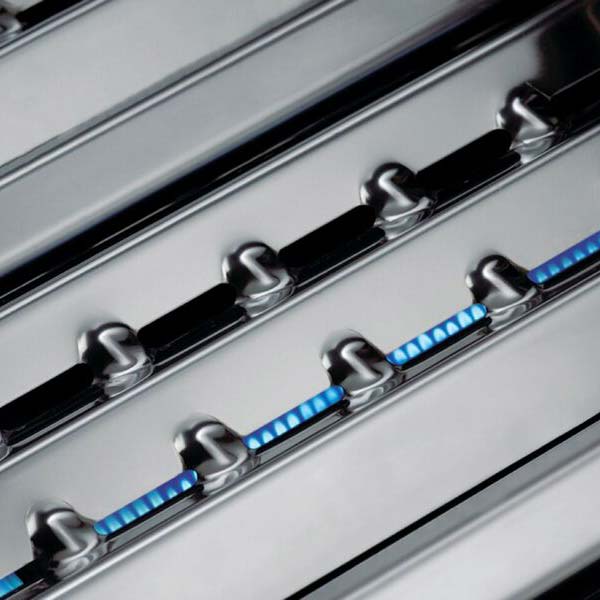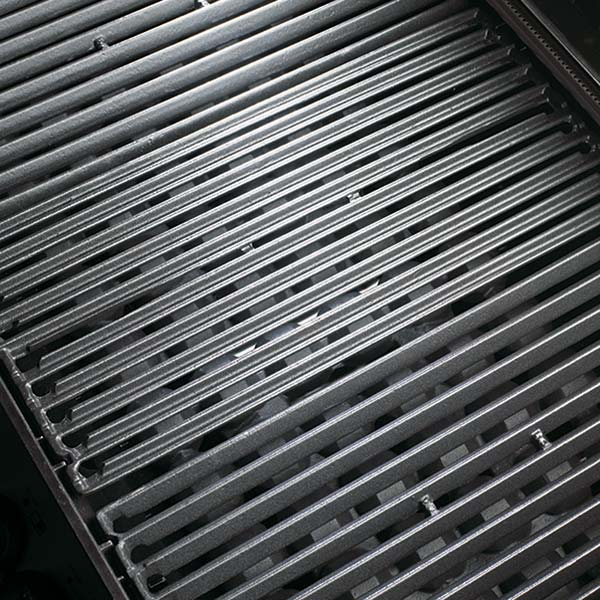 PERFORMANCE GRILL FEATURES
Every Broil King is built with performance features that deliver unparalleled cooking versatility.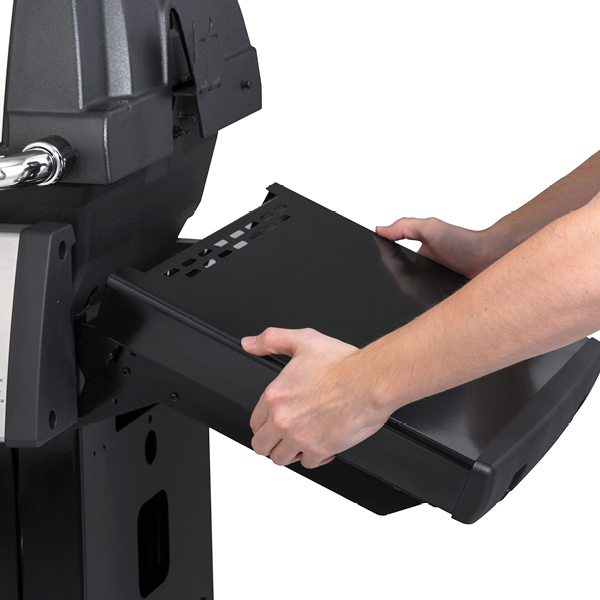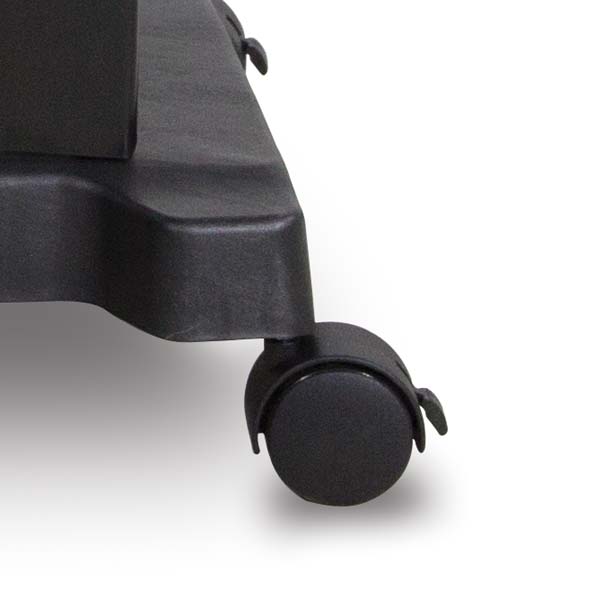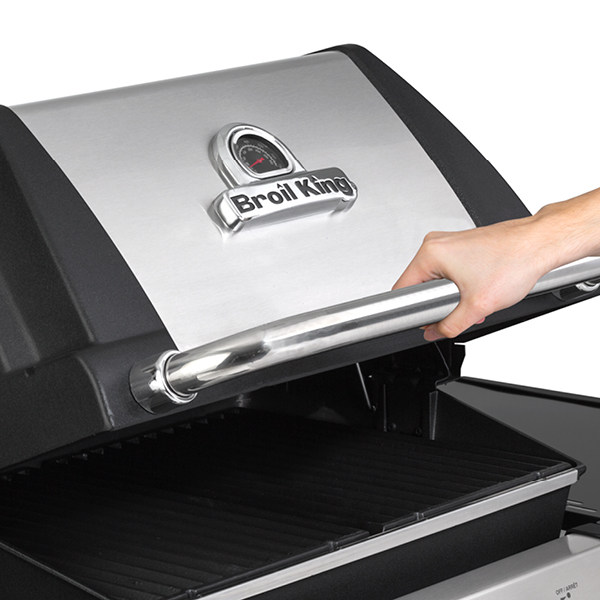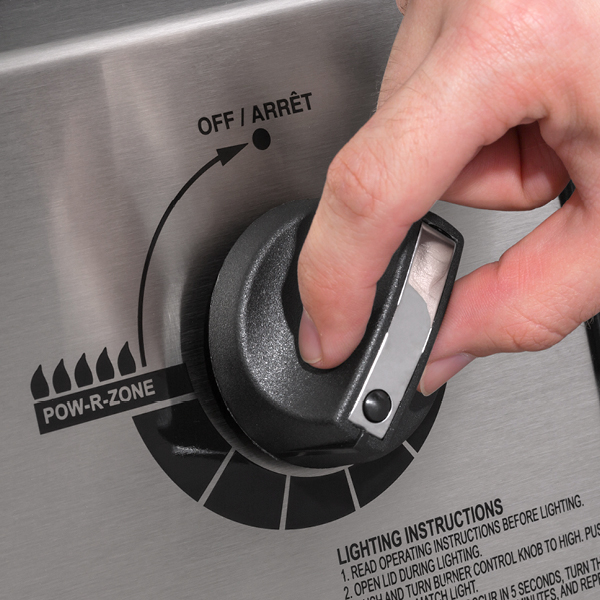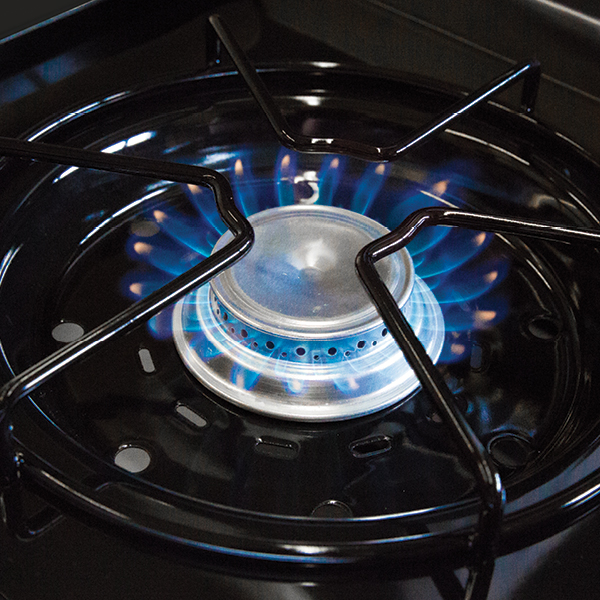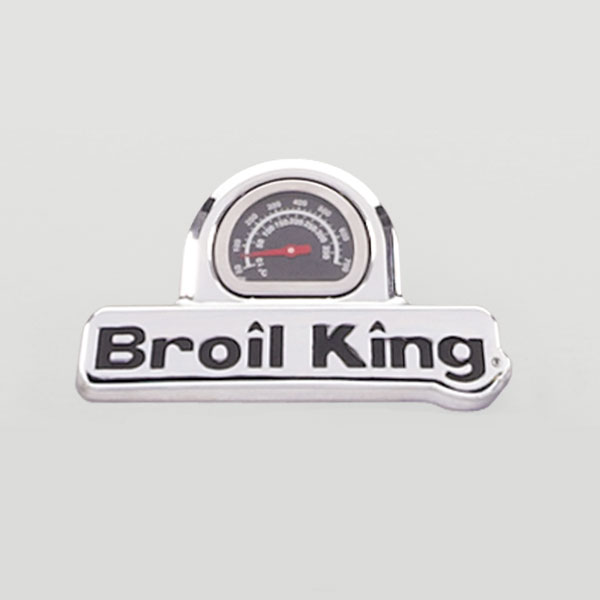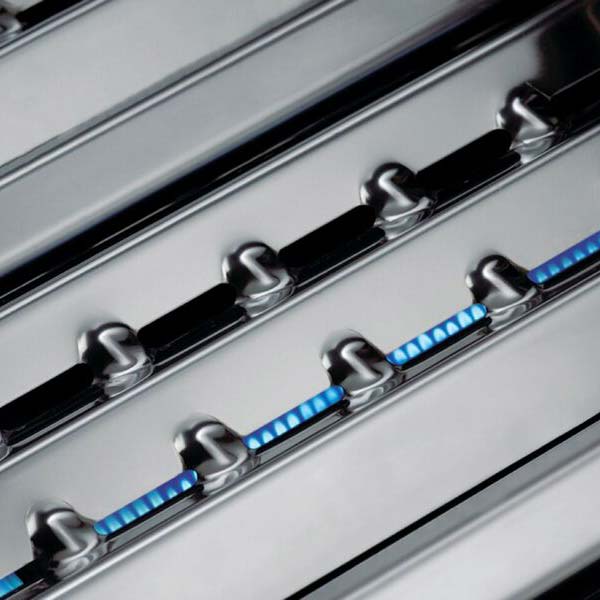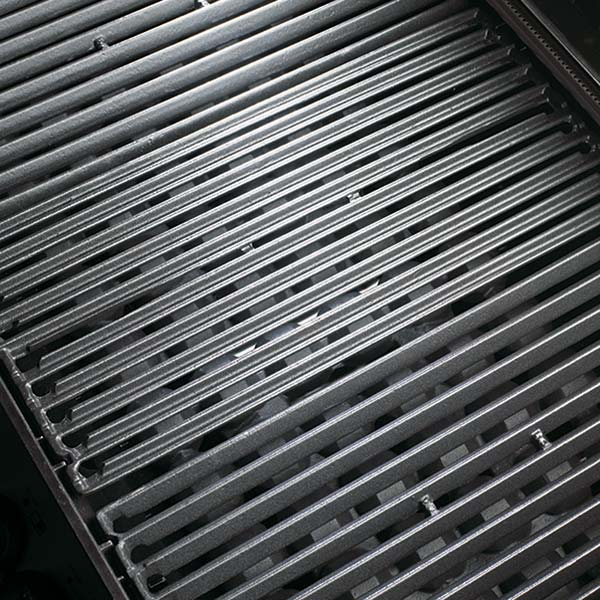 IDEAS TO GET YOU STARTED.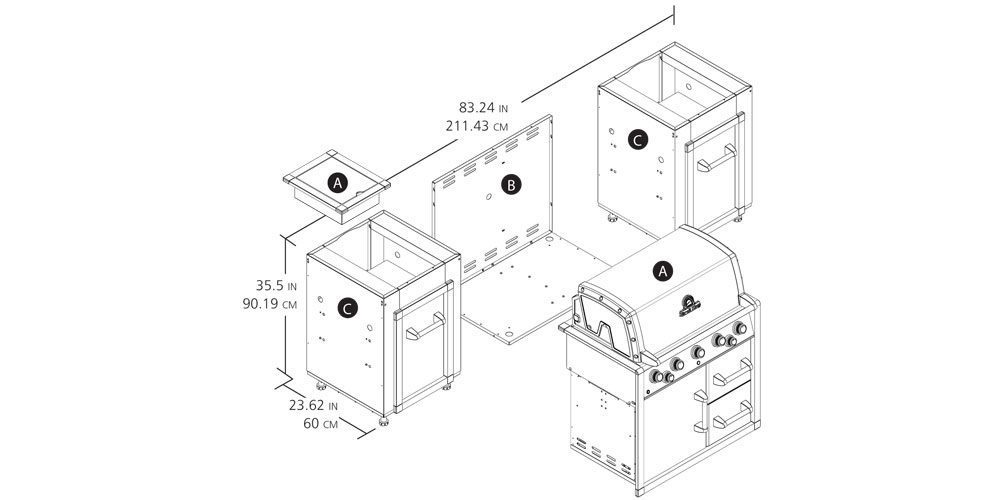 Rated

4

out of

5
by
falmouthgriller
from
Steaks are grilled to perfection on this BBQ
The BBQ works well and is able to generate a lot of heat. My only complaint is that after only 1 month the Flav-R Wave have already started to rust. This was a surprise as they are supposedly made out of stainless steel. I can see a significant cost to replace these in the next couple of years.
Date published: 2014-06-27
Rated

5

out of

5
by
LG Bass
from
A lot of grill for its size
I purchased this grill when I down sized to a condo. The 2 side tables fold down for easy storage, yet the grilling surface is large enough to grill steaks or burgers and vegetables at the same time and high enough to grill a whole chicken or roast when warming rack is removed. When flipped over, the grooved grill racks work great for grilling fish fillets or vegetables with out a basket. The 3 burners allow for indirect grilling with enough room for a drip ban to fit under unlit burner if needed. Great little grill if you do not need a side burner.
Date published: 2017-07-17
Rated

4

out of

5
by
janjon
from
Pros & Cons
I'm very happy to purchase a high quality product manufactured and assembled in Canada by Canadians. We've used the rotisserie a few times and are pleased with the results. It's a bit of a pain to have to remove the warming rack which I have forgotten to do before I did the pre-heating. The meats we've cooked have been delicious and we particularly like the reversible cast iron grills. We use this as a natural gas (NG) unit and built expanded metal shelves so as to utilize the cavity below the cooking assembly for BBQ accessories storage. Why don't you offer this as an additional option for NG units
Date published: 2014-06-17
Rated

5

out of

5
by
canno
from
I would buy it again
After 10 months of intense use, I am very satisfied with this gas grill. The product is solid, powerful (for direct grilling) and easy to use to set/keep the desired temperature (mainly for low&slow and/or indirect grilling). I needed some time to fine tune my cooking style with this gas grill, being not a pit master 🙂 however it's part of the fun. Easy to clean but honestly I thought it was easier before buying it, you need to take care of it to get perfect results. 10 Kg GPL bottle fits in the dedicated compartment. I easily make regular big bbq's for 8/10 people. Over 10 people I would need bigger cook surface, but no doubt I would buy a Broil King gas grill.
Date published: 2017-11-03
Rated

5

out of

5
by
sdcaller
from
Usual Broil King High Quality
I replaced an 18 year old Broil King Sovereign with the Monarch 340. The new BBQ is doing what I want it to do and is the usual Broil King high quality. I baste a lot of things with tomato sauce when they are on the upper rack and I find excess sauce drips off and ends up on my deck. Is there a way to put a lip or spill catcher of some sort to eliminate this problem? It would be a lot easier to clean a spill catcher than my wooden deck.
Date published: 2018-01-29
Rated

4

out of

5
by
Noland
from
Great BBQ for the price.
When I purchased this BBQ on sale I didn't expect the quality it has once I removed it from the box. Frame is reasonably stable during assembly and extremely stable once assembly is completed. Maintains a nice even heat throughout the entire grill, there are some cooler spots but they come in handy while cooking. Really like the slip tray underneath which is really easy to discard of char and drippings. Only complaint I have is the quality of the swivel casters which basically popped apart the first time I moved the BBQ and continue to do so, but that's pretty minor, otherwise would recommend this BBQ to anyone.
Date published: 2017-08-23
Rated

5

out of

5
by
Sunny
from
the BBQ works very well!
I would like to have some hooks in the front of the BBQ to hang utensils, This would make it more user friendly.
Date published: 2014-06-21
Rated

3

out of

5
by
DEADBEEF
from
One of the Okay-est Barbecues I have owned!
Bought this barbecue a couple of months ago. It was more expensive than other barbecues that I have bought in the past. The main benefits that I like are the size, reversible grills, and the fold-able side shelves. I bought into the whole "made in Canada" propaganda, but that will not be a deciding factor in future barbecue purchases. The build quality does not seem to be significantly different from other barbecues made outside of North America. I have put more effort into the maintenance of this barbecue than previous barbecues, but I am already started to have an issue with it. The paint on the grease tray is peeling. I tried contacting the manufacturer to make a warranty claim, but they have not responded. I contacted the manufacturer 7 days ago. Their customer support does not seem to be a compelling reason to spend more on a Broil King barbecue.
Date published: 2017-05-28
Rated

5

out of

5
by
bbq purveyor
from
Awesome Model,
I bought mine twp months ago, use daily, have done roasts, ribs, steak and chicken and am totally impressed & satisfied with it. One minor glitch, if using the rotisserie and plan on using the side burner at the same time. Open tour side burnwr lid before starting tge rotisserie.
Date published: 2017-06-01
Rated

5

out of

5
by
TucsonRich
from
The Only Realistic Choice!
My 17 yr old Weber finally became more expensive to repair than replace. This led to a month long search for a replacement. Online reviews, forums, comparisons, specs, etc., etc. It quickly became clear that there are two tiers of gas grills ... the 'cheapos (that wouldn't last 17 months ... and we all know who those are) and the two brands at the top ... one of which is Broil King. I found very little difference in quality and features between the two ... but a substantial difference in price for comparable models. Broil King was clearly the winner and I couldn't be happier with my choice. With the same amount of care I took of my old grill, another 17 yrs now seems a realistic goal. My only criticism is the absolutely worst assembly instructions I have ever seen ... no text instructions at all ... only pictures that were difficult to follow. It's still a great grill!
Date published: 2017-08-23
Rated

5

out of

5
by
Peter C
from
Wearing out after 14 years
We bought this BBQ 14 years ago and absolutely love it, we cook everything on it from pizza to our Christmas Turkeys. After 14 years it is finally wearing out and I am looking at this website because I'm going to buy another. Fantastic BBQ.
Date published: 2017-12-08
Rated

5

out of

5
by
Mikey5
from
Great BBQ
I have owned 5 various brands of BBQ's and by far this is the best. Excellent temperature control for perfect grilling. Very understandable assembly instructions. PS. Great cast iron grills for that perfect steak.
Date published: 2017-07-17
Rated

5

out of

5
by
Schube
from
Great Barbecue
I reduced the heat up time by inserting cut to fit pieces of tin to reduce the size of rotisserie holes. On a windy day the barbecue was taking along time to heat up.
Date published: 2014-06-12
Rated

5

out of

5
by
Machine63
from
Best bbq I've had
Got this a couple months ago and has totally impressed me. Super high heat for searing, even heat, and easy to clean. Love it!
Date published: 2017-09-30
Rated

5

out of

5
by
Babaji
from
Broil King - Monarch 320
Bought this model for the size and features. Our previous BBQ was too large and had a side burner that was never used. This BBQ heats up and maintains temperature well. Everything from pizza to fish has come out perfectly. We are very pleased with our purchase.
Date published: 2016-07-11
Rated

5

out of

5
by
Brian Mathyk
from
Good features & durability at an attractive price.
This is my fourth OMC BBQ. Like the rest, it is reliable, operates well and does everything I ask it to do. The warranty gives me confidence in the product and being made in North America, allows me to have easy access to replacement parts in the future.
Date published: 2016-07-08
Rated

4

out of

5
by
Santa Fe Sam
from
Good BBQ
I like the BBQ. It is a good size for me. Heats to 400 F in 10 minutes and keeps climbing 100 degrees every 5 minutes thereafter. Grills fit very, very tightly. It has three drain slots which run into a single catch tray and then into a small square reservoir. This is too complex. I would prefer the old system of a single draw down point to a simple old soup can. Heat distribution appears even and heat retention in the fire box is very good. Overall construction and quality is comparatively superior. Be sure you season your grills properly and keep them oiled.
Date published: 2016-04-22
Rated

5

out of

5
by
jls75man
from
Love My New Broil King Monarch 320
I've been using for a month now and it grills prefect. Even heat, Steady temp with minor tweaking, sears great, bakes whole chicken perfect. I believe you could bake cake in this thing, no problem. North American made and worth every penny.
Date published: 2016-07-11
Rated

5

out of

5
by
Surfcat Jim
from
Enjoying our NEW Broil King - Monarch 320 so far
Having finally retired our much larger and far less efficient grill, the Monarch has been everything it promised to be, at a reasonable price. Solidly built to last, we have been especially surprised by the way it maintains temperature.
Date published: 2016-07-25
Rated

5

out of

5
by
Eyeride
from
Excellent grill.....
I got my grill a couple of months ago and I have cooked a number of foods on it and the results have been spectacular. The range of temperature controls have given me the ability to make great steaks, awesome burgers and juicy chicken as well as side dishes and desserts. The cookbook that came with the grill has got some great hints and pointers as well as good recipes. All in all I am quite pleased with the performance of this grill.
Date published: 2016-08-04
Rated

4

out of

5
by
dav446
from
Broil King - Monarch 340
It seems to work great, cast iron grills is the only way to go,but I don't like the fold up sides on it
Date published: 2014-07-22
Rated

5

out of

5
by
eddy870499
from
I like my Broil King Monarch 320.
I Like the 1) Battery / Electronic Start, 2) the Warming Rack, 3) the Heating Capability 4) the cooking Grid which is reversible, and many other feathers. 5) When we ordered the machine we weren't sure what Rotisserie capabilities would be included because there was nothing mentioned about it in the literature, so we were pleasantly surprised to see that it can take Rotisserie equipment even though it doesn't have a Rotisserie burner.
Date published: 2015-09-11
Rated

4

out of

5
by
Lucas
from
Great grill
I bought this BBQ about a month ago. The cast iron grids are amazing and give perfect grill marks. The only 2 negatives about this BBQ are the foldable shelves that are not really made to be played with on a regular basis (keep them either up or down). Also, the grease pan doesn't seem to do it's job properly and I sometimes get grease on my propane tank. Overall, it's a solid performer with a few flaws that could easily be adressed.
Date published: 2014-06-18
Rated

5

out of

5
by
madeincanada
from
I should have bought one years ago.
Solid ,well made BBQ and was very easy to put together. The BBQ heats up quickly and the heat control knobs really work to control the bbq temperature
Date published: 2017-07-18
Rated

5

out of

5
by
Bob_M
from
Suggeston
The burner controls were a little confusing until I figured them out. I would have liked to have seen a diagram in the owners manual showing where the various heat settings were on the grill controls. It took me one session to figure out how to get the grill at its highest heat setting and how to control the temp from there. Other than that a great grill. It has been used for most meals since I have brought it home.
Date published: 2014-07-11
Rated

5

out of

5
by
George24
from
Good choise!
pros: build quality, power of the burners, very large warming rack, warranty cons: with the new ignition system is the back-burner no longer removable
Date published: 2015-06-02
Rated

5

out of

5
by
Betty Boop
from
Love my new Broil King
This is the second Broil King for my family and we just love it. The first one was good but our second one is even better.
Date published: 2014-09-24
Rated

5

out of

5
by
joannemc
from
Great BBQ
I just recently bought this bbq and absolutely love it. I bbq at least 3-4 times a week including in the winter time so for a compact bbq with a smaller cooking surface, it heats up fast and stays hot and cooks food super fast. It fits nicely on the patio of my townhouse. The only complaint I have would be that the handle does get somewhat hot as well.....you can still touch the handle though.
Date published: 2014-07-30
Rated

3

out of

5
by
brendan2563
from
Great BBQ a complete pain to assemble
I purchased this yesterday, as it looked great in the shop. After unpacking the box and sorting all the various parts out I started to put it together. the instructions are pretty clear, but you have no real way of knowing which are the correct screws to use, putting the part number next to the diagram would have been very helpful. The first side went together very easily, but when I tried to put the other side on, the holes didn't line up so the screw wouldn't go in straight. after 20 minutes of trying I gave up and used a nut and bolt. I then had the same problem when putting the grill in, although after a lot of effort I did manage to get the screws in. Once it was together it is a great BBQ, very easy to use and the food tasted great. I'm sure the BBQ will last a long time as once it's assembled it seems to be a good quality product, it's just a shame its let down in the assembly process.
Date published: 2018-04-23
Rated

5

out of

5
by
Kerry
from
Just Right
We down sized from a 6 burner that we had when our Daughter and her 5 boy's and husband where still in Nova Scotia(Moved to NewFoundland) And didn't need a large BBQ. SO after some research and looking ,decided to go with BroilKing. Best BBQ we ever had. Only one little problem. The plastic lock for the one side shelf broke the first time I used it. Other than that an excellent product.
Date published: 2017-05-14
CHECK OUT OTHER GRILLS IN THIS SERIES.