History of Grilling | Meat Meets Flame & Grills Get Smart
The history of grilling — humans experimenting with temperature, smoke, heat, and apparatuses to cook meat — is fascinating. If you have time, our friends over at AmazingRibs.com have put together a wonderful, in-depth article on the subject. It covers the ancient origins of grilling, the history of the portable grill, the invention of manufactured charcoal briquettes in the 1920s, and the introduction of the iconic "kettle" style charcoal grill in the 1950s.
While modern appliances have made it entirely possible to cook exclusively indoors, our deep-seated history of cooking outdoors over an open flame is what drives a nearly $5 billion global barbecue grill industry. An industry that, in a relatively short span of time, has revolutionized the backyard grilling experience. An industry that continues to introduce innovative features and solutions, and one that Broil King is proud to be a part of for over 35 years!
Let's take a look at that history, and just how far grilling has come.
Even before man discovered how to create fire, it's speculated that early homo erectus, the hominids that predated even the Neanderthal, got their first taste of cooked meat after finding charred boar in the wake of a forest fire. Having followed the mysterious, albeit delectable, smell of "barbecue" to the source, they likely devoured the warm meat, melted fat, and crispy skin on the spot. It certainly sounds like a tasty origin story.
The desire to harness the power of fire and roast meat was the turning point in human evolution. Cooked meat was easier to eat and digest, it contained vital fat and protein for brain growth and development. The act of hunting and cooking around the fire sparked socialization and contributed to the formation of tribes and communities.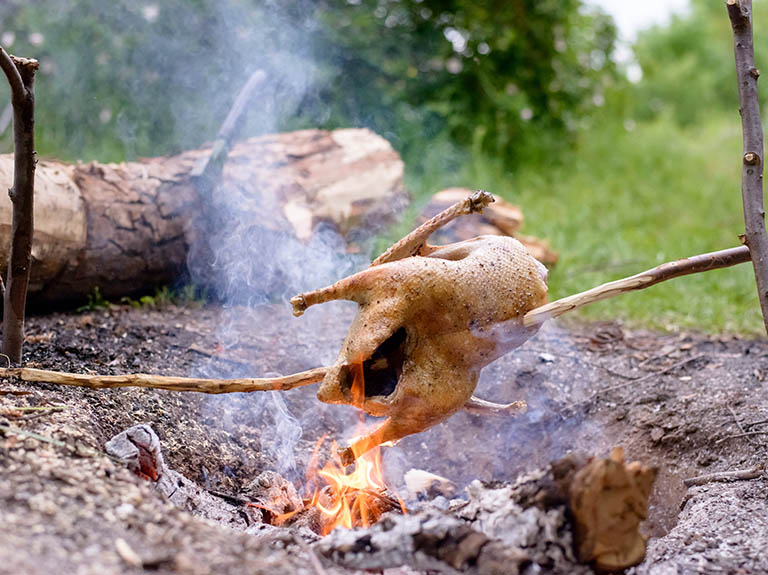 Archeological records around the world date back thousands of years, and give us a glimpse of the lengths people were willing to go to achieve the perfect grilled, roasted, smoked, seared, and fall-off-the-bone meat. In England in the Middle Ages, a specific breed of dog was developed to run in a hamster wheel contraption to turn a spit. The Kamado (Broil King Keg) grill we know and love today comes from an ancient Japanese design thought to be at least 3,000 years old. And there's even instructions in the Bible for constructing an altar for burnt offerings, and specific directions for preparing sacrificial animals.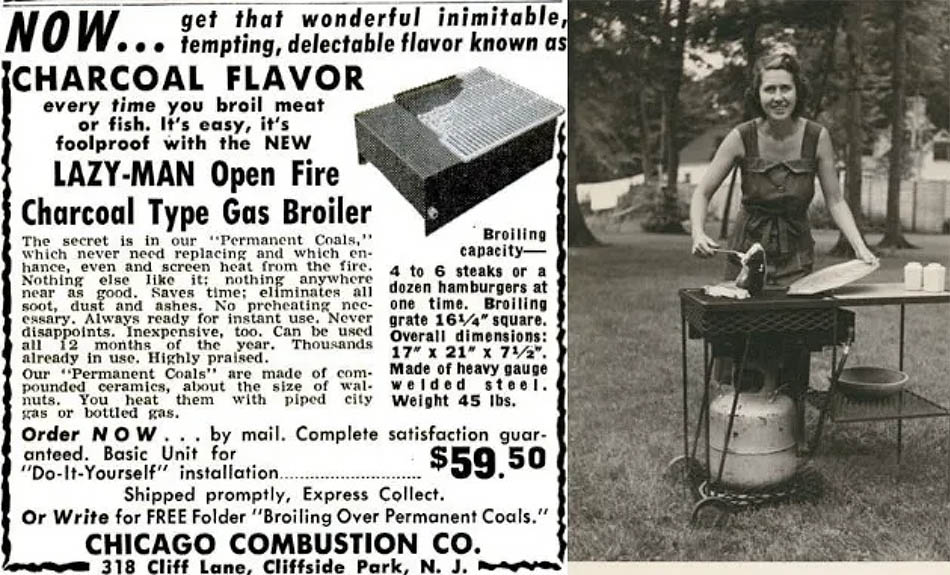 The first gas grills were produced exclusively for restaurants in the 1940s by Chicago Combustion Corporation. The grills were conveniently fuelled with gas for quicker heat up and cool down, and lava rocks replaced charcoal for even heat dispersion. In 1959, the same manufacturer fitted gas grills with a 20lb propane tank to make a portable gas grill and during this same decade, several other manufacturers, including Walter Koziol's Modern Home Products® and Bernzomatic® began selling consumer gas grills. These early gas grills were often attached to pedestals. This gave homeowners the ultimate in flexibility, allowing them to grill in the comfort of their backyard, or take their gas grill on the road – making portable gas grills far more convenient than their charcoal counterparts.
It wasn't until the 1970s that Char-Broil® became the first manufacturer to package a portable liquid gas propane tank and grill in one stainless steel box. This was a major turning point in gas grill history. These gas grills weren't portable – plenty of other manufacturers offered portable and tabletop gas grills already. These gas grills were the first in a long line of the massive, shiny, feature-packed, permanent cart-style backyard grills that we know today.
The first gas grills were tiny compared to today's top-of-the-line models. Early grills only had one burner, and their cooking areas could only handle a couple of burgers or dogs. In comparison, Broil King's luxury gas grill, the Regal S 690 features two independent ovens, six burners, more than 1,000 square inches of cooking space, enough to grill 24 burgers at a time. Plenty of space and power to cook multiple dishes and feed a hungry crowd. Today's full-sized gas grills can quite literally feed hundreds of people in a day.
Modern gas grills are also packed with features, including electronic ignitors, LED control knob lights and oven lights, rotisseries powerful enough to cook multiple whole chickens, infrared side burners, precise built-in thermometers, and Bluetooth technology to monitor temperature and cook time.
We even witnessed the introduction of brand new grilling technology in the 1980s with the pellet grill, which borrowed inspiration from the cleverly designed pellet stoves. While original pellet stoves used gravity augers and manual adjustments to feed pellets into the combustion chamber, today's pellet grills are electronically controlled, giving users precise control over the pellet feed rate and therefore, temperature control. This results in hours of consistent heat and uninterrupted cooking between pellet refills.
With the launch of the Broil King Regal and Crown pellet grills, we saw the introduction of the all-in-one grill and smoker, as they can hold temperatures ranging from 200 degrees for low-and-slow smoking, to 600 degrees for hot and fast searing at the touch of a button. Broil King's pellet grills feature Bluetooth® & WIFI technology and ultra-precise temperature control that lets you adjust the temperature by as little as 1 degree and monitor it from your smartphone with our new iQue App, available on IOS and Android.
Pellet grills are actually more in line with a modern kitchen appliance than a backyard grill, and they are by far the easiest and most fool-proof style of grill and smoker, making them ideal for beginners and those short on space.
Speaking of space, it's no obstacle for grilling enthusiasts. According to a survey from the Hearth, Patio & Barbecue Association, many Americans own more than one grill, secondary grill ownership greatly increases in the charcoal and pellet grill categories, and 83% of grill owners have three or more grilling accessories to customize their grilling experience.

While we can't divulge the top-secret things we're working on, you can expect to see much of the following in the grilling industry in the years to come. Like everything else in our modern lives… lights, doors, televisions, phones, cars, etc.… even our grills are getting smarter! In terms of new technology, be prepared to see smart grills of all shapes and sizes that offer true "set it and forget it" functionality like we see on pellet grills today. These smart grills will automatically adjust based on weather conditions to maintain a precise temperature and may even alert you when it's time to run outside and flip your steak. This could be welcome technology for the busy griller who doesn't have time to babysit the grill. Expect technology to change the way we use most grilling electronics from lights to thermometers, burners and rotisserie motors.
While humans have been cooking outside over an open flame for thousands of years, the grilling industry has made significant improvements to the process, technology, and experience within the last century. Grilling has evolved beyond simply cooking food, to be an integral part of our culture and social institution. And Broil King is dedicated to continually growing and improving our technology in order to provide the ultimate backyard grilling experience to our North American customers. The backyard lifestyle is our passion and delivering the best backyard experience is our goal.