Keg Forum Spotlight: Larry a.k.a. Focuspuller
This is part of an ongoing series featuring people who happen to really love their Broil King and have an interesting story to tell.  Following our 2nd annual Kegtoberfest in Scottsboro, we caught up with Larry (Focuspuller on the Keg Forum) to chat about how he ended up getting his hands on a Keg, what he really likes to cook, and snagged a couple of recipes from him along the way.
When / where were you born?
Born in Brooklyn, 1941…moved to Queens in 1946 till 1956.  Moved to Florida…then joined "Uncle Sam's Guided Tours" – the US Air Force in 1959.
During that time in service my parents moved back to Brooklyn.
Discharged from the Air Force in 1963.
What is your earliest memory of cooking or barbecue?
As a child I always helped in the kitchen with my mother or at my grandmother's house.
What were some special meals or dishes you helped your mother or grandmother with?
I did a lot of salad making with my mother.
With my Grandmother I would help make soups and various Hungarian dishes.
How did you get into the movie business?
The guidance counselor at my junior high school saw my interest in photography and helped me get into the School of Industrial Arts Photography Program.  New York City had at that time many Vocational High Schools for all types of work…ie: Aircraft, Auto, Cooking, Art, Photography, etc.  The goal was to have graduates that did not want to or could not afford to go to college have a career that they could get a job on graduating high school.
When I was in junior high school in New York my Uncle had a friend that was a cameraman for Fox Movietone News.
He used to take me with him on assignments when he was in the NY area.
When I was in the Air Force my Uncle's friend asked my Uncle what I was doing.  He told him I was in the Air Force doing photography.  He said have him call me when he is discharged. I did that the day after I came home.
He took me to TV Commercials he was filming.  After a few days he asked if I liked the work.  I answered YES!
I then trained, working for free, with Assistant Cameramen that worked with my Uncle's friend.  After about 2 years I was able to take the Union test and get into the Union. That was in March of 1965.
With all the contacts I had made during my 2 years of training I worked all the time.  This is a freelance business and you work day to day for different companies.  If I was working on a TV show or major movie I would be working long stretches.
I've been retired for the last 15 years. I enjoy repairing cars, appliances, and anything else that needs repair in the house.
This past summer repaired central AC unit.  A few weeks ago a washing machine.
And most of all I enjoy cooking outdoors.
Who influenced your interest in barbecue?
How did you discover the Keg?
I married and moved into our first house in 1970 and I purchased my first grill, a Sears gasser hooked up to natural gas, didn't want to run out of gas or keep propane tanks around.
This grill lasted about 4 years and I purchased a new larger one which lasted about 6 years.  Then I purchased a Ducane Grill, their slogan, "The Last Grill You'll Ever Buy".  Came with a lifetime warranty. Seemed great till they filed for bankruptcy and the name was sold.  WARRANTY WAS GONE and so was the grill.  Completely fell apart after 15 years of use with FREE replacement parts.  I then purchased a monster natural gas grill.  I could do 4 chickens at a time on the spit and it had two big infrared burners.  Had to give this to my daughter in PA when we moved to CT since there was no natural gas and the grill could not be converted.
I am living with our daughter in CT and use their gas grill.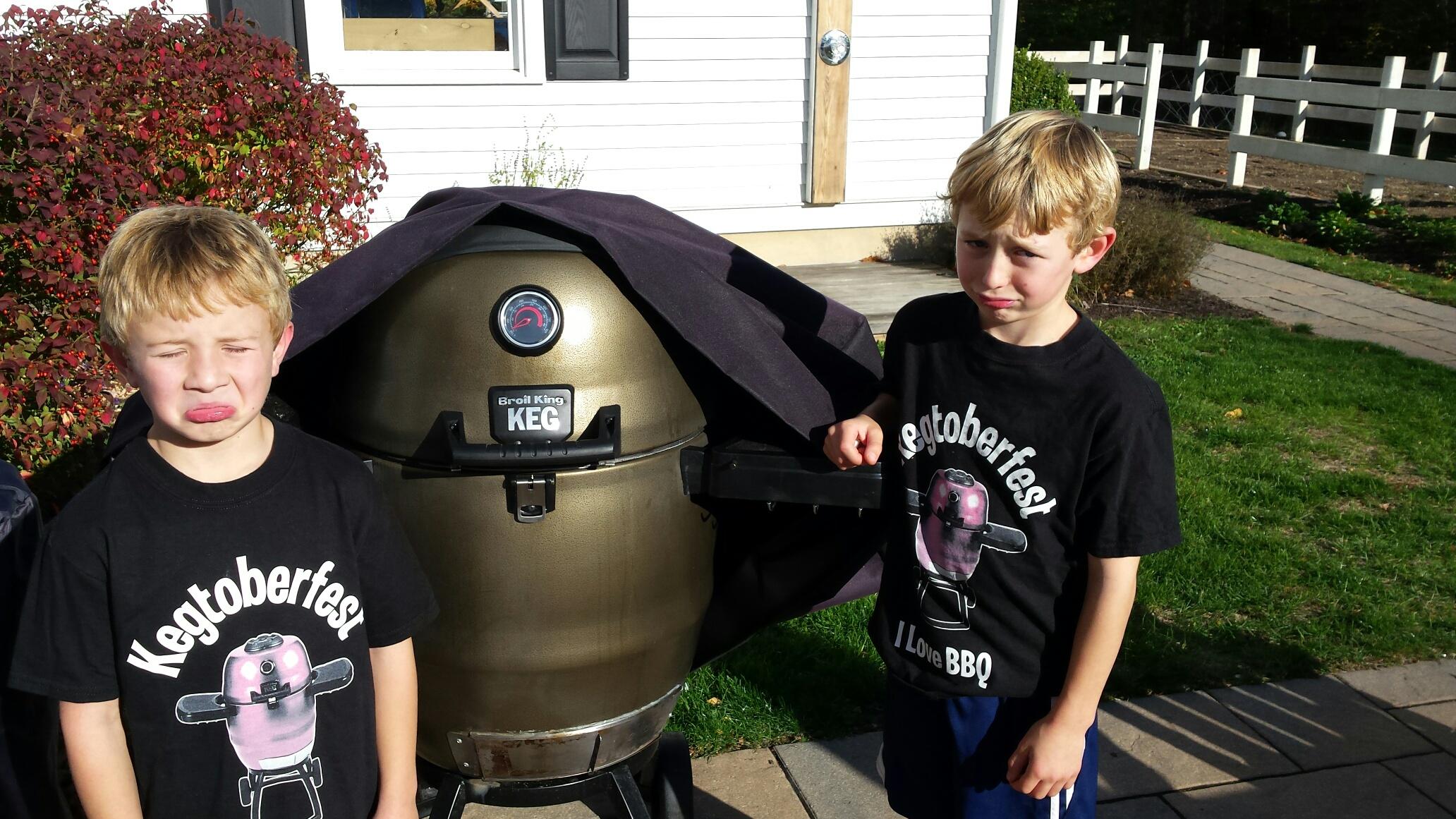 My wife complained that it took too long for the food to cook.  I was doing low and slow before it became a BBQ slogan.  Hot dogs would take an hour, nice and crispy outside and most of the fat had dripped away. (Here's a sneak peak of the 60-minute dogs)
My Baby Back Ribs would take up to eight hours at very low heat.
Steaks, burgers and chicken were done much faster.
Seeing more TV cooking shows that had Smoking and BBQ, piqued my interest and I purchased a Cabelas Electric Bullet Smoker.  This started a whole new way for me to cook low and slow with SMOKE.  This smoker lasted about 5 years and rusted away.  I then purchased a Masterbuilt Electric Smoker.  Wanting to get into charcoal cooking I added a Pit Barrel Cooker to my outdoor kitchen.
Seeing how good charcoal cooking was over gas and electric I started looking for a more versatile cooker/smoker.  The Kamado Style seemed the way to go.  In looking over the various brands I saw that the ceramic ones were very popular, but, the mechanic in me said there are problems with ceramic with breakage and a hot exterior.  I did some Google searches and came upon the Broil King Keg.  The reviews were great and I finally found one in July of 2014.  Now I can do low and slow and then go to high and fast for a super grilled steak on one unit.  I do most of my cooking on the Keg, but, I still have the Masterbuilt, Pit Barrel and an added pellet grill.  The gasser sits most of the time unused.
You traveled quite a bit over the years with your job – did you absorb any cooking styles along the way?
Filming on location and staying at a motel I would buy a small charcoal grill and do my own cooking on weekends.  When I was on the TV show "Spenser for Hire" I had my own townhouse apartment with a backyard.  Every weekend I would do outdoor cooking for myself or have other crew members come over and share with me.
I enjoyed my trips to New Orleans and always wanted to do that style of cooking…Blackened Red Fish is one of my favorites.  There must be some magic air in New Orleans because I can never duplicate any of their recipes.
WE NEVER HAD A BAD MEAL IN NEW ORLEANS…and we ate everywhere.
Describe the learning curve in using the Keg

While my Keg was in transit I joined the Broil King Keg Forum as well as reading info from the Broil King website.
The forum was the best help with tips and how to do.
When my Keg arrived I was very familiar with setup and getting it seasoned.
Did a few test runs without food to get used to the vent settings.
Then did a Spatchcock Chicken.  The results were super.
Then did a low and slow Pork Butt and again great results.
Next up was two racks of Baby Back Ribs, another great cook.
I could say it was a very short learning curve.
What is your specialty / favorite things to cook?
I enjoy seafood and do at least two cooks a week of Planked Salmon, Grilled Shrimp or Scallops.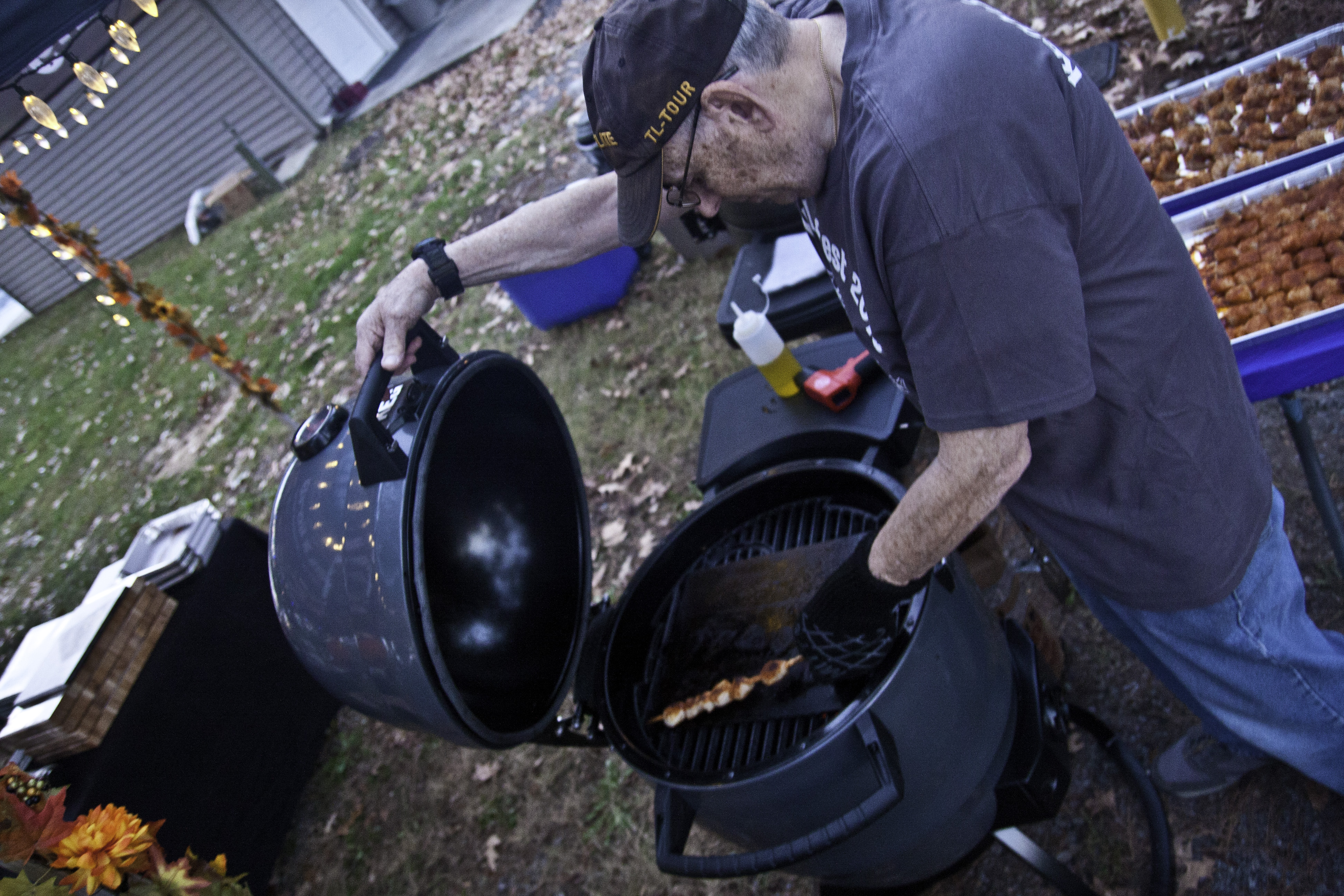 Next would be Pulled Pork.  I usually do two butts at a time.  One for eating now and one pulled and put away in vacuum bags in the freezer for a quick lunch or dinner.
Chicken Bone in Breasts come out wonderful.  Crispy skin and juicy meat, never dried out.
Brisket is next and the bark on it can't be beat.  I use the Broil King Diffuser filled with water for the long cook.
And last, but, not least is Ribs…either Baby Back or St. Louis.  Tender pull off the bone delish!
The Pulled Pork is my specialty.  Everyone enjoys it.
When we lived in PA at a 50 plus community they had a pot luck supper each month.
I said to my wife "this would be a good event to meet a lot of our new neighbors".  I made my Pulled Pork.
It was a great hit and many came over to find out how I got such an even looking pull from the pork.
I don't pull the pork in the traditional way with fork or claws, but, pull off large chunks and remove the fat.
Then using a large chef's knife,  chop the chunks into strips.
You've been a big influence in getting our Kegtoberfest off the ground these past two years – just share some of your thoughts on the event and the people
The first Kegtoberfest-2014 was announced just after I got delivery of my Keg.
In being part of the forum I saw how interconnected all the Keg owners are in helping each other obtain the best use of their Keg.
If they were doing this on forum, then a Keg Owner Get Together (KEGTOBERFEST) would be a great place to meet and learn from Keg owners face to face.
I saw, Nathan (a.k.a. Cajunate) trying to put this all together by himself so I offered to help get some of the supplies that would be needed and via the Forum encouraged others to do the same to get this off the ground.
When we arrived at Kegtoberfest 2014 it was very strange in putting a face to screen names and yet know who everyone was.  We acted like it was a Family Reunion and became instant friends.
While there were not that many at Kegtoberfest last year, together we felt it was like hundreds and cooked like it was.
Every cook was great and we got to try new foods, seasonings, rubs and sauces.
This year I felt we needed more than just us cooking and sitting around eating, drinking and telling stories.  I reached out to the UMAI Dry Bag people and asked them if they would demo their products for us.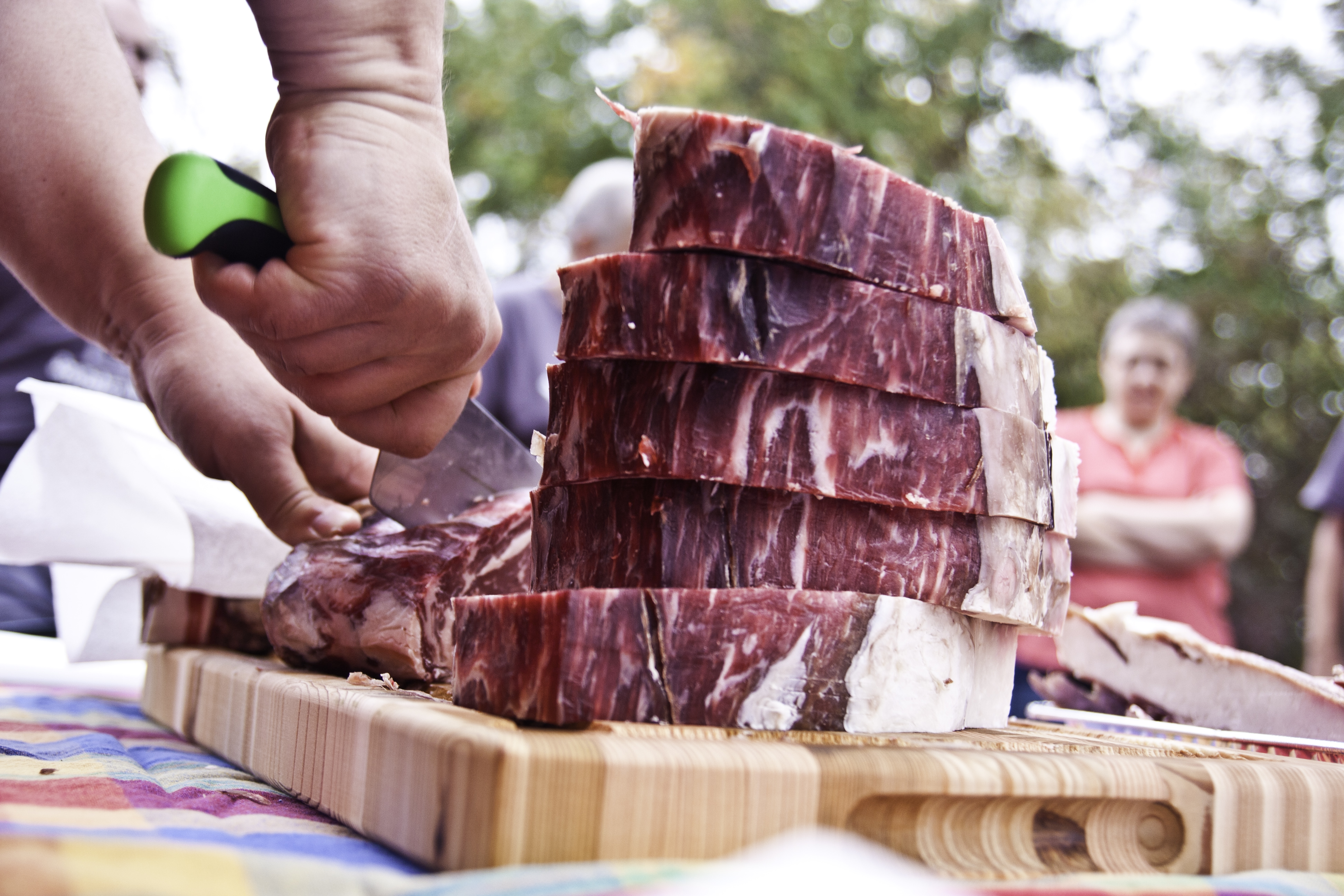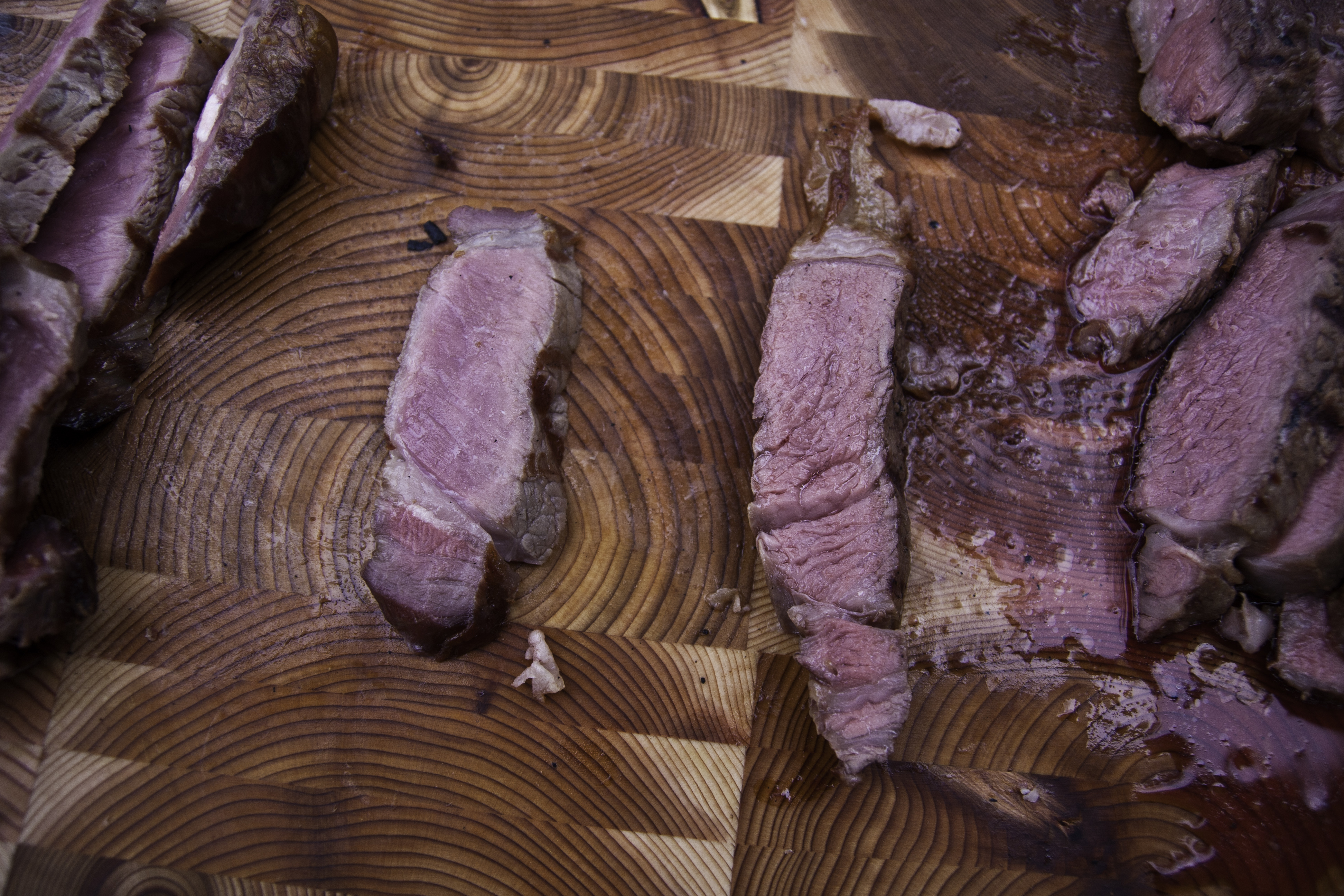 Nathan worked very hard at getting more donations for our raffles and swag bags.
Broil King came through with a Keg 5000 Raffle to benefit "Operation BBQ Relief", as well as many other giveaways.
Our head count was much larger this year.
It takes a lot of effort to put this together and pull off two years in a row of a great event, as well as great weather.
It should not be just one or two trying to put this together, but, all forum members should be part of the planning and helping in getting another Kegtoberfest for 2016 started now.
What have you learned from the Keg Forum over the past year and a half?
First and foremost….Help is a click away!
The are no silly questions.  If you need to know something, someone will help you out.
If there is a special deal on some BBQ accessory, rub, or sauce, someone will alert us.
If you see a great looking cook posted you can always get the recipe.
The recipe section on the Forum is a great source of help in making something delicious and different.
The mods section is also a good resource for helping you get the most out of your Keg.
I am proud to be an owner and user of a Broil King Keg!
_______________
Larry's cooking contributions for Kegtoberfest were top notch – his libation station is a not-so-secret staple of the event.  (Up to you to find that on the Keg Forum)
In addition to liquid refreshments, Larry's Scallops and "Shrimp on a surfboard" are top notch.  The grilled shrimp with turkey kielbasa are a grilled app that can't miss.  Assembled ahead of time, sear the season liberally – Larry uses Oakridge BBQ seasonings – all rubs from Oak Ridge are Low Sodium and Gluten Free.  If you like to live dangerously, the Habanero Death Dust has incredible flavour, but use it sparingly.
Shrimp on a Surfboard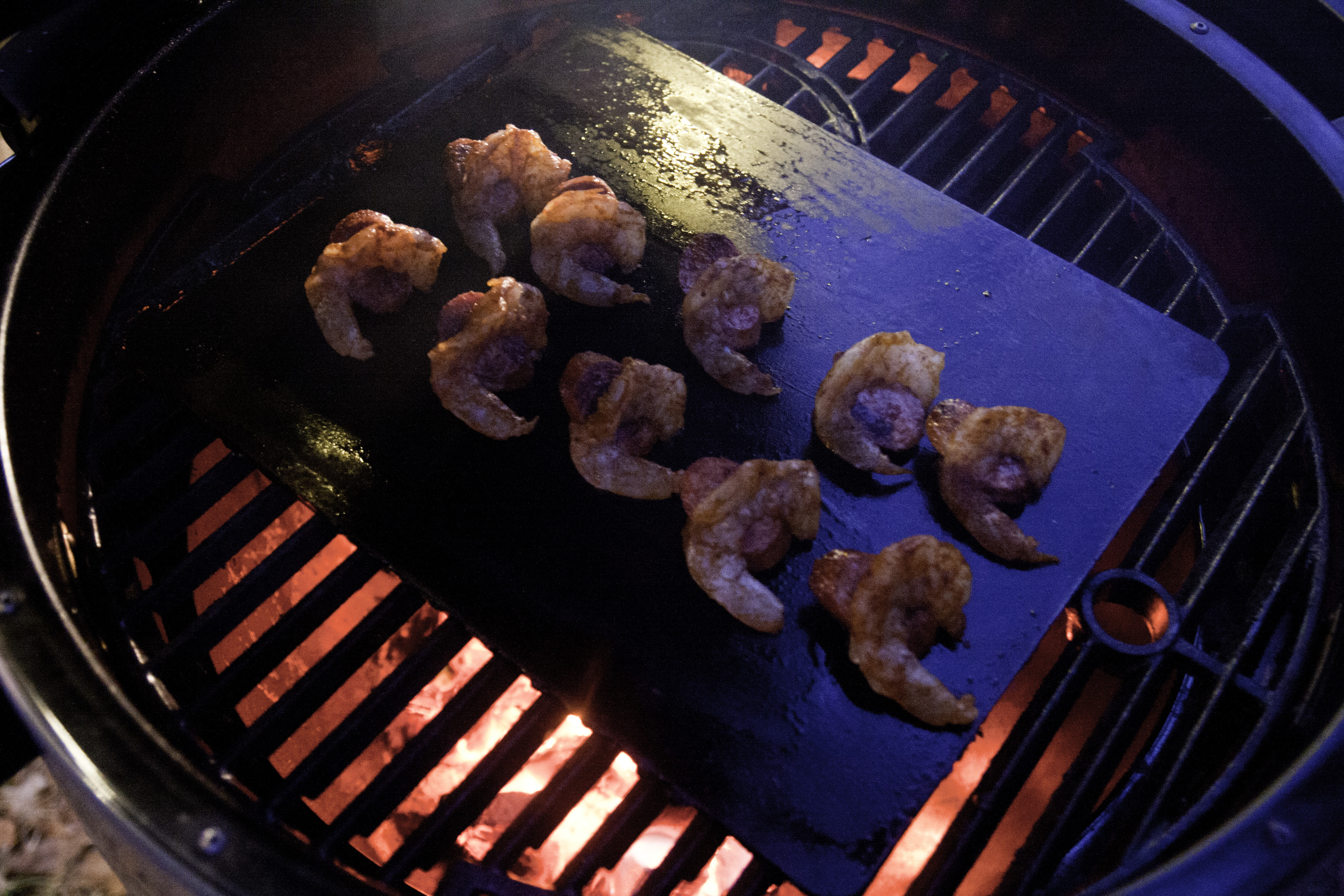 Ingredients:
Jumbo Shrimp 16-20 ct.
"Secret Weapon" Pork & Chicken Rub
Olive oil
Paprika – For increased browning on finished shrimp
Hillshire Farm Turkey Polska Kielbasa
Broil King Grilling Steel
Prep:
Peel Shrimp including tail.
Make small slit in middle of back to insert Kielbasa.
Put Shrimp in large Ziploc bag and drizzle a little olive oil to coat them.
Add enough rub (with extra Paprika mixed in) to the bagged oil coated Shrimp
Mix to coat thoroughly
Let sit in fridge for a couple of hours.
Cut turkey kielbasa into about 3/16″ thick ovals, (slice the round Kielbasa on a bias for an oval).
Cooking:
Brown the Kielbasa in a fry pan

Preheat Keg and grilling steel to 600° F. (315° C).

While the Keg is heating up I remove Shrimp from bag and insert a browned Kielbasa oval into the slit on each shrimp and lay them out on a cookie sheet.
Coat the Grilling Steel with a mix of Peanut Oil and Olive Oil, about a three to one mix.  If you just use olive oil it will burn at this temperature.  The peanut oil has a very high flash point.
Grill each side of the Shrimp until golden brown about 2 minutes or less per side.
Serve and Enjoy!
_______________
As always, more information is available at broilkingbbq.com and the Keg Forum is waiting at forum.broilkingkeg.com