Recipe | St. Patrick's Day Foods
You don't need the luck of the Irish to cook up a delicious meal for St. Patrick's Day. While we more commonly associate the holiday with beer and green shamrocks, there are some fun ways to experiment with festive foods (that don't involve green food colouring). Whether you want to incorporate beer into the recipe or go for some traditional Irish grub, check out the list below for some inspiration.
The first way to go about cooking a St. Patrick's Day feast is to cook with beer. It works great as a marinade for pork or added to sauces for slathering and dipping. We've got a few pork and beef recipes with a hearty, boozy flavour.
Roasted Brussels and Beer Bacon
Let's start with a great side dish that's festive in taste and colour. While brussels sprouts aren't everyone's favourite, we guarantee you won't get any complaints when you pair them with beer and bacon. After all, they help the vegetables go down in the most delightful way. Find the full recipe here.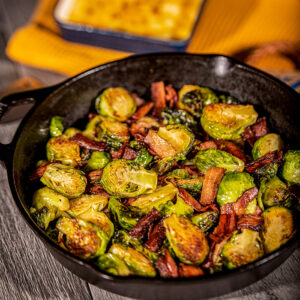 Beer Brined Pork Chops with Apple Chutney
Next, let's look at a couple of pork recipes. Pork chops are a meaty staple and have a lot of flavour on their own. But a nice beer brine before you cook really cranks it up. Topped with a tart apple chutney, it will hit all of your tastebuds. The recipe for these chops is here.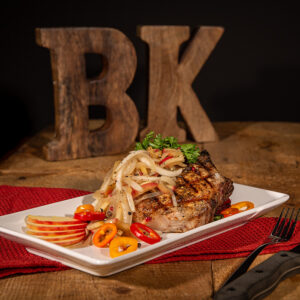 Rotisserie Pork Loin with Beer Sauce
What about succulent pork tenderloin? If you've got a rotisserie set up on your grill, try creating this beautiful pork tenderloin roast. Use beer in your marinade overnight, then cook low and slow on your rotisserie for absolutely mouth-watering results. Get the recipe here.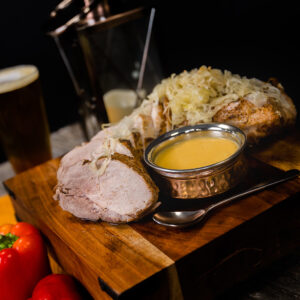 We've looked at a few pork recipes, but where's the beef? You'll probably be sipping a tasty stout on St. Patrick's Day, but it adds great flavour to these sticky steaks. You'll find this great recipe here.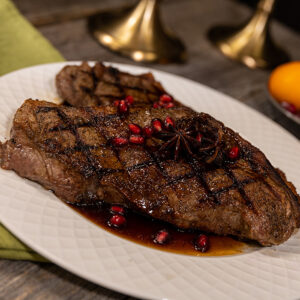 Finally, if you want to go for full traditional Irish fare, our cabbage and corned beef recipe is the way to go. The name doesn't do this one justice, and for some, the thought of cooked cabbage will be a quick deterrent. But the mixture of flavours in this dish is sublime. The cooked cabbage has a sharp, slightly bitter taste, which pairs well with salty corned beef. Do yourself a favour, and take a look at this recipe here.