Recipes | Top Five Pellet Recipes
Broil King pellet grills are incredibly versatile and great for beginner and hard-core enthusiasts alike. They're far more accessible than your traditional charcoal smoker grill since they only require the press of a button to get going. And they still give you a wonderful, smoky flavour that can elevate many traditional dishes.
So what are some of our favourite recipes to smoke? Some of these may surprise you – but besides the obvious classics like pulled pork or brisket, some of the most fun we've had on a pellet grill include baking and snacks. A pellet grill operates like a convection oven and can cook anything from cakes to your holiday turkey. Or crank up the heat to sear like a gasser, such as steaks or burgers. But if we had to choose our top five pellet recipes, they would be the ones below.
There's something so comforting about a classic meatloaf, and it is an easy way to meal-prep and freeze for mid-week dinners. Rather than cook this family staple in the oven, try smoking your loaf on a pellet grill for a better, woodsy twist. It takes just a few minutes to mix and form and is a great set-it-and-forget-it meal. We also recommend using your Broil King Cast Iron Rib Roaster for this recipe – you can use the lid and the bottom for cooking two separate loaves simultaneously.
Smoked Tenderloin with Peach Salsa
Tenderloin is one of the leanest and juicy cuts of meat and roasts very quickly on the pellet grill. The smoke from your pellet complements the sweet tang of the fruit and savoury pork. This recipe from our team in Ukraine has become a favourite across the company and needs nothing more than your cooking grates and a set of tongs to grill. It's ready to plate in as little as 30 minutes, which also lends itself to a busy weeknight meal.
You've never tried a potato chip like this! We'd be remiss if we didn't include this recipe on our list of top smoked foods. Salty and smoky, you'll have a hard time sharing these at your next gathering. You can follow this recipe to bake your chips from scratch, or check out our other blog that explains how to create a similar result with a bag of store-bought chips. Both options are great, though the store-bought route takes considerably less time. Slicing and baking your chips gives you more control over salt content and seasoning.
Spaghetti Squash Burrito Bowl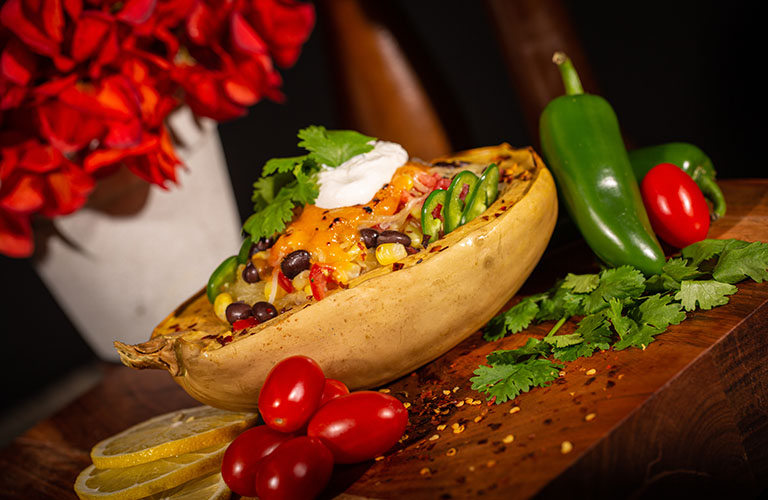 We couldn't skip our veggie lovers out there, but we've got to say that even the carnivores will fall in love with this recipe. That's because this recipe is bursting with smoke and spice to tantalize the tastebuds. Spaghetti squash takes on the flavours from the grill very well and creates a healthy base for your meal. This is a great low-carb, low-cost meal that can be scooped out and frozen for individual servings to enjoy throughout the week.
The Perfect Smoked Turkey
As we said in the intro, your pellet grill easily replaces your convection for classic recipes like your holiday turkey. This isn't one you'll be busting out every week due to the time it takes to prepare, but we guarantee this will become your go-to every Thanksgiving or Christmas. Turkey is easy to dry out in the oven and requires a lot of basting and gravy. But a pellet grill better regulates the moisture in your meat, so you have to spend less time tending to your turkey and more time entertaining guests. The results will be so flavourful and juicy that you won't need a drop of gravy to enjoy this meat.