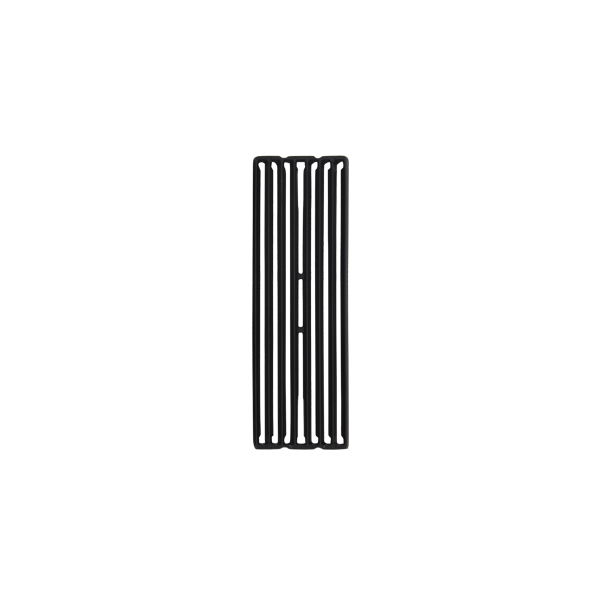 IMPERIAL™ / REGAL™ CAST IRON COOKING GRIDS
11229
19.25″ x 6″ – For Broil King® gas grills. 1 cooking grid. Fits models: Regal™ 420, 440, 490, 490PRO (2010 and newer), Imperial™ 490, XL (2009 and newer) Grilled Asparagus and Prosciutto Spears
Rated

2

out of

5
by
frustrated
from
Regal...not so
My Regal is about 4 years old and I too am frustrated with the cast iron grills. Did all the recommended cleaning and storage and still rusted out grills. Frustrated as I don't want to buy a new one but might be forced to if the replacement is too expensive.
Date published: 2017-04-24
Rated

1

out of

5
by
Jakob
from
Worst cast iron I've ever experienced
I bought my Baron 440 back in 2018 and during last summer I started seeing the grated shedding flakes. Tried to mend it but saw no improvement and at this stage they're completely ruined. I'm a regular user of cast iron pans so I know how to take care of them but there's no way to make these grates last. I've filed a warranty claim with my local supplier and hope to get that through but I will NEVER spend one cent on these grates.It truly a shame to have a grill that's as good as my Baron is but equipped with absolutely garbage grates.
Date published: 2022-03-25
Rated

1

out of

5
by
Wat1
from
no good grates
Cast Iron grates require too much work to maintain. Less than 4 years old and we need to purchase four more grates at a cost over $100 or about 10% the cost of the same bbq. Seasoning is not something you should need to do regularly. It is time a different product that requires less maintenance is used. Stainless steel grates are very costly.
Date published: 2016-06-07
Rated

2

out of

5
by
Lynda
from
Rusted grills after 3 years
Love this BBQ, heats well and auto start actually still works! However the grills have completely rusted out and cannt be used anymore. Not having any luck replacing them and do not understand why I cannot order them from the Broil King website???
Date published: 2017-04-13
Rated

1

out of

5
by
bigwebs21
from
Rotten Grill !!!!!!!!!!!!!!!!!
Got barbeque and grills rotted out in 1 year. Grill is falling apart
Date published: 2015-04-09
Rated

3

out of

5
by
BGard
from
I love my Regal 490 but...
I have owned several Broil King BBQ's now and love the way they perform and impressed on the support I have received when any problems occurred. I use my Regal all year long and do agree that the grills rust/break down even when seasoning. I have lived with moving the grills around to use the best ones the last few year but now looking at replacing the four 6" grill parts. At over $100 plus tax and shipping this hurts.
Date published: 2017-04-08
Rated

3

out of

5
by
Danibal
from
Terrible Grill Grates
I have the Broil King Model 9225-64. After One season of grilling, the coated grill grates are starting to rust and pit. Unacceptable for what i paid for this grill. Tried cleaning to no avail, porcelain starts comming off with mild nylon brushing.
Date published: 2017-03-11
Rated

1

out of

5
by
dmdm
from
Grids rusted out in 18 months
We bought a new Broil King Regal grill 18 months ago and even though we've seasoned the grill and kept the BBQ protected from the elements year round, the grills start rusting out this spring and are now flaking badly and are unusable. The replacement parts are quite expensive and it makes no sense to replace with another cast iron set. I'd appreciate some advice on a better alternative.It's really unfortunate as the BBQ itself has been great.
Date published: 2016-11-05
Rated

2

out of

5
by
BradH
from
Rust and more rust
I really do love my Regal BBQ that I purchased 5 years ago. However, the cast iron grids are rusted out and flaking in a bad way to the point that i wont use it until i can replace them. At the price of these grills, I would rather put stainless steel in them. But was surprised with the really high price tag. I am also disappointed that Broil King doesn't sell the replacement parts at a discounted price to pre-existing owners.
Date published: 2019-10-15
Rated

1

out of

5
by
Dutch
from
Rusted out
I purchased my grill 2 years ago so I just finished my second summer with it and the grates are rusting out as well as the metal shields underneath. This BBQ is on a covered porch and is cleaned on a regular basis and seasoned. The replacement parts are ridiculous in terms of cost. I've owned a few good BBQ's but I'm not sold on these
Date published: 2016-12-23
Rated

1

out of

5
by
Ed4098710
from
dangerous
These are garbage. rusted metal flakes are coming off on my food.
Date published: 2020-01-21
Rated

2

out of

5
by
John C
from
Rusted - Rotting Grilles
Purchased the Baron S490 in June 2014 and I now need to replace the 4 grilles. When I brush the grilles pieces of metal flake off and have also flaked off during cooking. I spent the money on a quality product and now i have to replace the grilles. Hoping there is a better route than cast iron. Any suggestions appreciated. Thanks
Date published: 2016-06-27
Rated

1

out of

5
by
IgorS
from
Falling apart after 3 years.
These cast iron grids don't seem to last. I started noticing peeling of the coating last year (after 2 years), even after seasoning the grids couple times a year. Now it's so bad that I have to throw it out. The replacements cost an arm and leg. I would think Broil King would make cooking grids that would last a bit longer.
Date published: 2016-09-07
Rated

1

out of

5
by
Annette
from
Terrible and hazardous porcelain grills!!
Extremely disappointed with the grills. I maintained the grills as required and after two years they started rusting and began chipping. It's unsafe to grill anything on the porcelain grills as the porcelain will get in your food. Broil King needs to replace all their BBQ's with stainless steel grills immediately.
Date published: 2021-06-09
Rated

2

out of

5
by
marlo
from
Grids not holding up.
We received this for Christmas in 2016, wasn't delivered til Jan 2017. Probably wasn't even used until May. We don't grill out that much, but the racks are all peeling off and get into food, not safe. It has always been stored in the garage over the winter, so not used for most of the year. Very disappointed!
Date published: 2020-04-15
Rated

1

out of

5
by
DCToledo
from
Grids don't last.
I bought the Regal 420 a little over 6 years ago and need to buy my 4th set of replacement grids. Lucky if they last more than a season and a half. Same story every time. The coating starts to flake then it's rust city. Love the grill itself but the replacement grids are expensive and don't last.
Date published: 2017-02-13
Rated

2

out of

5
by
JoeNJ
from
Great grill; Cast Iron Burners need work
Let me start by saying that the grill itself is great. We're going into the fourth season with it, and it's been very durable overall, gets really hot, and seems like it will last for a really, really long time. Except for the Cast Iron Cooking Grids. Despite my best efforts to season the grids regularly, they are starting to rust and peel and need to be replaced. As one reviewer mentioned, it's not feasible to have to turn over the grids every time you use the barbecue to re-season the underside. And the underside has now rusted and cracked, and I cannot use the grids. I might be ok with this issue if the grids themselves were a little cheaper to replace, but they are expensive for a set of four. And the Stainless Steel ones, that would hopefully solve this problem altogether, would be even double that price. I think mine lasted longer than most of the other reviewers. I did try to stay on top of regularly seasoning them, so maybe that's why, but even that did not keep them usable for long.
Date published: 2017-04-05
Rated

1

out of

5
by
Chris Q
from
Great grill but horrible rust
These grill plates rust terribly. Huge flakes come off into the food. I regularly clean and season them. Would love to hear a solution but unfortunately I would not recommend this due to the rust issues. It's a shame because everything else about the grill is great.
Date published: 2021-03-06
Rated

1

out of

5
by
Mattp
from
Rusted grates
I bought this grill 3 years ago and is really good but the cast iron grills have rusted and steered to flake making them unusable. I am currently looking to replace them but will coast the same as a new bbq. I'm hoping someone from broil king will contact me.
Date published: 2019-09-02
Rated

1

out of

5
by
JimHal
from
Slowly eating my grill
First off I have an Imperial 590 and it has been fantastic but the cast iron grills are awful.Before cooking I need to remove large chunks that are flaking off and even after that I get bits stuck to my food. Really disjointed in the cast iron.
Date published: 2017-01-31
Rated

2

out of

5
by
Pg9516
from
Rust
We bought replacement grids in August 2018, we cleaned and coated just like you say however alot of rust and chipping. What is our best to do we love the BBQ itself, sales order #1668469 we have the Regal 590 Pro
Date published: 2021-10-09
Rated

1

out of

5
by
WeTheNorth
from
Terrible
Started to rush and break apart in the first season. We've been trying to take care of it but it's at a point where there's metal in the meat from the slivers of metal breaking off.
Date published: 2019-09-01
Rated

5

out of

5
by
Glenner
from
Cooking grids work great, heat quickly and evenly
Had to replace my cooking grids. Got the cast iron ones like the ones that came with the grill. Love them. The heat quickly and are easy to clean. Broil king is awesome.
Date published: 2021-06-08
Rated

1

out of

5
by
alp9p4
from
Rusted Quickly
Even though I oiled them extensively, these rusted out within a couple years. Pretty disappointing as I stood behind these grills and sold them at my Ace Hardware store.
Date published: 2020-04-23
Rated

2

out of

5
by
Ersemm
from
Stainless grids
Same issue here. Love the grill but after 1 1/2 years grids are starting to rust. Not sure what my options are but I am not happy.
Date published: 2016-10-15
Rated

5

out of

5
by
Anonymous
from
Steak house sear marks
I have had these for 2 years and they are like new! I just re-season them after every use like a do my cast iron pan!
Date published: 2020-05-05
Rated

1

out of

5
by
Josh14
from
Horrible
These are garbage. Replaced them last year and they are already rusty. Would like my hard earned money back.
Date published: 2020-04-18