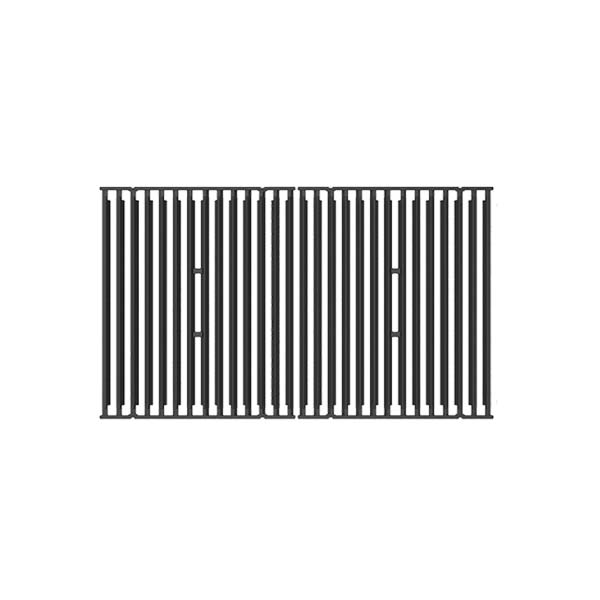 SIGNET™ CAST IRON COOKING GRIDS
11228
15″ x 12.75″ – For Broil King® gas grills. Set includes two grids. Fits models: Crown™ 10, 20, 40, 90 (2008 and newer), Signet™ 20, 70, 90 (2007 and newer). Grilled Asparagus and Prosciutto Spears
Rated

1

out of

5
by
Wintle
from
Terrible grids
I operate and maintain my Signets as per the owners manual yet within the first year they both started to deteriorate. Constant losing battle against rust and cracking. Until Broil King can address the problem they should cease selling these. My parents have had the same Broil King for almost 30 years. They leave it out in the winter and it is in great shape. I'd like to replace the grids with the stainless however an asking price of $145 isn't reasonable considering the short lives of the originals.
Date published: 2022-04-08
Rated

1

out of

5
by
Shaq
from
worst grids ever
I've had the signet for 6 years now and its a great BBQ but the grids are the worst. Why make a product that you have to maintain all the time where you can just fit it with stainless steel and there is no maintenance at all for the grids. That also goes for the rest of the units inside as well. For example the flavr waves and burners should be made out of stainless as well and you would have a awesome BBQ.
Date published: 2020-02-26
Rated

1

out of

5
by
Rick1127
from
Rusted Grids
I'm having the same exact issue as every other Broil King Grill owner, the grids have severe rust damage even being stored inside and still covered up. This was no inexpensive Grill and I wasn't expecting one season worth it use to run into this issue this season. I saw developing last season but a couple Google searches told me that it was just marinades kicking up on the grids making it look like rust so I made no inquiry about it, this year there's no denying that it's rust. I've also experienced issues with the burners instead of burning blue like all grills do, royal king is producing an orange flame even on its lowest setting. I have clean them out and still produced the same results. I also have rust developing on the rotisserie holders. The FLAV-R-WAVE are also no looking good. Like I said this girl was pretty expensive I was not expecting this type of quality from a grill this expensive.
Date published: 2017-04-09
Rated

1

out of

5
by
Leee
from
Get the stainless steel ones
Like others here, I purchased a Signet BBQ few years ago and while the unit itself is in great condition, the grids are not. They have now rusted out within 2 years even after seasoning them with canola oil each time. BK should not stand behind these inferior products. Even called Customer Service to discuss replacement options and they quoted me higher prices than what their own website shows!
Date published: 2020-08-20
Rated

1

out of

5
by
vicman888
from
Rusted Grates
I have owned the bbq for several years, and the grates rusted out within the first year. I did treat it and season it as it was supposed to, and it still rusts and doesn't matter what you do. I used to see replacement grills at Rona, but i'm having a hard time finding them now. I think i will invest in a stainless steel grill bbq next time.
Date published: 2017-05-08
Rated

1

out of

5
by
Marc B
from
Buyers Beware. Rusted/Flaking grates after 2 years
I've bought Broil King all my life. My Dad worked at the factory in Waterloo for over 20 years and our family always bought Broil King.I purchased the Broil King Signet for $599 2 years ago. I am unable to use my grill this year due to the amount of rust and flaking on the grates. This has never happened in all our years of buying Broil King. We applied oil and seasoned the grates 3-4 times a year and they still rusted and flaked.Of course the warranty of 2 years has just passed and Broil King is suggesting that I purchase their Stainless Steel grates for $129. I don't want to invest anything else into the brand as I fear the other components (burners/heat shields) will fail shortly.Broil King and Made in Canada used to mean QUALITY. Unfortunately it does not any longer.
Date published: 2021-05-20
Rated

1

out of

5
by
Boyle
from
Rusty grids..again!
Spent $100 replacing my grits on the signet last summer and did everything I was told regarding seasoning and general maintenance but still rusted really badly. Need to fix this issue cause it doesn't seem right. Will be looking into stainless steel grits.
Date published: 2017-05-17
Rated

1

out of

5
by
Anonymous
from
Rusted grids
Grids started rusting after a few weeks and re-seasoned them but just got worse. I've had the grill for a couple summers now and it has large slabs of rust flaking off. I like the grill but the cast iron grids suck.
Date published: 2019-08-29
Rated

1

out of

5
by
Lburke
from
Very Disappointed
Bought this Barbecue about 2 -3 yrs ago We seasoned it before we even cooked on it, and every year since, last summer noticed it starting to rust so I seasoned it after each use.I got it out of the garage this spring and the grates are so rusty and flaky, they are unuseable. I've owned cheaper products in the past who have never rusted as badly as this and lasted a lot longer, Would not recommend this product.
Date published: 2020-04-29
Rated

4

out of

5
by
Puddy
from
Rust
I live in southern Ontario and we BBQ year round, but i have found the cooking grids have rusted, and replacements are not readily available
Date published: 2017-03-05
Rated

1

out of

5
by
Dawnp
from
Rusted out
These grates came on my grill, which I have owned for a couple of years. They started rusting out after the first 6 months and have continued to deteriorate regardless of how much cleaning and oiling I do each time I use the grill. Apparently the grates are not under warranty either.
Date published: 2017-04-10
Rated

1

out of

5
by
Davey and Goliath
from
Rusted and flaking
I have had this unit for 3 years and the iron grills are rusted and flaking to the point that they are no longer useable.I have never had a BBQ that grills deteriorated so quickly.It has always been covered and regularly seasoned.Other than that it has been a good BBQ.
Date published: 2020-03-26
Rated

1

out of

5
by
SwissDaniela
from
Rusted grits
We bought the Broil king about 3 years ago and are happy with the BBQ results. However, already in the first year I noticed rust and now the paint flakes off in big chunks. Smaller chunks stick to the meat and my girl ate some of it accidentally yesterday!
Date published: 2020-02-03
Rated

1

out of

5
by
Anonymous
from
Rusty grills
I bought my Signet a few yrs ago but within a few months the grills begin to rust and chip. They have gotten so bad that I'm concerned to cook on them now out of fear of a piece of rust getting on my food
Date published: 2020-03-25
Rated

1

out of

5
by
GR427
from
Poor quality grates and grill
I have experienced pretty the same in regards to the quality of these grates, poor. They have flaked apart due to rust. Grill is used all year round. I seasoned grates from the start with grape seed oil and use this oil exclusively with each use. Overall the whole grill (Signet 90) has been a disappointment. From day 1 the burners do not light evenly nor distribute even heat. Grill has never gotten hot enough to truly sear meat or fish. Grates really can't be gotten hot enough so fish like halibut won't stick. Swordfish is ok as it is much denser. This is with clean and seasoned grates. I worked commercial kitchens for 20 years so I have a bit of experience under my belt with this. Maybe I expected too much from a non commercial grade grill at this price point. I really don't think this grill puts out the advertised 12500 btu. It has never been able to pass the 2 second palm test, not even from new.
Date published: 2021-03-31
Rated

1

out of

5
by
BBQ_ing
from
Rusted out and dangerous flaking!
My grill is about 2 years old, I'm always taking care of cleaning it, covering it and storing in the shed during the winter months. I'm happy with the grill but greatly disappointed with the grids. They're rusted out and more dangerously they're flaking metal pieces which can get stuck on the food and cause injury. They should have ordered a recall on this product.
Date published: 2017-05-17
Rated

1

out of

5
by
Broil…Jester
from
Rusted out Grid, flaking.
The bottom of my BBQ is covered in rust flakes from the grill. When most people clean out the bottom, they'll find grease and burnt food. I gotta take to my doctor to make sure I'm up to date on my tetanus shot before I clean the BBQ. I've tried all the seasoning tricks to no avail. I hope Broil King can fix the issue. All in all, love the BBQ, hate the grill. I'm
Date published: 2022-11-08
Rated

1

out of

5
by
Dibble
from
rusty garbage racks
wouldn't recommend broil king, the racks rusted out in less than a year on both sides.
Date published: 2017-05-17
Rated

2

out of

5
by
BBQking
from
Rusted Grids - Not recommended
Purchased a natural gas Signet 4 years ago, BBQ on the regular and take care of the unit. Grids are totally rusted and could never get them back to proper season after 6-8 months of use. Would not recommend these grids and replacement cost along with any additional replacement of the flavo R wave is almost 1/2 the cost of a new BBQ.
Date published: 2017-05-12
Rated

1

out of

5
by
Franky75
from
Rust after short time
They rust very fast. Also when you put a lot of oil on it.
Date published: 2017-04-06
Rated

1

out of

5
by
Melissawoj
from
Disappointing
So disappointing. All internal parts are super rusted. Inside the bbq, i dont mind as much since it doesnt touch the food but these grills... they are the second pair we purchase and they dont last. Even after storing them indoors for the winter. Now having to either purchase new pieces and grills will cost half a new bbq.
Date published: 2022-06-12
Rated

1

out of

5
by
Anonymous
from
Disappointed
I bought the Broil King Signet a year and a half ago. I really love the BBQ but unfortunately the cast iron grills are not very good. They have already rusted completely. I have tried to maintain them but unfortunately it has not worked. Disappointed as otherwise the BBQ would be great.
Date published: 2022-04-05
Rated

3

out of

5
by
Christarron
from
Great at first
The grill grates rusted so fast. I have multiple grills and entertain often. I have another brand of gas grill with similar grill grates and they aren't rusted and I've had that grill for over three years. The grill itself works awesome so I have mixed feelings about this product.
Date published: 2017-04-10
Rated

2

out of

5
by
Rusty grillIn
from
Rust,Rust, Rust
My grill rusted almost immediately. I season after every use and still…. If I had seen these grill reviews when buying a BBQ - I would have gone with a different company. To bad the stainless steel replacements are twice the price. When will Broil King source new grills/iron?
Date published: 2022-06-09
Rated

3

out of

5
by
JPJr.
from
Rusted Grids
Purchased this product less than 2 years ago and I only use it in the summer. Barbeque is stored in dry heated space in the winter and the grids are rusted the same way as others have complained about.Love the barbeque but upset I have rusted and unsafe grids to eat on right now.
Date published: 2020-05-16
Rated

3

out of

5
by
Georgejerry
from
Poor grills as indicated by the majority of review
The cast iron grills are just terrible. They rust and pieces of the metal grill flake off and stick to the food. Certainly a hazard to all customers. No other issues with the product. I have owned a number of Broil Kings over the years but never have I had an issue like this.
Date published: 2020-04-13
Rated

2

out of

5
by
BiometChad
from
Grids
I have owned this grill for just under a year. The iron grids have rusted even with proper seasoning. I am not happy with the sustainability of this part. Do the grids need replaced each year? I have never had this problem with other grills.
Date published: 2017-04-09
Rated

5

out of

5
by
Anonymous
from
No Issues after 5 years
I bought this grid 6 years ago and still going strong. I prefer cast iron over stainless, i find it transfers heat better. As long as i season regularly they work well. As expected with iron, it could rust if not coated/seasoned.
Date published: 2020-05-07
Rated

1

out of

5
by
Disgusting Grids
from
Signet Cast Iron Cooking Grids
I believe they are covered by warranty, but I wonder if the only option is replacement with the same grids? Have any improvements been made? The grids are too corroded and rusted to be used to safely cook food on.
Date published: 2022-06-15
Rated

2

out of

5
by
Rebecca
from
Grill is fine, rusting grids last 1 year maybe
The grill is fine. But I'm not even sure I should be using it with the grids being so rusty. I pitched my Weber last year to try this...not sure what my options are other than letting go of this one...
Date published: 2017-05-17