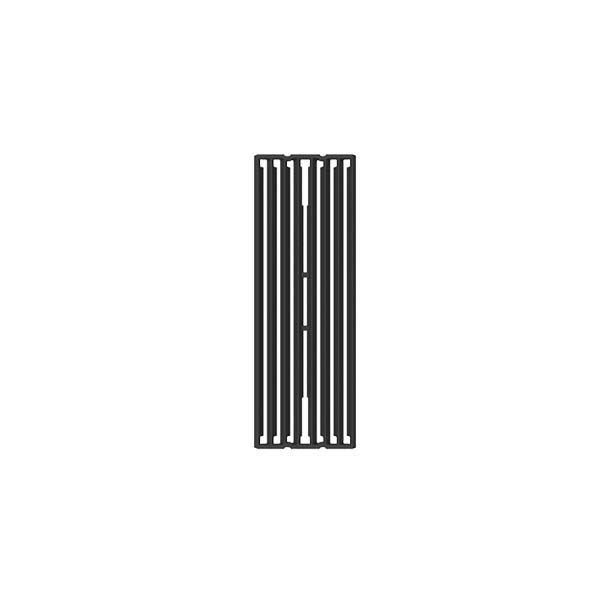 BARON™ CAST IRON COOKING GRIDS
11241
17.48″ x 6.17″ 1 cooking grid. Fits models: Baron™ 300/400/500 Series 2013 & Newer, Crown™ 300/400/500 Series 2012 & Newer. Grilled Asparagus and Prosciutto Spears
Rated

1

out of

5
by
Vinsgrill1234
from
Grill works ok, the grates rust out
So I wrote a review and got an email stating please call customer service. The resolution to my grates completely rusting out like everyone else's does.... wait for it.... A 20% discount on new grates. ... yea ok , um that's ok thanks , last broil king I buy or recommendGrill works ok , the grates rust out Our grates , like many others who have reviewed the product rust to the point where we won't use it anymore outbid fear of getting sick. The grates must be of cheap quality as they have been seasoned and maintained as recommended . This is not a cheap grill , we paid good money for it. Terrible .
Date published: 2022-06-04
Rated

1

out of

5
by
Teuf
from
Cast Iron Cooking Grids
I bought a Broil KIng Baron grill for the cottage and Weber grill for at home at the same time. I did not know which one to go with so I bought 1 each. The Broil King is very rarely left out in the elements and is quite often brought in. The Weber at home stays out in the elements the whole year but usually covered. Both grills perform well but the Broil King Grills I have are rusted and falling a part, the middle one has hardly any metal holding it together. The Weber Grills are fine and I just have to clean them each year and they good to go. I also can not find replacements cast iron grills. I would appreciate an explanation to why the grills are inferior and any solution to mine and many people's problems with these grills.
Date published: 2021-05-22
Rated

1

out of

5
by
anev710
from
Rusted Corroding Grill Grates
This grill is about 2.5 yrs old and the grill grates are all rusted. I can't find replacements anywhere in store and quite pricey. We take good care of our grill, keep it covered etc. Love the grill but the grates are pretty poor quality! Hope to hear from someone!
Date published: 2021-04-07
Rated

2

out of

5
by
Vancitycanuck
from
Rusted Grills
I thought I had done all the research necessary when I first bought this bbq, but I should have read the reviews of the quality of the cast iron before I bought this. I am aghast at how quickly the grills rusted after only 3 seasons of cooking. I really didn't expect this to happen with a bbq that cost me over $1000. I've had the grill 4 seasons, but I spent one summer in treatment, in and out of the hospital and didn't bbq. I did everything I know of to keep these grills in good shape. I would leave the bbq on to burn of food residue after a cook. I would season after every cook by spraying down the grill with oil. I kept the bbq covered, and as mentioned above, wrapped the grills in newspaper and stored them inside every winter. I had worked in restaurants for 10 years and know how to take care of equipment, including cast iron grills. These grills must be inferior quality, it's the only explanation. I've recovered old rusted cast iron cookware in the past and I've done my damndest to rescue these. I've done everything I know of yet the rust remains. The time and money I've spent this past month to save these, I won't get back. The only thing that has come out of my efforts is a bad back. I'm ready for assistance as I really do not want to move on from the $1000 I've invested in this bbq. Especially after only 4 years. Please note, the photos below are after several attempts of recovery using all the usual cast iron recovery techniques. The only things I haven't tried is using a scrub brush attached to a power drill and using a car battery attached to leads leading into a bucket of water containing the grills. Supposedly that creates a reaction in the water that strips the grills of rust and seasoning. I'm not sure I have the wherewithal to attempt that. The bbq itself seems great but If you're looking for cast iron grills, shop somewhere else that has a known track record of high quality cast iron. If you're bell bent on Broil King the only option seems to be stainless steel. Unfortunately I prefer cast iron as it provides a better sear.I'm looking forward to a reply and assistance.
Date published: 2021-04-11
Rated

1

out of

5
by
JaBuc
from
Baron Cast Iron Grills
I have had cheap BBq's over the years where they fell apart...except the acutal cooking grills. So, I spent the money on a "quality" bbq and my cast iron cooking grills have totally disintegrated after only 2 years. The rest of the BBq is fine...totally opposite than the cheap BBQs. I cover the BBQ and even bring it into the garage over the winter. I season and clean the grids as directed. Extremely disappointed in this.
Date published: 2020-05-03
Rated

1

out of

5
by
Fiona
from
Rusted grills
I have exactly the same problem as other reviewers - despite cleaning and seasoning the grills for my Baron 590 they are rusting out. Looking for a source for replacements I nearly fell over when I saw the price. I bought a Broil King so I wouldn't have to replace my bbq every few years but for the price of the grills I maybe should have stuck with my old strategy of buying a new cheap bbq every few years. So disappointing when you make the conscious decision to buy what you expect to be a quality product.
Date published: 2020-05-27
Rated

1

out of

5
by
johnny45
from
Grates
I've had the grill less than 18 months. Love the grill, but agree with the other posts that the grates are terrible. I always clean them thoroughly after every use, and the grates are already shot.
Date published: 2017-01-28
Rated

1

out of

5
by
dpsumption
from
Nice at first, but rusted out in the 2nd year
I paid extra than what I wanted in hopes that this grill would last. I bought it 2 years ago this summer from Lowes. I just went out to cook on it for the first time after winter. The grates are all rusted and the coating is pealing off. I'd like to replace them, but at $42/grate (you need 4), I might as well just buy a cheaper grill every couple years.
Date published: 2017-04-14
Rated

2

out of

5
by
Grill Baron
from
Love the grill marks, hate the rust
Like many other reviews, the grids have rusted quite badly. The double sided design is unique and works very well. The pointed side produces great grill marks and food releases well (when they were not rusted). The cupped side also worked well, but that side rusted first and is completely unsalvageable.It's unfortunate because I love cooking with cast iron, but my grills look like the photos posted here. Rusty and one bar has broken completely off. I seasoned the grill regularly and always keep a BK cover on it. Unfortunately it's all past the warranty period.I have another grill at the cottage with the Baron stainless steel grids. Those ones look great, but you do not get the grill marks on your food and food sticks without an incredible amount of oil. Would love a reliable cast iron grid.
Date published: 2021-05-26
Rated

1

out of

5
by
Kevin333
from
Lousy cooking grids
My experience has been like all the others who took the trouble to write. I bought the Baron 590 girl a year ago and the cooking grids rapidly deteriorated and rusted out so that they now have to be replaced. This in spite of my having exercised care and followed Broil King's recommendations. It's most unfortunate, because, otherwise the grill has been excellent. It's sad that Broil King would incorporate such an inferior, but critical, part in an otherwise high quality product.
Date published: 2017-04-04
Rated

1

out of

5
by
Toe64
from
Never seen cooking grills deteriorate so fast
I've had my Broil King (Baron Model) for two years...now the grates are already falling apart/rusting. I clean the grills all the time - my last BBQ and gills lasted for many years. I wonder how much rusted grill I've eaten off this Broil King unit. The cooking grills are terrible.
Date published: 2020-05-03
Rated

1

out of

5
by
Dcwarrior
from
rusted
Only a year old and they're totally rusted out. Seasoned and cleaned per manufacturers instructions but to no avail. Poor quality, very disappointed. It was between Broil King and Weber and I think I may have made the wrong choice...
Date published: 2016-11-16
Rated

1

out of

5
by
DUDE
from
Grates are Terrible
Love the grill itself but REALLY. . .After so many bad reviews on the grates (EVERY ONE OF THEM ARE ONE STAR), you'd think by now R&D would change the quality of the grates. I mean come on. . .what I see is customers supporting the brand and they are telling you the cast iron porcelin grates are a bust. NOT GOOD FOR THE BRAND. I will be going on my third set. I will go for the stainless steel next. After that WEBER may have a new customer.
Date published: 2019-10-09
Rated

1

out of

5
by
Rocky Vanwinkle
from
Love my grill BUT......
Have enjoyed this grill for less than 2 years and I love it's performance BUT the cast iron grates just don't hold up. I have many cast iron skillets that I use primarily for the reason that cast iron allows flavoring to certain foods, like meats and veggies. I know how to season cast iron for this reason, it gives sort of a stick free pan if you do it right. I have done this several times for my grill but they are rusted so bad that Even though I keep them clean, bits of metal are showing up in the food cooked on this grill(Barron 550 NG). I'm concerned that someone is going to ingest a big piece of cast iron and I don't know if that is good. I'm goung to see if I can find new cast iron grates that don't peel off like these do.
Date published: 2017-01-15
Rated

1

out of

5
by
Go Cubs
from
Rusted like the rest of the reviews
Like almost all the other reviewers, my grates are rusting out and the metal is flaking off. I purchased this grill to replace a 15 year old Weber grill that never had an issue with the grates. I purchased the Broil King mainly because it was still manufactured in North America and expected it to be of high quality because of that. Unfortunate this seems to be a pretty common problem that Broil King keeps neglecting to remedy.
Date published: 2021-05-27
Rated

1

out of

5
by
zach
from
Rusted Grill Grates
I purchased a Baron S490 on 4/3/16. I have to voice the same displeasure as many other people. These grates rust horribly. I purchased this grill in hopes of not having to worry about things like this for a long time and it has taken less than a year. I hope Broil King compensates us somehow because these grills are not cheap. Again, I love the grill but the grates are junk! Need to go with the stainless grates I guess.
Date published: 2017-03-09
Rated

1

out of

5
by
richmaurstuff
from
Rusted grates replacement
The charcoal is still in great shape but the grate shave rusted badly beyond use.. ! I would like to replace them with stainless steel rod grates but can't seem to some anywhere.. ?
Date published: 2020-05-21
Rated

1

out of

5
by
Paul2275
from
Rusted parts
Grills rusted out in just over 2 years and completely unusable. Cost for replacement is ridiculous ! Very disappointing ! I hope someone contacts me to offer some assistance.
Date published: 2020-05-06
Rated

1

out of

5
by
chubley7
from
NICE BBQ - HORRIBLE GRILLS
Just over 2 years old and grills are completely unusable. Rusted beyond belief despite regular seasoning and proper cleaning per the manual. Now, since it is outside of the warranty period I fear I am on the hook for the replacement costs. Not acceptable. I bought a Broil king because I wanted a decent quality BBQ.Obviously, from the number of complaints here, Broil King has a serious quality control issue and need to address it. Would not buy replacement grills unless stainless steel. Broil King needs to step up and give free or severely discounted replacement stainless steel grills or cast grills that do not have this QC issue to everyone that has this problem. It's a shame really because it is a nice BBQ otherwise.P.S. the plates below the grill are also rusted and they are supposed to be stainless steel. (obviously the lowest grade SS you can get)
Date published: 2017-04-28
Rated

1

out of

5
by
MarkG87
from
Rusted out grate
Called you to order replacements and sat on hold an hour. Gave up and ordered them somewhere else. Not real impressed by your customer service.
Date published: 2020-05-04
Rated

1

out of

5
by
Noble
from
Terrible Rust issues
Can't get over how bad these grills are. They should be able to last!
Date published: 2020-05-03
Rated

1

out of

5
by
RickSzym
from
These Grill grates are Terrible - DO NOT BUY
I have used these cast iron grates for about 3 and a half years now. All I can say is that they are terrible. I did a full oil soak and cooked them in oil (in a turkey fryer) at 250f for a full day, then oiled weekly for 4 years and still have grates falling apart due to rust. I live in Ontario Canada, and we do get winter, but this BBQ is used year round, and the heat from cooking keeps it nice and dry inside. It's not just surface rust, the grills are complete garbage, cracked right through, flaking and falling apart. I spent over $1000 on my Natural gas Broil King Regal line BBQ and I would never buy one again thanks to these grates. I'm looking into replacing with another manufacturers stainless steel grates that should fit close enough, until I can replace this with an N or W brand. It's a shame because the cooking is even and the heat retention is great. I just wish the quality was better.
Date published: 2017-04-11
Rated

3

out of

5
by
Buddha63
from
Rusty Grates
I have had my Broil King Baron for 5 years now. In the first few months the grill grates rusted badly (they were properly seasoned prior to use). I contacted Broil King and they sent out a set of new grates at no charge. This is summer #5 (I use my grill year round) I season my grates twice a year and they are rusting again. I am not disappointed at all since i use my grill year round, I live in Michigan where the temperature varies greatly. The key to the longevity of any grill is to keep it clean, and always make sure the grill is completely cool before covering so moisture does not form. I am going to order the stainless steel replacement grates this time since my grill is getting older. I will post in the future how i like the new grates.
Date published: 2020-08-06
Rated

1

out of

5
by
Doug Black
from
Rusted Grill Grates
Bought my Grill 2 1/2 years ago, and like the other reviews, the grates have been flaking off in large strips of rust. Other than the deterioration of the grates, I love the grill. Was looking at a Webber, but a friend bought this grill shortly before I bought mine, and they were happy with the quality of the grilling. They moved, so I am not sure what their experience was after.
Date published: 2017-01-18
Rated

1

out of

5
by
joe48
from
Total garbage
These grids are rusting away regardless of what you do to maintain them. I seasoned them a few times, cleaned them constantly, and did everything instructed, but it appears I am not alone in these falling apart. You would think with almost 100% of the reviews of this item Poor, that Broil King would source another manufacturer. The rest of the grill is good to go, these no bueno
Date published: 2021-04-29
Rated

1

out of

5
by
CanuckGriller
from
Rusting Away....
Love my Baron grill but the Cast Iron Grids do not live up the BroilKing Quality. Regularly season the grids in the method on the BroilKing website and after a only a couple years they are rusting away.Disappointed as a name like BroilKing should have better quality grids to match the quality of the grill. Hope someone from BroilKing can reach out to me.
Date published: 2021-03-23
Rated

1

out of

5
by
JordanW905
from
Very low quality for what should be a good grill
The grates rust and flake off after less than two years even with proper seasoning and never letting the grill sit too long. Speaking with customer service I was told I can't compare the quality of Broil King's cast iron grates made today with the quality of cast iron made 50 years ago... Really concerning when the grill costs well over $1000.
Date published: 2021-06-04
Rated

2

out of

5
by
drf48
from
Rusted grill grates
We purchased the Baron grill from Lowes on March 4, 2016. We are pleased with the size and how the unit hears and cooks. However, the cooking grates have now rusted to badly that they are almost unusable. The grill was used about once a week during the summer and 6 to 7 times during the winter. It always covered and stored when not in use.
Date published: 2017-02-07
Rated

1

out of

5
by
Jessie
from
Great Grill, Poor quality Grates!
We've had our grill for two years, I'm a chef and have properly seasoned and cared for the cast iron but much like the other reviewers there are huge flakes separating from the grill grates and it is unusable. We are a military family and take care of our items so they don't have to be replaced every time we move. Completely unacceptable
Date published: 2019-08-19
Rated

1

out of

5
by
Jem1969
from
My grills also rusted 🙁
I bought my Broil King Baron two yrs ago and am very disappointed that the centre of the 4 grills have rusted. The BBQ was on my back deck, and somewhat sheltered from bad weather. It was always covered with a Broil King cover when not in use. These grills should NOT have rusted this quickly. What a disappointment.
Date published: 2017-04-03