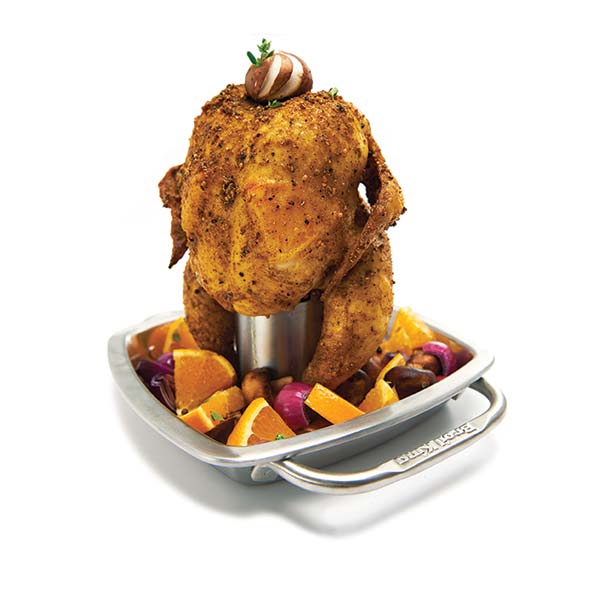 CHICKEN ROASTER WITH PAN
69133
The Broil King® Imperial™ chicken roaster is crafted of 100% stainless steel with heavy 9″ x 9″ base and oversized 10mm handles. The twist on beer can holder has a large enough capacity to replace the beer can entirely and is vented at the top for better steaming action. Grilled Asparagus and Prosciutto Spears
Rated

5

out of

5
by
JacquesB
from
Keep the juices!
So this roaster is pretty cool. It keeps my chicken upright ensuring an even cook and crispy skin all round and it gathers up the juices that would normally turn my bbq into a flaming inferno. Afterwards I take the veggies out of the pan and make a gravy with the juices. Nifty stuff!!
Date published: 2019-11-29
Rated

5

out of

5
by
pdmpdm
from
Apricot Chicken
I have one of these and my wife and mother inlaw love the chicken that comes from it. I use a half a can of lemonade and some apricot sauce in the lemonade and its GREAT
Date published: 2015-01-24
Rated

5

out of

5
by
Anonymous
from
Great features
I got this close to a month ago and I really love it it is very easy to put together and very easy to clean and the chicken turns out nice and moist and juicy and a wonderful flavor. I used a can of cola instead of for a can of beer and that chicken turned out marvelous so you can experiment with different beverages to create that perfect flavor for your chicken and these are so durable so I recommend for everyone to give this product a try.
Date published: 2019-10-06
Rated

5

out of

5
by
Sandra_khloe
from
Comes out beautiful
I have used this tray a few times since getting it and I'm so impressed. My chicken comes out looking absolutely delicious and taste amazing and oh so moist. It fits perfect on the can part and I love the fact that I can add veggies and other food with it so it gets great flavor. I have never has such amazing juicy chicken befor and now I'm so wondering how I lived without it.
Date published: 2019-10-12
Rated

5

out of

5
by
ccb8
from
A must have!
Bought this roaster more than 5 years ago, we used t almost every week and it just broke after dropping it. We had trouble to refind it but very happy to be able to get it again. Its easy to fit and also store because the top unscrews, and ts a great size to put the stock, vegetables in the tray. absolutely recommend.
Date published: 2021-02-01
Rated

5

out of

5
by
CatharineF
from
Easy to use!
The Hähnchen Bratgestell Premium is such a fun gadget! It's so simple and easy to use (I've struggled shoving a beer can in a raw slippery chicken butt one too many times). My friends came over for dinner and were so impressed with my delicious chicken that 2 of them ordered a Hähnchen Bratgestell Premium that night!
Date published: 2019-10-08
Rated

5

out of

5
by
nyyanksrno1
from
Great Chicken Roaster
The Chicken tasted great when using this Broil King Chicken Roaster Pan. The quality of the roaster is good. It is very heavy duty. I have only used it once so far but found it to be sturdy. It makes beer can chicken much easier to do. Does the job great. The pan is easy to clean.Highly recommend!
Date published: 2019-10-04
Rated

5

out of

5
by
ChristyMR
from
Amazing!
As soon as this arrived, we had to use it! It is very well made and not flimsy at all. So much better than those wire beer can chicken holders that you are unable to place correctly on the grill. This pan is just a life saver and easy to clean as well.
Date published: 2019-10-06
Rated

4

out of

5
by
Goatsaregreat
from
Nice little roaster
This a nice little roaster. Keeps chicken moist. Easy to clean. Material seem durable. Should last me a while. Only drawback is the pan will not hold many veggies as it is a little on the small side. Overall pleased with this product.
Date published: 2019-10-11
Rated

4

out of

5
by
Tim123
from
Simple and easy!
Got this awhile back. Works great on the grill or oven. Used it to smoke a whole chicken and came out great! Easy to clean as well and built strong. No problems at all. Overall very satisfied with investment
Date published: 2019-10-16
Rated

4

out of

5
by
Kaycee
from
Broil King - Chicken Roaster With Pan
I got mine a while back and have been satisfied with it for the most part. My only issue was with the screw attached to the bottom of the tray, but it is a good product overall
Date published: 2019-10-23
Rated

5

out of

5
by
Drewcock77
from
Super tasty chicken
I used this a while ago and my chicken was amazing. The chicken was so flavourful and moist. Best chicken yet!!
Date published: 2019-10-23
Rated

5

out of

5
by
murphyb531
from
great feature
how it collects all the juices & keep the chicken drying out and making the skin crispy
Date published: 2021-06-12
Rated

4

out of

5
by
carol2
from
geat way to cook whole chicken
Love to cook whole chickens this way and like the drip pan feature
Date published: 2019-10-23
Rated

5

out of

5
by
Ky97
from
Great roaster!
This roaster was awesome for roasting a tasty beer can chicken!
Date published: 2019-11-29