MONARCH™ 340
834264 LP / 834267 NG
The Monarch™ 340 features 330 sq. in. primary cooking surface and includes 3 stainless steel Dual-Tube™ burners, reversible heavy-duty cast iron cooking grids, stainless steel Flav-R-Wave™ cooking system, and electronic ignition. The Monarch™ 340 features painted steel drop-down side shelves and enclosed cabinet base.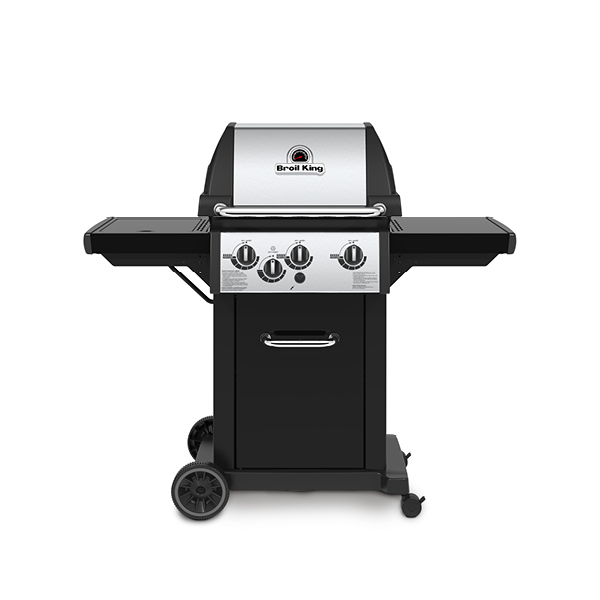 30,000 BTU
MAIN BURNER OUTPUT
330 SQ. IN.
PRIMARY COOKING SPACE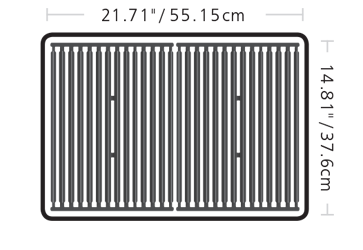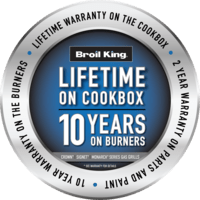 PERFORMANCE GRILL FEATURES.
Every Broil King is built with performance features that deliver unparalleled cooking versatility.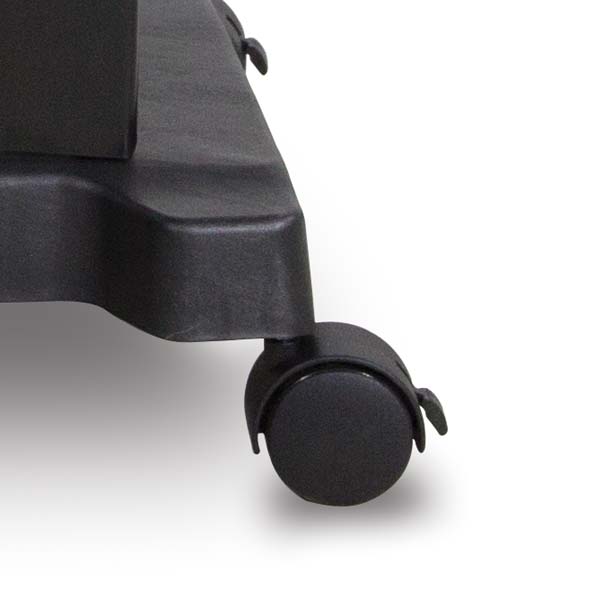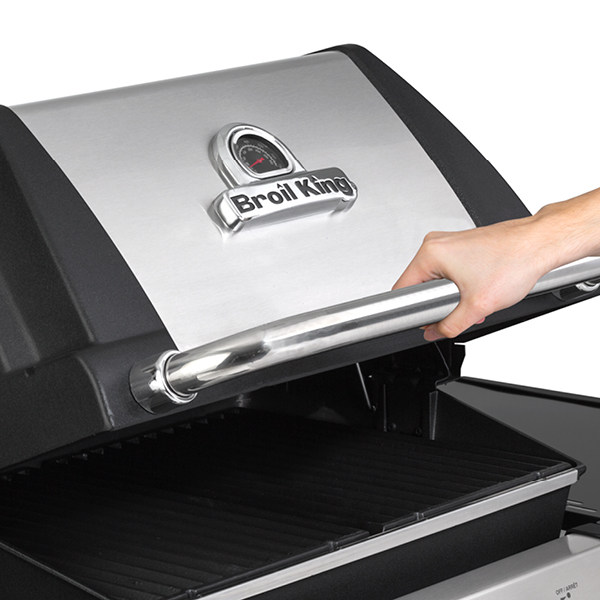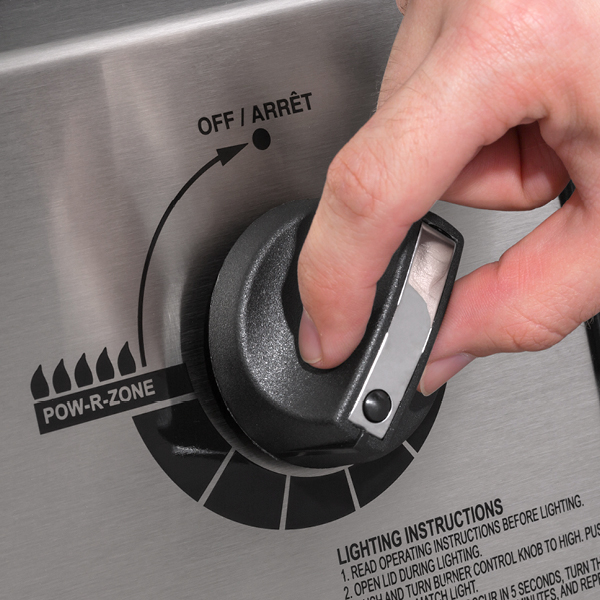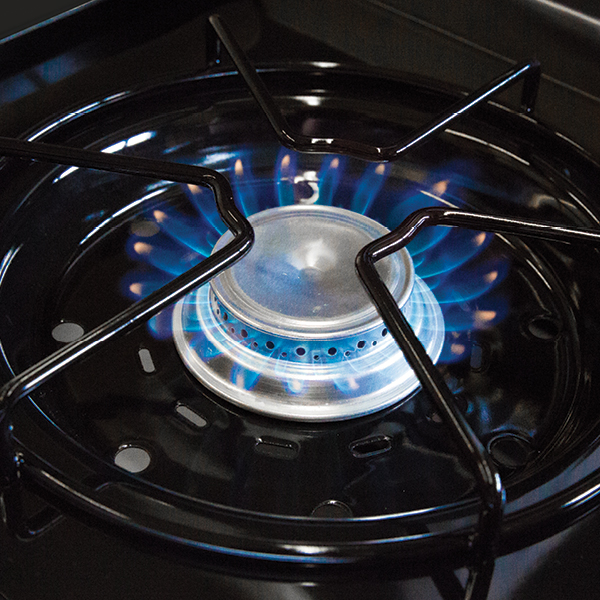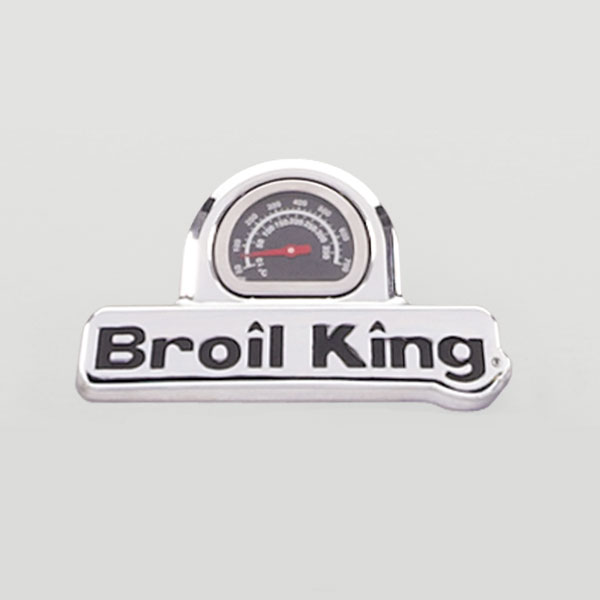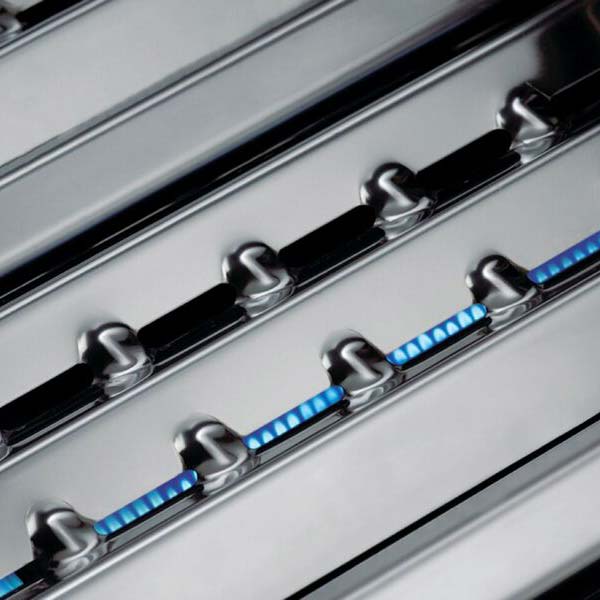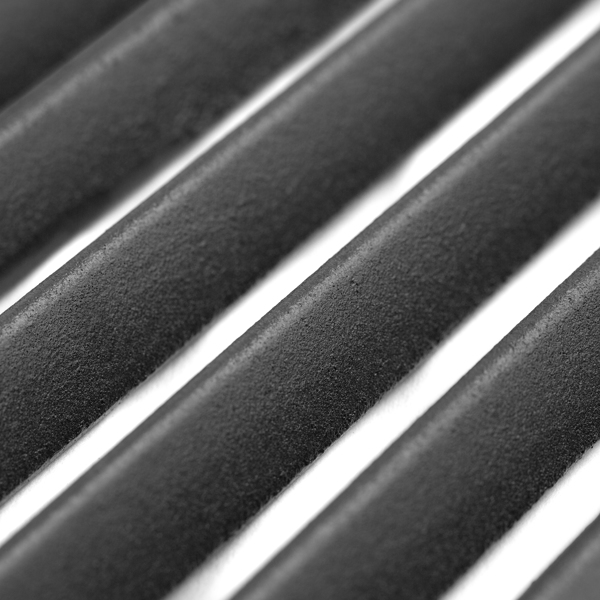 PERFORMANCE GRILL FEATURES
Every Broil King is built with performance features that deliver unparalleled cooking versatility.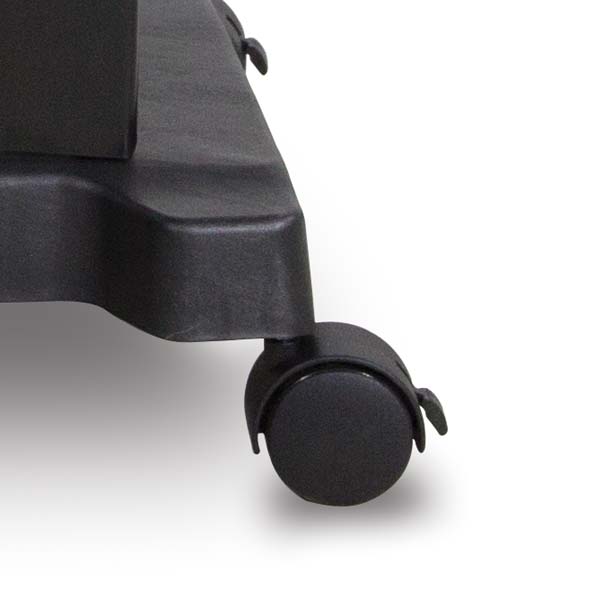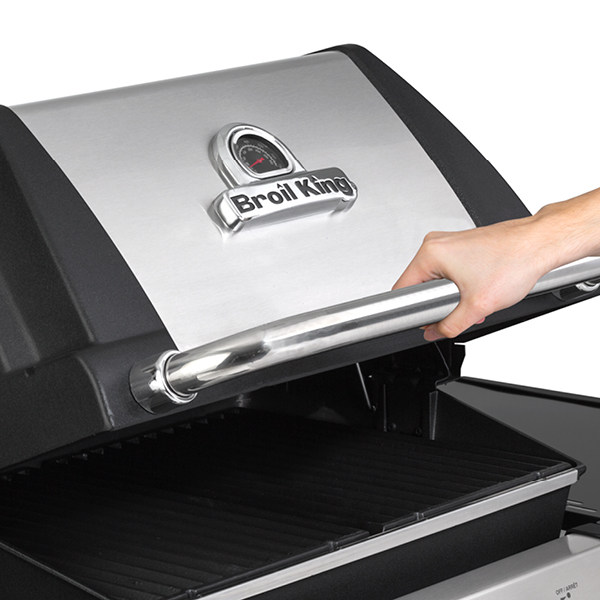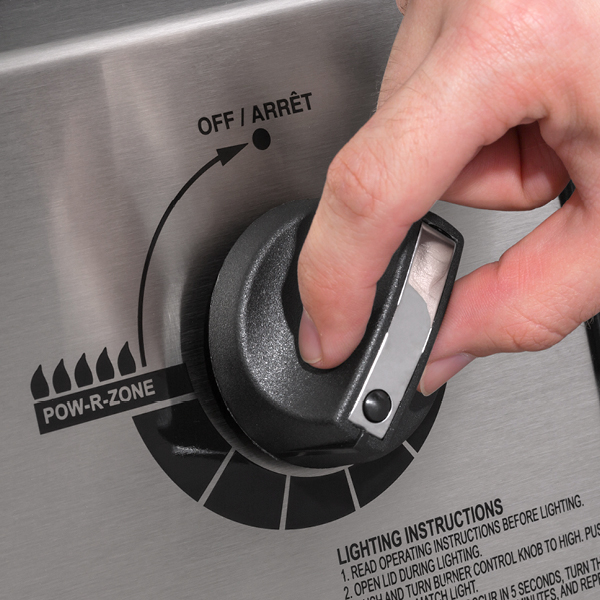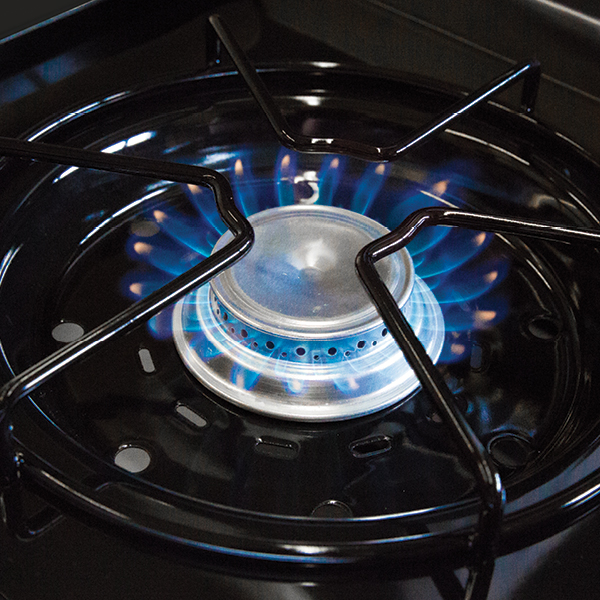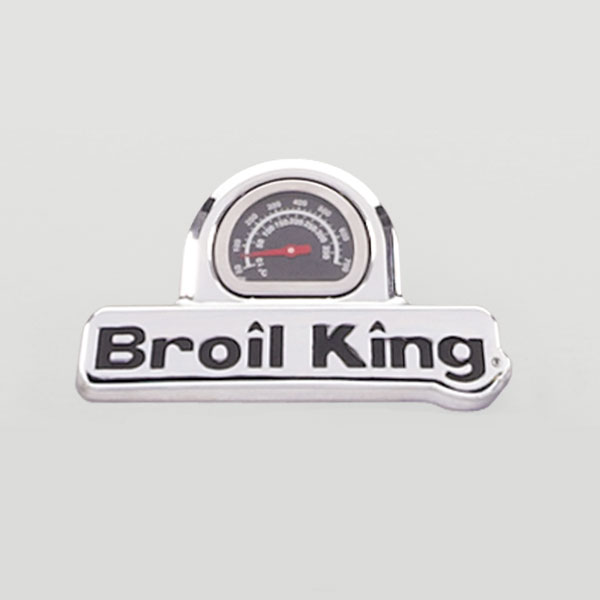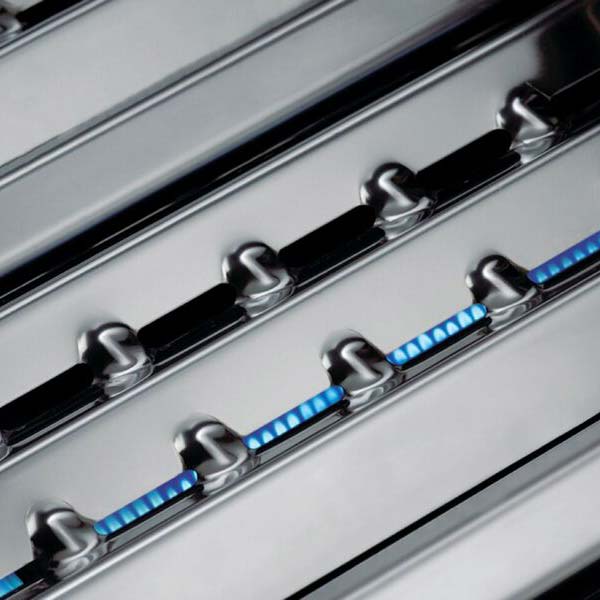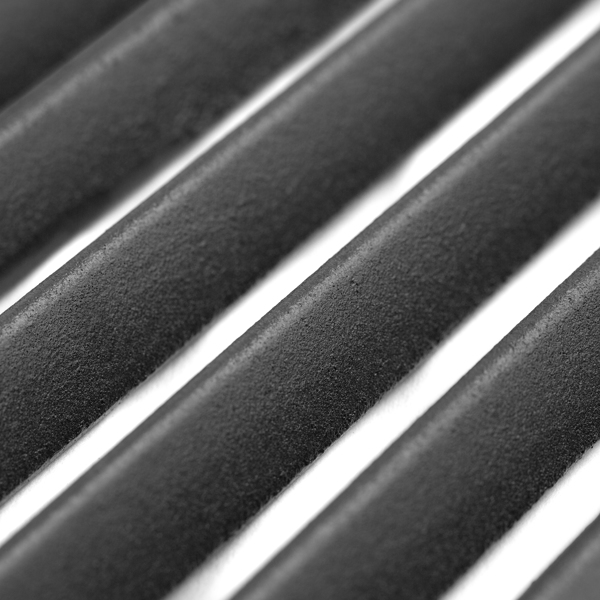 IDEAS TO GET YOU STARTED.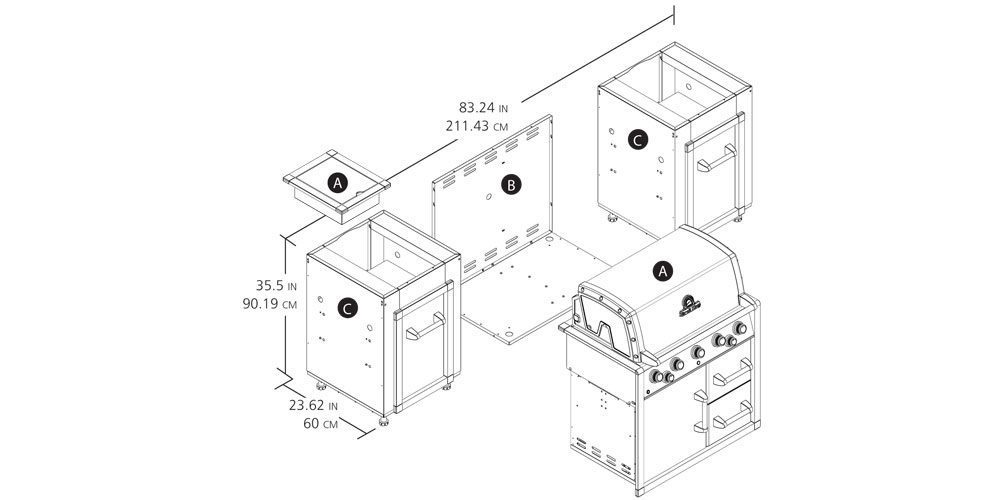 Rated

1

out of

5
by
kuta007
from
Very disappointed
I bought this grill abut 3 months ago and what disappointment it is!!! ZERO heat consistency, it cools down so quickly that meat is sticking to grade constantly, the regulator seems to have to be disconnected and reconnected often as propane will not flow adequately. It gets 35-45 min. to reach 500 f point!!! from the first lighting, the grill emits a massive plastic smell. Even after 3 hours of heating and burning out at over 300 degrees. the penetrating stench is still there. I don't recommend this brand to anyone!!! Stay away!
Date published: 2020-06-22
Rated

5

out of

5
by
RayB
from
Quality Never Goes Out of Style.
The Monarch 390 is our third grill from Onward Manufacturing, we have never been disappointed with the materials, craftmanship, dependability or performance of the grills. With the rotisserie, side burner and reversible cast iron grates the cooking versatility of the 390 is exceptional ,especially in it's price class. During the last month we have grilled steaks, burgers, hot dogs, pork roast ( indirect) and rotisserie chicken on the grill all with outstand results. The only issue I have is the removal of a full grease pan and tray, sliding the unit out without spillage is challenging. Concluding, the 390 is a great grill, if properly maintained and kept covered you can expect many years of great grilling.
Date published: 2021-06-14
Rated

4

out of

5
by
Walleye
from
Pretty good for the price
I have three Broil Kings BBQ Grills and all perform they way a Grill should, my only complaint is the cheap plastic handles and lousy hardware you mount them with? Why? after the BBQ's heat expands the nuts on the mounting hardware and the handles flop all loose like. I end up removing the handles taking the cheap 1/4" studs out then I use 3/8" tighten one nut, add a lock washer and then add another nut. This will work for about three years then I just make my own heavy wooden handles. You are so close to making a real keeper.
Date published: 2017-05-10
Rated

2

out of

5
by
Disappointed
from
Disappointed
This is a replacement for a 7 year old 50 thousand btu Broil King.This unit is rather inconsistent in so far as maximum temperature reached... from 500 to 675 degrees on different occasions... don't know why !The cast aluminum body, grilles, controls etc are of good quality and user friendly. The side tables are of poor quality, extremely light and difficult to latch.... they also collect rainwater and dump it on one's feet when raising them.I bought this unit as a previously satisfied Broil King owner but I feel let down this time.
Date published: 2014-06-07
Rated

4

out of

5
by
falmouthgriller
from
Steaks are grilled to perfection on this BBQ
The BBQ works well and is able to generate a lot of heat. My only complaint is that after only 1 month the Flav-R Wave have already started to rust. This was a surprise as they are supposedly made out of stainless steel. I can see a significant cost to replace these in the next couple of years.
Date published: 2014-06-27
Rated

1

out of

5
by
Grillymcgrillface
from
Very disappointed
ZERO heat consistency. Rather, the entire cooking surface is a series of varying hot and cool spots. Bought this as an "upgrade" and treat to myself after convincing myself I needed a new grill after the last one's 15th birthday. What a mistake!!!Poor assembly instructions. Short a couple screws. Propane door never stays within its hinge slot, door falls out ever time the grill moves.Big and expensive mistake making this purchase and now I am stuck with it for years. STAY AWAY FROM THIS MODEL!!!
Date published: 2020-05-28
Rated

5

out of

5
by
LG Bass
from
A lot of grill for its size
I purchased this grill when I down sized to a condo. The 2 side tables fold down for easy storage, yet the grilling surface is large enough to grill steaks or burgers and vegetables at the same time and high enough to grill a whole chicken or roast when warming rack is removed. When flipped over, the grooved grill racks work great for grilling fish fillets or vegetables with out a basket. The 3 burners allow for indirect grilling with enough room for a drip ban to fit under unlit burner if needed. Great little grill if you do not need a side burner.
Date published: 2017-07-17
Rated

5

out of

5
by
whitefish
from
Love it after many years of use
I can't remember how long ago I bought the equivalent model and am finally looking to buy the same unit. The Favour Wave dispersion system helps to considerable reduce, but not eliminate flaming. It is better than other propane barbecues I have used in the past. The cover has not warpeed, even though I have had a few sessions where I forgot about it and the temperature went way up. The biggest knock is the cast iron grill. It rusts over time. I think I am on my third set. My unit has been reliable - and still is actually - but I am upgrading for use at home and taking the old one to the cottage where I expect years more use.
Date published: 2021-04-29
Rated

3

out of

5
by
jan1938
from
Great features, but.........
I purchased this grill in August, or should say that I ordered it in June and got it in August, which was just fine, but when I went to use it a few days ago, the black paint was coming off in sheets in the back of the grill. This should not be happening? Was it something to do with quality control? People rushing too quickly to get the product in the mail? Hindsight, I would have gotten an all stainless steel one. We have had 2 Ducane grills since 1994 and NEVER have had a problem. I also purchased a Broil King higher end cover and we have always kept that on it. My advice to the consumer, "Buy only stainless steel".
Date published: 2020-12-03
Rated

4

out of

5
by
janjon
from
Pros & Cons
I'm very happy to purchase a high quality product manufactured and assembled in Canada by Canadians. We've used the rotisserie a few times and are pleased with the results. It's a bit of a pain to have to remove the warming rack which I have forgotten to do before I did the pre-heating. The meats we've cooked have been delicious and we particularly like the reversible cast iron grills. We use this as a natural gas (NG) unit and built expanded metal shelves so as to utilize the cavity below the cooking assembly for BBQ accessories storage. Why don't you offer this as an additional option for NG units
Date published: 2014-06-17
Rated

5

out of

5
by
sdcaller
from
Usual Broil King High Quality
I replaced an 18 year old Broil King Sovereign with the Monarch 340.The new BBQ is doing what I want it to do and is the usual Broil King high quality.I baste a lot of things with tomato sauce when they are on the upper rack and I find excess sauce drips off and ends up on my deck. Is there a way to put a lip or spill catcher of some sort to eliminate this problem? It would be a lot easier to clean a spill catcher than my wooden deck.
Date published: 2018-01-29
Rated

2

out of

5
by
sara127
from
Good BBQ, bad part
I bought this BBQ a year ago and have really liked it. It gets up to high heat quickly and while likely not the most powerful in the line, it does the trick for someone like me who's a moderate barbecuer. After the first year there's a hole rusted in the bottom of the cookbox, which is a bit insane and makes me question the quality. It's covered under lifetime warranty but having to pay for the new part to be shipped, disassemble the entire thing, and reassemble it, is a task and cost I shouldn't be responsible for after one year of having it.
Date published: 2021-06-09
Rated

5

out of

5
by
canno
from
I would buy it again
After 10 months of intense use, I am very satisfied with this gas grill. The product is solid, powerful (for direct grilling) and easy to use to set/keep the desired temperature (mainly for low&slow and/or indirect grilling). I needed some time to fine tune my cooking style with this gas grill, being not a pit master 🙂 however it's part of the fun. Easy to clean but honestly I thought it was easier before buying it, you need to take care of it to get perfect results. 10 Kg GPL bottle fits in the dedicated compartment. I easily make regular big bbq's for 8/10 people. Over 10 people I would need bigger cook surface, but no doubt I would buy a Broil King gas grill.
Date published: 2017-11-03
Rated

4

out of

5
by
Noland
from
Great BBQ for the price.
When I purchased this BBQ on sale I didn't expect the quality it has once I removed it from the box. Frame is reasonably stable during assembly and extremely stable once assembly is completed. Maintains a nice even heat throughout the entire grill, there are some cooler spots but they come in handy while cooking. Really like the slip tray underneath which is really easy to discard of char and drippings. Only complaint I have is the quality of the swivel casters which basically popped apart the first time I moved the BBQ and continue to do so, but that's pretty minor, otherwise would recommend this BBQ to anyone.
Date published: 2017-08-23
Rated

3

out of

5
by
DEADBEEF
from
One of the Okay-est Barbecues I have owned!
Bought this barbecue a couple of months ago. It was more expensive than other barbecues that I have bought in the past. The main benefits that I like are the size, reversible grills, and the fold-able side shelves. I bought into the whole "made in Canada" propaganda, but that will not be a deciding factor in future barbecue purchases. The build quality does not seem to be significantly different from other barbecues made outside of North America. I have put more effort into the maintenance of this barbecue than previous barbecues, but I am already started to have an issue with it. The paint on the grease tray is peeling. I tried contacting the manufacturer to make a warranty claim, but they have not responded. I contacted the manufacturer 7 days ago. Their customer support does not seem to be a compelling reason to spend more on a Broil King barbecue.
Date published: 2017-05-28
Rated

2

out of

5
by
B-RAD
from
Low quality for price.
I've had this propane model for 3 yrs. Kept under cover out of weather. Also with BK cover. All stainless steel rusted within 2 months. Replaced grates 3 times with BK grates because of rust. So finally bucked up and bought stainless steel grates. Venturi tubes hole are now bigger in areas so flames are huge in different areas. Cooking is uneven. I would consider a different brand next time. My neighbor has BBQ thats starts with letter N. 2yrs older than mine and cooks perfect has all original parts.
Date published: 2022-04-14
Rated

5

out of

5
by
MichaelG007
from
Great performance = great results!
I purchased my Broil King Monarch recently and have been so impressed with the performance of this BBQ! I've been grilling all different kinds foods on it and they come out perfect every time. The build and quality is impressive and I love the versatility it offers with the fold down shelves and optional rotisserie add on. Setting it up was a breeze too. This is the perfect grill for smaller families and back yard get-togethers. Great value for your money.
Date published: 2021-06-08
Rated

5

out of

5
by
Sunny
from
the BBQ works very well!
I would like to have some hooks in the front of the BBQ to hang utensils, This would make it more user friendly.
Date published: 2014-06-21
Rated

1

out of

5
by
Wassa
from
Worst ever barbeque
Hood rusted,supports for burners rusted away, center burner doesnt work, ignition doesnt work. Flare ups from fat dropping onto the flavour bars. No support from the warrantor,advises its over 2 years old.
Date published: 2017-12-15
Rated

1

out of

5
by
Ed4098710
from
cast iron cooking grids rust
I have had this grill for a few years and the cooking surface has started to rust and come off on my food. I upgraded to the stainless cooking grids for a couple hunderd dollars.
Date published: 2020-01-21
Rated

1

out of

5
by
crash
from
monarch not so royal
very unhappy I bought this bbq. Had a regal and it was a great bbq lasted 10 or 12 years. the monarch igniter quit after 2 months, the base is so light it warped with the weight of the tank and the door falls off.it also wont stay lite if there is any amount of wind only on my third year.
Date published: 2016-06-24
Rated

5

out of

5
by
bbq purveyor
from
Awesome Model,
I bought mine twp months ago, use daily, have done roasts, ribs, steak and chicken and am totally impressed & satisfied with it. One minor glitch, if using the rotisserie and plan on using the side burner at the same time. Open tour side burnwr lid before starting tge rotisserie.
Date published: 2017-06-01
Rated

5

out of

5
by
TucsonRich
from
The Only Realistic Choice!
My 17 yr old Weber finally became more expensive to repair than replace. This led to a month long search for a replacement. Online reviews, forums, comparisons, specs, etc., etc. It quickly became clear that there are two tiers of gas grills ... the 'cheapos (that wouldn't last 17 months ... and we all know who those are) and the two brands at the top ... one of which is Broil King. I found very little difference in quality and features between the two ... but a substantial difference in price for comparable models. Broil King was clearly the winner and I couldn't be happier with my choice. With the same amount of care I took of my old grill, another 17 yrs now seems a realistic goal. My only criticism is the absolutely worst assembly instructions I have ever seen ... no text instructions at all ... only pictures that were difficult to follow. It's still a great grill!
Date published: 2017-08-23
Rated

5

out of

5
by
Peter C
from
Wearing out after 14 years
We bought this BBQ 14 years ago and absolutely love it, we cook everything on it from pizza to our Christmas Turkeys. After 14 years it is finally wearing out and I am looking at this website because I'm going to buy another. Fantastic BBQ.
Date published: 2017-12-08
Rated

5

out of

5
by
Mikey5
from
Great BBQ
I have owned 5 various brands of BBQ's and by far this is the best. Excellent temperature control for perfect grilling. Very understandable assembly instructions. PS. Great cast iron grills for that perfect steak.
Date published: 2017-07-17
Rated

5

out of

5
by
Schube
from
Great Barbecue
I reduced the heat up time by inserting cut to fit pieces of tin to reduce the size of rotisserie holes. On a windy day the barbecue was taking along time to heat up.
Date published: 2014-06-12
Rated

5

out of

5
by
Machine63
from
Best bbq I've had
Got this a couple months ago and has totally impressed me. Super high heat for searing, even heat, and easy to clean. Love it!
Date published: 2017-09-30
Rated

1

out of

5
by
verydisappointed
from
Worst purchase in a while - terrible heat control
Was looking to upgrade my 15 year old, bargain grill that still work very well. What a mistake - from the difficult assembly to wildly inconsistent heat dispersion, I regret buying this hunk of garbage every time I am forced to use it. If I could afford to replace it, it would be out for garbage collection immediately. Requires CONSTANT attention to avoid burnt or raw food, constantly having to move things around. Look elsewhere if considering this piece of trash.
Date published: 2021-03-03
Rated

5

out of

5
by
Babaji
from
Broil King - Monarch 320
Bought this model for the size and features. Our previous BBQ was too large and had a side burner that was never used. This BBQ heats up and maintains temperature well. Everything from pizza to fish has come out perfectly. We are very pleased with our purchase.
Date published: 2016-07-11
Rated

5

out of

5
by
Brian Mathyk
from
Good features & durability at an attractive price.
This is my fourth OMC BBQ. Like the rest, it is reliable, operates well and does everything I ask it to do. The warranty gives me confidence in the product and being made in North America, allows me to have easy access to replacement parts in the future.
Date published: 2016-07-08
CHECK OUT OTHER GRILLS IN THIS SERIES.