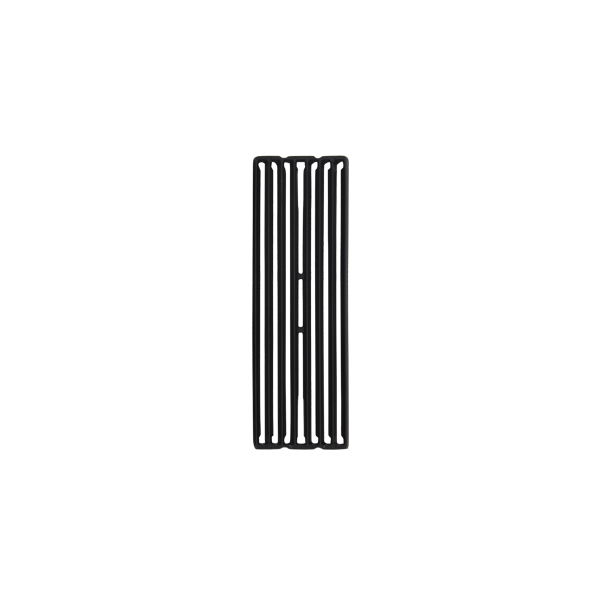 IMPERIAL™ / REGAL™ CAST IRON COOKING GRIDS
11229
19.25″ x 6″ – For Broil King® gas grills. 1 cooking grid. Fits models: Regal™ 420, 440, 490, 490PRO (2010 and newer), Imperial™ 490, XL (2009 and newer) Grilled Asparagus and Prosciutto Spears
Rated

1

out of

5
by
gmueller
from
Porcelain enamel chipping off after one summer!
Bought the Baron 440 this May. I kept it covered and used it only moderately this summer. Performed the recommended maintenance in terms of cleaning and seasoning the cast iron cooking grids. Started seeing rust appear on the grids midway through the summer. As it turns out, the porcelain enamel itself has clearly chipped away in myriad spots throughout the grids. (Picture attached). I probably used the grill a total of 30 times! I see there are now more expensive stainless steel grids being offered, probably as a result of this chipping problem! Happy with the grill itself, but not pleased at all about the grids.
Date published: 2016-12-27
Rated

1

out of

5
by
Dave99
from
Second set of badly rusted grids
This is one of a handful of reviews I've ever written but i feel compelled. I've had my Broil King Baron BBQ for some time now but I can count the number of times I've used it thanks to these awful cast iron grids that rust and chip no matter how well you care for them. I'm on my second set of grids and these rusted even worst than the first. It's such a shame because I like the BBQ itself but the grids are so badly rusted and chipped that it renders the BBQ useless. I've had to use trays and tins to bbq to avoid being poisoned by the rust. There's no way I'm buying another set of grids. At this point I'll probably just replace it with a Webber or another more reliable brand.
Date published: 2023-04-21
Rated

2

out of

5
by
sjsj
from
They won't last us a life time.
We have been using these grids on our imperial for quite some time now. They are OK but will definitely not last us a lifetime. We do oil the grids before and after each use and that keeps the tops fine but there would be a need to take the grids out and oil the underside after every cook. These means getting dirty every time. I think that it is a bit of a design flaw in having so much cast exposed on the bottom side. They are now rusty to the point that we will likely never cook on the underside. I wonder if the cast stainless would be the answer to this design flaw. Any way considering how much of an investment we made on our Imperial I would have expected more.
Date published: 2016-08-15
Rated

1

out of

5
by
Rebbecca
from
grids rusted - terrible
I love the grill but the grids are completely rusted and horrible. I can't find a replacement that will fit. I emailed BroilKing and for $200 + shipping I can order the exact same grids and have the exact same problem after 1 year. Everyone is having this problem and it would be nice to hear a solution. I don't want to have to replace the grill but its virtually useless now and I can't spend $200 a year on grids. The grill is always covered so no reason this should happen. Just terrible
Date published: 2017-05-02
Rated

2

out of

5
by
CJML
from
Very poor quality
I have been buying broil king bbqs for over 30 years and have had grill problems many times regardless of treating the grill as recommended even using avocado oil regularly but the last two replacement grills I have bought have rusted out big time fast .Rust big time ,chipping etc . I am now afraid to use these and poisoning people .I love the bbq but this recurring problem is giving me second thoughts on buying a broil king product again .we love the way it cooks and the grill marks are superb but the rust spoils the joy of barbecuing. I would add pictures but that would scare people from buying your products .just so you know I have never written a review on anything in my life but enough is enough . Loyal customer, maybe not anymore depending on your response
Date published: 2022-04-07
Rated

1

out of

5
by
Chris1981
from
Completely rusted out
I've been very happy with my grill in general, but these grates are rusted out and chipping away within 2 years. It's gotten to the point now where I can't use the grill because it inevitably imbeds pieces of the grates into the meat. So I'm left with choosing between leaving my investment sitting there unused or dumping more money into replacements earlier than I feel I should have to. Disappointed.
Date published: 2017-03-25
Rated

3

out of

5
by
2ls 2ts
from
Just like a sprinter, great coming out of the gate
I loved my Regal 440 right from the start. Great look, great heat & temperature control and the cast iron grids made for great grilling appearance. However like many others, the grids are rusting badly, starting to peel/fall apart and pieces get into food that is placed directly on the grid. Had my bbq for less than four years, regular maintenance and cleaning, always covered and under shelter......but there was no stopping the grid problem. What to do now?? Spend the money on new cast iron and have the problem re-occur a couple years down the road or spend an awful lot of money on the stainless grids? Too bad, because overall bbq is amazing and I would recommend to others, but cooking grids are kind of an important feature.
Date published: 2017-04-12
Rated

1

out of

5
by
Grill
from
Terrible rusting problems
I've had my BBQ for years and am fastidious about cleaning and seasoning my grills (foodie problems). My grills started rusting in the second year I had my BBQ and are now horrific. I didn't want to shell out the extra $100+ for new grills to have the same problem. Now I see that there are new stainless options at more than double this cost. I love supporting local business, but wish that there was a trade in or reduced cost replacement program to upgrade to the stainless grills.
Date published: 2016-08-30