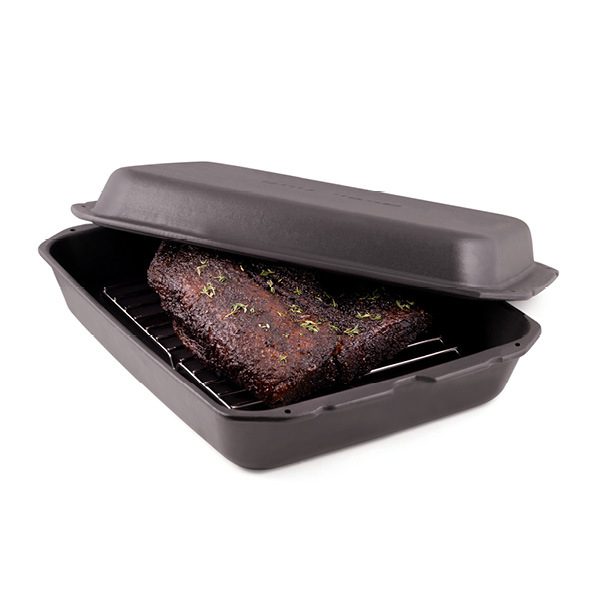 CAST IRON MULTI ROASTER
69610
The multi-purpose roaster designed to retain heat for a long consistent cook. Designed from heavy cast iron and coated with a durable matte porcelain finish. Internal roasting rack elevates meat off the bottom to steam in their juices or other flavored liquids. Great for roasting large cuts of meat. Grilled Asparagus and Prosciutto Spears
Rated

5

out of

5
by
FatFingersSlimm
from
Well made roaster turns amateur chef into hero.
Family visiting over the Canada Day Weekend made a perfect time to test out my Broil King Cast Iron Roaster that I received as a free sample from Broil King. The results were fantastic and I like using this roasting pan very much.I prepared a sirloin roast with olive oil and herbs. I put the roast on the Cast Iron Roaster's rack (that comes with it) and spread a bag of mini potatoes around it. I poured a can of beer into the bottom for a little extra flavour. That's it. I was done! These pans are heavy which guarantees even and consistent heat. I set my roaster up in the BBQ at around 300degrees for the first half an hour and then dropped it to 275 for the rest. Just under 90 minutes later I had the most tender and tasty roast I've cooked for ages. The family showed their approval by ensuring there were no left-overs.This pan is pretty much fool proof once you've seasoned it properly. This process is worth the extra time it takes to do it.I have other pans that have sharp or rough edges. This pan is well cast and finished. And the lid fit perfectly.I loved letting the pan do most of the work. In fact, once the lid was on I didn't touch it until I took it off the heat. This gave me time to do other things - like set the table and put new line on my fishing reel. I love the large capacity of the roaster.I could only find one thing wrong with this roaster and that is also one of the benefits. It is big and heavy. This takes some planning on where and how you set up and how you handle a loaded roaster. Also where you keep it - as it might not fit into a regular storage area. My solution is to keep it out and use it all the time. I'm finding new things to do with it every time I go to my grill.Make sure you have really good oven mitts. This pan holds the heat and you want to be able to get a good grip when you're moving it. I have a pair of Broil King leather gloves provided as a free sample with the roasting pan that were so effective - and so comfortable I didn't want to take them off. I hate giving up dexterity when you put oven mitts or gloves on. These gloves were extremely flexible. Hmmmm if they hold the heat out maybe they'll hold the heat in which might even make them perfect for use with my snowblower!The pan cleaned up with a couple wipes with a paper towel.All too easy. I looked like a TV Chef with all the accolades I got. This is a great tool if you're looking to step up your cooking game.The following day I cooked some beef ribs with positive results. The ribs were tender, tasty and disappeared as soon as they hit the table. It was carefree cooking with great results.What's next? Maybe I'll blacken some catfish in the pan. Or I'll make a peach cobbler. Or roasted vegetables!
Date published: 2022-07-06