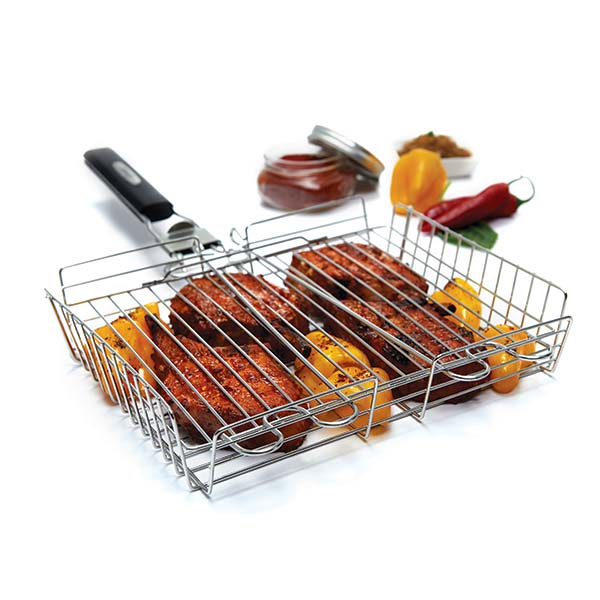 DETACHABLE HANDLE GRILL BASKET
65070
Made of stainless wire with a soft grip detachable handle, this grilling basket is ideal for roasting on the grill or fireside. Multi–position lid, simple to use locking mechanism. Grilled Asparagus and Prosciutto Spears
Rated

4

out of

5
by
WillMont
from
fun and easy to flip
fun to use and easy to flip if ever afraid of losing food
Date published: 2019-10-23
Rated

4

out of

5
by
RawmS
from
Great idea! Good build but watch the handle.
I've done loose, coarse cut veggies and lamb chunks. Kebabs! It's brilliant, really. Just open it up, throw in whatever, cut into pieces that won't fall out (taking into account shrinkage), close it up, click the handle on and drop it onto the grill. Unclick the handle to remove it!I used it several times and once forgot to remove the handle. Big mistake as the handle will NOT take the heat! Luckily, I saw my mistake in time but now the handle has a melted scar but still works just fine.I imagine that a solid silicone handle would be the best but that would put the production costs waaaay up resulting in a much more expensive product. The handle is removable for a reason. Duh!Anyways, a great cooking tool for the grill!
Date published: 2022-11-14
Rated

1

out of

5
by
Vitaliy Vanichkin
from
Poor quality
I bought it twice and both baskets had detached wires at welded joints. The construction is perfect but quality and control of production are at very low level.
Date published: 2019-04-09
Rated

5

out of

5
by
All year round
from
Easy to use
I bought one a while ago and it is great. Prevents food from falling into the grill.
Date published: 2021-06-08
Rated

4

out of

5
by
Tess
from
Detachable Handle Grill Basket
Broil King sent me a free detachable handle grill basket. I haven't had the opportunity to use it yet. I just pulled it out of my cupboard. It took me awhile to figure out how to attach the handle but I finally did. I also noticed one of the metal bars was loose. It will have to be rewelded. I'm not sure if this is a one off problem or if it is reoccurring. None the less I am happy to try it out next summer.
Date published: 2022-11-26
Rated

5

out of

5
by
BY Kingston
from
Great Grill Basket!
I have cooked fish on my grill for years with varied success on keeping it intact…. UNTIL NOW!!! This is a great BBQ grill basket for salmon, sausages, and chops!!! I can see using it for lots of other dishes. What I love is that it isn't hinged. The basket easily comes apart. A breeze to clean.
Date published: 2023-04-27
Rated

5

out of

5
by
Royski
from
Awesome Addition For My Broil King BBQ
The basket with the detachable handle is great. I can Bbq meat and vegetables along with seafood such as prawns. Able to flip the basket with ease. A great game changer for bbqing all sorts of stuff. Easy storage as the handle is removable. Great product!
Date published: 2022-12-04
Rated

5

out of

5
by
Dan01
from
Easy to use
Versatile grilling tool, just load the grill basket up with your favorite items and BBQ. I love using for shish kabobs cooks perfect. The removable soft grip handle is awesome.
Date published: 2023-05-06