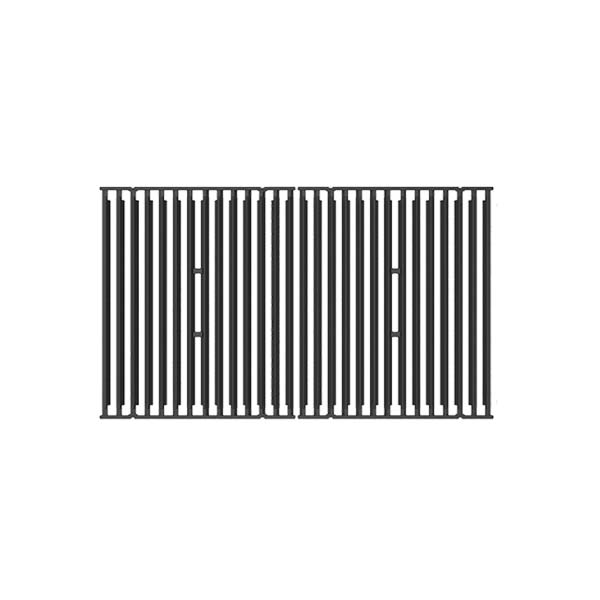 15″ X 12.75″ CAST IRON COOKING GRIDS
11228
15″ x 12.75″ – For Broil King® gas grills. Set includes two grids. Fits models: Crown™ 10, 20, 40, 90 (2008 and newer), Signet™ 20, 70, 90 (2007 and newer). Grilled Asparagus and Prosciutto Spears
Rated

1

out of

5
by
Karsten
from
Grill rusted through in less than a year
Bought my Baron end of last May to replace my 10 year old broil king. I checked the barbecue after dry storing it all winter (last week), and the grill is cracked in 3 places! I have never seen this on a barbecue before. I never had to re-season my old broil king that was made in Waterloo, and the grill was fine when I tossed it. Where is the cast iron sourced from now? Very disappointed
Date published: 2017-05-02
Rated

1

out of

5
by
Mark D
from
Rusts easily
I have owned my grill for 2 years and the grates are rusting. I find it strange that a grill, to be used outdoors, which is subject to natural humidity of the outdoors as well as rainy conditions, utilizes cast iron which can NOT be subject to wet weather. I keep my grill covered 100% of the time when not in use and remove the grates during the winter months. Even doing this and seasoning it did not prevent the grates from rusting. Your maintenance video for the seasoning of the grates even mentions "never air dry the grates". Well, what do you think they do after inclement weather outside? No grill owner is going out to towel dry their grates after inclement weather. Poorly thought out design.
Date published: 2020-06-08
Rated

1

out of

5
by
Dtchief7
from
Very very Poor Grids
I bought my Signet from Lowes a few years back and the grids began to deteriorate the next year. I take them off a couple of times each year to clean thoroughly but the metal has chipped away so bad as to not be able to use these grids any longer. I need to replace them but wish there was an alternative to these same grids since its obvious they are not going to last any longer and will chip away as many others have complained. A wonderful product other than the grids and I just bought my son one for his new home in hopes that he has better luck with the grids than I have.
Date published: 2020-07-08
Rated

1

out of

5
by
MerlinYYC
from
Rusting and cracking
No matter what I do, these grids rust and crack. I have my Signet for 2 years, so it will be my 3d summer with it. I use it year round and season the grids. Been through 2 sets of grids so far...bought my third today and getting tired of it. Despite that, I'm really satisfied with my Signet and hope to keep it for a good number of years. I maintain it very well too.
Date published: 2020-02-20
Rated

1

out of

5
by
Bassman1
from
Rusted out
These grids rusted after only a few months of use. took care to clean and season after each use but still rusted. my grill is kept under a grill cover under a laini roof in florida. not out in the weather. The grill it self is recommended,but they need to upgrade the grids
Date published: 2016-12-16
Rated

1

out of

5
by
Shaq
from
worst grids ever
I've had the signet for 6 years now and its a great BBQ but the grids are the worst. Why make a product that you have to maintain all the time where you can just fit it with stainless steel and there is no maintenance at all for the grids. That also goes for the rest of the units inside as well. For example the flavr waves and burners should be made out of stainless as well and you would have a awesome BBQ.
Date published: 2020-02-26
Rated

1

out of

5
by
Darryl C
from
Broil King Signet Grill Grids
We purchased this bbq less than 2 years ago and the cooking grids are now not safe to use.
Date published: 2020-04-23
Rated

1

out of

5
by
Rick1127
from
Rusted Grids
I'm having the same exact issue as every other Broil King Grill owner, the grids have severe rust damage even being stored inside and still covered up. This was no inexpensive Grill and I wasn't expecting one season worth it use to run into this issue this season. I saw developing last season but a couple Google searches told me that it was just marinades kicking up on the grids making it look like rust so I made no inquiry about it, this year there's no denying that it's rust. I've also experienced issues with the burners instead of burning blue like all grills do, royal king is producing an orange flame even on its lowest setting. I have clean them out and still produced the same results. I also have rust developing on the rotisserie holders. The FLAV-R-WAVE are also no looking good. Like I said this girl was pretty expensive I was not expecting this type of quality from a grill this expensive.
Date published: 2017-04-09