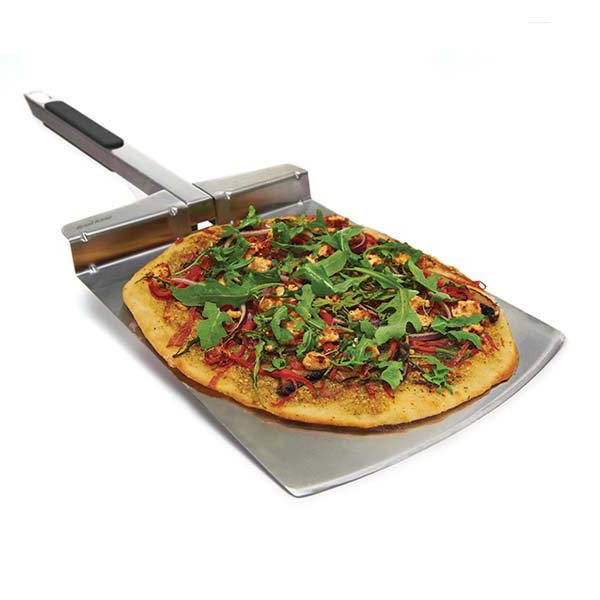 Any pizzeria can swear that the most important ingredient after dough is a great stainless pizza peel. Designed with a folding handle to save space the Broil King® pizza peel is a must for zaa enthusiasts. Soft grip folding handle large 11.75″ blade easy to clean. 25.5″ overall length. Grilled Asparagus and Prosciutto Spears
Rated

3

out of

5
by
TheMC
from
Stuck with this huge sticker!!
I just bought this pizza peel. The peel is nice, love the folding handle, but... it comes with this huge sticker on the blade that is very, VERY hard to remove! Ugh!! My husband worked on this thing for almost an hour trying to remove it (soaked in hot water, scraped paper off, soaked with adhesive remover, scraped that off, wash, scrub with a steel wool pad, wash again) and we can still see the shape of the sticker on the blade. I don't understand why a company would do this when there are so many better options for a label... I would not buy again just because of this.
Date published: 2020-04-09
Rated

5

out of

5
by
JGDavis
from
Pizza Spatula
I have used my Pizza Peel for several years, when cooking my Pizza on my BBQ. It is one of the most valuable kitchen products that I own!
Date published: 2019-11-30
Rated

2

out of

5
by
LesMC
from
Disappointed
We have a Broil King BBQ and broil king accessories and have been very pleased so far, until we bought the pizza peel. I had read the reviews about the sticker problem but thought after so many negative comments Broil King would have listened and corrected the problem. No they haven't. Too late to return this as I used it but, will respect reviews if I decide to purchase anything else. I would give it a higher rating if I could get the sticker off. This may seem trivial but it is annoying that Broil King is not listening to it's customers.
Date published: 2021-07-04
Rated

5

out of

5
by
hurst_olds
from
The perfect tool for making Pizza
the Pizza Peel is the perfect tool for making my pizzas. i accidently came across this peel and had a demo and had to get it. it works like a dream and is so easy to use
Date published: 2021-06-11
Rated

4

out of

5
by
Chantal
from
Broil King Pizza Peel
Love my new Pizza Peel with a folded handle. Solid. The only negative is that it came with a sticker almost impossible to remove. Soaked it all night. My husband used Goo Gone and that still didn't remove it all. It took a lot of scrubbing. Was that necessary? Hope this problem will get fixed. Otherwise, great tool to have and can be easily stored away.
Date published: 2020-05-05
Rated

1

out of

5
by
jackdaniel
from
Terrible
Seems like an okay peel but you'll probably never get to use it because the HUGE sticker on the face of the peel is next to impossible to get off. I started by peeling it off in bits and pieces and then with a metal scraper for about an hour which left a total disgusting mess of adhesive and label. I then tried an extra strength adhesive remover which barely touched it. Went on to 95% ethanol which also barely touched it as well! I tried heating it with hot water which created a even more disgusting mess... Finally took out the big guns and used brake cleaner which managed to remove most of the glue and allowed me to eventually clean it down to the metal. I don't recommend using brake cleaner unless you know what you are doing as it is highly flammable and toxic and should be used with caution. Bottom line... just don't buy this peel unless you want hours of frustration.
Date published: 2020-11-07
Rated

2

out of

5
by
Nitsky
from
Cheap sticker
Bought this one to use with my Big Green Egg, they only had this one pizza peel left. So absolutely irritated. I didn't think much about the sticker until I tried to peel it off. OMG... what a huge pain in the butt. If you're going to use the cheapest stickers for the love of God don't make them so fricken big! So annoyed but at least glad I didn't buy other Broilking Products.
Date published: 2020-10-20
Rated

1

out of

5
by
jvillain
from
sticker is worst thing ever
Frustrated, should not take more time to remove the sticker than it took to go out and purchase this product. I will never buy any product you have a sticker affixed to again, kind of strange you punish your paying customers in this way. Sorry, but I need to go and complete this ridiculous task and I thought bbq was supposed to be relaxing. Thanks broil king!
Date published: 2020-09-12