Apple Pork Tenderloin Crostini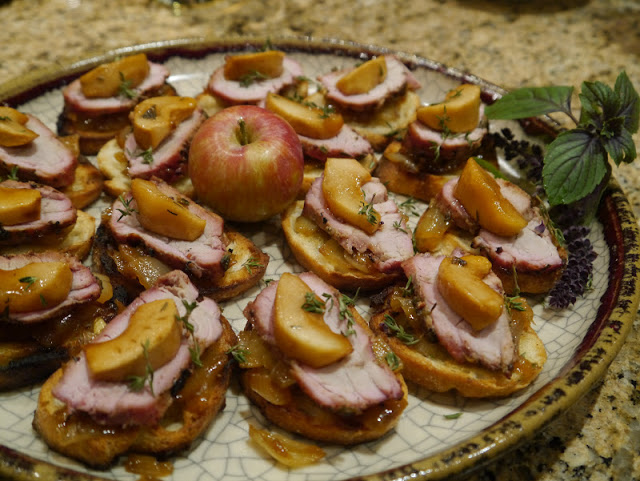 For the Pork Tenderloin:
2 pork tenderloins
1 cup apple cider
2 tablespoons maple syrup
1 tablespoon cider vinegar
2 tablespoons grainy mustard
2 tablespoons olive oil
For the Apples:
3 apples, cored, peeled and quartered
½ cup apple cider
½ cup maple syrup
½ teaspoon kosher salt
For the Caramelized Onions:
1 large Spanish onion, roughly chopped
2 tablespoons olive oil
1/3 cup apple cider
For the Crostini:
1 baguette, thinly sliced
Olive oil
Fresh thyme, for garnish
For the pork tenderloin, pour the apple cider into a small saucepan and bring to a boil over medium heat.  Reduce the temperature to a simmer, and reduce the cider until syrupy and until about ¼ cup cider remains.  Whisk in the remaining ingredients and pour over the tenderloins.  Refrigerate 2 hours or up to overnight.
Set a smoker at about 250°F.  Place the pork tenderloin on the smoker and baste occasionally with the marinade until cooked through, about 2 hours.  Let rest before slicing thinly.
Meanwhile, prepare the apples by placing the cider, syrup and salt in a small saucepan. Reduce until syrupy, and pour over apples in an ovenproof dish.  Set on the smoker for 2-3 hours, stirring occasionally to coat with the sauce.  Remove from grill, and slice apples into thinner slices
For the onions, heat the olive oil in a skillet on MEDIUM LOW.  Add the onions, stir to coat with the oil, and cook, stirring occasionally until the onions are tender and golden.  Pour in the apple cider and continue to cook until all the liquid is absorbed and the onions are golden brown.  Season to taste with salt and pepper.
Brush the bread slices lightly with olive oil.  Toast them on both sides on a preheated barbecue or smoker.
Find more great grilling recipes at www.broilkingbbq.com