BARON™ S 590 PRO INFRARED
876944 LP / 876947 NG
The Broil King® Baron™ S 590 PRO IR features 570 sq. in. primary cooking surface and includes a durable cast aluminum oven, 5 stainless steel Dual-Tube™ burners, illuminated control knob lights, stainless steel 8mm rod cooking grids, stainless steel warming rack, stainless steel Flav-R-Wave™ cooking system, and electronic ignition. The S 590 PRO IR features a powerful infrared side burner with solid stainless steel 8mm rod cooking grid, stainless steel drop-down side shelves, and an enclosed black cabinet base.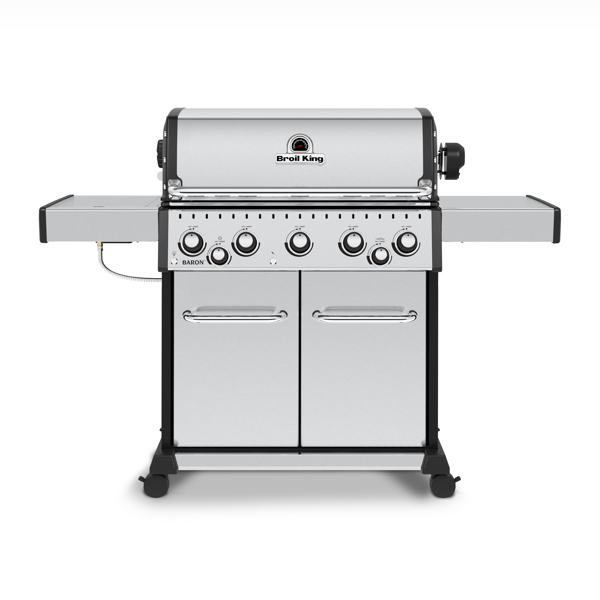 45,000 BTU
MAIN BURNER OUTPUT
10,000 BTU
INFRARED SIDE BURNER
15,000 BTU
ROTISSERIE BURNER
570 SQ.IN.
PRIMARY COOKING SPACE
ROTISSERIE KIT
INCLUDED EXTRAS
BUILT-IN LIGHTS
INCLUDED EXTRAS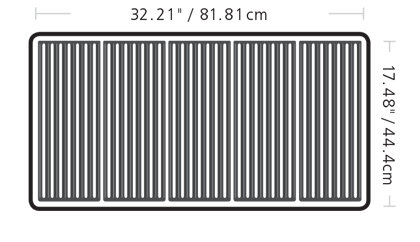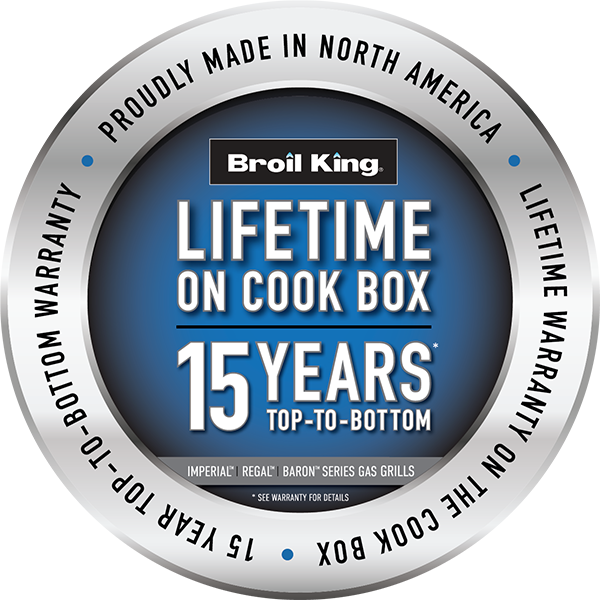 PERFORMANCE GRILL FEATURES.
Every Broil King is built with performance features that deliver unparalleled cooking versatility.
PERFORMANCE GRILL FEATURES
Every Broil King is built with performance features that deliver unparalleled cooking versatility.
IDEAS TO GET YOU STARTED.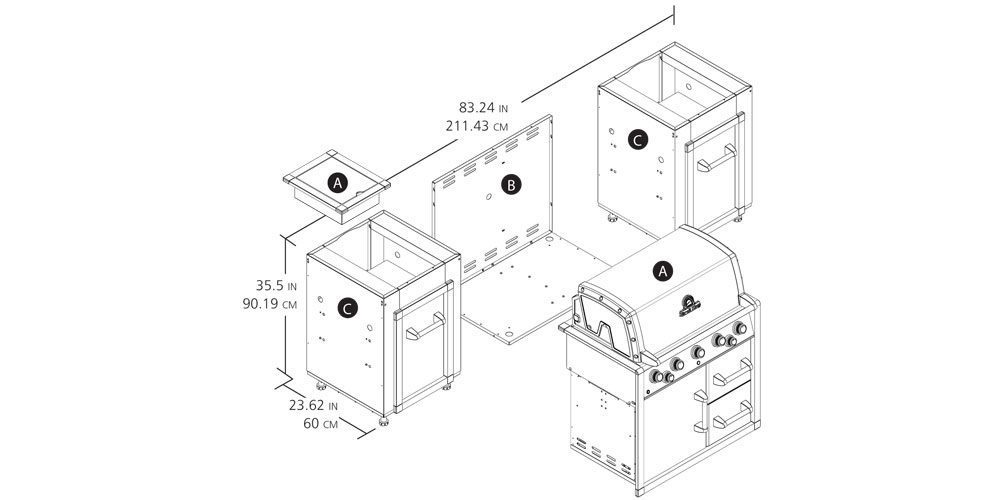 Rated

4

out of

5
by
Chappy
from
Flame Control
Lets say I have been cooking out doors for many years summer and winter (all year round) and when we bought this unit to replace my last BBQ we looked at many all singing foreign built units but they did not compare to the quality that went into building this Baron. I am completely satisfied with the way it operates and cooks all different meats and veggies including the family pizza. The control of the heat is excellent and the ease in cleaning and starting is the best I have seen. There are only a couple of additions I would like to see and that is a digital clock or timer and a built in light. Other than that this is a great BBQ that I would recommend to my friends.
Date published: 2014-09-13
Rated

2

out of

5
by
Curt
from
Hot.....way too hot, burns everything
I bought this a year ago to replace an older Weber, and after trying to use it a dozen or so times, it is a chore to cook anything. Burgers, flame fest; chicken legs, flame fest. All burners on low; turn off some of the burners, flames, no matter what, flames. Honestly, I believe the burners are too close to the grates. Got my old, old Weber back out, no problem. Here I sit with an $800 dollar grill that is useless. Unless there is something out of adjustment from the factory, this is the worst grill ever. Sorry, not sorry. The grill does look good, however. Impressed quite a few people, as long as I don't try to cook on it.
Date published: 2017-04-04
Rated

1

out of

5
by
GRECOROMANBBQ
from
hmmmm... so far not thrilled
So i don't usually write reviews buuuut here goes. I just purchased the Baron s590. The first issue I have is the plastic washer and screw that hold the bottom of the door. The washer was to small, I went back to the store and they mention that they are aware of the problem...great! I call the toll free number on the assembly manual and she tells me to watch the assembly video on the website, guess what the link is not working soooo I go unto youtube and bingo bango its there oh but its from 2014. And it's different. Long story short I get it all assembled according to the booklet and it's not level, its warped. The doors are not even as in one is touching the bottom magnet and the other is not and rubbing against the top. The lid is sealing on one side but not the other. FRUSTRATED!!!!!!!!!!!!! And I haven't even fired it up yet... stay tuned for the sequel.
Date published: 2019-04-11
Rated

5

out of

5
by
Nathan
from
Excellent Unit!
I've cooked many meals on this new BBQ. It has performed very, very well. I am very impressed with how quickly the unit heats up. I am impressed with the even heat distribution. I am impressed with the amount of cooking space for the price point. The assembly was easier than I had expected. Overall, I am very impressed with this unit. I had high expectations and those have been exceeded.
Date published: 2014-06-11
Rated

4

out of

5
by
André L
from
Very good BBQ
We bought this BBQ last summer to upgrade our outdoor kitchen. It work very well and we like the features that comes with this model. We had a problem with the rotisserie igniter and Mme Abigail Baker at customer service helped us resolving this issue quickly. She has been friendly, efficient in her actions and took immediate action to solve our problem. She has contribute to the good reputation of the Broil King customer service. We are very with this grill and we have a lot of grilling coming up next summer. It is our second Broil king BBQ and we are very satisfied with both of them. We highly recommend Brolk King products. We highly recommend Brolk King products.
Date published: 2021-01-25
Rated

1

out of

5
by
Anonymous
from
Worst Grill Ever
Easily the worst grill I have ever owned. The parts listed as "stainless" are the lowest grade of stainless steel you can buy. This grill was rusted out in less that 2 years. I recently attempted to replace all the rusted parts, but several of the parts are no longer made (nor its the Baron S540 sold. Wonder why?). I would avoid this brand like the plague.
Date published: 2020-09-06
Rated

1

out of

5
by
Roland
from
Cast Iron grills rusting.
Grills rust too easy. I have reconditioning the grills three times and they still rust. My old cheap Centros cast iron grill lasted 5 years before starting to rust. Very disappointed with the Broil King cast iron grill. I would recommend not getting any of the Broil King BBQs that have the cast iron grills.
Date published: 2015-10-01
Rated

1

out of

5
by
Notabroilkingfan
from
Rust
I tried to reach customer service before leaving the following review . This is a pricey grill that only last 3 years. Had to replace the burners after 1 year. Yes they were under warranty, had to wait for almost 2 months for the replacement parts. Now here we are 2 years later, the grill is completely rusted out on the inside. The exterior is still in excellent condition. I oiled the grates and inside components, but the back and front where the burner tube connect are completely gone. I contacted customer service with NO response. I had a char broil grill that lasted almost 10 years and was a fraction of the cost. DO NOT buy!! This grill was 1300.00...and lasted 3 years!
Date published: 2020-11-25