How to Choose the Right Grill
Is it time to replace your old grill? Make sure you get the grill that's right for you by following these handy shopping tips.
If you love great BBQs as much as we do, you'd probably put as much thought into choosing the right grill as we would. So why not do as the Broil King grilling experts do? Here are some of our top grill buying tips.  
Most people go through the same ritual when shopping for a new grill: Open the lid, gauge the weight, spin a knob. Maybe you give the barbecue the good ol' shake test. But what do any of these buying techniques actually tell you?
Not that much. It's what's happening inside that counts, that's where performance lives. Do you want the perfect sear? Then you should be paying attention to the burner output, heat media, and cooking grids; they are essential to produce great grilled meals. We want sear and vaporization, that's where grilled flavor comes from. We often get caught up with size, bells and whistles when we purchase but the most common reason for grill replacement is poor cooking performance. Put performance at the top of the checklist, check these features first.
Start with the engine of the barbecue and work your way out, as follows:
Looking for performance? It's all about the burners
The burners are key to even heat distribution and precise temperature control. A great example of powerful, high quality burners are the large diameter, dual-tube stainless burners in every Broil King grill. They emit flames on either side of each burner, ensuring that there are no cold spots. Your meat can't escape the heat. More ribbons of flame, more searing power.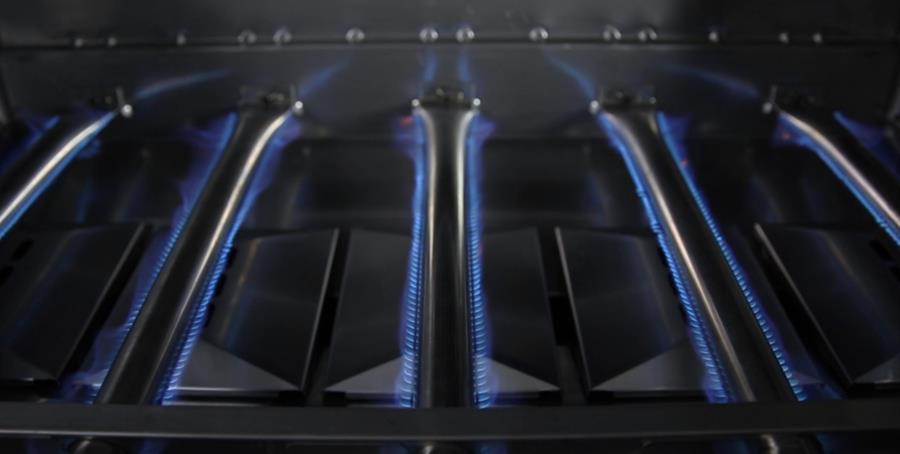 5 burners with 10 powerful ribbons of flame!
Want a gas barbecue that smells like a BBQ? Check out the heat tents
It all comes down to that delicious BBQ aroma, doesn't it? Whether you grill on gas or charcoal, the BBQ flavor and good sear is what we're all after. The good news is that you can get authentic BBQ flavor with the right gas grill.
That's because great BBQ flavor doesn't come from the fuel. Grilled BBQ flavor is created when the juices from meat fat hit a hot surface and vaporize. And vaporizing those juices is the job of a heat tent or vaporization system.
Make sure the heat tents fill the entire cookbox so they can catch and vaporize as much of that juice as possible. A large heat tent surface also means they will help distribute heat evenly, and they will act as a protection screen between the grease and the burners below. This is exactly how the Broil King Flav-R-Wave system works. They catch and vaporize juices, giving your BBQ that great grilled flavour.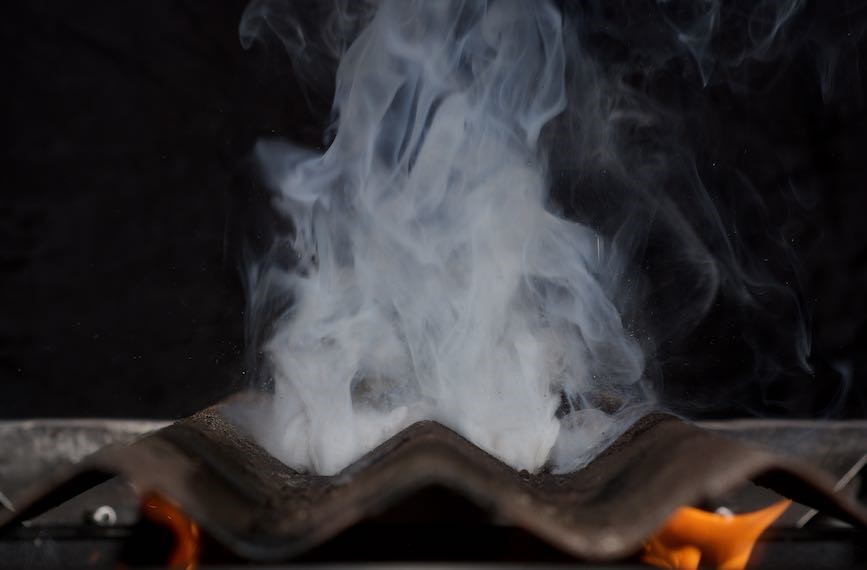 Juices vaporize into a sticky smoke containing water vapor and flavor.
Get the perfect sear. Choose the right grids
There are few places where performance and durability are tested more than at the cooking surface. Cooking grids are like a battery in that they store energy. This heat energy is what gets your food sizzling and browning at higher temperatures. To get that perfect sear, you want grates that retain heat as long as possible. Heavier grates have great heat retention delivering searing power for longer. When you place a steak on the grill the cold meat soaks up that heat like a sponge. Thin cooking grids lose all of their heat very quickly but heavy cooking grids have a lot more searing heat to deliver. They also last longer too.
At Broil King we work with 3 main cooking grid materials. At the pinnacle we have Cast Stainless steel, it's not a coating, it's liquid stainless steel that has been cast into our iconic Broil King cooking grate shape. It combines the long lasting dependability of our stainless grates with the amazing performance of our cast iron grates. Cast iron cooking grids deliver the utmost in performance, legendary sear marks and can hold a good oil seasoning as well as grandmas frying pans. They also have 2 useful sides to grill on, one peak and one groove side. You need to take care of cast to make it last which is a challenge for some grillers. Amazing performance, some love required.

Stainless rod cooking grids are designed to last but they often lack the cooking wow factor that you get from their cast counterparts. To offset this we make them heavy duty, all Broil King stainless rod grids are 8 mm or thicker to retain and deliver that searing heat for longer. 
The Size
Think outside of the cookbox; what is going to fit best into your grilling space? Remember that the cook surface is often deceiving. Most Broil King grills can handle 8 sausages or 4 burgers per main burner; that's 32 sausages on a 4 burner grill, comfortably, without using the warming rack.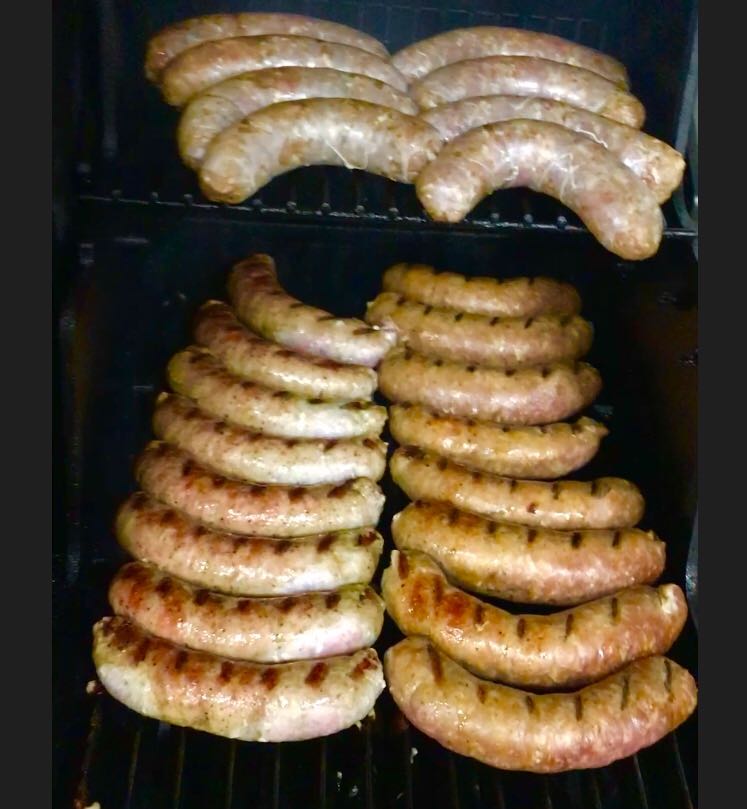 The Extras
Rotisserie chicken is the best kind of chicken you can grill. A side burner keeps helps you cook everything outside especially in the hot summer months. There are a dozen more reasons we could give you to love these items but you need to think about them as extras like grill accessories. Versatility is key, in the summer we want to live outside, there is nothing you can cook with your oven that you can't grill. Finding a cooking system that is built for years of exceptional performance is something that will pay dividends in the long run.

Ben
Culinary Director – Broil King