Smoked Artichokes with Chipotle Aioli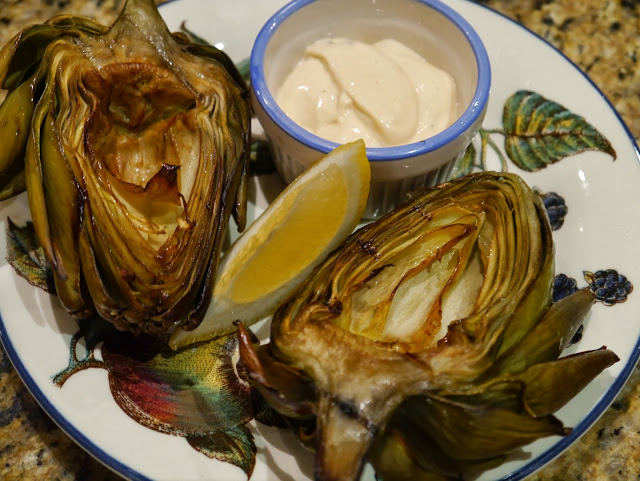 6 artichokes
1 lemon, divided
For the mop:
¼ cup olive oil
1 clove garlic
1 tablespoon lemon juice
pinch kosher salt
For the Chipotle Aioli:
1 cup Hellman's mayonnaise
1 clove garlic
1 teaspoon finely minced chipotle in adobo sauce
1 teaspoon lemon juice
pinch kosher salt
For the smoke:
1 cup soaked hickory chips
Bring a large pot of salted water to a boil.
Cut 1/3 of the lemon and set aside for juicing.  Slice the remaining lemon, and set the slices in a large bowl of water.  Trim the artichoke stems and cut the artichokes in half lengthwise.  Immediately plunge them into the lemon water to prevent browning.
Drain the lemon and artichoke slices and transfer them to the boiling water for 10 minutes.  Drain an
Lift the grid on the smoker, and scatter the soaked wood chips over the coals.d let cool slightly.  Using a sharp knife and tongs, removed the hairy choke from the centre of the artichoke.
Brush the inside of the artichokes with the mop, and set them cut-side down on the smoker.   Leave them to smoke for about ½ hour.
Meanwhile, combine all the ingredients for the aioli in a small bowl and leave at room temperature to develop the flavours.
Enjoy!
Recipe courtesy of Gathering Around the Grill
For more grilling recipes visit broilkingbbq.com