Buying Guide | Griddle or Plancha
When you buy a Broil King, you're not just limited to the cooking grates that come with your grill. There are many Broil King exact fit accessories to mix and match that help you Do More on your grill. One go-to add-on is a flat top that is great for making smash burgers and breakfast. There are a few options, so how do you choose; griddle or plancha? We'll go over the benefits of each, as well as standard care. Then we'll give you a few recipes to try out with your new flat top.
The Exact Fit Griddle is a highly versatile accessory that comes in numerous sizes to fit perfectly inside your grill. The griddle is made from heavy cast iron, which captures heat to deliver exceptional searing capabilities. It is the same width as two single cooking grates and sits inside the grill to capture the most heat. The griddle is dual-sided, with a smooth flat top for cooking things like bacon or pancakes and a ribbed side for delivering sear marks on veggies.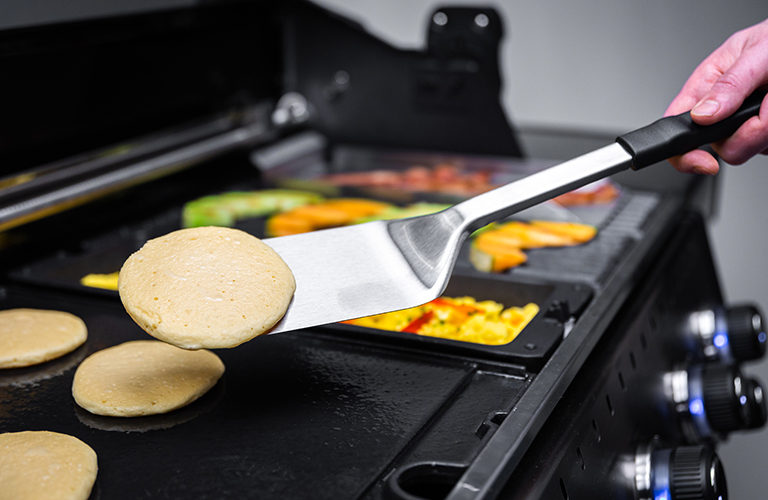 The Cast Iron Plancha works much like the Exact Fit Griddle with a few notable differences. The plancha is made from cast iron but is slightly denser to capture and transfer heat more efficiently to your food. It also has tall side walls which help contain your food. This is especially useful when cooking smaller items like potatoes, and it gives you a surface to push up against when sliding food onto a flipper. However, unlike the griddle, the plancha has a single cooking side.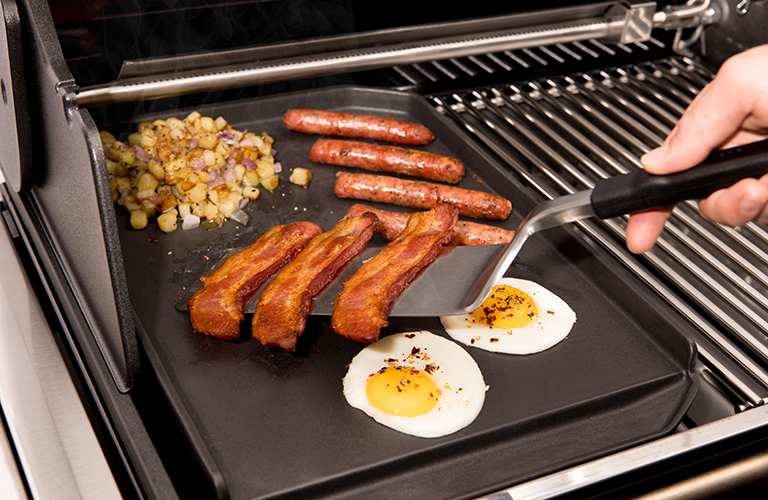 The Narrow Stainless Griddle is a great space-saving option for adding a flat cooking surface to your grill. The griddle has a non-stick surface, perfect for making a couple of eggs or a grilled sandwich. The griddle sits on top of a single cooking grate, which creates an additional barrier between the heat source and the griddle. It has raised sides to contain your food, but won't get as hot as the cast iron griddle or plancha.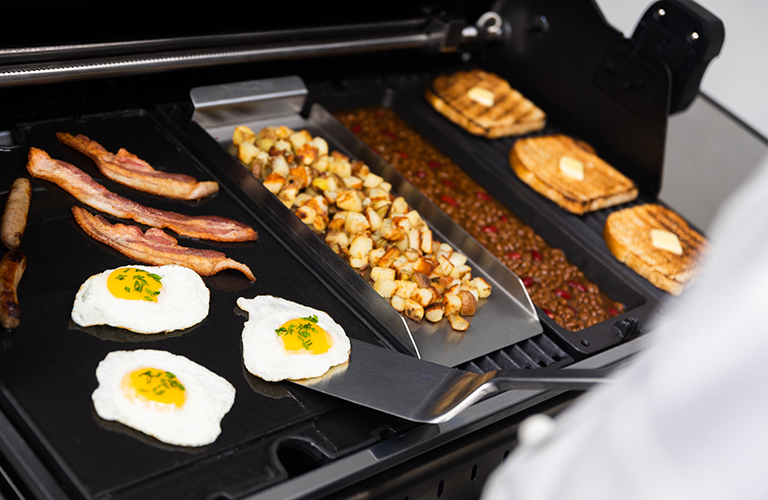 The Cast Iron Side Burner Griddle is a great option to increase the utility of your side burner. It turns the side burner into an additional flat top cooking surface, which is great when cooking for a large group. The cast iron captures the heat for great searing power and will heat up quickly due to its smaller size.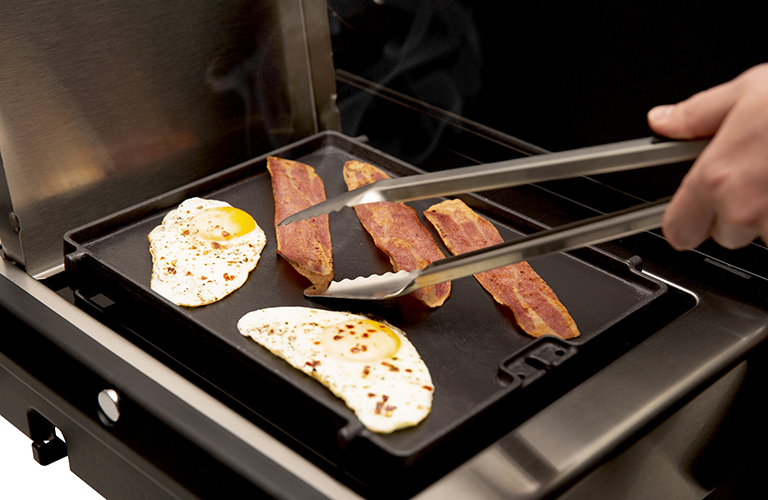 We have a great blog about cast iron care, which goes over all the steps for caring for your cooking grates (see what we did there). Caring for your cast iron griddle or plancha follows the same steps. Cast iron does require a bit of additional work to keep it in optimal condition, but it comes down to the burn-off, cleaning, and season. After you finish cooking, crank up the heat to help burn up gooey bits of food so that it's easier to remove. You'll be left with ash, which is easily brushed or scraped away. Finally, apply a healthy, even layer of cooking oil to prevent rust and create a non-stick barrier.