Recipe | Warm Winter Grilling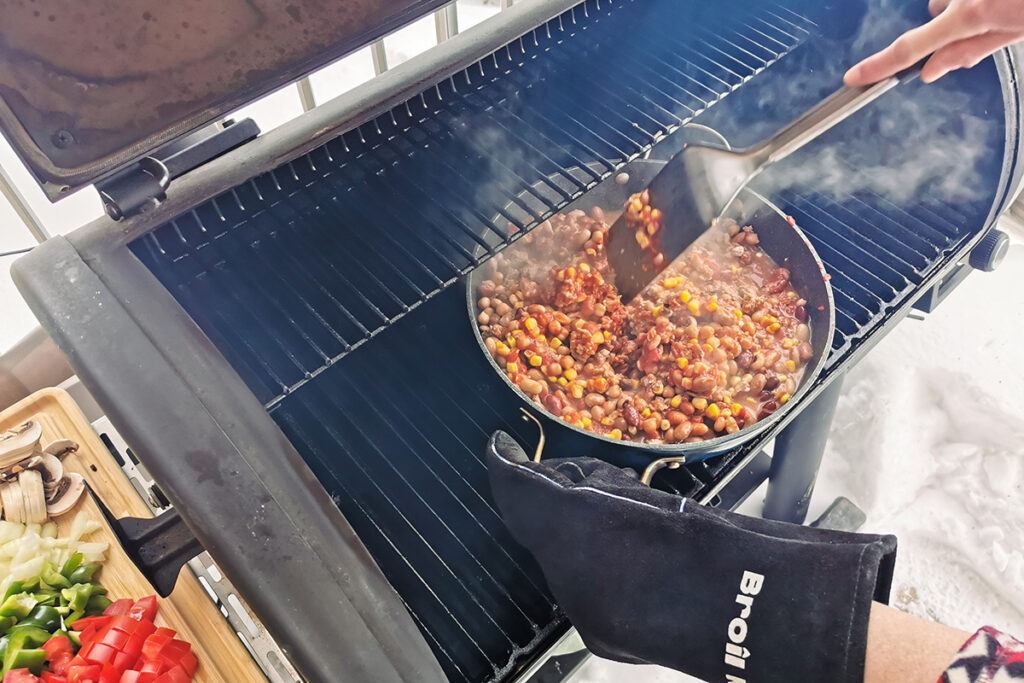 Living in Canada, we've become accustomed to bitterly cold winters that send us hibernating indoors for 4-5 months of the year. Sometimes it seems like the snow will never leave and we yearn for the first backyard barbecue of the season when we can shed our heavy layers and pull our grills out of storage. Don't worry, we're a Canadian headquartered company and feel the pull of spring too.
For a dedicated few, the love of grilling cannot be set aside through those cold winter months. No matter the temperature or snow accumulation, the grill is always fired up, cleared off and ready to pump out the next barbecued delicacy.
We thought we'd encourage some of you folks to come out of hibernation early and get you grilling with these three delicious, heart, and belly warming recipes. They're great set-it-and-forget-it meals from your pellet smoker or gas grill that can keep you grilling through the coldest months of the year. The added smoky notes help to elevate these classic home-cooked staples. And while we chose to cook them on a pellet grill, they can easily be adapted to cook on a gas grill with the help of a smoker box. You can always learn more about using a smoker box here.
Some important things to remember about winter grilling
It will take longer for your grill to reach preheat temperature in the winter, so budget for more cook time than you would in the summer.
You will also consume more fuel (pellet or gas) because more energy is required to keep the grill hot. Make sure you have plenty of surplus fuel to ensure you don't run out mid-cook.
If you have left your grill uncovered between cooks (which we don't recommend), some ice build-up may have to be melted off before you start to cook. Luckily your grill is the perfect tool for the job but it may be harder to clear your side shelves that don't have a built in heating feature.
Make sure you give your grids a thorough seasoning before and after cooking. This is something you should be doing no matter the season, but especially because the moisture from melting snow may creep into the cook box and cause grids to rust. Check out our video on the proper seasoning of cast-iron cooking grids.
It's important to keep yourself protected when grilling from the heat and the cold. We highly recommend getting a pair of our Leather Grill Gloves to do just that. The thick insulation makes them perfect for handling hot grill tools, but they're just as effective at keeping 
your hands warm in the winter while shovelling that path to the grill.
If you are storing your grill for an extended period, make sure you have thoroughly cleaned the grill and have it adequately covered to keep it protected. You can follow our steps outlined here.
Finally, remember that snow and ice are a great for scrubbing your grill. Dab your grill brush in the snow to pick up a healthy amount, then steam and brush away food debris.
For more dos and don'ts, check out our winter grilling tips. Now, let's get to some warming winter recipes to give a go at home!
Smoked Butternut Squash Soup
Ingredients:
2 small butternut squash
1 large sweet potato
3-4 carrots
1.5 quarts of vegetable stock, no salt added
1 cup of table cream
¾ – 1 cup of brown sugar
2 tbsp of cinnamon
Pumpkin seeds (optional garnish)
Steps:
Preheat your pellet grill to 225˚F (107˚C), using your Smoke Master's Blend Pellets. If using a gas grill, turn the two far-left burners to low-medium heat.

Peel and roughly dice your vegetables and place them in your wok.
Place the wok on the grill. If using a gas grill, place the wok to the right side of the grill to use indirect heat. Place your smoker box on the left side above the ignited burners.
Leave the vegetables on the grill for 2 hours, occasionally rotating them inside the wok. You're looking to absorb as much smoke as possible without charring.
Add your vegetable stock to the pot and bring to a low simmer.
Add your smoked vegetables to the pot, leave on low and cover for 45 to an hour.
Once your vegetables have fully softened in the stock, use your immersion blender to liquify. Add your cream, brown sugar, and cinnamon and give a final blend.
Serve and top with pumpkin seeds and a pinch of cinnamon.
Smoked Butternut Squash Mac and Cheese
Ingredients:
1 butternut squash – halved and seeds cleaned out

Salt and pepper

1 tbsp grapeseed oil
For the Sauce:
2 tbsp butter

2 garlic cloves – diced

1 shallot – diced

1 ½ cups vegetable or chicken stock

2 cups whole milk

1 cup mozzarella – grated

1 cup old cheddar – grated

½ cup swiss cheese – grated

3 cups dried pasta of your choice
For the Topping:
1 cup panko breadcrumbs – toasted

½ cup parmesan cheese

2 tbsp melted butter
Steps:
Preheat your pellet grill to 350˚F (177˚C) and get the smoke going with Broil King Apple Wood Pellets.  While the grill is heating, prep the butternut squash by halving and deseeding the cavity. Pierce the skin 3-4 times with the tip of a sharp knife. Oil the flesh and give it a good salt and pepper. Place skin side down on the grill and cook till a knife slides through the flesh easily, roughly 1 hour.

While the squash is smoking, get the pasta on and cook till just softened. You don't want to cook the pasta all the way through because you will still be baking it. Once cooked, drain and set aside. In a deep pan, add the butter, garlic and shallot. Cook till softened. Set aside.
Once the squash is cooked, remove it from the grill. Scoop the cooked flesh into a bowl and discard the skins. Add the squash to a blender and add your milk as well. Puree the mixture until it's smooth (this could take 2-3 minutes in the blender). Once pureed, add the mixture to the deep pan and bring to a simmer. Add your cheeses to the pan and allow them to melt in, whisking till they are all incorporated.
Now add your pasta to the cheese sauce and mix it well. Add the mac and cheese to a pan that will hold it all. Top with the panko mixture, get it back on the grill and cook for another 45 min till the cheese is bubbling and the top is set and crunchy.
Ingredients:
2 lbs. of ground turkey

1 cup of vegetable broth

1 can of corn

2 cans of bean medley

2 cans of tomato paste

1 large green pepper

1 white onion

3 Roma tomatoes

2 jalapeños

4 – 5 mushrooms

3 tbsp of chili powder
Steps: 
Preheat your pellet grill to 400˚F (204˚C) using the Smoke Master's Blend of pellets. If using a gas grill, turn all the burners to medium-high and place your pan on the grids above. Place your pan on the grill to warm up.

If using a gas grill, add your smoker box onto one of the lit burners and allow the pellets or wood chips to ignite, then lower the output of that burner. Add 2 tbsp of oil and then place your ground meat in the pan. Add a pinch of salt and pepper and cook until lightly browned (about 10 minutes).

Once the meat is cooked, drop the grill temperature to 225˚F (107˚C) and add the rest of your ingredients to the pan. Give a stir, then close the lid of the pellet grill. If using a gas grill, you will want to turn the burners directly below the pan off to utilize an indirect heating method. Ensure the smoker box is still ignited and replenish the pellets or wood chips as needed.

Leave the chili on the grill for approximately 1 hour, only lifting the lid to stir once or twice.