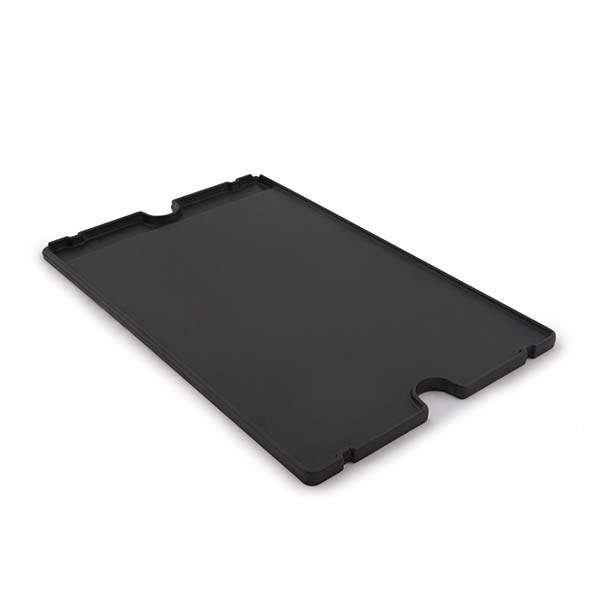 EXACT FIT GRIDDLE BARON™ | CROWN™
11242
Make every meal on your barbecue with a Broil King® Griddle. Breakfast, Lunch and Dinner. Reversible, heavy duty cast iron griddle with matte porcelain coating. One side is smooth for frying while the other side is ribbed for searing. Exact fit allows for use in place of a section of the cooking grids on your Broil King® barbecue. Size: 17.48″ x 12.48″. Fits: Baron™ Crown™ Series. Grilled Asparagus and Prosciutto Spears
Rated

4

out of

5
by
JessMT
from
Love the griddle!
Love the griddle, my burger game is on point! Curious how to best keep it clean however. Any tips would be appreciated!
Date published: 2019-04-21
Rated

5

out of

5
by
Fasttruck
from
Love this for that messy bacon cooking.
I got this for Fathers Day 2020 and love it. I use it mostly for Breakfast even in the winter. I shovel snow off my deck to get to it. If they made one that took up 2 slots or even all 3 I would probably get one. It works great for searing meat. I use the flat side for that and then move the Meat to the grill. It gets much hotter than the heat over the grill for searing.I just whish it had Handles or something to pick it up while in use to drain the Bacon Grease. Any Ideas???
Date published: 2022-01-31
Rated

5

out of

5
by
MichaelP
from
Great addition to the grill
Well built, very sturdy cast iron griddle. Although it can be used on top of the grill I like the fact it can replace two sets of grills for a built in look. I use the ridge side for grilling vegetables. The flat side i use for potato cakes and bacon. It's nice in the summer to make breakfast on the deck. Clean up is quite easy. I flipover the side I used down then burn off what's left on the griddle and when cool wipe down and recoat with a thin layer of vegetable oil. This griddle was a free sample and I have enjoyed using it.
Date published: 2022-11-15
Rated

4

out of

5
by
tony_important
from
Griddle me this
I love this griddle for making smash burgers; it gets ripping hot and has plenty of room for pressing down patties to get perfect, thin, and crusty sheets of beef to dress up with cheese and onions! I can't wait to use it to make breakfast for the family.My only critique is that I wish there was a deeper grease well to make cleanup a bit easier.
Date published: 2022-06-20
Rated

5

out of

5
by
Wrains72
from
Perfect grill addition
Love this Griddle! Bought this for my Baron 420. Exact fit is perfect and this gives us the extra flexibility in our grill to cook up some amazing meals! Especially in the summer when it's too hot to cook indoors. Love it! Thanks broil king for the amazing accessories.
Date published: 2023-04-07
Rated

5

out of

5
by
smalltownfan
from
Solid
I never tried using the BBQ as a grill until I recieved this for Fathers Day. It has gotten a lot of use in the last 2 months. Breakfasts, lunches and suppers.
Date published: 2022-08-10
Rated

5

out of

5
by
André Fleury
from
great for smash burger, fish, eggs and more.
I received it as a gift and it's like having a plancha on my Baron.
Date published: 2022-11-27