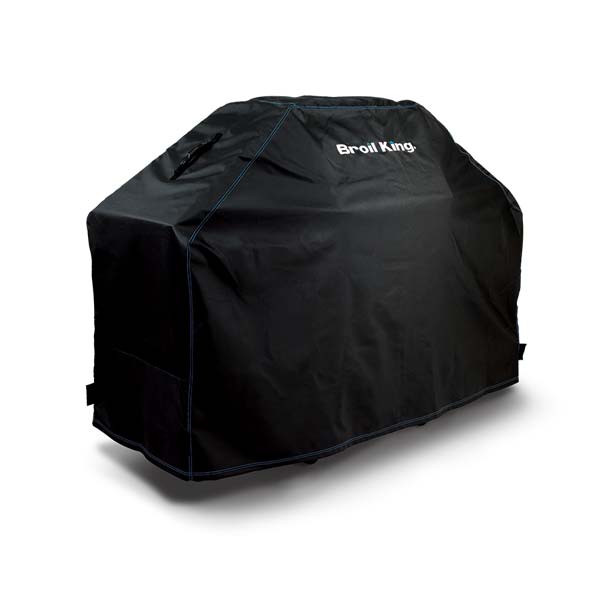 51″ PREMIUM PVC POLYESTER COVER
68470
51″ x 24″ x 46″. Premium PVC / polyester fabric. Fits the following Broil King® gas grills: Baron™ 300 Series, Monarch™ Series (2014 and newer) Grilled Asparagus and Prosciutto Spears
Rated

2

out of

5
by
Martin j
from
Could have been great
Let me start by saying saying that I am very happy with my Broil King Monarch 320, I use et for steaks, ribs, roasts etc. So I got this cover last year to protect it. However it seems that the water runs right trough it, both on the top and on the tables at the sides. Whats worse are that it seems to keep it soaking in water even the day after it has rained(the Pictures was taken right after rain). It is otherwise a heavy and good quality cover, had it not been for my water problem. So not I don't use the cover because the grill will end up soaking in water even after everything else in the garden has dried up.
Date published: 2016-07-07
Rated

3

out of

5
by
FloridaBob
from
Appearred to be a heavy duty cover
I sprung the $70 bucks for the Broil King cover to protect my investment. The cover has been covering my grill for almost 3 year under the cover of my 10'x10' patio roof. Today, the heavy duty plastic/rubber handle came off in my handle because the cheap nylon strap has rotted away.
Date published: 2016-10-05
Rated

2

out of

5
by
Iqbal
from
Not so good BBQ cover
I bought the BBQ and the cover. BBQ is great but the nylon straps broke and it appears that water seaps through it. $140 not so well spent
Date published: 2016-11-12
Rated

1

out of

5
by
Richard2s
from
68470 - for Monarch BBQ
I bought this with the BBQ - but to be honest I have been disappointed with the quality - the cover does not keep the BBQ dry and to make matters worse one of the 2 handles to lift the cover off BBQ has ripped away from the cover so now just hangs there - which isn't the look I really want for my BBQ!. The BBQ itself is excellent and I love it - just very disappointed after buying a premium product that it hasn't lived up to expectations and now looks awful !
Date published: 2021-02-26
Rated

5

out of

5
by
Shane157
from
This product is great !
I bought this a few month back and never regretted it
Date published: 2022-08-10
Rated

5

out of

5
by
Luckydave
from
BBQ cover. My grill still looks good.
Our Broil King Grill is holding up well and looking good after 12 years of use in a harsh climate. I am on my second cover and it fits the grill well, stays on in bad weather and protects and adds years of use to my BBQ. Well worth the money in my opinion.
Date published: 2019-10-23
Rated

5

out of

5
by
Tigger
from
WEATHER RESISTANT
I love this product. I have used it now for three years. It stays outside on our patio covering our BBQ all year long. I has survived, sun, wind, rain, snow and is still in excellent shape. No wear or tear as of yet. It is quite resilient.
Date published: 2019-10-24
Rated

5

out of

5
by
Northernman
from
Rough amd tough
I have had this cover for over 8 years. Not a tear or rip and we live in northern ontario. Never put inside. Always ready to grill. Winter or summer. Oh by the way the broil king bbq still looks brand new. The cover says a lot
Date published: 2022-08-09