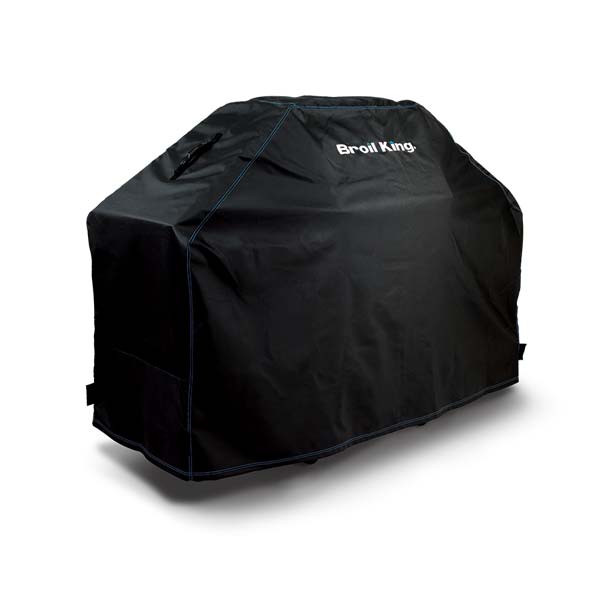 76″ PREMIUM PVC POLYESTER COVER
68490
76″ x 25″ x 48″. Premium PVC / polyester fabric. Fits the following Broil King® gas grills: Regal™ XL Series, Imperial™ XL Series Grilled Asparagus and Prosciutto Spears
Rated

2

out of

5
by
czim
from
Started out good...
I bought the Imperial XLS and was very happy with it. I wasn't so happy to find that it collects rainwater, which then washes grease into the drawers. No problem - I'll just buy the Broil King cover (at the premium Broil King price). The cover started out looking good and getting the job done. After a couple of seasons it faded to a dirty gray. I don't consider that to be a major problem. What I DO consider to be a major problem is when the cover tears like paper when you life it by the handles, especially when I religiously let the grill cool down before I cover it. This shouldn't be happening to a cover that I could have made by a local boat shop more cheaply.
Date published: 2016-08-28
Rated

3

out of

5
by
Stef the chef
from
Robust cover that deteriorates over time
Very sturdy outer material, looks great initially but will unfortunately fade to a worn out looking grey color after a few seasons. After a few years, inside layer peel offs (not because of BBQ heat, maybe due to frost forming between the BBQ cover and the metal top, making it stick in winter time?), which makes it a bit less water proof. It is still in one piece, covers the BBQ, and its handles are still solidly attached. My BBQ looks fantastic, but this cover will definitely need a replacement and, at this price, it should last longer.
Date published: 2016-09-07
Rated

1

out of

5
by
Grahame
from
Terrible Quality
This is a very low grade product that is meant to be protecting a high end piece of equipment. I initially spoke with customer service just outside of the warranty period. I have lived with the deteriorating cover for months now. Does anyone know of a decent cover? After reading the other reviews I will not waste my money on this cover again.
Date published: 2019-05-05
Rated

2

out of

5
by
Focuspuller
from
Great at First...then...
I was impressed with the quality feel and weight of this cover for my Imperial Grill. After a year the cover is now breaking down in spots and peeling. I'm sure that there are better materials that can hold up better. Would be less expensive, but not as nice too look at, to get PVC tarps for $10 and bungee cord them to the grill and change tarp each year.
Date published: 2017-03-09
Rated

1

out of

5
by
DC18
from
Initially Awesome, but...
I was super happy with the cover at first, then faded pretty quickly but I though that was minor At the time. This year it started to tear like paper when you tried to lift it off of the grill. It now lives in the landfill as it was completely wrecked by the end of summer. Maybe it's not built for Canada where we have 4 seasons??
Date published: 2016-10-27
Rated

1

out of

5
by
DavidWCurrie
from
Didn't last very long...
Like many of the other reviewers, I too had the same experience. The grill cover, while expensive, looked good at the outset. It was well fitted for my Sovereign XL BBQ and kept it clean and dry. But after about a year, it was faded to grey and soon deteriorated further. Another reviewer described it as 'tearing like paper' and that is exactly what I have now. I really enjoy my grill and just purchased a bunch of replacement parts from Onward to make by Q look great again. Too bad the cover isn't the same story. 🙁
Date published: 2016-12-08
Rated

4

out of

5
by
PLVOL
from
Excellent Premium Barbeque Cover
I bought this cover 3 months ago and it has been the best cover that I have owned to date. I have a largre barbeque and it's easy to put on and off. the quality is of premium material and I hope to get longevity out of this cover. Most covers that I've purchased have literally fallen apart in less than 2 years with the harsh winter winds and ice. To-date it has been the best cover.
Date published: 2019-10-24
Rated

1

out of

5
by
Javier
from
Disappointed customer
I wish I would have read the reviews on this cover before paying $100 for it. It looks great but does a mediocre job. I have the REGAL XL PRO, the grill will always be wet after it rained. It eventually got so brittle you can poke holes in it and couldn't keep it dry nor safe from squirrels. I paid a lot of money for my grill and for the COVER and expect it to work.
Date published: 2019-04-21