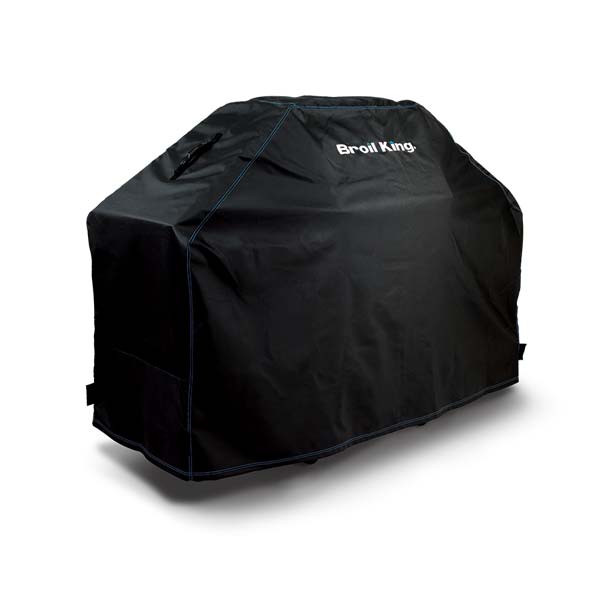 76″ PREMIUM PVC POLYESTER COVER
68490
76″ x 25″ x 48″. Premium PVC / polyester fabric. Fits the following Broil King® gas grills: Regal™ XL Series, Imperial™ XL Series Grilled Asparagus and Prosciutto Spears
Rated

1

out of

5
by
GasTech
from
Expensive
I purchased an Imperial XLS 5 years ago and just picked up my 3rd cover. The fit is good but the cover doesn't protect the grill from rain. After a hot summer and a cold winter in Ontario, the material will start to crack and become brittle. For the $130 price tag, I would recommend finding an aftermarket cover for a third of the cost.
Date published: 2019-05-05
Rated

2

out of

5
by
Deb52
from
Good quality at first
We've had Broil King B'bques & covers for close to 30 yrs. The prior cover lasted almost 10 yrs., but purchased the new one for the Imperial less than 2 yrs. ago & it's all cracked & weather worn. It's housed on a covered deck. So needless to say I'm rather disappointed but still enjoy both our gas & propane barbeques.
Date published: 2017-05-13
Rated

2

out of

5
by
Eanderson2033
from
Great quality for a year or so
I bought this grill cover for my Regal XL and the quality looked and felt great!... but eventually the handles dry rotted and tore off and the whole cover discolored horribly. I really don't want to display it over my grill due to the appearance but I have to. 2 stars for the look of the product the 1st year or so
Date published: 2017-04-04
Rated

3

out of

5
by
Grilling Paul
from
Durable
I received my Sovereign XL 3 years ago along with the BBQ cover. The cover is durable, worth the money but my straps are broken. The material for the straps wear our quickly and Broil King should review this with their manufacturer. If I had to recommend I would suggest using at own risk.
Date published: 2016-07-11
Rated

5

out of

5
by
Hudson
from
Still doing a great job after 5 years
I've had this BBQ cover on my Imperial for 5 years living in Winnipeg where the winters are never fun. The handles are still on it, the Velcro still works great and the cover is as good as expected. I would definitely endorse this cover to all BBQ enthusiasts.
Date published: 2017-04-22
Rated

5

out of

5
by
sunshynejo
from
Worth the price!
We've had this BBQ cover for three years now, and, here in Saskatchewan, Canada, we experience some pretty brutal winters. So far, the cover has held up really well; no cracks or holes. It puts up with us removing it to bbq during the winter, too.
Date published: 2019-11-29
Rated

5

out of

5
by
Dave g
from
BBQ cover
I purchased my imperial stainless BBQ and I love it the the pasture is so good ,but the cover hook and loop pulled off after about 10 times using it,
Date published: 2016-05-08
Rated

5

out of

5
by
kahuna_bell
from
Great Cover
Bought this cover, easy to put on, can leave the side up and it still fits, doesn't lift up in the wind.
Date published: 2019-11-01
Rated

1

out of

5
by
Roy L
from
Poor quality
I brought this cover at Lowe's 2 years ago. Then it's starting broken. Don't buy this cover.
Date published: 2021-04-04
Rated

4

out of

5
by
Dougfirefighter
from
Great cover
Bought with our newly purchased Baron BBQ, wanted a cover to match and a perfect fit.
Date published: 2021-06-08
Rated

5

out of

5
by
Shey
from
Awesome protection
Extremely durable and very sturdy. Solid material. No matter the weather.
Date published: 2021-06-08
Rated

4

out of

5
by
Buddy9
from
Good quality
Happy that I bought it still looks brand new even after a few seasons
Date published: 2019-10-24
Rated

5

out of

5
by
rider376
from
my cover
this cover fits my broil king perfectly and stands up to weather
Date published: 2019-11-18
Rated

5

out of

5
by
Irish 1
from
Awesome product
Best cover ever and I've bought a bunch and This tops
Date published: 2019-10-23