Buying Guide | Grill Cover
A new grill is a big purchase, and there's a wealth of accessories to explore and experiment with on your grill. However, one accessory cannot be overlooked, and that's a grill cover. It may not be as exciting as a griddle or wok, but it is vital to protecting your investment. It should be one of the first accessories you buy. There are many different options, so how do you know what to look for in a grill cover? Let's look at some of the unique features of our Broil King covers and why they matter when it comes to safeguarding your grill.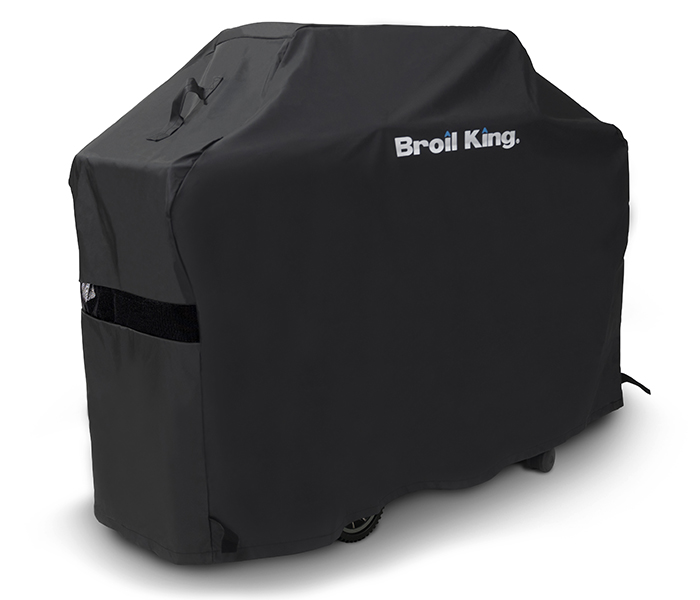 Our select covers offer excellent protection at an affordable price. They're crafted from durable, weather-resistant PVC with a thick 500 x 300D polyester lining. Choosing a cover with a densely woven fabric is essential because this will help to keep out moisture and dust, which can prematurely wear the finish on your grill. The cover also has vents which prevent condensation from building up underneath. The bottom of the cover is sinched and secured with Velcro hook and loop tabs. The two fabric handles make it easy to remove the cover when it's time to cook, and there's a small loop on the back to hang the cover from a hook when it's not in use. Finally, the large screen-printed logo helps identify the front of the cover and keeps your grill looking stylish, even when covered. To top it off, they are backed by a three-year warranty for ensured longevity.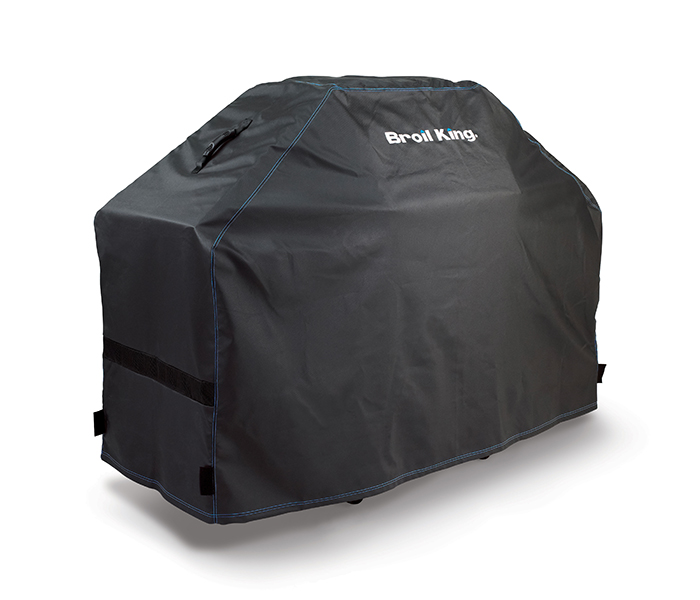 Premium grill covers have many of the same features as select grill covers but with a few stylish upgrades. The fabric of our premium covers is denser than select covers, with a 900D polyester lining. It similarly has mesh vents to prevent moisture build-up and Velcro hook and loop tabs at the bottom to secure it in place. The cover's reinforced seams are accented with blue baseball stitching for added style. An upgraded feature is the handles that are made from moulded plastic for extra rigidity. And the logo is stitched rather than printed for a more refined finish. Finally, the warranty is extended to five years for the greatest level of protection on your purchase.
When purchasing a grill cover, keep the following points in mind:
Grill covers are tailored to fit the shape of most grills. If the angled points in the material are wider or more narrow than the grill itself, problems can develop in either of the following ways.
Oversized covers hold in moisture by draping to the ground. Extra moisture rots a grill faster.

Undersized grill covers rub on the shelf's corners and is more prone to tearing at those friction points.
Essentially the perfect size of cover should allow the grill to breathe and fit comfortably.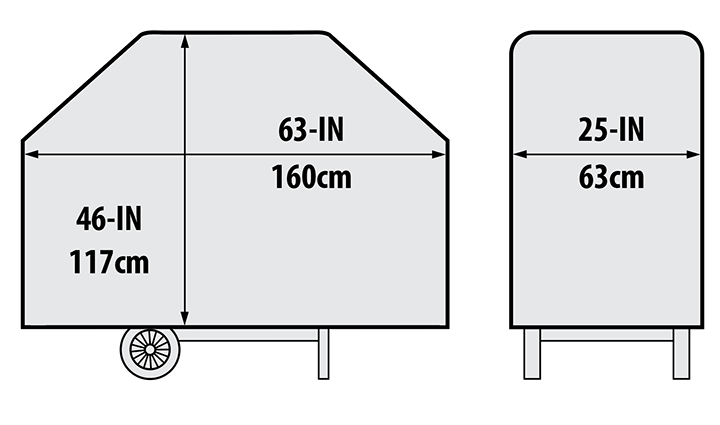 Hook and Loop closures keep the cover in place in the wind, the small hook and loop tabs may seem unimportant, but they're the only thing keeping a grill cover in place and out of your neighbour's yard in the wind.
Handles on a grill cover make it easy to place and remove as they are located in optimal lift points to keep the cover from snagging when pulling it off.
A hanging loop allows a wet grill cover to dry and a dry grill cover to stay dry when not in use. A heap of balled-up grill cover next to your grill looks bad and retains moisture, and invites insects and other pests to turn it into a habitat.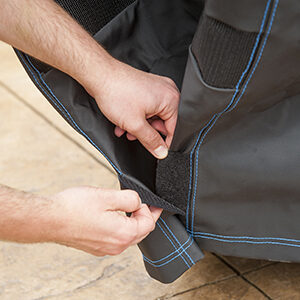 Whatever grill cover you choose, the important thing is that you have one! An uncovered grill is more susceptible to the elements, which shorten the life of your grill. Going for a high-quality cover will provide optimal protection and keep your grill looking stylish even when it's wrapped up.
Visit our online store or one of our trusted Broil King dealers in-store to find the perfect grill cover.