Technique | Snacks From Your Wood Pellet Grill
With your Broil King Pellet Grill, you can Do More: smoke, roast, bake or grill anything you can imagine. Expand your experience, thanks to incredible cooking versatility and many great Broil King accessories available to you. Doing More doesn't need to be complicated: in the case of this post, it may be the easiest thing you've ever grilled.
We hopped into the grill lab ahead of cooler fall weather and Halloween to add smoke to our favourite pre-made snacks. What we found may surprise you just as much as it surprised us.
Can you add smoke to bagged snacks?
Our smoked potato chips recipe is one of our most visited on the Broil King website. Its success got the team here thinking about adding smoke to other snacks of the pre-made variety. Smoke is a wonderful accent flavour that impacts different ingredients in different ways. We challenged our team to take their favourite salty or sweet snacks and add just the right amount of smoke to make them even more enjoyable. Our test grillers give this recipe a difficulty level of 0.5 out of 5, which sets this up as an effortless experience to try at home.
Grill recipes have less to do with the ingredients and more with the techniques that allow you to get amazing grilled results. In this test, we wanted to create a simple method that is easy to replicate for many snacks. Here's what the team went with:
Preheat your Broil King pellet grill on the Smoke setting (225˚F / 107˚C). We used Broil King 100% Hickory Pellets to get the most authentic smoked flavour, but we also highly recommend the popular Smoke Master's Blend for its more complex taste.
Lay your salty or sweet snacks evenly in a Broil King Roasting Basket and set them on the grill. The goal is to have as much smoke contact with the snacks as possible for maximum flavour. The perforations in the basket make it the ideal tool for the job. The Broil King Grilling Wok is also perfect for the job since the perforations allow more smoke to baste the food.
Tip: Shake the snacks a little in the basket halfway through. A set of Broil King Leather Grilling Mitts makes it easy.
Smoke for 10-15 minutes. Sampling as you go gives you a sense of how much smoke each item has picked up. The more dense the item, the longer it takes to absorb smoke; the less dense the item, the quicker it happens (as we found out the hard way with the mini brownies).
Remove from the grill with your leather mitts, and serve warm and fresh.
A sampling of popular snacks
We tested snacks of several varieties to get a broad sense of how smoke affects each one. Here are our Top 10 favourite snacks as reviewed by the team, scored from 0 to 10. You'll find our judges' scores below each item: Judge 1 – Judge 2 – Judge 3, and an average of their scores. Three scores gave us the most balanced assessment since we all have different tastes.
9/10 – 10/10 – 10/10. Average: 9.6/10
The most surprising and wow-worthy snack. A little smoke accented the flavour of the Oreos wonderfully and gave the cookie a better snap and a beautifully warm and creamy filling. Room temperature cookies are now too boring to enjoy: we'll all be heating them with some smoke from now on. A must-try!
8/10 – 8/10 – 8/10. Average: 8/10
The subtle smoke flavour adds a lot to the already strong taste of this chip. The warmth made them feel more like a restaurant-style tortilla chip than a from-the-bag snack. Then again, our judges do have a thing for Cool Ranch Doritos. Try any other Doritos flavour if Cool Ranch isn't your go-to.
8/10 – 7.5/10 – 7/10. Average: 7.5/10
Sweet snacks made an appearance in our testing as well. Marshmallows are a campfire favourite that transferred unsurprisingly well to the grill. After 10-15 minutes on the grill at a low temperature, the inside ended up soft and creamy, while the outside shell remained unchanged. Not a lot of smoke flavour stuck to them, but the experience of a tray of warm, soft marshmallowy treats is hard to turn down.
6/10 – 7/10 – 9/10. Average: 7.3/10
Smoke is an excellent complement to onion flavour any day of the week. While there weren't any extra surprises to this smoke-infused snack, almost everyone seemed to like them.
Regular Ruffles / Regular Chips
7/10 – 7/10 – 7/10. Average: 7/10
Regular salted potato chips of any variety pick up and showcase a smokey flavour the best. Testing this at home and here at Broil King HQ, we've found that your guests expect a plain potato chip but then get the added surprise of the complex – yet subtle – smoke flavour. Different and delicious.
7/10 – 8/10 – 4/10. Average: 6.3/10
We're letting our Canadian origins show with this entry. The smoke flavour is definitely present in these chips, changing it from ketchup to a somewhat barbecue-flavoured chip. We were all big fans of that, except for one ketchup-chip-purist judge; it strayed too far for him. We recommend it for all non-ketchup-chip-purists.
6/10 – 8/10 – 5/10. Average: 6.3/10
The more sponge-like the item is, the more likely it is to soak up smoke in a hurry, and Cheese puffs were the perfect example of this. The smoke flavour was a bit too intense for most of our judges; think a sharp, smoked cheddar flavour.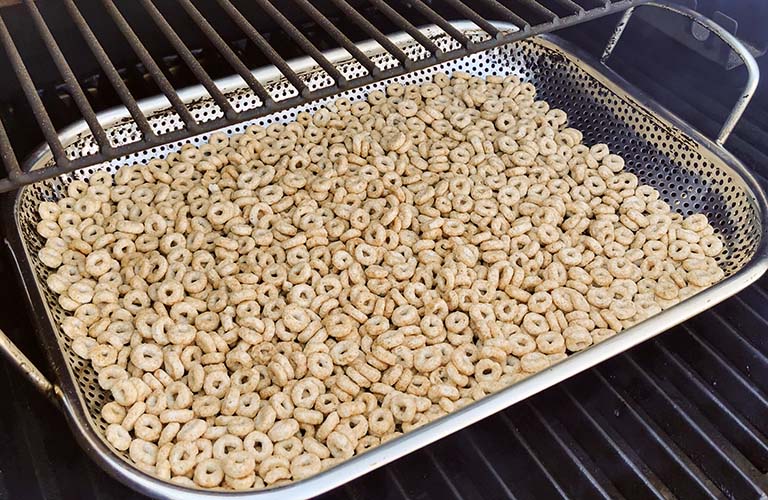 4/10 – 6/10 – 7/10. Average: 5.6/10
Cereals can be an excellent base for a mixed homemade snack, but they're relatively dense and take on less smoke in the same period. Not a lot of smoke flavour here in 15 minutes.
6/10 – 5/10 – 4/10. Average: 5/10
As one judge put it: they tasted like slightly more-baked Cheez-Its. Improved crunch and a bit of a toasted taste, but all-in-all, the same product from start to finish.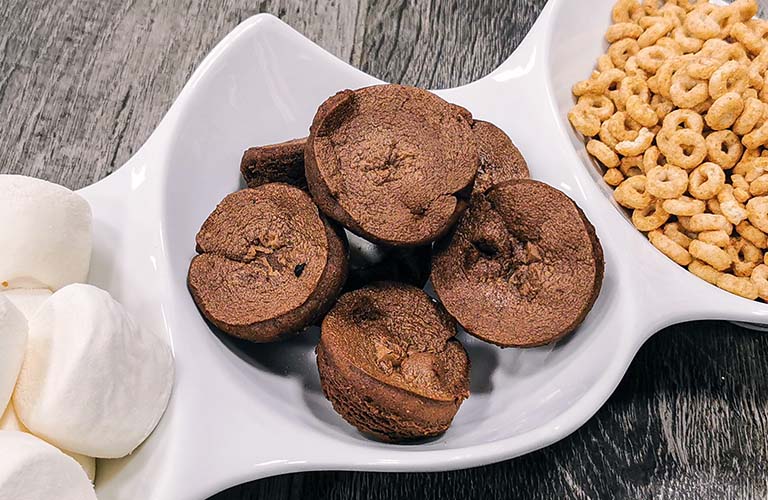 2/10 – 1/10 – 2/10. Average: 1.6/10
A popular grocery store snack that we had high hopes for…and then we added smoke. We had to rate this awesome snack very low on the list because, after 15 minutes, they tasted more like burnt garbage than the wonderful chocolate sponge that they are. In hindsight, brownies are the opposite of the Cheerios and take on smoke very quickly.
9/10 – 9/10 – 10/10. Average: 9.3/10
The smoke flavour was a big part of our rating system. In the case of the sugar-coated Sour Patch Kids, there was no smoke flavour. But, Sour Patch Kids, after 15 minutes on the grill at a low temperature, become a sugary shell surrounding a soft, gooey, gummy inside. Extra-surprising and very enjoyable. It put a smile on everyone's face and made it our contest's honourable mention.
Our final tips for adding smoke to your favourite snacks:
Remember: grilling is fun, not a chore like doing the laundry or cutting the grass. We create new flavours with dishes all of the time on our grills, and while these smokey snacks are simple, many of us have never had the chance to enjoy them. Wow your guests, and explore your creativity.
Sponge-like items absorb smoke quickly, while very dense items – especially if they're dry – take longer to have smoke adhere to their outsides. While this is a fairly core grilling principle, it is extra important when smoking snacks.
Serving bagged snacks warm is AWESOME. Flavours aside, we all loved the creamy, warm Oreo, gooey Sour Patch Kids, campfire Marshmallow center, and the crunch of a warm chip. This is because we partly associate those experiences with the fresh versions of those items and because we never get to enjoy bagged snacks this way.
Sample as you smoke to get the perfect flavour for your guests. Some of us love an intense smoke flavour, and others do not. Find the right intensity for you. It only takes 5 minutes to go from subtle to bold smoke flavour.
Working at a leading grill manufacturer, our team loves the opportunity to get behind the grill and get creative. Admittedly, that creativity can sometimes get fairly complex or meat-centric. We were all surprised with how enjoyable this simple test cook was as we discovered new ways to incorporate some simple snacks into our busy lives. I'm sure you'll feel the same way.
Ultimately, our goal here is to help you Do More with your Broil King grilling experience.