Technique | Grilled Seafood
There's something fishy about this blog – and it might be all the grilled salmon! We've written about the perfect techniques for steaks, burgers, rotisserie and more – but somehow, we forgot about seafood! You may have avoided cooking seafood because of its sometimes pungent odours. One bonus of grilling seafood is that you don't have lingering odours trapped in your kitchen! This week's blog discusses the best techniques and accessories for grilled seafood and some of our favourite recipes to try yourself.
You can certainly use your cooking grates for large fish fillets, but for smaller, delicate foods like shrimp, you'll benefit from a grill topper or basket. Or if you're doing saucy items, like a clam bake, one of our woks or roasters is the ideal vessel. Take a look at some of our top accessories for grilled seafood.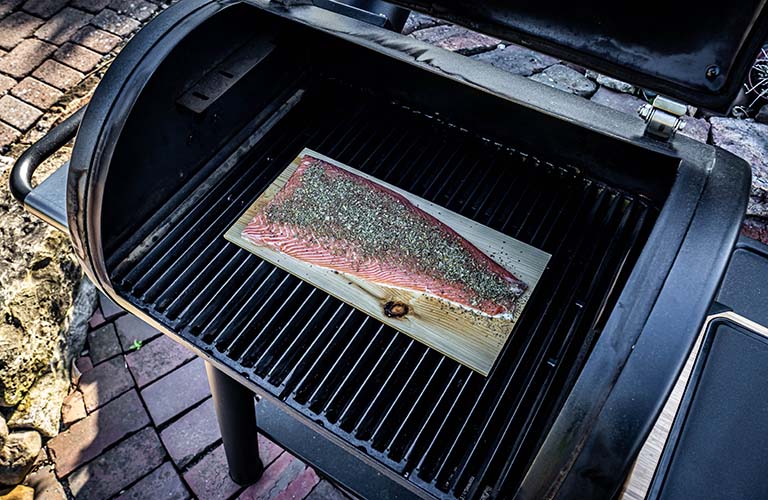 63280 – Cedar Grilling Planks
A wood grilling plank is one of the most popular methods for grilling salmon fish fillets. Not only does it help protect the delicate meat from direct flames, but it adds a delightful woodsy flavour in the process. The heat from the burner chars the wood, which is imparted onto your food. They also make a beautiful presentation of your meal on the table.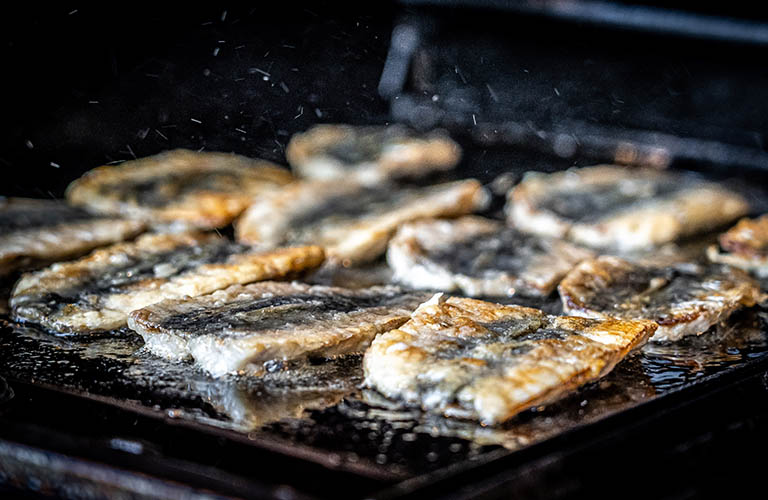 Like a grilling plank, a cast iron griddle creates a heat barrier preventing the flames from directly contacting your food. However, unlike a wood plank, the griddle still has searing power for delivering a beautiful golden crust to things like scallops or fish steaks. It's a more even heat than a cooking grate, as all of your meat makes contact with the cooking surface rather than just in the peaks of your grates.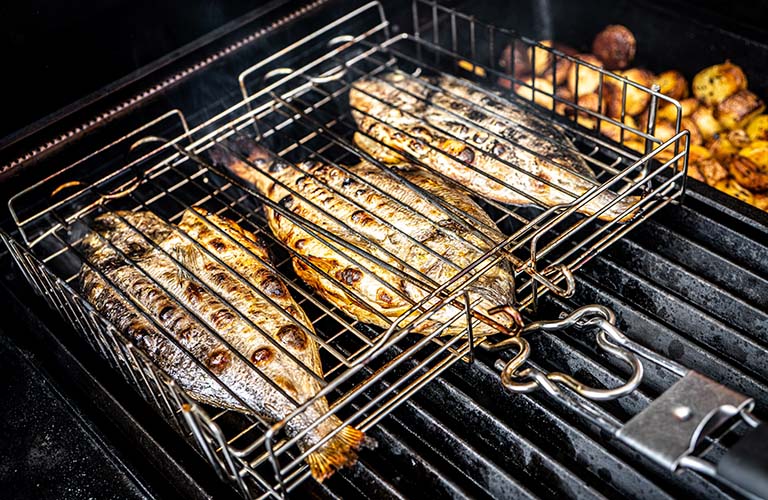 65070 – Detachable Handle Grill Basket
If you're cooking multiple whole fish or fillets, a grill basket is undoubtedly handy for containing and flipping everything together. The adjustable depth of the basket lid secures your food, and the detachable handle allows you to maneuver the basket to ensure an even cook. It also prevents the skin of your food from getting stuck to your cooking grates. When finished, it can go into the dishwasher for a fast clean-up.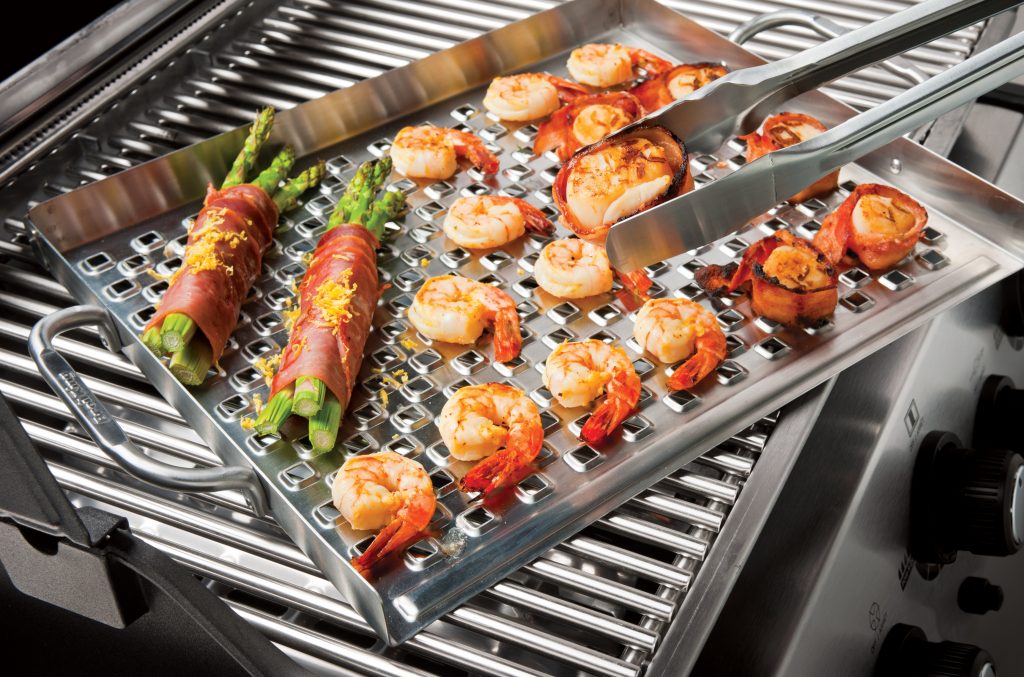 69712 – Imperial Grill Topper
If you're looking for a flat surface to grill smaller items but still want that grilled vaporization to adhere to your food, then the Imperial Grill Topper is a great option. The small square perforations allow sticky smoke to reach your food and attach to its surface while preventing items from falling through the grids. The tall three sides of the topper keep everything contained, and the large handles make it easy to pull your food off when cooked.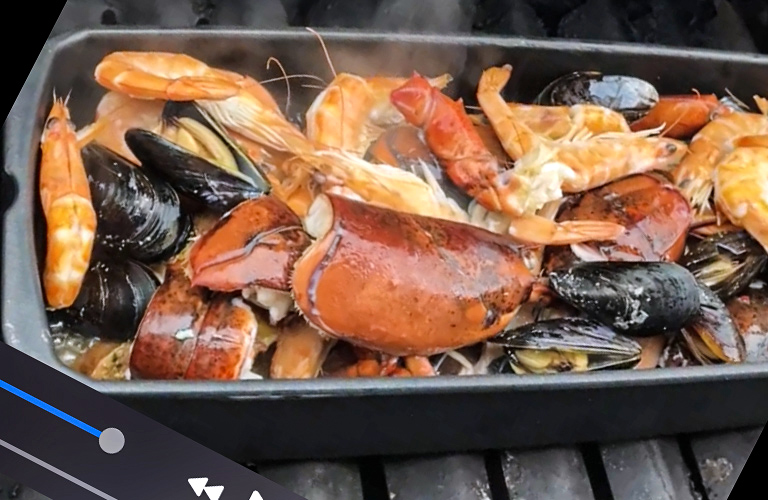 69615 – Cast Iron Rib Roaster
Don't let the name fool you; the Cast Iron Rib Roaster is excellent for cooking much more than just meat. This roaster is a must if you're looking to boil or steam shellfish on the grill. The thick cast iron captures the intensity from your burners and dissipates it evenly to avoid hot spots. The dimpled lid captures rising steam and locks in heat to cook things like mussels or lobster efficiently. It's perfect for a clam bake!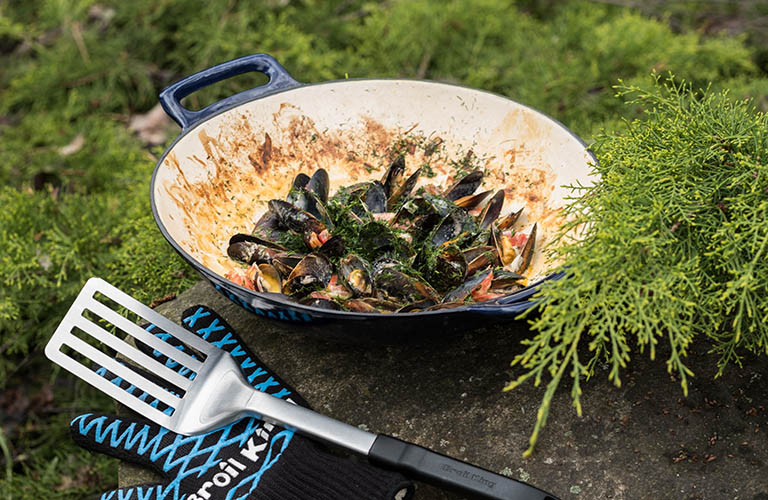 The Cast Iron Wok is a powerhouse for cooking saucy seafood dishes. Like the rib roaster, it is made from thick cast iron, which captures heat and evenly cooks your food. But it also has a premium ceramic non-stick coating, making it better for preparing things like creamy seafood bisques or paella. It's also much wider, allowing you to stir your food better to ensure every piece touches the cooking surface.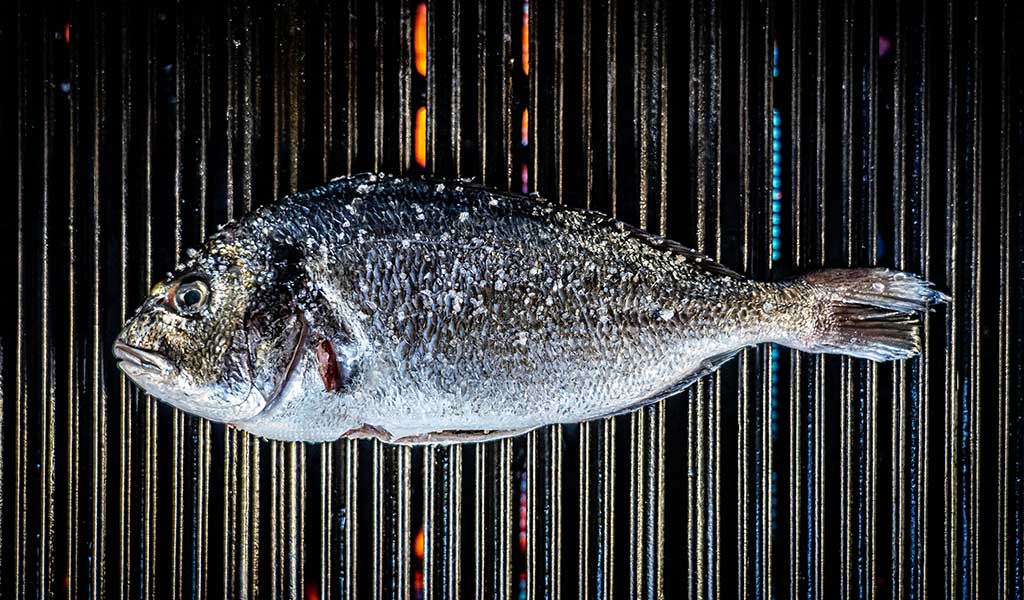 Grilled seafood can be the centrepiece of any gathering, but you need to follow some important ground rules before roasting up your briny fare. Food safety is essential when it comes to cooking seafood. Under-cooked seafood can cause food poisoning, so we recommend you always check your seafood's temperature with a thermometer. A thermometer will also help prevent over-cooking your sea-meats. Something like shrimp can quickly become rubbery when exposed to too much heat for too long.
Follow this internal temperature guide to check for doneness:
130°F (54°C) (meat should be opaque)
140°F (60°C) (meat should separate or flake easily)
140°F (60°C) (meat should be opaque)
Clams / Oysters / Mussels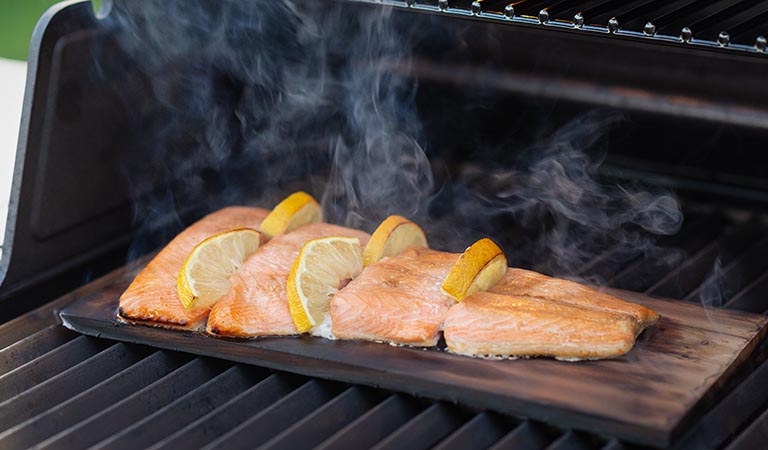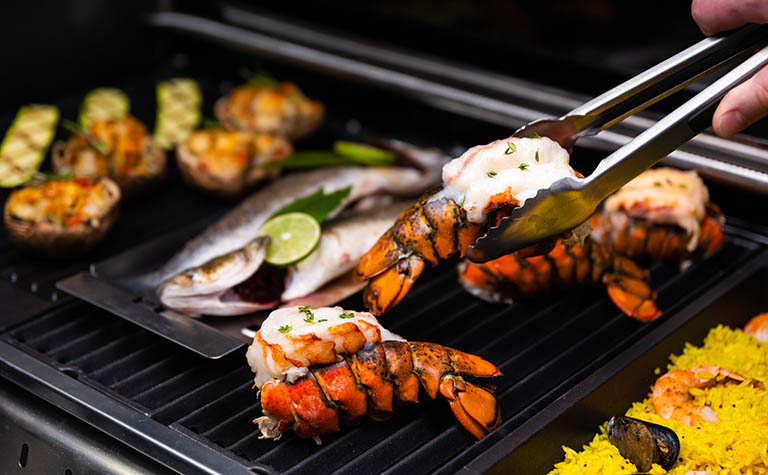 Grill seafood over MEDIUM-LOW or LOW heat. The more delicate the meat, the lower the heat. Cedar grilling planks can be an incredible asset when roasting fish because the charred wood gives the food a fantastic flavour. Having a plank also means the fish can't get stuck on the cooking grates. If you grill seafood directly on the cooking grates, ensure you oil the grates and the fish thoroughly to prevent sticking.
Some firm-fleshed fish steaks like swordfish, tuna, salmon and halibut can be grilled directly on the grates. Just be sure to oil the grill well before placing the fish on it. To cook a fillet of salmon, place the skin side down on a hot grill for 2 minutes at MEDIUM heat. Slip the spatula between the skin and the flesh. Flip onto a well-oiled grill in the 10 o'clock position for 1.5 minutes. Flip and turn the steak into a two o'clock position on a well-oiled grill, and cook for 1.5 minutes.